We must avoid hypocrisy on our journey to God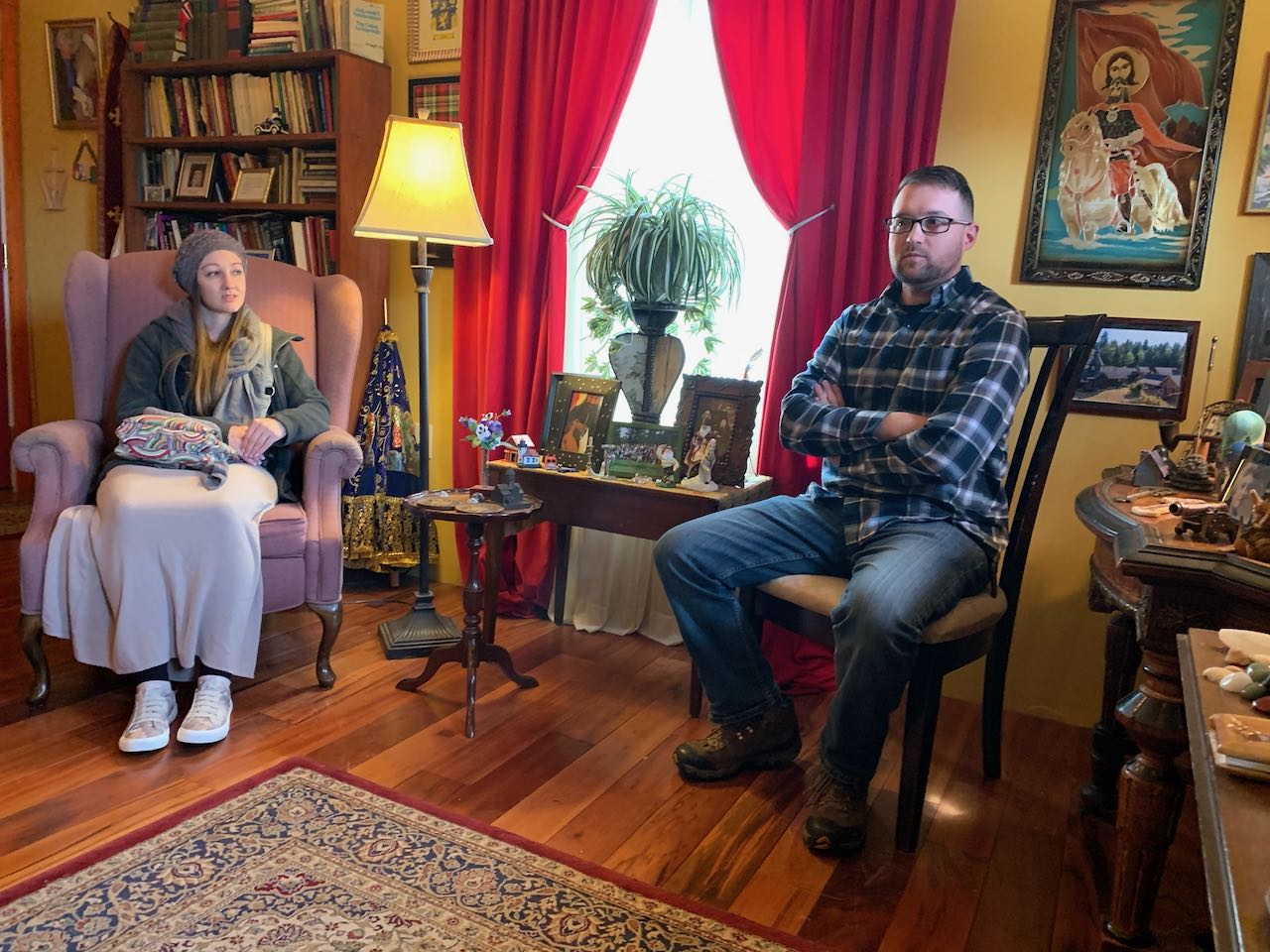 It is very easy to live our lives in hypocrisy if we are not mindful of the pitfalls of the spiritual life. We can become Pharisees without even noticing, if we let our Christianity be artificially lived. Living our lives as though we have been rehearsed by a stage director, we will have accomplished nothing, and will remain no more than an actor. Putting on the mask of Christianity, is not living in Christ. An honest, daily examination of our conscience, together with regular guidance by our confessor, is the only way we can live a Christian life that will lead to transformation of the heart.
If we simply put on a show of being a Christian, without any true repentance, we will remain mired in false religiosity, and our heart will grow dark. Christ must be invited into the heart on a daily basis, through prayer, and honest examination of our conscience, without which there can be no spiritual growth. We can not play at being a Christian, for to do so will lead to spiritual death.
We must "put on Christ', daily, and make sure our public expression of our faith is not being acted out for others, but is ever entering into a deeper relationship with this very Christ. Playing at spirituality only leads to spiritual death. If our life does not give witness to Christ in us, and if our attention is given over to self promotion, or a desire to please others, but avoids honest examination of our sins, we will be like fruit that dies on the vine.
With love in Christ,
Abbot Tryphon
Photos: A wonderful young Orthodox couple, Bobbi and Thomas, from Kentucky, made a pilgrimage to the monastery on Saturday. Bobbi is originally from Australia.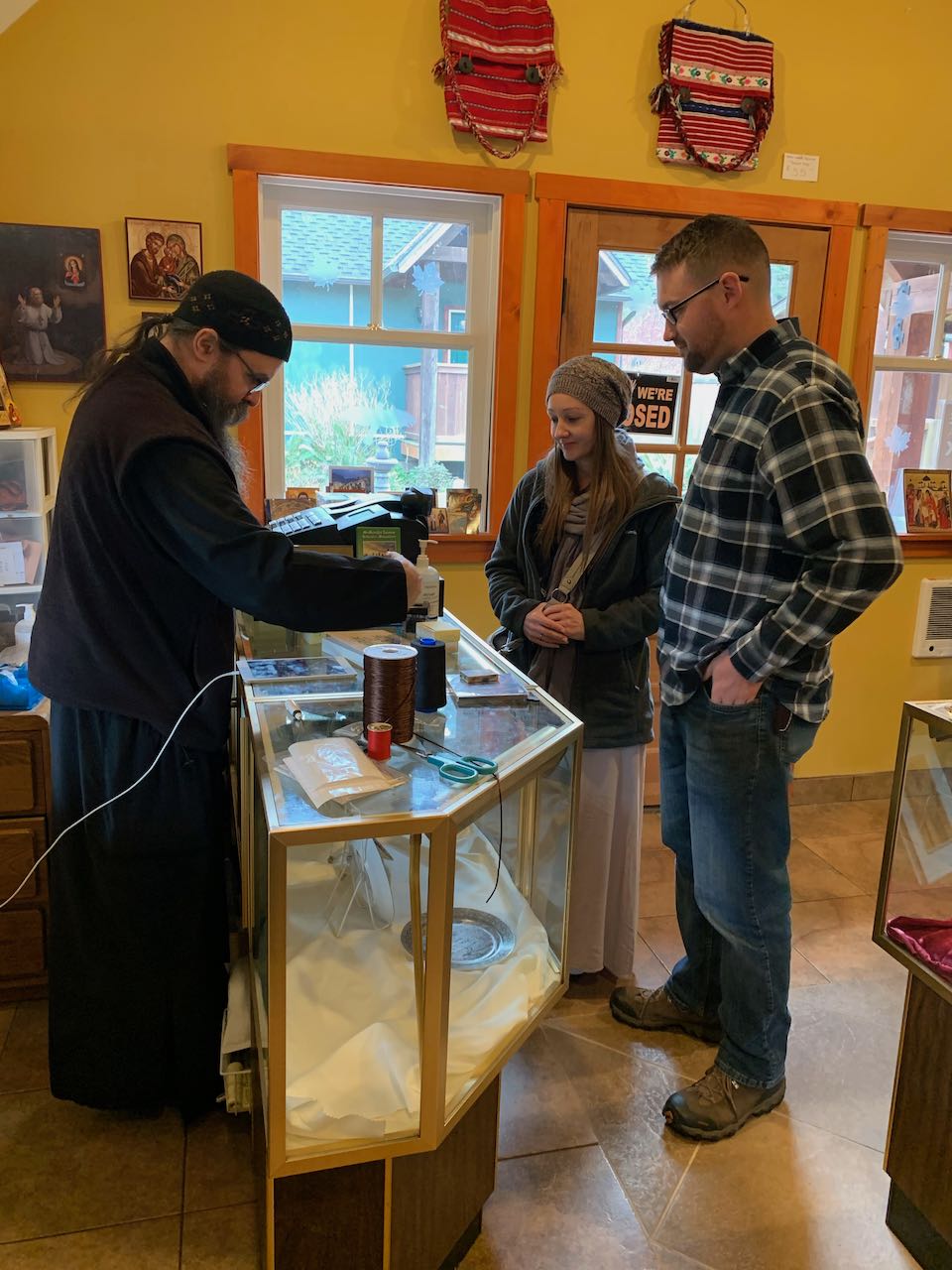 Monday March 29, 2021 / March 16, 2021
Third Week of the Great Lent. Tone one.
Great Lent. By Monastic Charter: Strict Fast (Bread, Vegetables, Fruits)
Martyr Sabinas of Hermopolis, Egypt (303).
Martyr Papas of Lycaonia (305).
St. Serapion, archbishop of Novgorod (1516).
Apostle Aristobulus of the Seventy, bishop of Britain (1st c.).
Hieromartyr Alexander, pope of Rome (119).
Martyr Julian of Anazarbus (305).
Martyrs Trophimus and Thalus of Laodicea (300).
Venerable Christodulus, wonderworker of Patmos (1093).
Martyr Romanus at Parium on the Hellespont.
10 Martyrs in Phoenicia (Greek).
St. Pimen, Fool-for-Christ and Enlightener of Dagestan, and his companion Anton Meskhi, the Censurer of Kings (13th c.) (Georgia).
St. Ambrosi (Khelaia) the Confessor, Catholicos-Patriarch of All Georgia (1927) (Georgia).
New Martyr Malachi of Rhodes, who suffered at Jerusalem (1500).
St. Abban of Kilabban (650) (Celtic & British).
The Scripture Readings
Isaiah 8:13-9:7
13 The Lord of hosts, Him you shall hallow;
Let Him be your fear,
And let Him be your dread.
14 He will be as a sanctuary,
But a stone of stumbling and a rock of offense
To both the houses of Israel,
As a trap and a snare to the inhabitants of Jerusalem.
15 And many among them shall stumble;
They shall fall and be broken,
Be snared and taken."
16 Bind up the testimony,
Seal the law among my disciples.
17 And I will wait on the Lord,
Who hides His face from the house of Jacob;
And I will hope in Him.
18 Here am I and the children whom the Lord has given me!
We are for signs and wonders in Israel
From the Lord of hosts,
Who dwells in Mount Zion.
19 And when they say to you, "Seek those who are mediums and wizards, who whisper and mutter," should not a people seek their God? Should they seek the dead on behalf of the living? 20 To the law and to the testimony! If they do not speak according to this word, it is because there is no light in them.
21 They will pass through it hard-pressed and hungry; and it shall happen, when they are hungry, that they will be enraged and curse their king and their God, and look upward. 22 Then they will look to the earth, and see trouble and darkness, gloom of anguish; and they will be driven into darkness.
The Government of the Promised Son
9 Nevertheless the gloom will not be upon her who is distressed,
As when at first He lightly esteemed
The land of Zebulun and the land of Naphtali,
And afterward more heavily oppressed her,
By the way of the sea, beyond the Jordan,
In Galilee of the Gentiles.
2 The people who walked in darkness
Have seen a great light;
Those who dwelt in the land of the shadow of death,
Upon them a light has shined.
3 You have multiplied the nation
And increased its joy;
They rejoice before You
According to the joy of harvest,
As men rejoice when they divide the spoil.
4 For You have broken the yoke of his burden
And the staff of his shoulder,
The rod of his oppressor,
As in the day of Midian.
5 For every warrior's sandal from the noisy battle,
And garments rolled in blood,
Will be used for burning and fuel of fire.
6 For unto us a Child is born,
Unto us a Son is given;
And the government will be upon His shoulder.
And His name will be called
Wonderful, Counselor, Mighty God,
Everlasting Father, Prince of Peace.
7 Of the increase of His government and peace
There will be no end,
Upon the throne of David and over His kingdom,
To order it and establish it with judgment and justice
From that time forward, even forever.
The zeal of the Lord of hosts will perform this.
Genesis 6:9-22
Noah Pleases God
9 This is the genealogy of Noah. Noah was a just man, perfect in his generations. Noah walked with God. 10 And Noah begot three sons: Shem, Ham, and Japheth.
11 The earth also was corrupt before God, and the earth was filled with violence. 12 So God looked upon the earth, and indeed it was corrupt; for all flesh had corrupted their way on the earth.
The Ark Prepared
13 And God said to Noah, "The end of all flesh has come before Me, for the earth is filled with violence through them; and behold, I will destroy them with the earth. 14 Make yourself an ark of gopherwood; make rooms in the ark, and cover it inside and outside with pitch. 15 And this is how you shall make it: The length of the ark shall be three hundred cubits, its width fifty cubits, and its height thirty cubits. 16 You shall make a window for the ark, and you shall finish it to a cubit from above; and set the door of the ark in its side. You shall make it with lower, second, and third decks. 17 And behold, I Myself am bringing floodwaters on the earth, to destroy from under heaven all flesh in which is the breath of life; everything that is on the earth shall die. 18 But I will establish My covenant with you; and you shall go into the ark—you, your sons, your wife, and your sons' wives with you. 19 And of every living thing of all flesh you shall bring two of every sort into the ark, to keep them alive with you; they shall be male and female. 20 Of the birds after their kind, of animals after their kind, and of every creeping thing of the earth after its kind, two of every kind will come to you to keep them alive. 21 And you shall take for yourself of all food that is eaten, and you shall gather it to yourself; and it shall be food for you and for them."
22 Thus Noah did; according to all that God commanded him, so he did.
Proverbs 8:1-21
The Excellence of Wisdom
8 Does not wisdom cry out,
And understanding lift up her voice?
2 She takes her stand on the top of the high hill,
Beside the way, where the paths meet.
3 She cries out by the gates, at the entry of the city,
At the entrance of the doors:
4 "To you, O men, I call,
And my voice is to the sons of men.
5 O you simple ones, understand prudence,
And you fools, be of an understanding heart.
6 Listen, for I will speak of excellent things,
And from the opening of my lips will come right things;
7 For my mouth will speak truth;
Wickedness is an abomination to my lips.
8 All the words of my mouth are with righteousness;
Nothing crooked or perverse is in them.
9 They are all plain to him who understands,
And right to those who find knowledge.
10 Receive my instruction, and not silver,
And knowledge rather than choice gold;
11 For wisdom is better than rubies,
And all the things one may desire cannot be compared with her.
12 "I, wisdom, dwell with prudence,
And find out knowledge and discretion.
13 The fear of the Lord is to hate evil;
Pride and arrogance and the evil way
And the perverse mouth I hate.
14 Counsel is mine, and sound wisdom;
I am understanding, I have strength.
15 By me kings reign,
And rulers decree justice.
16 By me princes rule, and nobles,
All the judges of the earth.
17 I love those who love me,
And those who seek me diligently will find me.
18 Riches and honor are with me,
Enduring riches and righteousness.
19 My fruit is better than gold, yes, than fine gold,
And my revenue than choice silver.
20 I traverse the way of righteousness,
In the midst of the paths of justice,
21 That I may cause those who love me to inherit wealth,
That I may fill their treasuries.