There is less and less of authentic Christianity
to be seen in our world today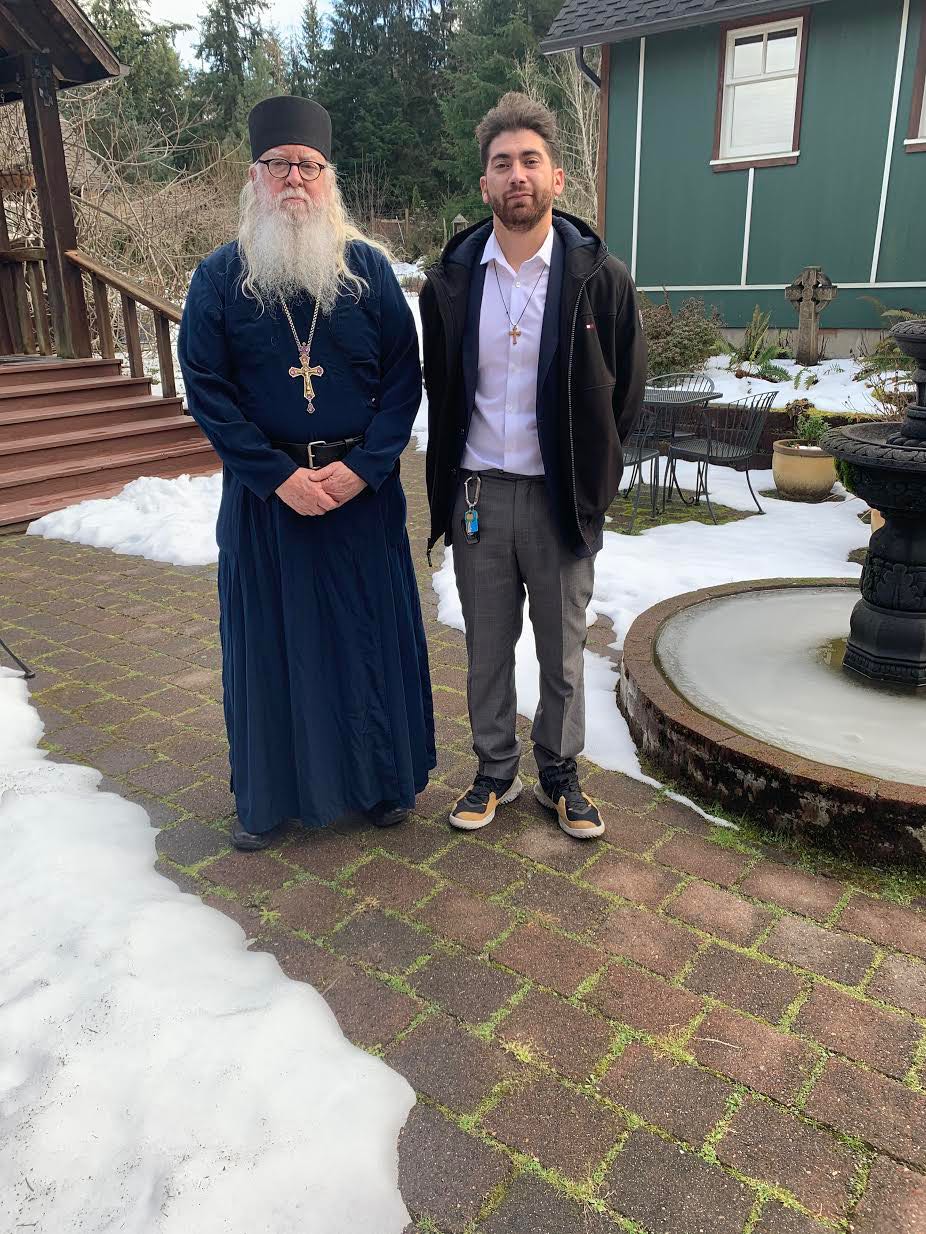 One of the most powerful reasons for embracing Orthodoxy is to be found in the Church's insistence that she holds to the evangelical and apostolic doctrine of the Ancient Church. In an age when everything is up for change, there is a certain security and stability when one institution (the Church) stands firm in her Apostolic Authority, and refuses to allow popular culture or political correctness to influence her rightful role as hospital for the soul.
"It is not lawful to differ even by a single word from the evangelical and apostolic doctrine, or to think otherwise than as the blessed Apostles and our fathers learned and taught concerning the Holy Scriptures (Saint Leo the Great)."
We know from the very foundations of the Church, set down in the Gospels, and in the Apostolic Canons, that the Church exists, not to judge, but to bring healing. Her mission is to make whole those who would enter into her gates, as entering into a hospital. She forces no one, for one who is forced is not open to healing. Yet the Church is also aware that sin is not really a private matter, for all sin affects everyone. She knows that even private sins have an effect on the whole of the cosmos. Therefore, the Church continues, as she has from ancient times, to give witness to the commandments of God, the hope that is found in the Gospel of Christ, and the forgiveness and healing that can lead to wholeness.
The Church may seem to be a backward looking institution, irrelevant for our times, a view that has caused many of the denominations to alter basic foundational teachings in order to please a more liberally leaning society. This has led numerous of the denominations to allow parliaments to enact laws that have forced these religious institutions to ordain women as clergy, perform same sex marriages, and bow down to modern views on abortion that have led to the death of thousands of innocents.
As an Orthodox monk who stands out in appearance, what with my long white beard and black robe, I demonstrate that I am attempting to live a faith that is not of this world. Like all Orthodox clergy, I teach by my presence in a modern and fallen world, that my faith is an ancient one, and that change is not necessary, for the faith of our fathers is just as relevant today, as it was two thousand years ago. What the Church has to offer today, is just as effective in bringing about the healing of the soul, as in ancient times.
The sad state of American Christianity has as its basis, a constant attempt to conform to an ever changing society, and with each change, there is less and less of authentic, ancient Christianity to be seen. It could be compared to using an old family cake recipe, dropping one ingredient, or changing another, with each passing generation. In the end, is it really great-great grandmother's cake recipe, or is it something else?
With love in Christ,
Abbot Tryphon
Photo: Giovanni Khouri, a member of the Palestinian Orthodox Church of Saint George in San Francisco, made a pilgrimage to the monastery on Tuesday.
All-Merciful Saviour Monastery is a monastery of the Western American Diocese, under the omophor of His Eminence Kyrill, Archbishop of San Francisco and Western America. The Monastery is a non-profit 501 C3 organization under IRS regulations. All donations are therefore tax deductible.
We depend on the generosity of our friends and benefactors. You can donate to the monastery through PayPal, or by sending donations directly to the monastery's mailing address:
All-Merciful Saviour Monastery
P.O. Box 2420
Vashon Island, WA 98070-2420 USA
Another small way to contribute to the monastery if one already purchases items through the amazon.com website is to use the smile.amazon.com link associated with our monastery. Purchases will accrue a small percentage that will eventually be given to the monastery in time. For more information, please go our website page here: https://vashonmonks.com/using-amazon-smile
Thursday February 18, 2021 / February 5, 2021
37th Week after Pentecost. Tone three.
Holy Martyr Agatha of Palermo in Sicily (251).
St. Theodosius, archbishop of Chernigov (1696).
New Martyrs Matushka Agatha (1938), and with her Schemamonk Eugene (1939) and Righteous Paramon (1941), of Belorussia.
Virgin-martyr Alexandra, martyr Michael (1942).
Martyr Theodoula of Anazarbus in Cilicia, and with her Martyrs Helladius, Macarius, Boethos, and Evagrius (304).
"Eletsk-Chernigov" (1060), "Sicilian" or "Divnogorsk" (1092) and "In Search of the Perishing" (17th c.) Icons of the Mother of God.
St. Polyeuctus, patriarch of Constantinople (970) (Greek).
New Martyr Anthony of Athens (1774) (Greek).
St. Theodosius of Skopelos in Cilicia (ca. 421).
St. Avitus, bishop of Vienne (525).
The Scripture Readings
1 Peter 4:12-5:5
Suffering for God's Glory
12 Beloved, do not think it strange concerning the fiery trial which is to try you, as though some strange thing happened to you; 13 but rejoice to the extent that you partake of Christ's sufferings, that when His glory is revealed, you may also be glad with exceeding joy. 14 If you are reproached for the name of Christ, blessed are you, for the Spirit of glory and of God rests upon you. On their part He is blasphemed, but on your part He is glorified. 15 But let none of you suffer as a murderer, a thief, an evildoer, or as a busybody in other people's matters. 16 Yet if anyone suffers as a Christian, let him not be ashamed, but let him glorify God in this matter.
17 For the time has come for judgment to begin at the house of God; and if it begins with us first, what will be the end of those who do not obey the gospel of God? 18 Now
"If the righteous one is scarcely saved,
Where will the ungodly and the sinner appear?"
19 Therefore let those who suffer according to the will of God commit their souls to Him in doing good, as to a faithful Creator.
Shepherd the Flock
5 The elders who are among you I exhort, I who am a fellow elder and a witness of the sufferings of Christ, and also a partaker of the glory that will be revealed: 2 Shepherd the flock of God which is among you, serving as overseers, not by compulsion but willingly, not for dishonest gain but eagerly; 3 nor as being lords over those entrusted to you, but being examples to the flock; 4 and when the Chief Shepherd appears, you will receive the crown of glory that does not fade away.
Submit to God, Resist the Devil
5 Likewise you younger people, submit yourselves to your elders. Yes, all of you be submissive to one another, and be clothed with humility, for
"God resists the proud,
But gives grace to the humble."
Mark 12:38-44
Beware of the Scribes
38 Then He said to them in His teaching, "Beware of the scribes, who desire to go around in long robes, love greetings in the marketplaces, 39 the best seats in the synagogues, and the best places at feasts, 40 who devour widows' houses, and for a pretense make long prayers. These will receive greater condemnation."
The Widow's Two Mites
41 Now Jesus sat opposite the treasury and saw how the people put money into the treasury. And many who were rich put in much. 42 Then one poor widow came and threw in two mites, which make a quadrans. 43 So He called His disciples to Himself and said to them, "Assuredly, I say to you that this poor widow has put in more than all those who have given to the treasury; 44 for they all put in out of their abundance, but she out of her poverty put in all that she had, her whole livelihood."