The quest for humility comes through uniting yourself to the humility of Christ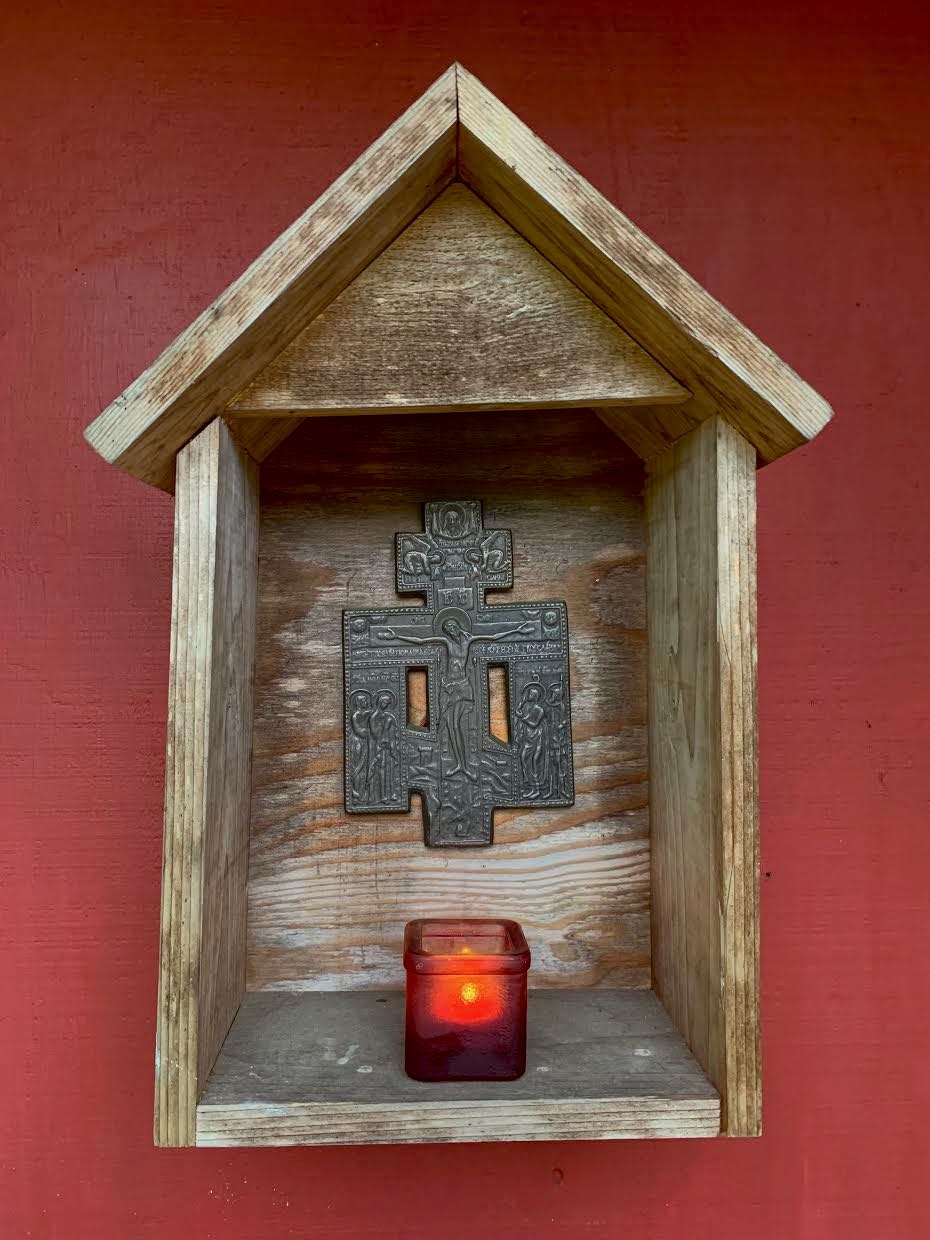 Struggling with pride, we must focus on bringing our own will into conformity with the will of God. We must take up the tradition of the Church, and make it our own, while recognizing that false humility is almost wholly the product of self-righteous hypocrisy. It is precisely this humility which Saint Paul reveals to us when, boasting of his sufferings and exploits, he tells us that they have meaning only in Jesus Christ.
We must fight off the temptation of making our faith a form of ideology, for we know the knowledge of Jesus Christ, when transformed into an ideological and moralistic knowledge, closes the door to others, and turns Christianity into a list of requirements, denuding the message of the Church into yet another worldly political force.
It is only through our immersion in a life of prayer that our faith becomes something other than an ideology. Through our uniting ourselves in the prayer of the Church that we lose ourself, and become one with Christ, and with all Christians. Our quest for humility comes through our having united ourselves to the humility of Christ, Who condescended to take on our flesh in order to unite His Divinity with our humanity.
With love in Christ,
Abbot Tryphon
Saturday January 9, 2021 / December 27, 2020
31st Week after Pentecost. Tone five.
Fast-free
Saturday after the Nativity of our Lord God and Savior Jesus Christ
Holy Protomartyr and Archdeacon Stephen (34).
Venerable Theodore Graptus ("the Branded") of Palestine and Bithynia, confessor (840), brother of St. Theophanes the Confessor and Hymnographer (850).
New Hieromartyrs Tikhon, archbishop of Voronezh and with him 160 martyred priests (1919).
Virgin-Martyr Antonina (1937).
Venerable Boniface of Kiev (1871).
St. Theodore, archbishop of Constantinople (686).
Uncovering of Relics (1514) of Venerable Pherapont of Mozhaisk, Luzhetsk.
Venerable Luke, monk, of Tryglia.
St. Maximus, bishop of Alexandria (282).
St. Maurice and the Theban Legion. (Candidus, Innocent, Exuperius and 6,600 others) (302).
The Scripture Readings
Colossians 1:3-6
Their Faith in Christ
3 We give thanks to the God and Father of our Lord Jesus Christ, praying always for you, 4 since we heard of your faith in Christ Jesus and of your love for all the saints; 5 because of the hope which is laid up for you in heaven, of which you heard before in the word of the truth of the gospel, 6 which has come to you, as it has also in all the world, and is bringing forth fruit, as it is also among you since the day you heard and knew the grace of God in truth;
Luke 16:10-15
10 He who is faithful in what is least is faithful also in much; and he who is unjust in what isleast is unjust also in much. 11 Therefore if you have not been faithful in the unrighteous mammon, who will commit to your trust the true riches? 12 And if you have not been faithful in what is another man's, who will give you what is your own?
13 "No servant can serve two masters; for either he will hate the one and love the other, or else he will be loyal to the one and despise the other. You cannot serve God and mammon."
The Law, the Prophets, and the Kingdom
14 Now the Pharisees, who were lovers of money, also heard all these things, and they derided Him. 15 And He said to them, "You are those who justify yourselves before men, but God knows your hearts. For what is highly esteemed among men is an abomination in the sight of God.
Acts 6:8-15
Stephen Accused of Blasphemy
8 And Stephen, full of faith and power, did great wonders and signs among the people. 9 Then there arose some from what is called the Synagogue of the Freedmen (Cyrenians, Alexandrians, and those from Cilicia and Asia), disputing with Stephen. 10 And they were not able to resist the wisdom and the Spirit by which he spoke. 11 Then they secretly induced men to say, "We have heard him speak blasphemous words against Moses and God." 12 And they stirred up the people, the elders, and the scribes; and they came upon him, seized him, and brought him to the council. 13 They also set up false witnesses who said, "This man does not cease to speak [b]blasphemous words against this holy place and the law; 14 for we have heard him say that this Jesus of Nazareth will destroy this place and change the customs which Moses delivered to us." 15 And all who sat in the council, looking steadfastly at him, saw his face as the face of an angel.
Acts 7:1-5
Stephen's Address: The Call of Abraham
7 Then the high priest said, "Are these things so?"
2 And he said, "Brethren and fathers, listen: The God of glory appeared to our father Abraham when he was in Mesopotamia, before he dwelt in Haran, 3 and said to him, 'Get out of your country and from your relatives, and come to a land that I will show you.'4 Then he came out of the land of the Chaldeans and dwelt in Haran. And from there, when his father was dead, He moved him to this land in which you now dwell. 5 And God gave him no inheritance in it, not even enough to set his foot on. But even when Abrahamhad no child, He promised to give it to him for a possession, and to his descendants after him.
Acts 7:47-60
47 But Solomon built Him a house.
48 "However, the Most High does not dwell in temples made with hands, as the prophet says:
49 'Heaven is My throne,
And earth is My footstool.
What house will you build for Me? says the Lord,
Or what is the place of My rest?
50 Has My hand not made all these things?'
Israel Resists the Holy Spirit
51 "You stiff-necked and uncircumcised in heart and ears! You always resist the Holy Spirit; as your fathers did, so do you. 52 Which of the prophets did your fathers not persecute? And they killed those who foretold the coming of the Just One, of whom you now have become the betrayers and murderers, 53 who have received the law by the direction of angels and have not kept it."
Stephen the Martyr
54 When they heard these things they were cut to the heart, and they gnashed at him with their teeth. 55 But he, being full of the Holy Spirit, gazed into heaven and saw the glory of God, and Jesus standing at the right hand of God, 56 and said, "Look! I see the heavens opened and the Son of Man standing at the right hand of God!"
57 Then they cried out with a loud voice, stopped their ears, and ran at him with one accord; 58 and they cast him out of the city and stoned him. And the witnesses laid down their clothes at the feet of a young man named Saul. 59 And they stoned Stephen as he was calling on God and saying, "Lord Jesus, receive my spirit." 60 Then he knelt down and cried out with a loud voice, "Lord, do not charge them with this sin." And when he had said this, he fell asleep.
Matthew 21:33-42
The Parable of the Wicked Vinedressers
33 "Hear another parable: There was a certain landowner who planted a vineyard and set a hedge around it, dug a winepress in it and built a tower. And he leased it to vinedressers and went into a far country. 34 Now when vintage-time drew near, he sent his servants to the vinedressers, that they might receive its fruit. 35 And the vinedressers took his servants, beat one, killed one, and stoned another. 36 Again he sent other servants, more than the first, and they did likewise to them. 37 Then last of all he sent his son to them, saying, 'They will respect my son.' 38 But when the vinedressers saw the son, they said among themselves, 'This is the heir. Come, let us kill him and seize his inheritance.' 39 So they took him and cast him out of the vineyard and killed him.
40 "Therefore, when the owner of the vineyard comes, what will he do to those vinedressers?"
41 They said to Him, "He will destroy those wicked men miserably, and lease his vineyard to other vinedressers who will render to him the fruits in their seasons."
42 Jesus said to them, "Have you never read in the Scriptures:
'The stone which the builders rejected
Has become the chief cornerstone.
This was the Lord's doing,
And it is marvelous in our eyes'?
1 Timothy 6:11-16
The Good Confession
11 But you, O man of God, flee these things and pursue righteousness, godliness, faith, love, patience, gentleness. 12 Fight the good fight of faith, lay hold on eternal life, to which you were also called and have confessed the good confession in the presence of many witnesses. 13 I urge you in the sight of God who gives life to all things, and before Christ Jesus who witnessed the good confession before Pontius Pilate, 14 that you keep this commandment without spot, blameless until our Lord Jesus Christ's appearing, 15 which He will manifest in His own time, He who is the blessed and only Potentate, the King of kings and Lord of lords, 16 who alone has immortality, dwelling in unapproachable light, whom no man has seen or can see, to whom be honor and everlasting power. Amen.
Matthew 12:15-21
Behold, My Servant
15 But when Jesus knew it, He withdrew from there. And great multitudes followed Him, and He healed them all. 16 Yet He warned them not to make Him known, 17 that it might be fulfilled which was spoken by Isaiah the prophet, saying:
18 "Behold! My Servant whom I have chosen,
My Beloved in whom My soul is well pleased!
I will put My Spirit upon Him,
And He will declare justice to the Gentiles.
19 He will not quarrel nor cry out,
Nor will anyone hear His voice in the streets.
20 A bruised reed He will not break,
And smoking flax He will not quench,
Till He sends forth justice to victory;
21 And in His name Gentiles will trust."