God Himself appeared in the flesh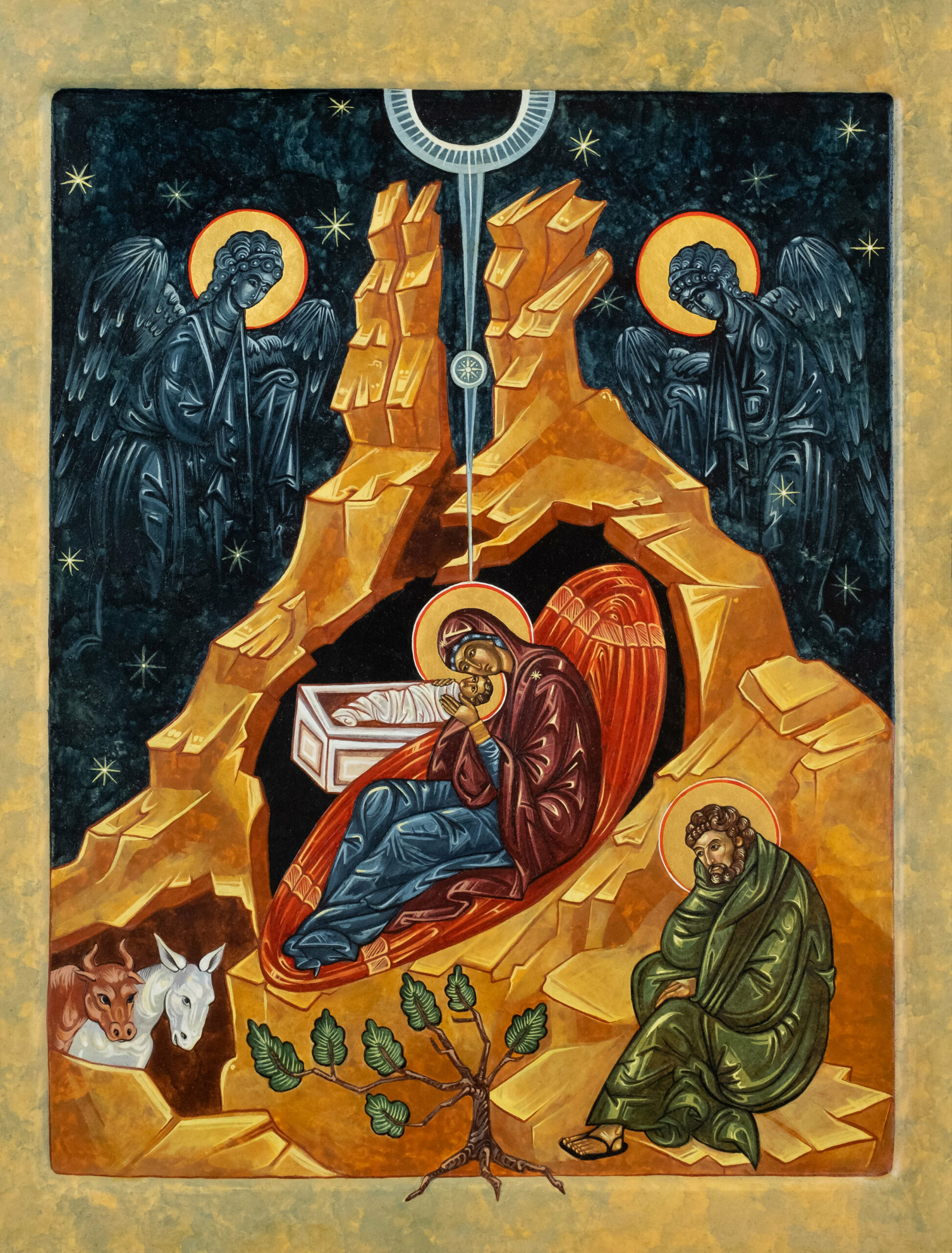 We Orthodox Christians who keep the ancient Church Calendar are approaching our celebration of the Nativity of Christ Our Lord. On January 7th we will all be gathering together in monasteries, chapels, churches, and cathedrals, to celebrate the Liturgy of the Nativity of Our Lord, God, and Saviour, Jesus Christ.
The very incarnation of the Son of God and His coming into the world is singularly one of the greatest events in the history of humankind. That God Himself would take on our image, and join His Divinity to our humanity, is one of the great mysteries of our faith.
A Virgin, who by her humility was obedient to the will of God, agreeing to become a living tabernacle of the very God who created her, and who by her obedience became the first disciple of the Lord, and the New Eve, ushered in our salvation.
By His condescension salvation entered our world, and the power of death was overcome. The very Word of God, by Whom the whole of the cosmos came into being, became a little child, born of a woman. At that moment the demons trembled, knowing they'd already lost their battle, and rebellion against God had seen it's demise.
Let us prepare ourselves for the reception of the Holy Mysteries, that as we take in the Body and Blood of Our Lord during the upcoming Nativity Liturgy, we may give birth, anew, to Christ in our hearts. Let us be reborn in the spirit, transformed and made whole by the living God of Lights. Together with the angels, and all the heavenly hosts, let us sing:
Alleluia, Alleluia, Alleluia, Lord God of Hosts, heaven and earth are filled with Thy glory.
With love in Christ,
Abbot Tryphon
Tuesday January 5, 2021 / December 23, 2020
31st Week after Pentecost. Tone five.
Nativity (St. Philip's Fast). Food with Oil
Forefeast of the Nativity of Christ.
Holy Ten Martyrs of Crete: Theodulus, Saturninus, Euporus, Gelasius, Eunician, Zoticus, Pompeius, Agathopus, Basilides, and Evaristus (250).
New Hieromartyr Basil priest and Hieromartyrs Macarius and John (1938).
St. Theoctistus, archbishop of Novgorod (1310).
Venerable Niphon bishop of Cyprus (4th c.).
Venerable Paul, bishop of Neo-Caesarea (4th c.).
St. Nahum of Ochrid, enlightener of the Bulgarians (910) (Bulgaria).
New Hieromartyrs John Piankov and Nicholas Yakhontov priests (1918).
Venerable David of Echmiadzin in Armenia (693).
Venerable Niphon, bishop of Cyprus (4th c.).
New Hieromartyr Paul (Kratirov) bishop of Starobelsk.
St. Egbert of Rathmelsigi (729) (Neth.).
The Scripture Readings
Hebrews 12:25-26
Hear the Heavenly Voice
25 See that you do not refuse Him who speaks. For if they did not escape who refused Him who spoke on earth, much more shall we not escape if we turn away from Him who speaks from heaven, 26 whose voice then shook the earth; but now He has promised, saying, "Yet once more I shake not only the earth, but also heaven."
Hebrews 13:22-25
22 And I appeal to you, brethren, bear with the word of exhortation, for I have written to you in few words. 23 Know that our brother Timothy has been set free, with whom I shall see you if he comes shortly.
24 Greet all those who rule over you, and all the saints. Those from Italy greet you.
25 Grace be with you all. Amen.
Mark 10:2-12
2 The Pharisees came and asked Him, "Is it lawful for a man to divorce his wife?" testing Him.
3 And He answered and said to them, "What did Moses command you?"
4 They said, "Moses permitted a man to write a certificate of divorce, and to dismiss her."
5 And Jesus answered and said to them, "Because of the hardness of your heart he wrote you this precept. 6 But from the beginning of the creation, God 'made them male and female.' 7 'For this reason a man shall leave his father and mother and be joined to his wife,8 and the two shall become one flesh'; so then they are no longer two, but one flesh.9 Therefore what God has joined together, let not man separate."
10 In the house His disciples also asked Him again about the same matter. 11 So He said to them, "Whoever divorces his wife and marries another commits adultery against her.12 And if a woman divorces her husband and marries another, she commits adultery."