The Holy Eucharist defies analysis precisely because it is a mystery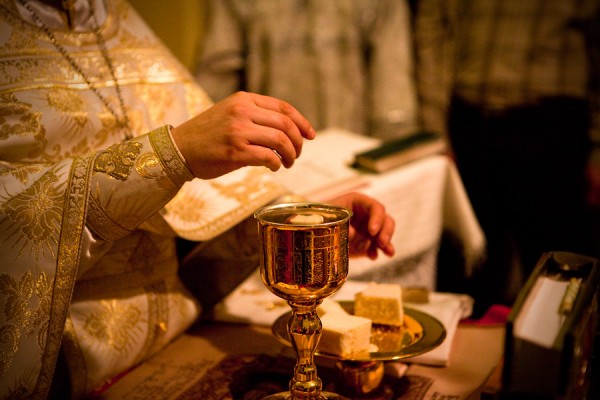 Eternity is an everlasting banquet (the Divine Liturgy) that takes place in the heavenly realm. Every time we participate in the Divine Liturgy we are transported into a place where there is neither time nor space, and participate in that very banquet. As we receive the Holy Mysteries (Christ's very Body and Blood), we receive the healing medicine for that which ails us. Our brokenness in both body and soul are given the healing medicine that we so very much need.
The Eucharist is the very medicine that God designed for this transformation. Our response should be one of humble submission to this invitation to commune with the very God Who created us. Holy Communion is meant to be the very agent that changes us, making us whole. The Holy Mysteries give us life. Frequent confession and communion are the means we have for change.
The Holy Eucharist defies analysis and explanation in purely rational and logical terms, precisely because it is a mystery. The Eucharist, as is Christ himself, is a mystery of the Kingdom of Heaven which, as Jesus has told us, is "not of this world." The Eucharist, because it belongs to God's Kingdom, is truly free from the earth-born "logic" of fallen humanity.
Saint John of Damascus says, "If you enquire how this happens, it is enough for you to learn that it is through the Holy Spirit … we know nothing more than this, that the word of God is true, active, and omnipotent, but in its manner of operation unsearchable".
Love in Christ,
Abbot Tryphon
Tuesday January 12, 2021 / December 30, 2020
32nd Week after Pentecost. Tone six.
Fast-free
St. Macarius, metropolitan of Moscow (1563).
Virgin-martyr Anysia at Thessalonica (298).
Martyr Zoticus of Constantinople, feeder of orphans (4th c.).
New Hieromartyr Priest Sergius Florinsky of Rakvere, Estonia (1918).
Virgin-martyr Mary (1946).
Apostle Timon the Deacon (1st c.).
Martyr Philoterus of Nicomedia, and with him six soldiers and one count (311).
Venerable Theodora, nun of Caesarea in Cappadocia (8th cen.).
Venerable Theodora, nun, of Constantinople (940).
New Martyr Gideon of Karakallou, Mt. Athos (1818) (Greek).
Martyrs Magistrianus, Paulinus, Umbrius, Verus, Severus, Callistratus, Florentius, Arianus, Anthimus, Ubricius, Isidore, Euculus, Sampson, Studius, and Thespesius, who suffered under Julian the Apostate (4th c.).
Opening of the relics (1652) of Venerable Daniel of Pereyaslavl (1540).
St. Egwin, bishop of Worcester (717) (Celtic & British).
St. Tryphon, bishop of Rostov (1468).
St. Leo the Archimandrite (Greek).
St. Isaacius of Dalmaton (Greek).
The Scripture Readings
John 10:1-9
Jesus the True Shepherd
10 "Most assuredly, I say to you, he who does not enter the sheepfold by the door, but climbs up some other way, the same is a thief and a robber. 2 But he who enters by the door is the shepherd of the sheep. 3 To him the doorkeeper opens, and the sheep hear his voice; and he calls his own sheep by name and leads them out. 4 And when he brings out his own sheep, he goes before them; and the sheep follow him, for they know his voice. 5 Yet they will by no means follow a stranger, but will flee from him, for they do not know the voice of strangers." 6 Jesus used this illustration, but they did not understand the things which He spoke to them.
Jesus the Good Shepherd
7 Then Jesus said to them again, "Most assuredly, I say to you, I am the door of the sheep. 8 All who ever came [a]before Me are thieves and robbers, but the sheep did not hear them. 9 I am the door. If anyone enters by Me, he will be saved, and will go in and out and find pasture.
James 3:1-10
The Untamable Tongue
3 My brethren, let not many of you become teachers, knowing that we shall receive a stricter judgment. 2 For we all stumble in many things. If anyone does not stumble in word, he is a perfect man, able also to bridle the whole body. 3 Indeed, we put bits in horses' mouths that they may obey us, and we turn their whole body. 4 Look also at ships: although they are so large and are driven by fierce winds, they are turned by a very small rudder wherever the pilot desires. 5 Even so the tongue is a little member and boasts great things.
See how great a forest a little fire kindles! 6 And the tongue is a fire, a world of iniquity. The tongue is so set among our members that it defiles the whole body, and sets on fire the course of nature; and it is set on fire by hell. 7 For every kind of beast and bird, of reptile and creature of the sea, is tamed and has been tamed by mankind. 8 But no man can tame the tongue. It is an unruly evil, full of deadly poison. 9 With it we bless our God and Father, and with it we curse men, who have been made in the similitude of God. 10 Out of the same mouth proceed blessing and cursing. My brethren, these things ought not to be so.
Mark 11:11-23
11 And Jesus went into Jerusalem and into the temple. So when He had looked around at all things, as the hour was already late, He went out to Bethany with the twelve.
The Fig Tree Withered
12 Now the next day, when they had come out from Bethany, He was hungry. 13 And seeing from afar a fig tree having leaves, He went to see if perhaps He would find something on it. When He came to it, He found nothing but leaves, for it was not the season for figs. 14 In response Jesus said to it, "Let no one eat fruit from you ever again."
And His disciples heard it.
Jesus Cleanses the Temple
15 So they came to Jerusalem. Then Jesus went into the temple and began to drive out those who bought and sold in the temple, and overturned the tables of the money changers and the seats of those who sold doves. 16 And He would not allow anyone to carry wares through the temple. 17 Then He taught, saying to them, "Is it not written,'My house shall be called a house of prayer for all nations'? But you have made it a 'den of thieves.' "
18 And the scribes and chief priests heard it and sought how they might destroy Him; for they feared Him, because all the people were astonished at His teaching. 19 When evening had come, He went out of the city.
The Lesson of the Withered Fig Tree
20 Now in the morning, as they passed by, they saw the fig tree dried up from the roots. 21 And Peter, remembering, said to Him, "Rabbi, look! The fig tree which You cursed has withered away."
22 So Jesus answered and said to them, "Have faith in God. 23 For assuredly, I say to you, whoever says to this mountain, 'Be removed and be cast into the sea,' and does not doubt in his heart, but believes that those things he says will be done, he will have whatever he says.
Hebrews 7:26-8:2
26 For such a High Priest was fitting for us, who is holy, harmless, undefiled, separate from sinners, and has become higher than the heavens; 27 who does not need daily, as those high priests, to offer up sacrifices, first for His own sins and then for the people's, for this He did once for all when He offered up Himself. 28 For the law appoints as high priests men who have weakness, but the word of the oath, which came after the law, appoints the Son who has been perfected forever.
The New Priestly Service
8 Now this is the main point of the things we are saying: We have such a High Priest, who is seated at the right hand of the throne of the Majesty in the heavens, 2 a Minister of the [b]sanctuary and of the true tabernacle which the Lord erected, and not man.
John 10:9-16
9 I am the door. If anyone enters by Me, he will be saved, and will go in and out and find pasture. 10 The thief does not come except to steal, and to kill, and to destroy. I have come that they may have life, and that they may have it more abundantly.
11 "I am the good shepherd. The good shepherd gives His life for the sheep. 12 But a hireling, he who is not the shepherd, one who does not own the sheep, sees the wolf coming and leaves the sheep and flees; and the wolf catches the sheep and scatters them. 13 The hireling flees because he is a hireling and does not care about the sheep.14 I am the good shepherd; and I know My sheep, and am known by My own. 15 As the Father knows Me, even so I know the Father; and I lay down My life for the sheep.16 And other sheep I have which are not of this fold; them also I must bring, and they will hear My voice; and there will be one flock and one shepherd.