In a world of darkness and despair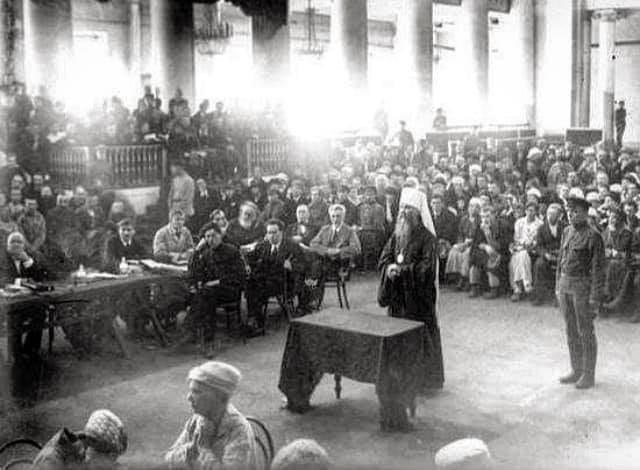 The Holy Hierarch-Martyr Metropolitan Benjamin of Petrograd, who in 1922 became a martyr of Christ to Communist terror, said at his trial…"I do not know what sentence you will pass upon me—life or death—yet whatever your pronouncement, I will raise my eyes upward with the same reverence, make the sign of the Cross (here he crossed himself broadly) and say, "Glory to Thee, O Lord God, for all things!" Then he was shot.
This is not something that only happened "back then", during the early years of the Bolshevik Revolution. Persecution of the faithful from the hands of the civil authorities or one's fellow citizens continued through many of the decades when the Communist regime was in power in Russia and in other countries as well (Romania, Bulgaria, and even China today). It has continued to be an ever-present factor in daily life in Muslim countries as well up to this day (such as Egypt, Turkey, Saudi Arabia, Iran and others).
Even the faithful living in "the West" (for ex., America, Europe, Australia) have experienced a different sort of adverse set of circumstances, a sort of "soft totalitarianism" – mostly sown through popular culture, multimedia entertainment, and slowly, increasingly through the country's learning institutions, news and information services, and political activities and actions. As the prevailing culture becomes ever more pagan, socialist, anarchist, and militantly anti-Christian, the possibility of outright physical persecution from the civil authorities or one's fellow citizens appears to be more and more possible.
In a way this has always been so, though. Our Lord foretold that His followers would endure difficulties and persecutions from others (even fellow believers thinking they were doing God's work) and that the path of His followers is also the path of the Cross.
However, even with what seems an initially bleak perspective on our lives and surroundings, we Christians know that we cannot be close to God if we do not maintain good relations with others. We are commanded to love our neighbor. And even though the future may seem dark or hopeless at times, we know that God's love is manifest in the fact that He sent His Son to earth and He became Man, and sacrificed Himself with the sole purpose of saving all people, restoring peace between people and God, breaking down the wall of shame, and opening the gates to paradise.
Christ demonstrated His perfect love on the cross, and this unique action of God taught us that the deepest meaning of love is selflessness. It is by the holy cross that our relations with God, neighbors, and all creatures, is restored. And it is by this perfect love that we dare harbor hope for a world that has become devoid of love. To a certain degree it does not matter what difficult circumstances we find ourselves in – we are called to strive to fulfil Christ's commandments of love of neighbor, meekness, love of one's enemies, hungering and thirsting for righteousness and above all love of our Saviour and Creator.
Thus, even if we are destined to experience the same martyrdom as did Hierarch-Martyr Metropolitan Benjamin, we know that love will eventually triumph over evil, and that the perilous times we are experiencing will become but a thing of the past, a sad memory, an historical moment that will be relegated as but a footnote of history.
The times we all find ourselves in are, in truth, a gift from God, for they offer us the perfect opportunity to repent, and turn our gaze upon the Lord of Mercy. And we must consciously pray for the grace to love our neighbor, and even to love our enemies – which means first and foremost those who irritate us, who offend us, who hurt us with their words, who take advantage of us, who slander us, who lash out angrily at us because they are in pain and suffering inside.
Thus, we are to strive to love all, whether they be a pagan, a socialist, a secularist, an anarchist, or one of the militantly anti-Christian people that have been in the midst of Christ's followers since the beginning – we must love all, just as Christ loves them. And we must pray that by Christ's grace our prayerful and loving example might even help those who have wandered far away from God, that they will see the Light of Christ shining forth from us, and will find salvation for themselves, having sought after the Father of Lights.
With love in Christ,
Abbot Tryphon
Photo: The Holy Hierarch-Martyr Metropolitan Benjamin of Petrograd, standing before his accusers.
Saturday December 12, 2020 / November 29, 2020
27th Week after Pentecost. Tone one.
Nativity (St. Philip's Fast). Fish Allowed
Martyr Paramon and 370 Martyrs in Bithynia (250).
Martyr Philumenus of Ancyra, and with him Martyrs Valerian and Phaedrus (274).
Venerable Acacius of Mt. Latros, who is mentioned in The Ladder (6th c.).
New Hieromartyr Sergius priest (1941).
Venerable Nectarius the Obedient of the Kiev Caves (12th c.).
St. Saturninus, martyr and bishop of Toulouse ( 257) (Gaul).
Hieromartyr Abibus, bishop of Nekressi in Georgia (6th c.) (Georgia).
St. Mardarije of Libertyville (1935) (Serbia).
Venerable Pitirim of Egypt (4th c.), disciple of Venerable Anthony the Great.
Hieromartyr Dionysius, bishop of Corinth (182).
St. Tiridates, king of Armenia (4th c.).
St. Nicholas, archbishop of Thessalonica (Greek).
Hieromartyr John of Persia (Greek).
St. Urban of Macedonia, bishop (Greek).
St. Pancosmius, monk (Greek).
St. Radboud, bishop of Utrecht (917) (Neth.).
St. Brendan of Birr (571) (Celtic and British).
The Scripture Readings
Galatians 5:22-6:2
22 But the fruit of the Spirit is love, joy, peace, longsuffering, kindness, goodness, faithfulness, 23 gentleness, self-control. Against such there is no law. 24 And those who are Christ's have crucified the flesh with its passions and desires. 25 If we live in the Spirit, let us also walk in the Spirit. 26 Let us not become conceited, provoking one another, envying one another.
Bear and Share Burdens
6 Brethren, if a man is overtaken in any trespass, you who are spiritual restore such a one in a spirit of gentleness, considering yourself lest you also be tempted. 2 Bear one another's burdens, and so fulfill the law of Christ.
Luke 10:19-21
19 Behold, I give you the authority to trample on serpents and scorpions, and over all the power of the enemy, and nothing shall by any means hurt you. 20 Nevertheless do not rejoice in this, that the spirits are subject to you, but rather rejoice because your names are written in heaven."
Jesus Rejoices in the Spirit
21 In that hour Jesus rejoiced in the Spirit and said, "I thank You, Father, Lord of heaven and earth, that You have hidden these things from the wise and prudent and revealed them to babes. Even so, Father, for so it seemed good in Your sight.