True repentance must culminate in the Sacrament of Confession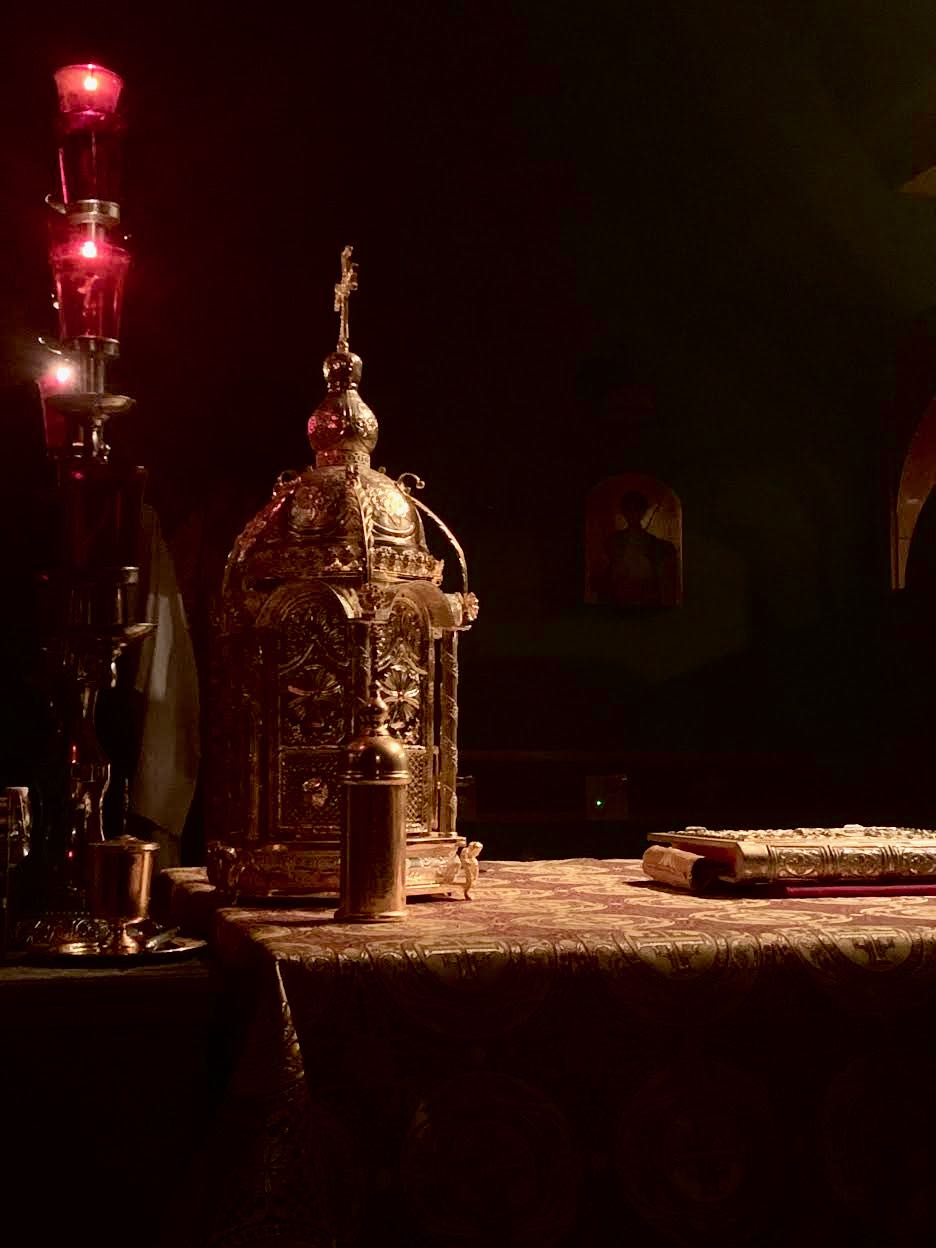 Confession is a God-given commandment, and it is one of the Sacraments of our Church. Confession must never become a formal, habitual, and unprepared act, coming forth from a sense of duty or obligation. Nor can we allow our confession to be nothing beyond some sort of psychological relief.  Our confession must be united to a sincere desire for true repentance. If our confession is nothing more than an act of relieving a sense of guilt, we will not have truly confessed.
Repentance is that important moment when we reach deeply into our heart, and cultivate the process of contrition and sorrow for having distanced ourselves from God through sin. To be truly repentant has nothing to do with promoting a relentless sense of guilt, for that could lead to the inflating of our ego. This would not be sincere repentance, but a secret egotism based on shame alone.
True repentance must be about making a complete about-face, demonstrating our sincere desire to turn our backs on sin, and focus on an inner communion with God. Our act of true repentance must make clear our desire to embrace all that is good in our life, and make our commitment to the things of this world, a thing of the past.
Repentance means a change in our thoughts, and making a commitment to living a life of virtue, and benevolence. Repentance must prompt us to be re-joined to Christ through the Grace of the Holy Spirit.
True repentance must begin in the depth of our heart, and culminate in the sacrament of Confession, wherein we sincerely and humbly bear all before the confessor, as though in the presence of Christ. Our repentance must be grounded in a true commitment to keeping our eyes on the things of God, and casting aside all that would detract from the ultimate goal, Eternal Life.
With love in Christ,
Abbot Tryphon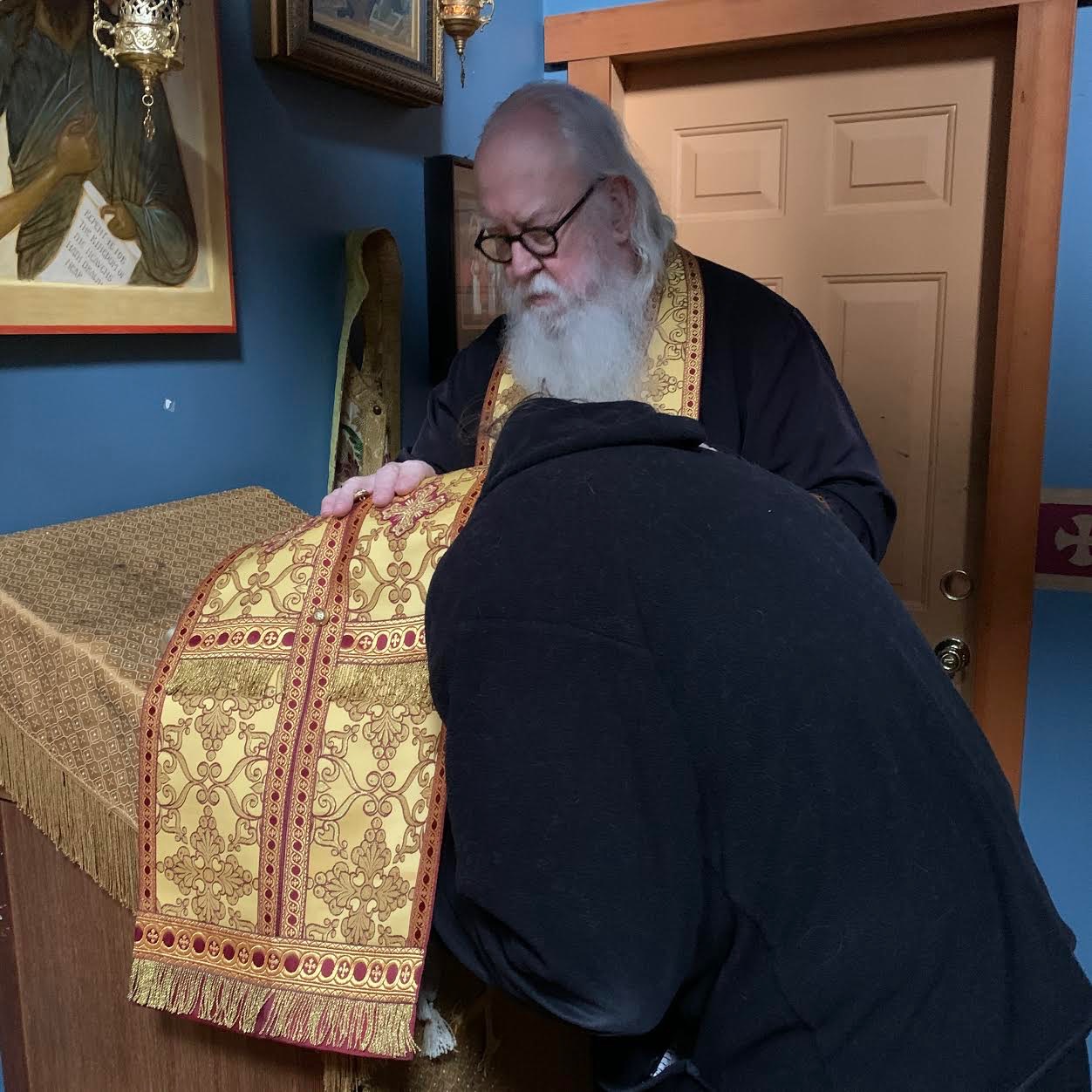 A BRIEF FORM OF CONFESSION
When indicated by the priest to do so, the penitent may say the following:
I confess to the Lord my God before you, reverend father, all my sins which I have committed up to the present day and hour, in deed, word, and thought. Every day and every hour I sin through ingratitude to God for His great and numberless blessings to me and His most gracious providence and care for me, a sinner. I have sinned through:
The penitent then mentions those sins from the following list he is guilty of:
anger
concealing sins in confession
disobedience
disrespect
insubordination
drunkenness
gluttony or over-eating
evil speech
foul speech
saying unseemly things
gossip
grumbling
idle talk
lying
greed
inattention
carelessness
laziness
negligence or carelessness
love of money
love of sensual pleasure
sexual sins
impure thoughts
missing church services
sleeping in church
neglect of prayer
attachment to things
love of glory or honor
pride
self-love
self-will
vainglory or false values
envy
jealousy
remembering wrongs
reproaching others
judging others
condemnation of others
resentment
scorn
slander
theft
The penitent then mentions any other sins which he is guilty of, and concludes:
I repent of all my sins, and I beg forgiveness of our almighty God. I also ask forgiveness for all those sins I have not confessed because of their multitude and my forgetfulness.
Forgive and absolve me, reverend father, and bless me to receive the Holy Communion of the precious, holy, and life-creating Mysteries of the Body and Blood of our Lord Jesus Christ, unto the remission of sins and life everlasting.
Friday November 13, 2020 / October 31, 2020
23rd Week after Pentecost. Tone five.
Fast. By Monastic Charter: Strict Fast (Bread, Vegetables, Fruits)
Apostles Stachys, Amplias, Urban, Narcissus, Apelles, and Aristobulus of the Seventy (1st c.).
Martyr Epimachus of Pelusium, who suffered at Alexandria (250).
New Hieromartyr Priest John Kochurov of Chicago and St. Petersburg (1917).
New Hieromartyr Leonid (1918).
New Hieromartyrs Vsevolod, Alexander, Sergius, Alexis, Basil, Peter, Basil priests, Hieromartyrs Anatolius, Euphrosynus and Martyr James (1937).
New Hieromartyr Innocent (1938).
Venerables Spyridon and Nicodemus the Prosphorabakers of the Kiev Caves (1148).
Venerable Maura of Constantinople (436).
Venerable Anatolius, recluse of the Kiev Caves (12th c.).
New Martyr Nicholas the New of Chios (1754) (Greek).
Venerable Foillan, Irish monk-martyr (655) (Neth.).
Martyr Quentin of Rome (3rd-4th c.).
St. James, bishop of Mygdonia (4th. c.).
Commemoration of the Martyrs of Tbilisi slain under Jelaluddin (1227) (Georgia).
Martyr Epimachus the Roman and his companion Gordian (361-363) (Greek).
Martyrs Stephen, Barnabas, Trophimus, Dorymedon, Cosmas, Damian, Sabbas, Bassa, Abraham, and others with them (Greek).
Martyrs Seleucius and Stratonica his wife, myrr-gushers (Greek).
The Scripture Readings
1 Thessalonians 2:14-19
14 For you, brethren, became imitators of the churches of God which are in Judea in Christ Jesus. For you also suffered the same things from your own countrymen, just as they did from the Judeans, 15 who killed both the Lord Jesus and their own prophets, and have persecuted us; and they do not please God and are contrary to all men, 16 forbidding us to speak to the Gentiles that they may be saved, so as always to fill up the measure of their sins; but wrath has come upon them to the uttermost.
Longing to See Them
17 But we, brethren, having been taken away from you for a short time in presence, not in heart, endeavored more eagerly to see your face with great desire. 18 Therefore we wanted to come to you—even I, Paul, time and again—but Satan hindered us. 19 For what is our hope, or joy, or crown of rejoicing? Is it not even you in the presence of our Lord Jesus Christ at His coming?
Luke 11:23-26
23 He who is not with Me is against Me, and he who does not gather with Me scatters.
An Unclean Spirit Returns
24 "When an unclean spirit goes out of a man, he goes through dry places, seeking rest; and finding none, he says, 'I will return to my house from which I came.' 25 And when he comes, he finds it swept and put in order. 26 Then he goes and takes with him seven other spirits more wicked than himself, and they enter and dwell there; and the last state of that man is worse than the first."