Others cannot know they need Christ if they do not see Him in us
Christ empowers us to change the hearts and minds of others by the example of our allowing Christ to change us. In the words of Saint Seraphim of Sarov, if we "acquire a humble and contrite heart, a thousand around us will be saved".
If others do not see in us a forgiving heart, how will they know there is forgiveness in Christ? If others do not see in us a heart filled with joy, how will they know they need the very Christ whom we proclaim as our Lord and Savior? If others see in us a judgmental, narrow minded, unhappy person, why would they be drawn to the Orthodoxy we claim is the true faith?
Others can not know they need Christ if they do not see Him in us. They do not know this Christ fills hearts and transforms lives if they do not see transformation in us. If we are fearful, angry, judgmental, arrogant or aloof, the world will see nothing in our Orthodox Christian faith worthy seeking.
With love in Christ,
Abbot Tryphon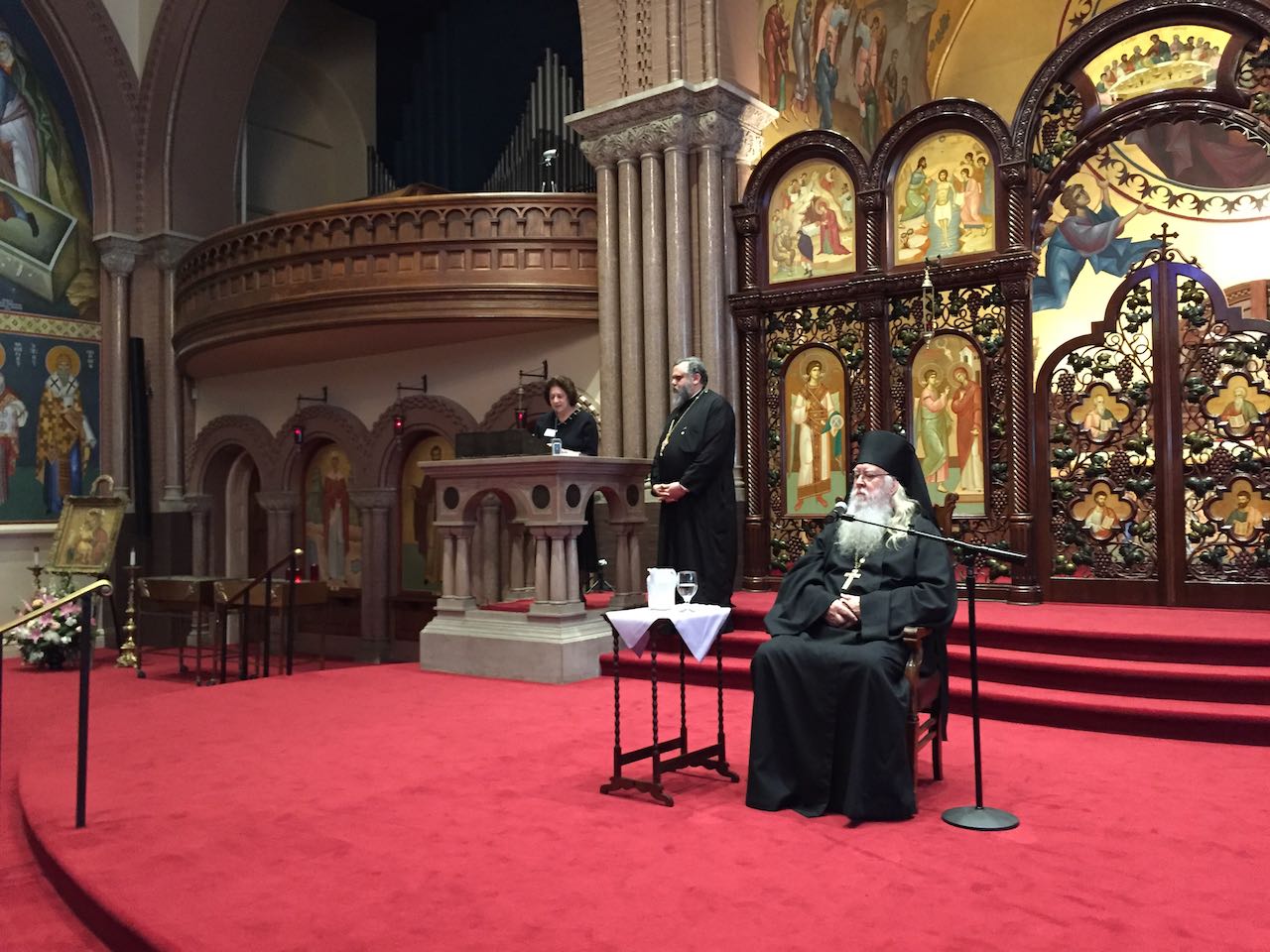 Photos: Sharing the inner life with members of the Greek Orthodox cathedral in Baltimore, MD., some years ago. I fell in love with all of them. Just as it has been for most of you, I find it extremely difficult not to be out among people, interacting in a personal way, and letting others see an actual smile on my face.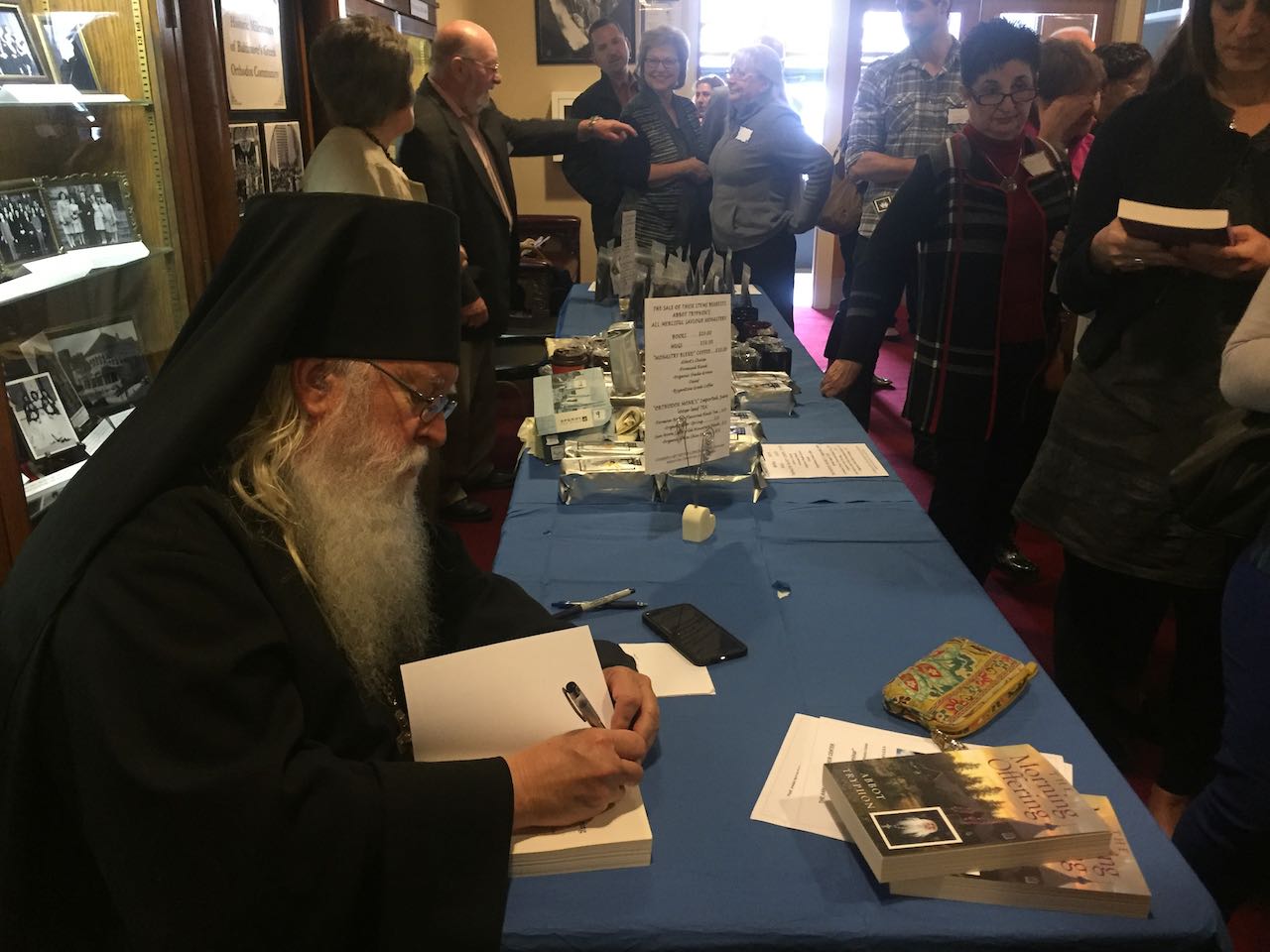 Sunday November 22, 2020 / November 9, 2020
24th Sunday after Pentecost. Tone seven.
Martyrs Onesiphorus and Porphyrius of Ephesus (284).
Venerable Matrona, abbess, of Constantinople (492).
Venerable Theoctiste of the isle of Lesbos (881).
New Hieromartyrs Parthenius bishop of Ananiev, Constantine, Demetrius, Nestor, Theodore, Constantine, Victor, Elias priests, Joseph deacon and Hieromartyr Alexis (1937).
Venerable Onesiphorus the Confessor of the Kiev Caves (1148).
Martyr Alexander of Thessalonica (305).
Martyr Anthony of Apamea (5th c.).
Venerable John the Short of Egypt (422).
Venerables Eustolia (610) and Sosipatra (635) of Constantinople.
St. Nectarius (Kephalas), metropolitan of Pentapolis (1920) (Greek).
Icon of the Most Holy Theotokos "The Quick Hearer of Mt. Athos"(10th c.).
Venerable Simeon Metaphrastes of Constantinople (960).
Venerables Euthymius (990) and Neophytus, the Serbians of Mt. Athos (Greek).
Martyrs Narses and Artemonos (Greek).
St. Helladius, monk (Greek).
Martyrs Claudius, Castor, Sempronian, and Nicostrat (Romania).
The Scripture Readings
Mark 16:1-8
He Is Risen
16 Now when the Sabbath was past, Mary Magdalene, Mary the mother of James, and Salome bought spices, that they might come and anoint Him. 2 Very early in the morning, on the first day of the week, they came to the tomb when the sun had risen. 3 And they said among themselves, "Who will roll away the stone from the door of the tomb for us?" 4 But when they looked up, they saw that the stone had been rolled away—for it was very large. 5 And entering the tomb, they saw a young man clothed in a long white robe sitting on the right side; and they were alarmed.
6 But he said to them, "Do not be alarmed. You seek Jesus of Nazareth, who was crucified. He is risen! He is not here. See the place where they laid Him. 7 But go, tell His disciples—and Peter—that He is going before you into Galilee; there you will see Him, as He said to you."
8 So they went out quickly and fled from the tomb, for they trembled and were amazed. And they said nothing to anyone, for they were afraid.
Ephesians 2:14-22
Christ Our Peace
14 For He Himself is our peace, who has made both one, and has broken down the middle wall of separation, 15 having abolished in His flesh the enmity, that is, the law of commandments contained in ordinances, so as to create in Himself one new man from the two, thus making peace, 16 and that He might reconcile them both to God in one body through the cross, thereby putting to death the enmity. 17 And He came and preached peace to you who were afar off and to those who were near. 18 For through Him we both have access by one Spirit to the Father.
Christ Our Cornerstone
19 Now, therefore, you are no longer strangers and foreigners, but fellow citizens with the saints and members of the household of God, 20 having been built on the foundation of the apostles and prophets, Jesus Christ Himself being the chief cornerstone, 21 in whom the whole building, being fitted together, grows into a holy temple in the Lord, 22 in whom you also are being built together for a dwelling place of God in the Spirit.
Luke 8:41-56
41 And behold, there came a man named Jairus, and he was a ruler of the synagogue. And he fell down at Jesus' feet and begged Him to come to his house, 42 for he had an only daughter about twelve years of age, and she was dying.
But as He went, the multitudes thronged Him. 43 Now a woman, having a flow of blood for twelve years, who had spent all her livelihood on physicians and could not be healed by any, 44 came from behind and touched the border of His garment. And immediately her flow of blood stopped.
45 And Jesus said, "Who touched Me?"
When all denied it, Peter and those with him said, "Master, the multitudes throng and press You, and You say, 'Who touched Me?' "
46 But Jesus said, "Somebody touched Me, for I perceived power going out from Me."47 Now when the woman saw that she was not hidden, she came trembling; and falling down before Him, she declared to Him in the presence of all the people the reason she had touched Him and how she was healed immediately.
48 And He said to her, "Daughter, be of good cheer; your faith has made you well. Go in peace."
49 While He was still speaking, someone came from the ruler of the synagogue's house,saying to him, "Your daughter is dead. Do not trouble the Teacher."
50 But when Jesus heard it, He answered him, saying, "Do not be afraid; only believe, and she will be made well." 51 When He came into the house, He permitted no one to go in except Peter, James, and John, and the father and mother of the girl. 52 Now all wept and mourned for her; but He said, "Do not weep; she is not dead, but sleeping." 53 And they ridiculed Him, knowing that she was dead.
54 But He put them all outside, took her by the hand and called, saying, "Little girl,arise." 55 Then her spirit returned, and she arose immediately. And He commanded that she be given something to eat. 56 And her parents were astonished, but He charged them to tell no one what had happened.