We need not depend on the other person cooperating in reconciliation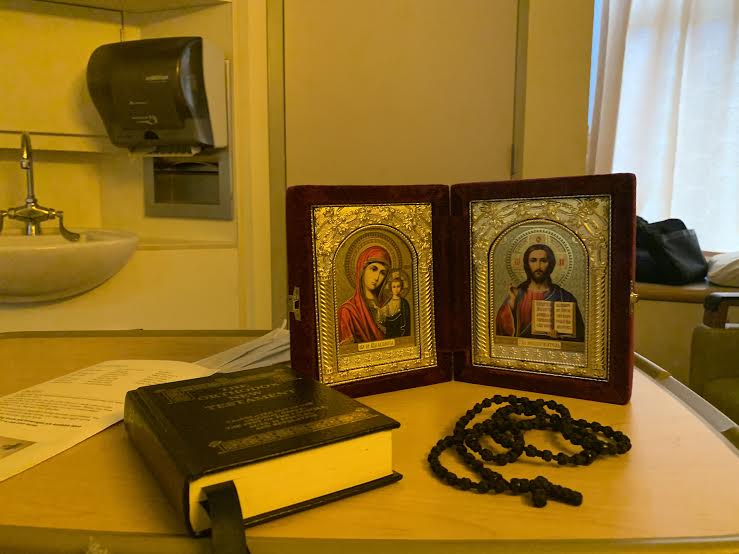 There are people who insist on holding on to resentment, often inventing situations in their minds that never happened, justifying their bad behavior by putting the blame on others. They always see themselves as the abused party.
Such behavior betrays a deep spiritual and psychological illness, one that is not easily healed. Such people feel empowered by making other people uncomfortable, and normal attempts at rapprochement often end in failure, for such people are always looking for ways to continue their control over others. Their illness is difficult to heal, for their pride and deep seated sense of superiority makes repentance difficult, for they simply don't see themselves as having a problem.
The cure for the illness of the soul is to be found in the life of the Church, where Her sacred mysteries (the sacraments), Her scriptures, and Her divine services, are the source for the healing that the heart so craves. We must remember the Church's teaching that we can only forgive others if we have Christ in us, for it is Christ Who gives us the power to forgive. Since God forgives us, we, too, can forgive.
One of the Desert Fathers tells the story of a young monk who came to his elder, complaining that he'd been wronged by one of his brothers, and following the holy tradition of the desert, had gone to the one who had wronged him, asking for forgiveness. The erring brother refused, so the wronged brother wanted to know what he should do in response. The elder told the young monk that he had walked away justified in the eyes of God, and that there was nothing left for him to do, except to pray for his erring brother.
This true story from the Desert Fathers makes clear that we must always be quick to forgive others, even if they were at fault, and not remember the wrong done to us. We dare not depend on the other person cooperating in the reconciliation, for we must remember that their repentance is not required. We will be held accountable only for our own response.
Love in Christ,
Abbot Tryphon
Thursday November 5, 2020 / October 23, 2020
22nd Week after Pentecost. Tone four.
Holy Apostle James the Brother of the Lord (63).
Translation of the relics of Blessed James of Borovichi, wonderworker of Novgorod (1540).
New Hieromartyrs Nicholas, Vladimir, Alexander, Nicholas, Emilian and Sozont priests (1937).
New Hieromartyr Archpriest Vladimir Ambartsumov of Moscow (1937).
Venerable Euphrosyne (1942).
St. Ignatius, patriarch of Constantinople (877).
Venerable Elisha of Lavrishevo, Belo-Russia (1250).
Venerable Nicephorus of Charsianos, Constantinople.
Venerable Petronius, disciple of St. Pachomius the Great (346).
Venerable Oda of Amay, foundress of churches (723) (Neth.).
St. Macarius the Roman of Mesopotamia.
St. Ethelfleda, abbess of Romsey.
The Scripture Readings
Colossians 4:2-9
Christian Graces
2 Continue earnestly in prayer, being vigilant in it with thanksgiving; 3 meanwhile praying also for us, that God would open to us a door for the word, to speak the mystery of Christ, for which I am also in chains, 4 that I may make it manifest, as I ought to speak.
5 Walk in wisdom toward those who are outside, redeeming the time. 6 Let your speech always be with grace, seasoned with salt, that you may know how you ought to answer each one.
Final Greetings
7 Tychicus, a beloved brother, faithful minister, and fellow servant in the Lord, will tell you all the news about me. 8 I am sending him to you for this very purpose, that he may know your circumstances and comfort your hearts, 9 with Onesimus, a faithful and beloved brother, who is one of you. They will make known to you all things which are happening here.
Luke 9:49-56
Jesus Forbids Sectarianism
49 Now John answered and said, "Master, we saw someone casting out demons in Your name, and we forbade him because he does not follow with us."
50 But Jesus said to him, "Do not forbid him, for he who is not against us is on our side."
A Samaritan Village Rejects the Savior
51 Now it came to pass, when the time had come for Him to be received up, that He steadfastly set His face to go to Jerusalem, 52 and sent messengers before His face. And as they went, they entered a village of the Samaritans, to prepare for Him. 53 But they did not receive Him, because His face was set for the journey to Jerusalem. 54 And when His disciples James and John saw this, they said, "Lord, do You want us to command fire to come down from heaven and consume them, just as Elijah did?"
55 But He turned and rebuked them, and said, "You do not know what manner of spirit you are of. 56 For the Son of Man did not come to destroy men's lives but to save them." And they went to another village.
Galatians 1:11-19
Call to Apostleship
11 But I make known to you, brethren, that the gospel which was preached by me is not according to man. 12 For I neither received it from man, nor was I taught it, but it came through the revelation of Jesus Christ.
13 For you have heard of my former conduct in Judaism, how I persecuted the church of God beyond measure and tried to destroy it. 14 And I advanced in Judaism beyond many of my contemporaries in my own nation, being more exceedingly zealous for the traditions of my fathers.
15 But when it pleased God, who separated me from my mother's womb and called me through His grace, 16 to reveal His Son in me, that I might preach Him among the Gentiles, I did not immediately confer with flesh and blood, 17 nor did I go up to Jerusalem to those who were apostles before me; but I went to Arabia, and returned again to Damascus.
Contacts at Jerusalem
18 Then after three years I went up to Jerusalem to see Peter, and remained with him fifteen days. 19 But I saw none of the other apostles except James, the Lord's brother.
Matthew 13:54-58
54 When He had come to His own country, He taught them in their synagogue, so that they were astonished and said, "Where did this Man get this wisdom and these mighty works? 55 Is this not the carpenter's son? Is not His mother called Mary? And His brothers James, Joses, Simon, and Judas? 56 And His sisters, are they not all with us? Where then did this Man get all these things?" 57 So they were offended at Him.
But Jesus said to them, "A prophet is not without honor except in his own country and in his own house." 58 Now He did not do many mighty works there because of their unbelief.