During difficult times it is important that we let peace reign in our hearts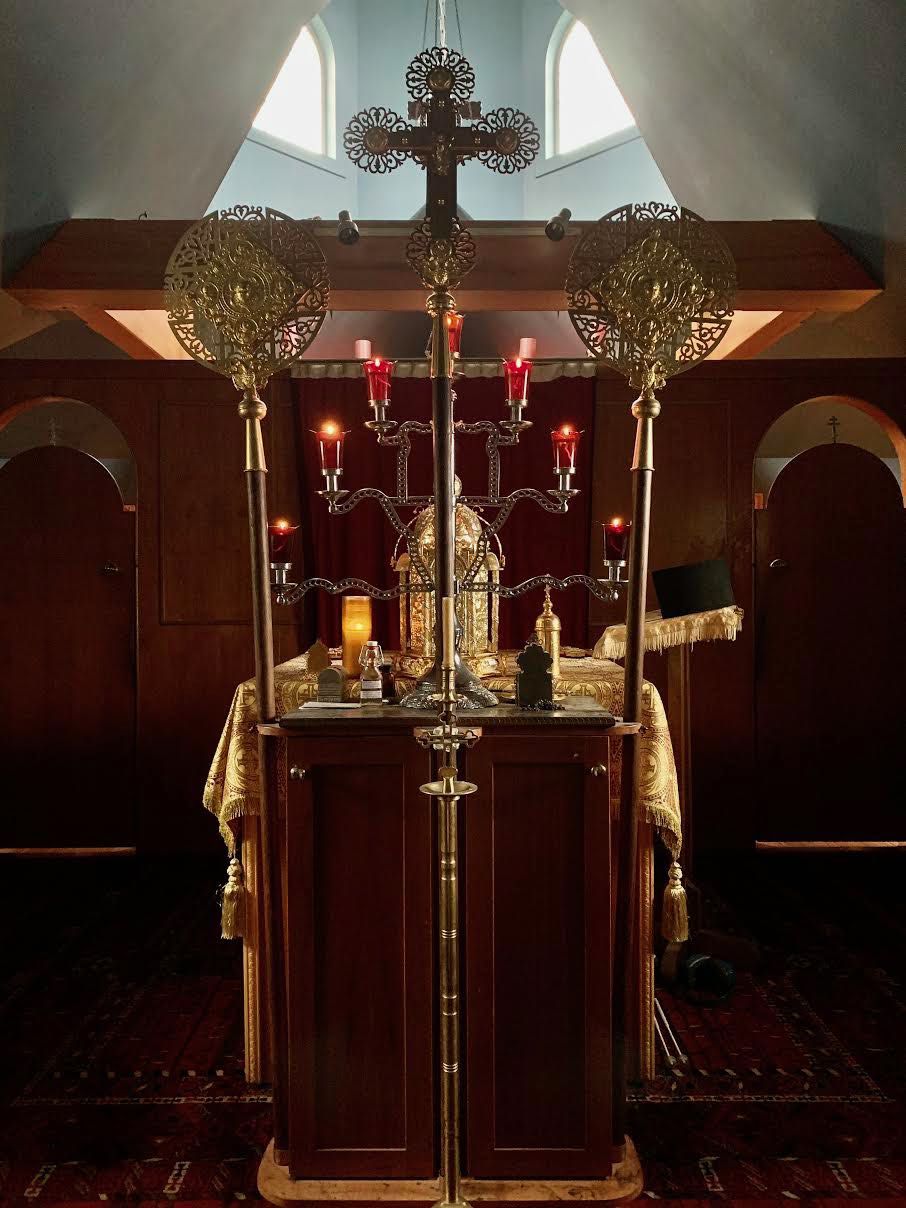 A number of recent disturbing events within the life of the Church have left many, including some clergy and monastics, with the sense of gloom, wondering what's coming next. During times like this it is good to remember that nothing has changed during the two thousand years of our Orthodox Christian faith. There have always been attacks on the integrity of the Church. Sometimes these attacks have been directed head on toward the Church, such as the invasion of Islam into Orthodox lands. At other times the Church has experienced attacks within her own walls, with divisions occurring that threatened the integrity and unity of the Church herself.
Schisms that brought on divisions between Local Churches, sometimes because of political differences. The internal strife that has taken place during various periods between clergy and their bishops, or between bishops, can also be seen in the life of the Church. Saint John Chrysostom, Saint John of San Francisco and St. Nectarios of Pentapolis are but three examples of bishops who suffered injustice at the hands of others. Within the Life of the Church there have also been moments when synods of bishops have had to make difficult, but necessary decisions, knowing some would find fault with the outcome, but being morally and spiritually pressed to move swiftly in spite of criticism.
There have been disputes between monasteries over the concept of land ownership, with some teaching that monastic communities should own no land, while other holy brotherhoods insisted that the independence afforded monasteries by land ownership was an important safety net for the longevity of the community.
This important thing for all of us to remember during periods of strife in the Church is that nothing is new. From the very beginning there has been strife and division, disagreements between members and clergy and bishops. Saint Paul even directed his thoughts regarding those who would say, "I am of Christ", or "I am of Paul". Like blood families, we are all part of the human condition that is the result of the Fall, and we need to remember that attacks against the unity of the Church have always been there, and will always be there, until the end of times.
Of course the root of these attacks and divisions in none other than the evil one himself. Satan hates the Church, and has been attacking every part of the Church from the very beginning. Can we really expect Lucifer to spend all of his time attacking only drunks and cut throats? If he's already got them, why would he not turn most of his evil wrath against the very Church founded by Christ Himself?
During difficult times where we see brother against brother, it is important that we do not react, do not gossip, and let peace reign in our hearts. The Lord is still in charge, just as a father is still in charge when his little children are battling it out over a broken toy. The promise we have from the Lord Himself, is that the gates of hell shall not prevail against His Church. Divisions will come and go, strife between brothers will always be there, and the Holy Spirit will still continue to guide the Church. We must learn to trust the Lord, leave the guidance of the Church in the hands of our bishops, and work on our own hearts. If we are of a peaceful heart, all will be well. Peace must begin with me.
With love in Christ,
Abbot Tryphon
Monday November 23, 2020 / November 10, 2020
25th Week after Pentecost. Tone seven.
Apostles Erastus, Olympas, Herodion, Sosipater, Quartus, and Tertius of the Seventy (1st c.).
New Hieromartyr Niphont and Martyr Alexander (1931).
New Hieromartyrs Prokopius (Titov) archbishop of Odessa, Dionisius, John and Peter priests (1937).
New Hieromartyrs Augustine (Belyaev), archbishop of Kaluga (1937) and with him John priest, New Hieromartyrs Ioanicius, Martyr Alexis, Appolon, Michael (1937).
Martyr Nicholas and Virgin-martyr Anna and St. Boris deacon confessor (1930-1940).
Virgin-martyrs Olga (1941) and Theoctista (1942).
Martyr Orestes of Cappadocia (304).
Hieromartyr Milos (Miles), bishop in Persia (341), and two disciples.
Venerable Theocteristus, abbot of Symbola on Mt. Olympus.
Martyr Constantine, grand prince of Kartli, Georgia (852).
Commemoration of the torture of Great-martyr George in 303. (Georgia).
St. Nonnus, bishop of Heliopolis (471).
Translation of the relics of St. Gregory, presbyter, in Assos of Lesbos (Greek).
St. Eucharius, first bishop of Trier (3rd c.).
The Scripture Readings
2 Thessalonians 1:1-10
Greeting
1 Paul, Silvanus, and Timothy,
To the church of the Thessalonians in God our Father and the Lord Jesus Christ:
2 Grace to you and peace from God our Father and the Lord Jesus Christ.
God's Final Judgment and Glory
3 We are bound to thank God always for you, brethren, as it is fitting, because your faith grows exceedingly, and the love of every one of you all abounds toward each other, 4 so that we ourselves boast of you among the churches of God for your patience and faith in all your persecutions and tribulations that you endure, 5 which is manifest evidence of the righteous judgment of God, that you may be counted worthy of the kingdom of God, for which you also suffer; 6 since it is a righteous thing with God to repay with tribulation those who trouble you, 7 and to give you who are troubled rest with us when the Lord Jesus is revealed from heaven with His mighty angels, 8 in flaming fire taking vengeance on those who do not know God, and on those who do not obey the gospel of our Lord Jesus Christ. 9 These shall be punished with everlasting destruction from the presence of the Lord and from the glory of His power, 10 when He comes, in that Day, to be glorified in His saints and to be admired among all those who believe, because our testimony among you was believed.
Luke 12:13-15
The Parable of the Rich Fool
13 Then one from the crowd said to Him, "Teacher, tell my brother to divide the inheritance with me."
14 But He said to him, "Man, who made Me a judge or an arbitrator over you?" 15 And He said to them, "Take heed and beware of covetousness, for one's life does not consist in the abundance of the things he possesses."
Luke 12:22-31
Do Not Worry
22 Then He said to His disciples, "Therefore I say to you, do not worry about your life, what you will eat; nor about the body, what you will put on. 23 Life is more than food, and the body is more than clothing. 24 Consider the ravens, for they neither sow nor reap, which have neither storehouse nor barn; and God feeds them. Of how much more value are you than the birds? 25 And which of you by worrying can add one cubit to his stature?26 If you then are not able to do the least, why are you anxious for the rest? 27 Consider the lilies, how they grow: they neither toil nor spin; and yet I say to you, even Solomon in all his glory was not arrayed like one of these. 28 If then God so clothes the grass, which today is in the field and tomorrow is thrown into the oven, how much more will He clothe you, O you of little faith?
29 "And do not seek what you should eat or what you should drink, nor have an anxious mind. 30 For all these things the nations of the world seek after, and your Father knows that you need these things. 31 But seek the kingdom of God, and all these things shall be added to you.