Isolation does not have to be a part of our world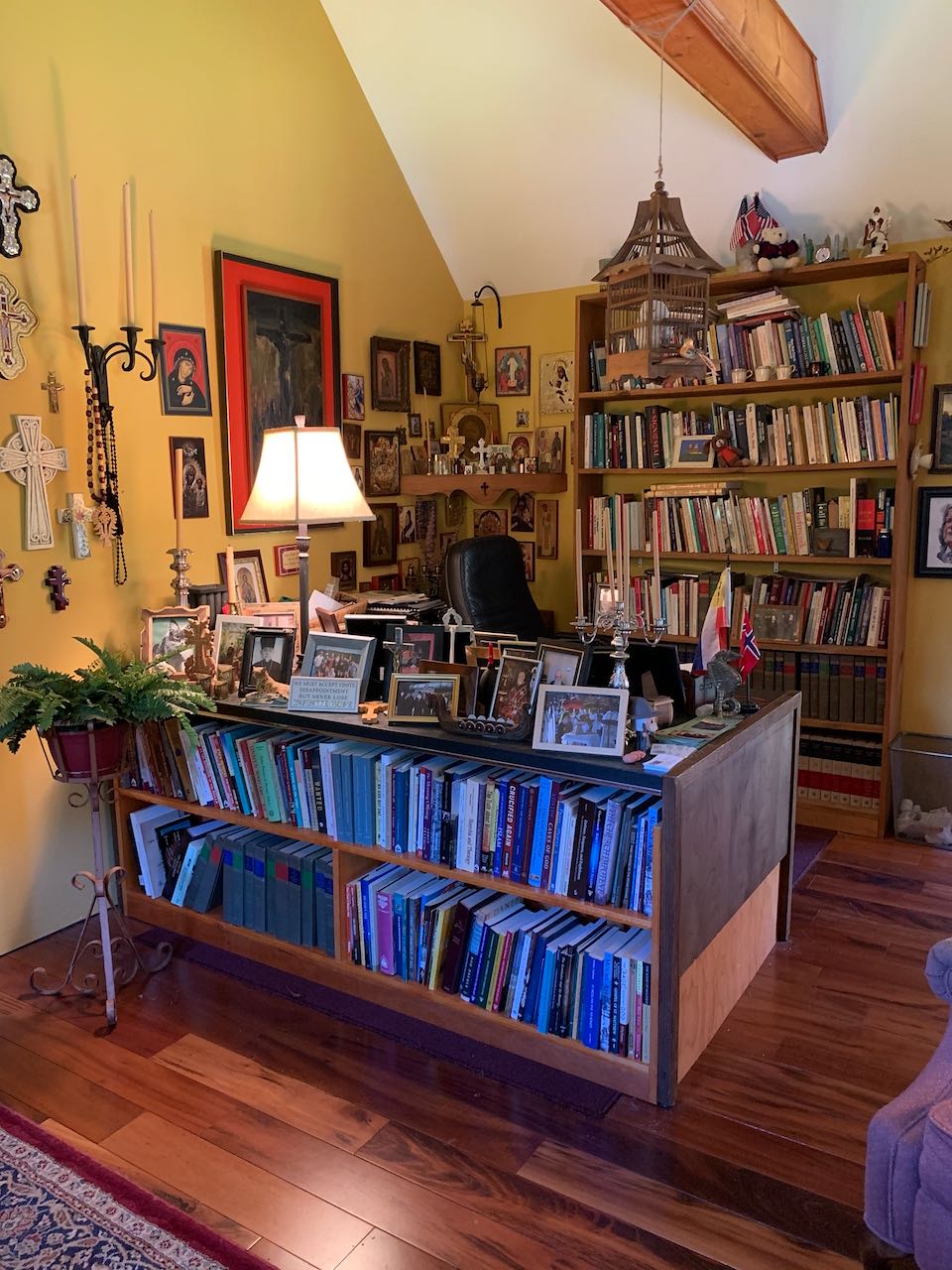 The Church is the Body of Christ and by Her very nature is anything but an institution wherein one can be isolated from others. We only let it be so if we fail to involve ourselves as the people of God, with one another. The greeting given by Orthodox Christians, passing on the holy kiss when we meet one another, or kissing the hand of our priest, are ways we avoid the isolation that dominates the society in which we live. Staying for the coffee hour, or the agape meal, following the Sunday Liturgy, are ways in which we can do battle against the isolation that dominates the rest of our world. Attending midweek services is another way to stave off isolation.
Isolation is a terrible threat to our way of life, and we need to teach our young people the skills that past generations learned from older family members. I am astounded when I think of how much of my grandparents are a real part of who I've become. It is not just genetics that they passed on to me, but memories of family history that was long gone when I was born. Even parts of my personality were gleaned from my great grandfather. My study, filled as it is with photographs, icons and collectibles, is a style that became my own, having loved the same clutter and warmth of my grandparents home.
Isolation does not have to be a part of our world. It just takes commitment on our part to build family and community. When people visit the monastery I routinely ask that they turn off their cell phones, so we can all leave isolation behind and connect as family, the children of the Most High. What a wonderful thing it would be if each family had two hours each night when the house phone, cell phones, the TV, and all other outside intrusions were banned. How about an evening of playing Uno, as a family, or putting a puzzle together? Then, end the evening with the whole family standing before the icon corner, doing the evening prayers!
The separation from family and friends that has been foisted on us because of the pandemic, must not be allowed to isolate us from others. Now, more than ever, is a time when we should be calling senior members of our communities. Now is the time when families should be keeping in touch with other members of the neighborhood, even if only waving across the street when we see them, or giving them a call just to let them know we are thinking of them.
Isolation can only become the norm if we let it. Zoom calls can be the link to those we love, even though not the best solution. Caring enough for our friends and neighbors by demonstrating our willingness to keep them in our lives, is a very important way of keeping isolation at bay. We are all in this together, and employing whatever technology we can muster, will help us get through this time of separation and trial.
Love in Christ,
Abbot Tryphon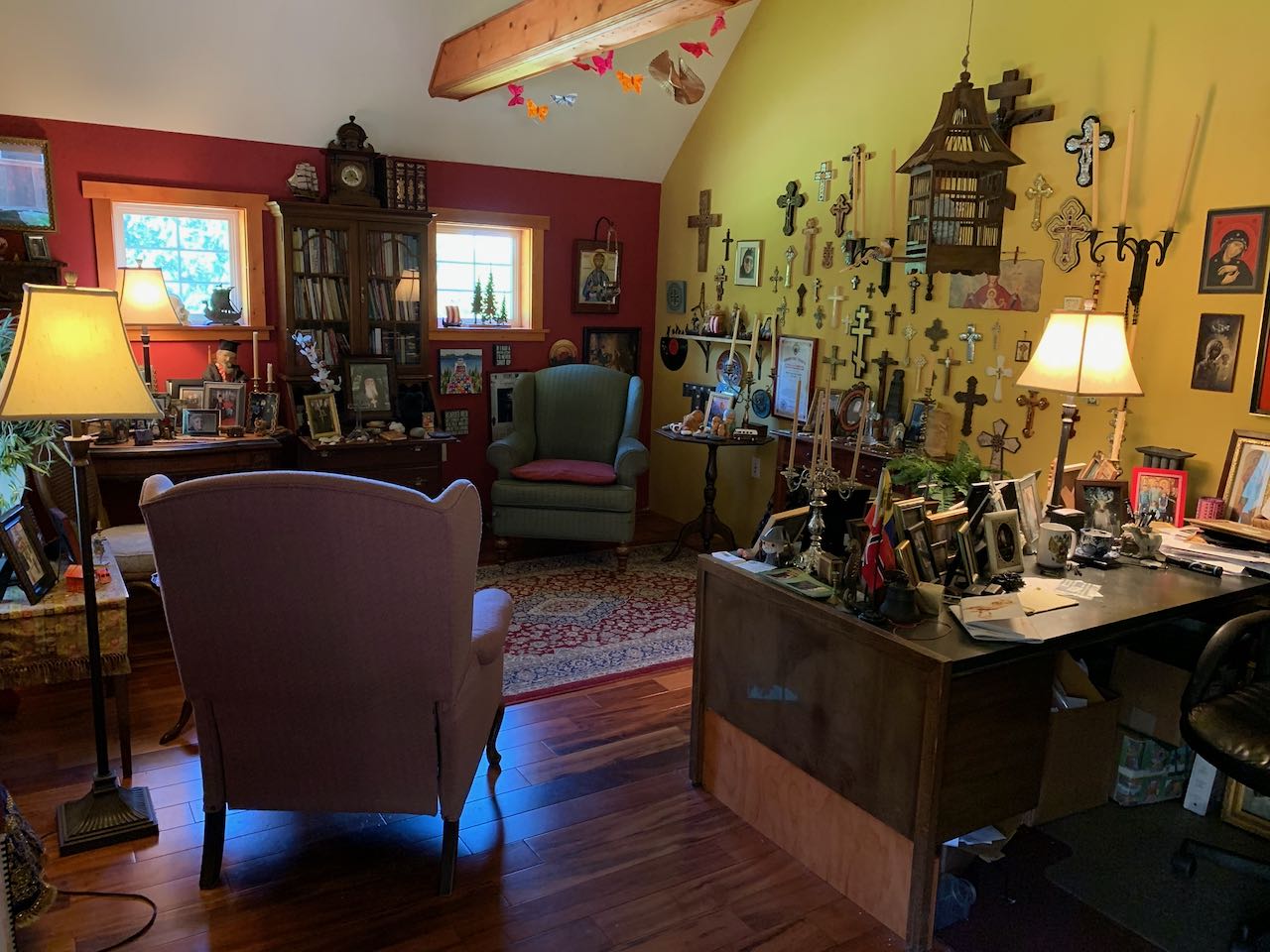 Photos: Abbot Tryphon's study.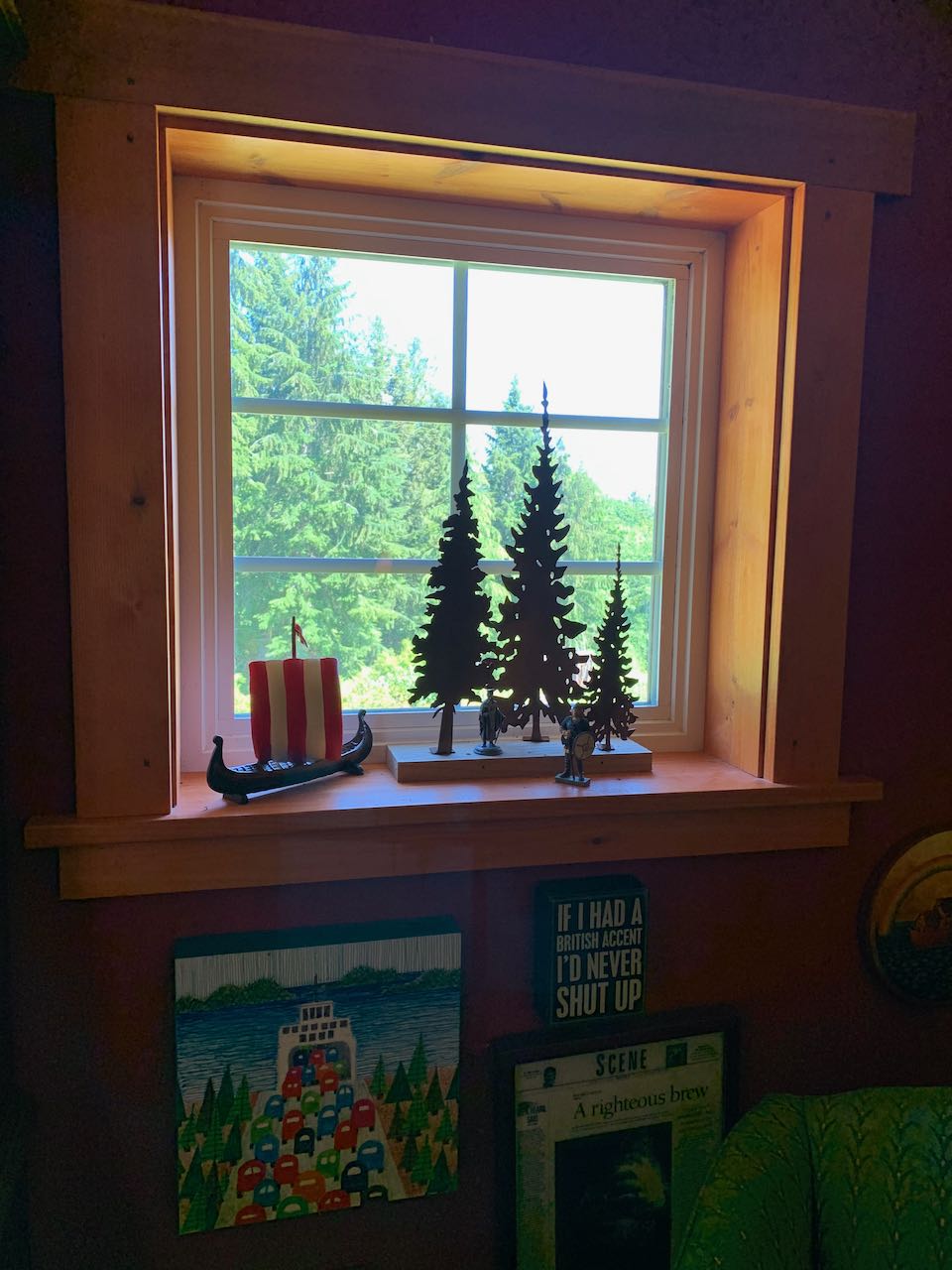 Thursday November 19, 2020 / November 6, 2020
24th Week after Pentecost. Tone six.
St. Paul the Confessor, archbishop of Constantinople (350).
Venerable Barlaam, abbot of Khoutyn (Novgorod) (1192).
New Hieromartyrs Nicitas bishop of Orekhovo-Zuev, Anatoly, Arsenius, Nicholas, Nicholas, Constantine priests, Hieromartyrs Barlaam, Gabriel, Gabriel, Woman Hieromartyrs Nina and Seraphima (1937).
New Hieromartyr Basil priest (1938).
New Martyr Gregory the Cross-bearer (1936).
St. Elias Fondaminskii of Paris (1942).
Synaxis of the New Martyrs of Sarov: Anatole, Basil, Hierotheus, Isaac, and Rufinus.
Repose of St. Herman, archbishop of Kazan (1567).
Venerable Luke, steward of the Kiev Caves (13th c.).
Venerable Barlaam of Keret Lake (16th c.).
Virgin-martyrs Tecusa, Alexandra, Claudia, Matrona, Polactia, Euphrosyne, and Athanasia of Ancyra (303).
Venerable Luke, monk, of Sicily (820).
Venerable Winnocus, abbot (716) (Neth.).
St. Leonard of Noblac (559) (Gaul).
Venerable Illtyd, abbot of Llanilltyd Fawr, disciple of St. Germanus of Auxerre (England) (6th c.) (Celtic & British).
St. Cowey of Portaferry, abbot of Moville (8th c.) (Celtic & British).
St. Demetrianus, bishop of Cytheria in Cyprus (915).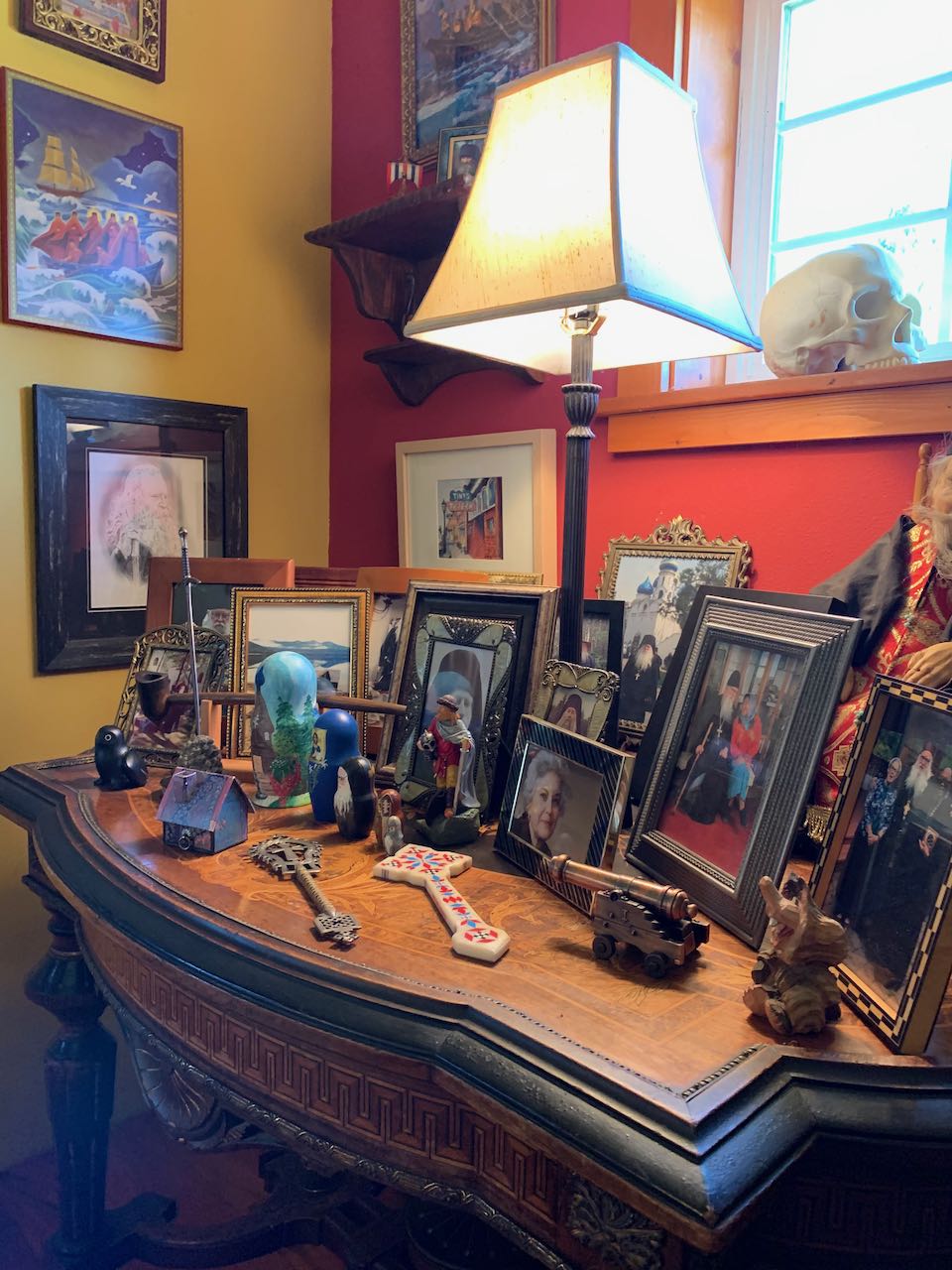 The Scripture Readings
1 Thessalonians 5:1-8
The Day of the Lord
5 But concerning the times and the seasons, brethren, you have no need that I should write to you. 2 For you yourselves know perfectly that the day of the Lord so comes as a thief in the night. 3 For when they say, "Peace and safety!" then sudden destruction comes upon them, as labor pains upon a pregnant woman. And they shall not escape. 4 But you, brethren, are not in darkness, so that this Day should overtake you as a thief. 5 You are all sons of light and sons of the day. We are not of the night nor of darkness. 6 Therefore let us not sleep, as others do, but let us watch and be sober. 7 For those who sleep, sleep at night, and those who get drunk are drunk at night. 8 But let us who are of the day be sober, putting on the breastplate of faith and love, and as a helmet the hope of salvation.
Luke 11:47-12:1
47 Woe to you! For you build the tombs of the prophets, and your fathers killed them. 48 In fact, you bear witness that you approve the deeds of your fathers; for they indeed killed them, and you build their tombs. 49 Therefore the wisdom of God also said, 'I will send them prophets and apostles, and some of them they will kill and persecute,' 50 that the blood of all the prophets which was shed from the foundation of the world may be required of this generation, 51 from the blood of Abel to the blood of Zechariah who perished between the altar and the temple. Yes, I say to you, it shall be required of this generation.
52 "Woe to you lawyers! For you have taken away the key of knowledge. You did not enter in yourselves, and those who were entering in you hindered."
53 And as He said these things to them, the scribes and the Pharisees began to assail Him vehemently, and to cross-examine Him about many things, 54 lying in wait for Him, and seeking to catch Him in something He might say, that they might accuse Him.
Beware of Hypocrisy
12 In the meantime, when an innumerable multitude of people had gathered together, so that they trampled one another, He began to say to His disciples first of all, "Beware of the[d]leaven of the Pharisees, which is hypocrisy.