Our gospel centered response to the evil that would destroy our world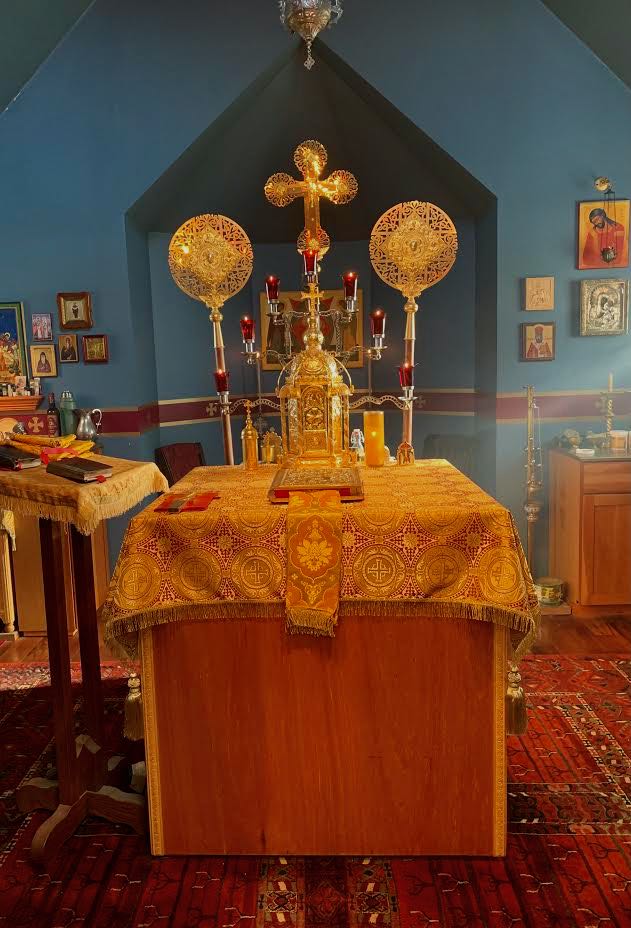 No matter what the times, no matter what the circumstances, no matter what the context or dynamic an Orthodox Christian finds themselves in, above all we are called to be an Orthodox Christian. We are Christ's children first and foremost, and then we are members of various places, peoples and circumstances after that. All else is secondary at best to the task, to the calling we have been called and invited by God, Christ Himself to be a part of.
If we are Christ's, we show that we are His through fulfilling His commandments. The commandments of the Gospel will be the context and standard according to which we are to live our lives, through which Christ's grace can come and dwell in us in this life, and according to which we will be judged after we pass on to the next life.
All this does not remove us from our responsibilities, or the various levels of interaction, with others.  Whether our immediate family, our neighbors, our friends, our co-workers, our fellow parishioners, those living in the same city, the same country, and indeed all those throughout the world, we must remain grounded in the love of Christ. It is precisely placing the love of God and the fulfillment of His commandments above all that we are able to love our neighbor as we ought. In C.S. Lewis' words, we are simply to be "Mere Christians".
One of the big temptations any Christian faces, and especially living here in America during these difficult times, is allowing other priorities to take the throne. The first position of love is to let the love of Christ and the fulfilling His commandments, to become subordinate to all else. To do anything else is to be setting up an idol in our heart.
One of the common characteristics of this imbalance, this unnatural hierarchy of loves and values, is that we begin to associate with and categorize other people not in relation to what and who they are as created by God Himself, but to identify them with "movements", with "causes", with "ideologies" and the rest, and "reduce them" to being "just a label".
During times when there is national or political or local unrest, this is especially easy to fall into since people are seeking for answers and are often just plain afraid. They are looking for some kind of anchor, some kind of parameters to live and navigate the difficulties around and inside them. We see people "joining movements" and fighting with others and helping to further contribute to an already existing state of unrest.
As Christians we cannot afford to reduce our neighbor merely to "conservatives", or "leftists", or "conspiracy theorists", or "marxists", or "fundamentalists", or "right wingers", or "environmentalists". We must clearly separate the image of God our neighbor was created in accordance with, and the ideas one might hold to or espouse, and if we come across someone who disagrees with our ever-changing opinions, gut reactions or passing ideas, we cannot just slap a label on them and dismiss them, as if we were hurling them off of a cliff.
St. Ignatius Brianchaninov teaches that one of the biggest aims of the fallen spirits (the true authors that foment and inspire the evil we encounter in both others and ourselves in this life we live) is to remove from our active awareness the reality that our neighbor is created in God's image. And this is exactly one of the biggest temptations that we see droves of people falling into over and over again in the past decades – in many ways it has become a weak spot for us as a nation and a people: we are quick to assume ill intent in others, quick to label and quick to sloppily categorize, either from fear or from a hasty trust of our own opinions and conclusions, often rooted in small mindedness, immaturity and even downright arrogance.
Of course the Scriptures also command us that we are to cultivate being both wise as serpents and meek as doves. We are to prick up our ears, we are to be careful and watchful and discern the signs of the times. We are to be aware of difficulties and develop a conscious hierarchy of values, a world-view through which we can minister to others and be a vehicle of God's grace for others. We must be vehicles for His grace to move throughout the world – both to the visible creation, and to all other people.
But we should never let this counsel to become "wise as serpents" or to "keep watch" to become an excuse to push Christ off of our heart's throne and immerse or indulge ourselves in fearfulness or panicky reactions and responses to whatever we find ourselves in. We are to fulfil these commandments to better allow us to love our neighbor as we ought.
And in these times of unrest, suffering, uncertainty and popular polarization being encouraged by the world around us, we need to keep a balanced, level head more than ever before. We must not give in to the easy way out of fear, despondency, arrogance and sloppy, panicky thinking. We need, now more than ever, to stand firm in the faith, immerse ourselves in it's treasures, further cultivate the love of God in our heart, lead lives of repentance for our sins and shortcomings, and shine out the love of Christ to our neighbor as best we can.
In Christ;
Abbot Tryphon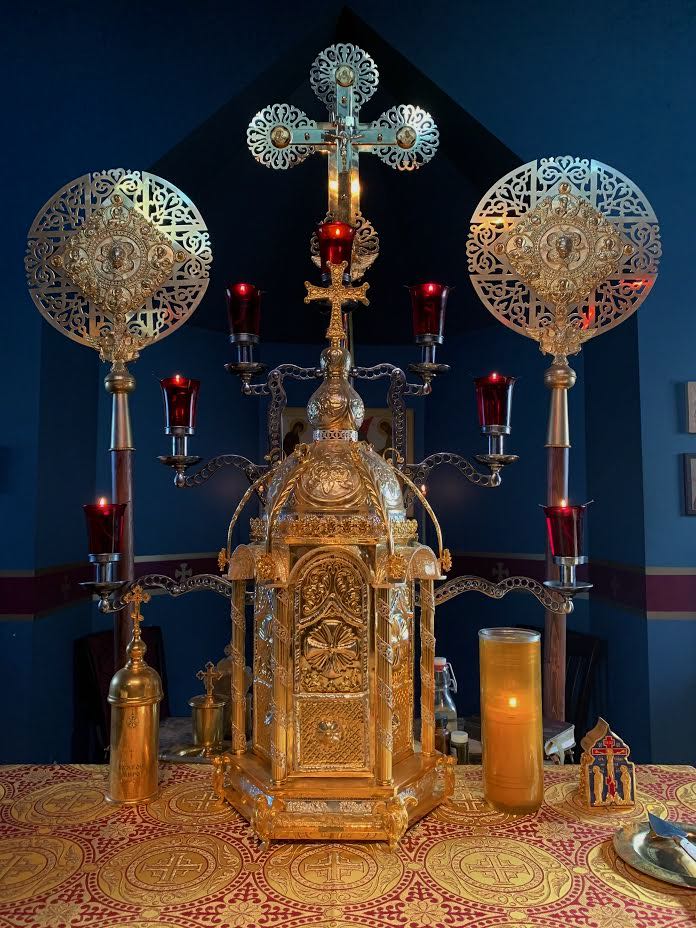 Tuesday November 17, 2020 / November 4, 2020
24th Week after Pentecost. Tone six.
Venerable Ioannicius the Great of Bithynia (846).
Hieromartyrs Nicander, bishop of Myra, and Hermas, presbyter (1st c.).
Martyr Nicholas confessor and priest (1931).
Virgin-martyr Eugene (1935).
New Hieromartyr Alexander priest (1937).
New Hieromartyr Ismail priest (1941).
Venerable Mercurius, faster of the Kiev Caves (14th c.).
Venerable Nicander, abbot of Gorodensk (Novgorod) (1607).
Blessed Simon of Yurievets (1584).
St. Paul, metropolitan of Tobolsk (1770).
St. Sylvia, mother of St. Gregory the Dialogist (6th c.).
Martyr Porphyrius the Mime of Caesarea (361) (Greek).
St. John III Doukas Vataxis the Merciful, emperor of Nicaea (1254) (Greek).
Holy and Righteous Ioane, Stepane, and Isaiah the Georgians (Georgia).
St. Clether, hermit of Cornwall..
St. Birnstan, bishop of Winchester.
The Scripture Readings
1 Thessalonians 3:9-13
9 For what thanks can we render to God for you, for all the joy with which we rejoice for your sake before our God, 10 night and day praying exceedingly that we may see your face and perfect what is lacking in your faith?
Prayer for the Church
11 Now may our God and Father Himself, and our Lord Jesus Christ, direct our way to you. 12 And may the Lord make you increase and abound in love to one another and to all, just as we do to you, 13 so that He may establish your hearts blameless in holiness before our God and Father at the coming of our Lord Jesus Christ with all His saints.
Luke 11:34-41
34 The lamp of the body is the eye. Therefore, when your eye is good, your whole body also is full of light. But when your eye is bad, your body also is full of darkness.35 Therefore take heed that the light which is in you is not darkness. 36 If then your whole body is full of light, having no part dark, the whole body will be full of light, as when the bright shining of a lamp gives you light."
Woe to the Pharisees and Lawyers
37 And as He spoke, a certain Pharisee asked Him to dine with him. So He went in and sat down to eat. 38 When the Pharisee saw it, he marveled that He had not first washed before dinner.
39 Then the Lord said to him, "Now you Pharisees make the outside of the cup and dish clean, but your inward part is full of greed and wickedness. 40 Foolish ones! Did not He who made the outside make the inside also? 41 But rather give alms of such things as you have; then indeed all things are clean to you.