We must receive all trials with a peaceful heart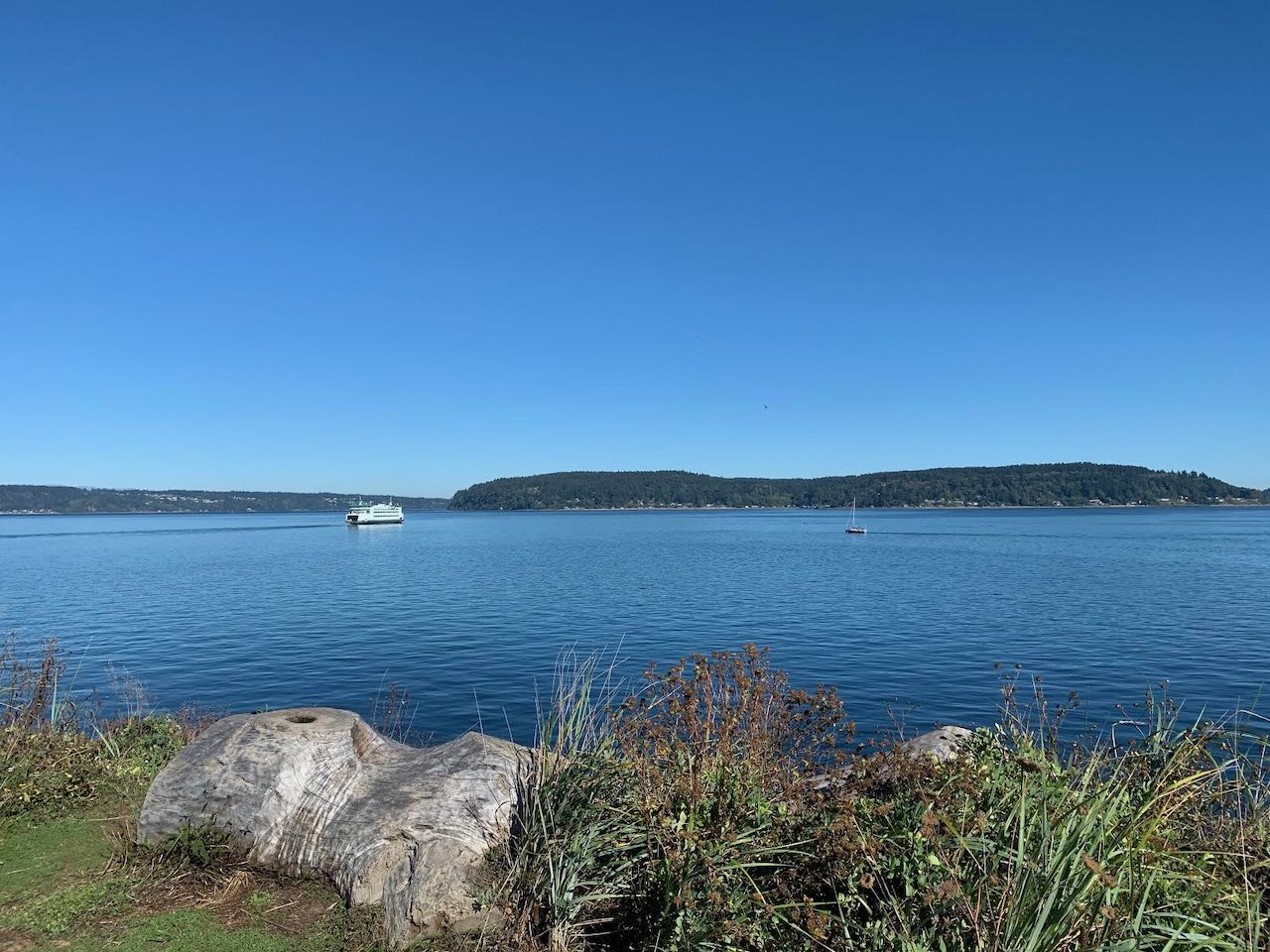 Trials and temptations, when confronted with a peaceful heart, bring forth healing and make the soul that much stronger and healthier. Reacting does nothing but bring forth paralysis of the soul, binding us to our fallen nature. Receiving all temptations with a peaceful heart and not reacting to outside negative stimulus, helps strengthen us for the next round of trial and temptation. Little by little, we will find that the Peace of Christ fills our every waking moment, and brings on a joyful spirit and a peaceful heart.
Love in Christ,
Abbot Tryphon
Photo: A ferry crossing the Salish Sea to Vashon Island.
Thursday October 1, 2020 / September 18, 2020
17th Week after Pentecost. Tone seven.
Venerable Eumenes, bishop of Gortyna (7th c.).
Glorification (1698) of Venerable Euphrosyne, nun, of Suzdal (1250).
Venerable Hilarion of Optina (1873).
New Hieromartyrs Alexis and Peter priests (1918).
New Hieromartyrs Amphilius bishop of Krasnoiarsk, John, Boris, Michael, Vladimir, Benjamin, Constantine priests and Martyr Sergius (1937).
Martyr Ariadne of Phrygia (2nd c.).
Martyrs Sophia and Irene of Egypt (3rd c.).
Martyr Castor of Alexandria.
Great-martyr Prince Bidzini and Martyrs Prince Elizbar and Prince Shalva of Ksani, Georgia (1661) (Georgia).
Synaxis of New Martyrs and Confessors of Vladimir region.
Molchensk (1405), named the "Healer" (18th C) and Starorussk(returned in 1888) Icons of the Mother of God.
St. Arcadius, bishop of Novgorod (1162).
The Scripture Readings
Ephesians 4:14-19
14 that we should no longer be children, tossed to and fro and carried about with every wind of doctrine, by the trickery of men, in the cunning craftiness of deceitful plotting, 15 but, speaking the truth in love, may grow up in all things into Him who is the head—Christ— 16 from whom the whole body, joined and knit together by what every joint supplies, according to the effective working by which every part does its share, causes growth of the body for the edifying of itself in love.
The New Man
17 This I say, therefore, and testify in the Lord, that you should no longer walk as the rest of the Gentiles walk, in the futility of their mind, 18 having their understanding darkened, being alienated from the life of God, because of the ignorance that is in them, because of the blindness of their heart; 19 who, being past feeling, have given themselves over to lewdness, to work all uncleanness with greediness.
Mark 11:27-33
Jesus' Authority Questioned
27 Then they came again to Jerusalem. And as He was walking in the temple, the chief priests, the scribes, and the elders came to Him. 28 And they said to Him, "By what authority are You doing these things? And who gave You this authority to do these things?"
29 But Jesus answered and said to them, "I also will ask you one question; then answer Me, and I will tell you by what authority I do these things: 30 The baptism of John—was it from heaven or from men? Answer Me."
31 And they reasoned among themselves, saying, "If we say, 'From heaven,' He will say, 'Why then did you not believe him?' 32 But if we say, 'From men' "—they feared the people, for all counted John to have been a prophet indeed. 33 So they answered and said to Jesus, "We do not know."
And Jesus answered and said to them, "Neither will I tell you by what authority I do these things."