It is God Who sought me out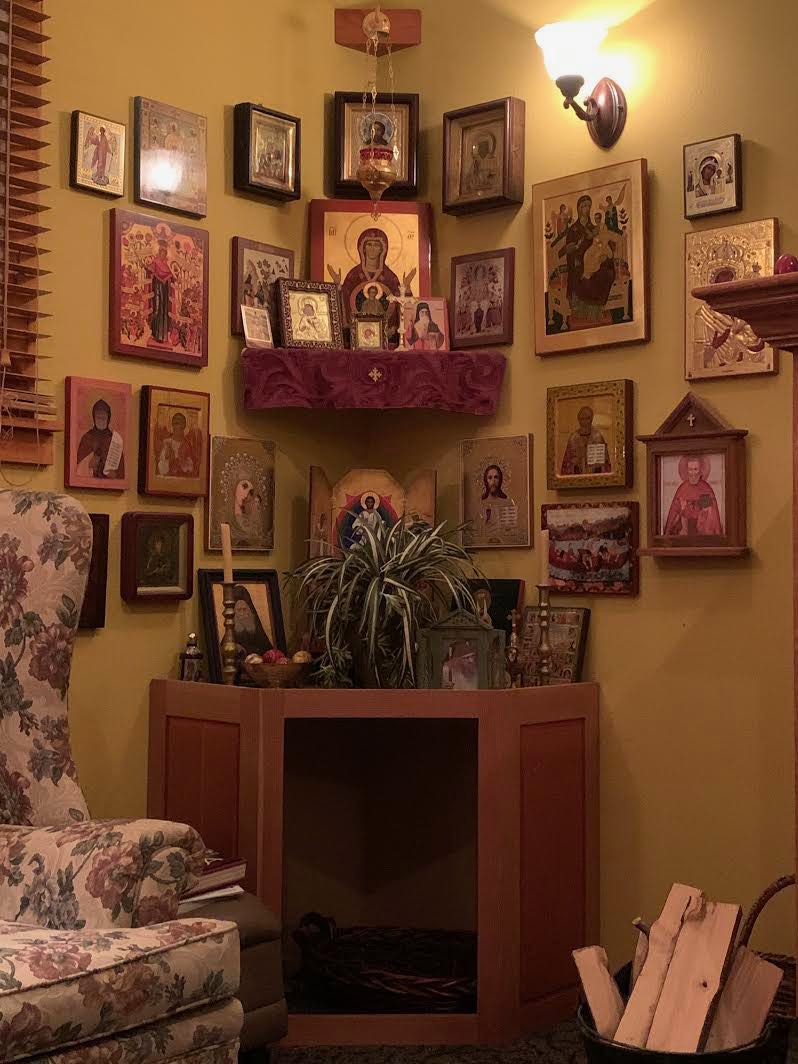 I'm facing another three day hospitalization on the 2nd of November. My cardiologist has decided they need to do another procedure for my heart, so, once again, I am facing my mortality. I turn 75 on the 9th of November, so I am nearing the age when my own father died of heart related issues.
I am not afraid, for I know in my heart that I am loved by the Lord, and I try each and every day to live in repentance, knowing that I have failed to live according to the gospels. Even as a monk of over forty years, I am so far from the holiness and purity of my late spiritual father, Blessed Dimitry of Santa Rosa, that I often feel as though I should hide my face in shame. Yet I live in the hope that the Lord will be merciful to me, the miserable child that I am.
I live with the knowledge that just as a child who has been adopted by loving parents knows from the outset that he is loved because he knows they chose him, God chose me. The adopted child was not simply received because he was conceived and born into their midst, but was rather sought out to become their child. I therefore rest in the knowledge that God has adopted me as His child.
"Although it may appear outwardly that we make our way toward God, the joyful and wonderful truth is that it is God who comes to us (Matthew the Poor)."  It is with this knowledge that I face my own mortality with a peaceful heart, for just as a good parent loves his child even when he's been naughty, the Lord loves me, even though I've fallen short of His expectations.
With love in Christ,
Abbot Tryphon
Photo: The icon corner in our monastery's common room.
Saturday October 24, 2020 / October 11, 2020
20th Week after Pentecost. Tone two.
Holy Apostle Philip of the Seventy, one of the seven deacons (1st c.).
Venerable Theophanes the Confessor and Hymnographer, bishop of Nicaea (850).
Venerable Leonid of Optina (1841).
Synaxis of the Saints of Optina: St. Leonid (repose) (1841), St. Macarius (1860), St. Moses (1862), St. Anthony (1865), St. Hilarion (1873), St. Ambrose (1891), St. Anatole (the "Elder") (1894), St. Isaac I (1894), St. Joseph (1911), St. Barsanuphius (1913), St. Anatole (the "Younger") (1922), St. Nektary (1928), St. Nikon the Confessor (1931), New Hieromartyr Archimandrite Isaac II (1937).
New Hieromartyrs Philaret and Alexander priests (1918).
New Hieromartyr Juvenalius (Maslovsky) bishop of Riazan (1937).
Venerable Theophanes, faster of the Kiev Caves (12th c.).
Martyrs Zenaida (Zenais) and Philonilla of Tarsus in Cilicia (1st c.).
Sts. Nectarius (397), Arcadius (405), and Sinisius (427), patriarchs of Constantinople.
St. Gommar, patron of Lier (775) (Neth.).
Venerable Ethelburga, abbess of the monastery of Barking (England) (676) (Celtic & British.).
Venerable Cainnech (Kenneth), abbot of Aghaboe (Ireland) (600) (Celtic & British).
St. Philotheus (Kokkinos) of Mt. Athos, patriarch of Constantinople (1379).
Commemoration of the miracle from the Icon of Our Lord Jesus Christ in Beirut of Phonecia.
The Scripture Readings
2 Corinthians 1:8-11
Delivered from Suffering
8 For we do not want you to be ignorant, brethren, of our trouble which came to us in Asia: that we were burdened beyond measure, above strength, so that we despaired even of life. 9 Yes, we had the sentence of death in ourselves, that we should not trust in ourselves but in God who raises the dead, 10 who delivered us from so great a death, and does deliver us; in whom we trust that He will still deliver us, 11 you also helping together in prayer for us, that thanks may be given by many persons on [c]our behalf for the gift granted to us through many.
Luke 5:27-32
Matthew the Tax Collector
27 After these things He went out and saw a tax collector named Levi, sitting at the tax office. And He said to him, "Follow Me." 28 So he left all, rose up, and followed Him.
29 Then Levi gave Him a great feast in his own house. And there were a great number of tax collectors and others who sat down with them. 30 And their scribes and the Pharisees [b]complained against His disciples, saying, "Why do You eat and drink with tax collectors and sinners?"
31 Jesus answered and said to them, "Those who are well have no need of a physician, but those who are sick. 32 I have not come to call the righteous, but sinners, to repentance."
Acts 8:26-39
Christ Is Preached to an Ethiopian
26 Now an angel of the Lord spoke to Philip, saying, "Arise and go toward the south along the road which goes down from Jerusalem to Gaza." This is desert. 27 So he arose and went. And behold, a man of Ethiopia, a eunuch of great authority under Candace the queen of the Ethiopians, who had charge of all her treasury, and had come to Jerusalem to worship, 28 was returning. And sitting in his chariot, he was reading Isaiah the prophet. 29 Then the Spirit said to Philip, "Go near and overtake this chariot."
30 So Philip ran to him, and heard him reading the prophet Isaiah, and said, "Do you understand what you are reading?"
31 And he said, "How can I, unless someone guides me?" And he asked Philip to come up and sit with him. 32 The place in the Scripture which he read was this:
"He was led as a sheep to the slaughter;
And as a lamb before its shearer is silent,
So He opened not His mouth.
33 In His humiliation His justice was taken away,
And who will declare His generation?
For His life is taken from the earth."
34 So the eunuch answered Philip and said, "I ask you, of whom does the prophet say this, of himself or of some other man?" 35 Then Philip opened his mouth, and beginning at this Scripture, preached Jesus to him. 36 Now as they went down the road, they came to some water. And the eunuch said, "See, here is water. What hinders me from being baptized?"
37 Then Philip said, "If you believe with all your heart, you may."
And he answered and said, "I believe that Jesus Christ is the Son of God."
38 So he commanded the chariot to stand still. And both Philip and the eunuch went down into the water, and he baptized him. 39 Now when they came up out of the water, the Spirit of the Lord caught Philip away, so that the eunuch saw him no more; and he went on his way rejoicing.
Luke 10:1-21
The Seventy Sent Out
10 After these things the Lord appointed seventy others also, and sent them two by two before His face into every city and place where He Himself was about to go. 2 Then He said to them, "The harvest truly is great, but the laborers are few; therefore pray the Lord of the harvest to send out laborers into His harvest. 3 Go your way; behold, I send you out as lambs among wolves. 4 Carry neither money bag, knapsack, nor sandals; andgreet no one along the road. 5 But whatever house you enter, first say, 'Peace to this house.' 6 And if a son of peace is there, your peace will rest on it; if not, it will return to you. 7 And remain in the same house, eating and drinking such things as they give, for the laborer is worthy of his wages. Do not go from house to house. 8 Whatever city you enter, and they receive you, eat such things as are set before you. 9 And heal the sick there, and say to them, 'The kingdom of God has come near to you.' 10 But whatever city you enter, and they do not receive you, go out into its streets and say, 11 'The very dust of your city which clings to us we wipe off against you. Nevertheless know this, that the kingdom of God has come near you.' 12 But I say to you that it will be more tolerable in that Day for Sodom than for that city.
Woe to the Impenitent Cities
13 "Woe to you, Chorazin! Woe to you, Bethsaida! For if the mighty works which were done in you had been done in Tyre and Sidon, they would have repented long ago, sitting in sackcloth and ashes. 14 But it will be more tolerable for Tyre and Sidon at the judgment than for you. 15 And you, Capernaum, who are exalted to heaven, will be brought down to Hades. 16 He who hears you hears Me, he who rejects you rejects Me, and he who rejects Me rejects Him who sent Me."
The Seventy Return with Joy
17 Then the seventy returned with joy, saying, "Lord, even the demons are subject to us in Your name."
18 And He said to them, "I saw Satan fall like lightning from heaven. 19 Behold, I give you the authority to trample on serpents and scorpions, and over all the power of the enemy, and nothing shall by any means hurt you. 20 Nevertheless do not rejoice in this, that the spirits are subject to you, but rather rejoice because your names are written in heaven."
Jesus Rejoices in the Spirit
21 In that hour Jesus rejoiced in the Spirit and said, "I thank You, Father, Lord of heaven and earth, that You have hidden these things from the wise and prudent and revealed them to babes. Even so, Father, for so it seemed good in Your sight.