We must struggle to banish self-indulgence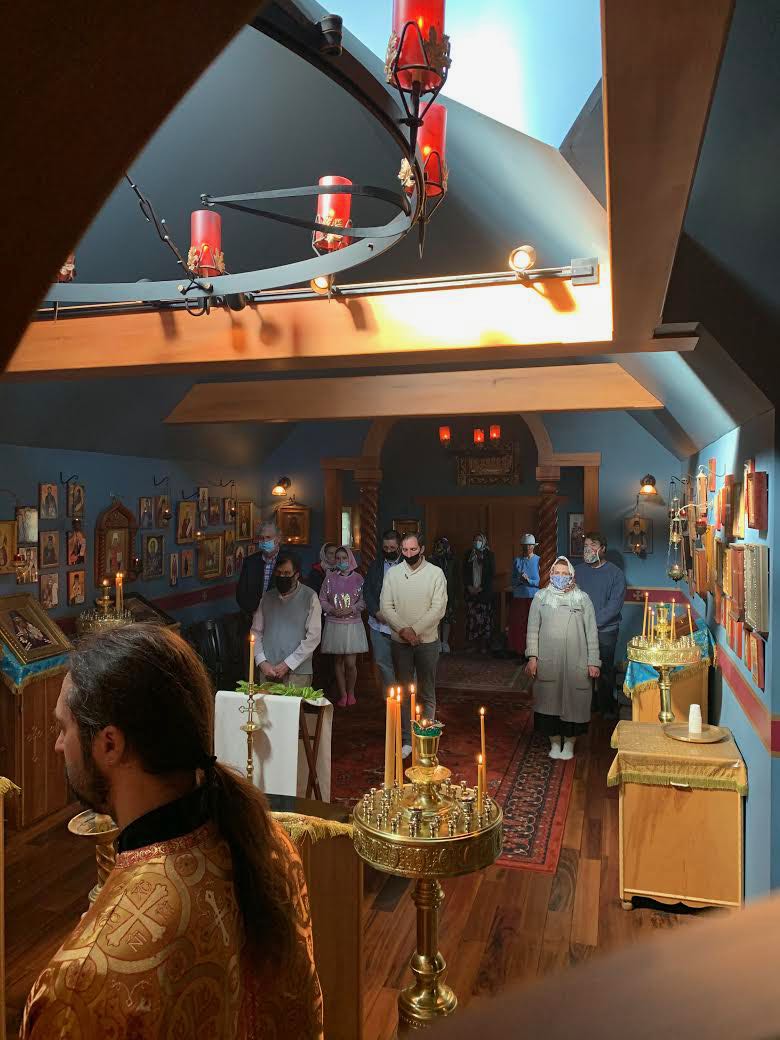 As we struggle against the passions, we must learn to be patient with the difficulties and hardships that come our way. If we are to banish self-will, we must first learn to banish self-indulgence. Any struggle for virtue must include a certain amount of patience, lest we become despondent, and give up the battle.
With love in Christ,
Abbot Tryphon
Photo: We obey our archbishop by following the State of Washington's rules regarding social distancing and the wearing of masks during the services. Although I am suspicious regarding the motives behind the Covid-19 closure of our churches by the civil authorities, I, nevertheless, believe we must be obedient to our hierarchs. From the very beginning, this monastery has kept to the rules set down by our bishop.
Saturday October 3, 2020 / September 20, 2020
17th Week after Pentecost. Tone seven.
Saturday after the Universal Elevation of the Precious and Life-Creating Cross of the Lord
Great-martyr Eustathius (Eustace) Placidas, his wife Martyr Theopistes, and their children Martyrs Agapius and Theopistus, of Rome (118).
Holy Martyr and Confessor Michael and his counselor Theodore, wonderworkers of Chernigov (1245).
New Hieromartyr Anatole (Kamensky), archbishop of Irkutsk (1925).
New Hieromartyrs Theoktist and Alexander priests (1937).
Venerable Oleg, prince of Briansk (1285).
Synaxis of All Saints of Briansk.
Martyr John the Confessor of Egypt, beheaded in Palestine, and with him 40 Martyrs (310).
New Martyr Hilarion of Crete (Mt. Athos) (1804) (Greek).
Venerables Theodore and Euprepius and two named Anastasius, confessors and disciples of St. Maximus the Confessor (7th c.).
Martyrs Artemidorus and Thalos (Greek).
St. Meletius of Crete (Greek).
Venerable Kyr John of Crete (Greek).
St. Eustathius, archbishop of Thessalonica (1194).
The Scripture Readings
1 Corinthians 14:20-25
20 Brothers and sisters, stop thinking like children. In regard to evil be infants, but in your thinking be adults. 21 In the Law it is written:
"With other tongues
and through the lips of foreigners
I will speak to this people,
but even then they will not listen to me,
says the Lord."
22 Tongues, then, are a sign, not for believers but for unbelievers; prophecy, however, is not for unbelievers but for believers. 23 So if the whole church comes together and everyone speaks in tongues, and inquirers or unbelievers come in, will they not say that you are out of your mind? 24 But if an unbeliever or an inquirer comes in while everyone is prophesying, they are convicted of sin and are brought under judgment by all, 25 as the secrets of their hearts are laid bare. So they will fall down and worship God, exclaiming, "God is really among you!"Read full chapter
Matthew 25:1-13
The Parable of the Ten Virgins
25 "At that time the kingdom of heaven will be like ten virgins who took their lamps and went out to meet the bridegroom. 2 Five of them were foolish and five were wise. 3 The foolish ones took their lamps but did not take any oil with them. 4 The wise ones, however, took oil in jars along with their lamps. 5 The bridegroom was a long time in coming, and they all became drowsy and fell asleep.
6 "At midnight the cry rang out: 'Here's the bridegroom! Come out to meet him!'
7 "Then all the virgins woke up and trimmed their lamps. 8 The foolish ones said to the wise, 'Give us some of your oil; our lamps are going out.'
9 "'No,' they replied, 'there may not be enough for both us and you. Instead, go to those who sell oil and buy some for yourselves.'
10 "But while they were on their way to buy the oil, the bridegroom arrived. The virgins who were ready went in with him to the wedding banquet. And the door was shut.
11 "Later the others also came. 'Lord, Lord,' they said, 'open the door for us!'
12 "But he replied, 'Truly I tell you, I don't know you.'
13 "Therefore keep watch, because you do not know the day or the hour.Read full chapter
1 Corinthians 1:26-29
26 Brothers and sisters, think of what you were when you were called. Not many of you were wise by human standards; not many were influential; not many were of noble birth.27 But God chose the foolish things of the world to shame the wise; God chose the weak things of the world to shame the strong. 28 God chose the lowly things of this world and the despised things—and the things that are not—to nullify the things that are, 29 so that no one may boast before him.
John 8:21-30
Dispute Over Who Jesus Is
21 Once more Jesus said to them, "I am going away, and you will look for me, and you will die in your sin. Where I go, you cannot come."
22 This made the Jews ask, "Will he kill himself? Is that why he says, 'Where I go, you cannot come'?"
23 But he continued, "You are from below; I am from above. You are of this world; I am not of this world. 24 I told you that you would die in your sins; if you do not believe that I am he, you will indeed die in your sins."
25 "Who are you?" they asked.
"Just what I have been telling you from the beginning," Jesus replied. 26 "I have much to say in judgment of you. But he who sent me is trustworthy, and what I have heard from him I tell the world."
27 They did not understand that he was telling them about his Father. 28 So Jesus said, "When you have lifted up[a] the Son of Man, then you will know that I am he and that I do nothing on my own but speak just what the Father has taught me. 29 The one who sent me is with me; he has not left me alone, for I always do what pleases him." 30 Even as he spoke, many believed in him.