The transformational power of a Faith unchanged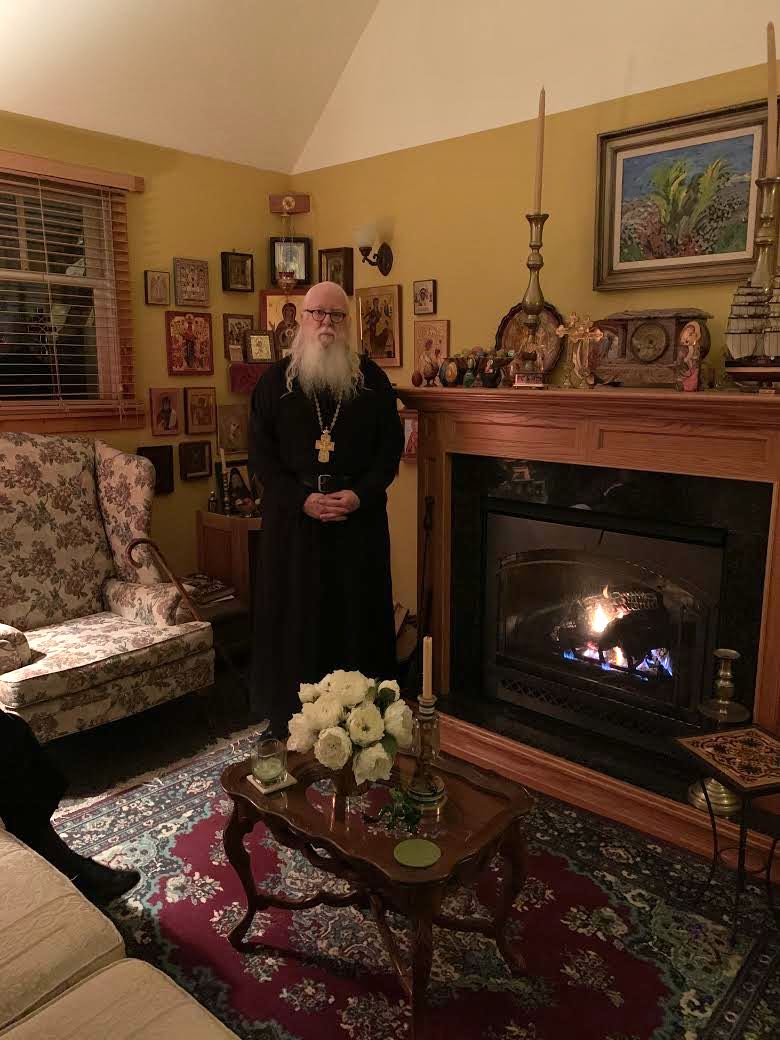 In an age when many Christian denominations are trying to appear relevant and modern, I am finding that large numbers of people are drawn to the Ancient Faith by the beard and robe. I am constantly thanked for dressing as I do by people who appreciate symbols of faith in the midst of a secular world. Many Orthodox jurisdictions that previously wanted to blend in with their Catholic and Protestant neighbors by having our clergy put off the traditional "look" of Orthodoxy, are now rediscovering the wisdom of these traditions. Now that large numbers of the clean shaven, and modern attired, heterodox clergy have been discredited in the minds of the world, due to theological and moral lapses, is there any logical reason we Orthodox would really want to imitate them?
Like so many other Orthodox clergy, I can also attest to the fact that my beard, and my way of dress, are a great aid in keeping me, sinner that I am, constantly attuned to my vocation as a monk, and as a priest. It is hard to forget your high calling when you "dress for work" each and every hour of every day. Our appearance is a constant reminder that we, as priests, have been set apart as Guardians of the Mysteries, and Servants of the Most High.
From my personal observations, I have come to believe that Orthodoxy, if it is to thrive into the next century, must adhere to the ancient traditions and roots of the faith that have set her apart from the religions. The Church must proclaim the Good News of Christ in all its purity, so that the mystical and sacramental core of her very being be clearly seen by a world that so needs this ancient, unchanging faith. The world must see by our differences that Orthodoxy offers the transformational healing that comes through the life of Christ's Church. By clinging to her ancient, God inspired Tradition, the Church takes seriously the mystical and sacramental roots of her divinely founded self.
As we Orthodox look in amazement at the phenomenal resurrection of our Church following the fall of communism, what with the thousands of new churches being reopened, new ones built, and monasteries growing at a phenomenal rate, we will see that the twenty-first century could well be the Age of Orthodoxy. And for this to happen, we must put off everything that has brought down Western Christianity.
Accountability must be foremost in how we operate as religious institutions. Bishops and priests must be accountable to one another, transgressions against the Body of Christ must be rooted out, and the clergy (including our bishops) must serve others as humble servants of Christ, and as living icons of the Gospel message. Our co-suffering Saviour must be seen in how we serve, and in how we live, and in how we love. The transformational power of Orthodoxy must be allowed to change the world, as the "institutional" church is replaced with the gospel vision of the Church as Hospital of the Soul.
The Orthodox Church will thrive in the twenty-first century only if we commit to being the otherworldly people we are called to be, living in the world, but not being of the world. The Church will thrive, not because she adapts to modern styles of dress, and modern trends of moral and theological thought, but because of her willingness to serve the world in imitation of the holy fathers of the Church who have gone on before us, and who refused to conform to the styles and fashions of a world that has always been in need of the unchanging Faith that has the power to transform lives, and usher the human race into communion with the Most High God.
Love in Christ,
Abbot Tryphon
Monday October 19, 2020 / October 6, 2020
20th Week after Pentecost. Tone two.
Holy and Glorious Apostle Thomas (1st c.).
New Hieromartyr John priest (1937).
Virgin-martyr Eroteis of Cappadocia.
New Martyr Macarius at Kion in Bithynia (Mt. Athos) (1590) (Greek).
Icon of the Most Holy Theotokos "O All-Hymned Mother".
Venerable Cindeus of Cyprus, monk (Greek).
The Scripture Readings
John 21:15-25
Jesus Restores Peter
15 So when they had eaten breakfast, Jesus said to Simon Peter, "Simon, son of Jonah, do you love Me more than these?"
He said to Him, "Yes, Lord; You know that I love You."
He said to him, "Feed My lambs."
16 He said to him again a second time, "Simon, son of Jonah, do you love Me?"
He said to Him, "Yes, Lord; You know that I love You."
He said to him, "Tend My sheep."
17 He said to him the third time, "Simon, son of Jonah, do you love Me?" Peter was grieved because He said to him the third time, "Do you love Me?"
And he said to Him, "Lord, You know all things; You know that I love You."
Jesus said to him, "Feed My sheep. 18 Most assuredly, I say to you, when you were younger, you girded yourself and walked where you wished; but when you are old, you will stretch out your hands, and another will gird you and carry you where you do not wish."19 This He spoke, signifying by what death he would glorify God. And when He had spoken this, He said to him, "Follow Me."
The Beloved Disciple and His Book
20 Then Peter, turning around, saw the disciple whom Jesus loved following, who also had leaned on His breast at the supper, and said, "Lord, who is the one who betrays You?" 21 Peter, seeing him, said to Jesus, "But Lord, what about this man?"
22 Jesus said to him, "If I will that he remain till I come, what is that to you? You follow Me."
23 Then this saying went out among the brethren that this disciple would not die. Yet Jesus did not say to him that he would not die, but, "If I will that he remain till I come, what is that to you?"
24 This is the disciple who testifies of these things, and wrote these things; and we know that his testimony is true.
25 And there are also many other things that Jesus did, which if they were written one by one, I suppose that even the world itself could not contain the books that would be written. Amen.
Philippians 2:12-16
Light Bearers
12 Therefore, my beloved, as you have always obeyed, not as in my presence only, but now much more in my absence, work out your own salvation with fear and trembling; 13 for it is God who works in you both to will and to do for His good pleasure.
14 Do all things without complaining and disputing, 15 that you may become blameless and harmless, children of God without fault in the midst of a crooked and perverse generation, among whom you shine as lights in the world, 16 holding fast the word of life, so that I may rejoice in the day of Christ that I have not run in vain or labored in vain.
Luke 6:24-30
Jesus Pronounces Woes
24 "But woe to you who are rich,
For you have received your consolation.
25 Woe to you who are full,
For you shall hunger.
Woe to you who laugh now,
For you shall mourn and weep.
26 Woe to you when all men speak well of you,
For so did their fathers to the false prophets.
Love Your Enemies
27 "But I say to you who hear: Love your enemies, do good to those who hate you, 28 bless those who curse you, and pray for those who spitefully use you. 29 To him who strikes you on the one cheek, offer the other also. And from him who takes away your cloak, do not withhold your tunic either. 30 Give to everyone who asks of you. And from him who takes away your goods do not ask them back.
1 Corinthians 4:9-16
9 For I think that God has displayed us, the apostles, last, as men condemned to death; for we have been made a spectacle to the world, both to angels and to men. 10 We are fools for Christ's sake, but you are wise in Christ! We are weak, but you are strong! You are distinguished, but we are dishonored! 11 To the present hour we both hunger and thirst, and we are poorly clothed, and beaten, and homeless. 12 And we labor, working with our own hands. Being reviled, we bless; being persecuted, we endure; 13 being defamed, we entreat. We have been made as the filth of the world, the offscouring of all things until now.
Paul's Paternal Care
14 I do not write these things to shame you, but as my beloved children I warn you. 15 For though you might have ten thousand instructors in Christ, yet you do not have many fathers; for in Christ Jesus I have begotten you through the gospel. 16 Therefore I urge you, imitate me.
John 20:19-31
The Apostles Commissioned
19 Then, the same day at evening, being the first day of the week, when the doors were shut where the disciples were assembled, for fear of the Jews, Jesus came and stood in the midst, and said to them, "Peace be with you." 20 When He had said this, He showed them His hands and His side. Then the disciples were glad when they saw the Lord.
21 So Jesus said to them again, "Peace to you! As the Father has sent Me, I also send you." 22 And when He had said this, He breathed on them, and said to them, "Receive the Holy Spirit. 23 If you forgive the sins of any, they are forgiven them; if you retain the sins of any, they are retained."
Seeing and Believing
24 Now Thomas, called the Twin, one of the twelve, was not with them when Jesus came. 25 The other disciples therefore said to him, "We have seen the Lord."
So he said to them, "Unless I see in His hands the print of the nails, and put my finger into the print of the nails, and put my hand into His side, I will not believe."
26 And after eight days His disciples were again inside, and Thomas with them. Jesus came, the doors being shut, and stood in the midst, and said, "Peace to you!" 27 Then He said to Thomas, "Reach your finger here, and look at My hands; and reach your hand here,and put it into My side. Do not be unbelieving, but believing."
28 And Thomas answered and said to Him, "My Lord and my God!"
29 Jesus said to him, "Thomas, because you have seen Me, you have believed. Blessed are those who have not seen and yet have believed."
That You May Believe
30 And truly Jesus did many other signs in the presence of His disciples, which are not written in this book; 31 but these are written that you may believe that Jesus is the Christ, the Son of God, and that believing you may have life in His name.