We must serve as a missionary people to our communities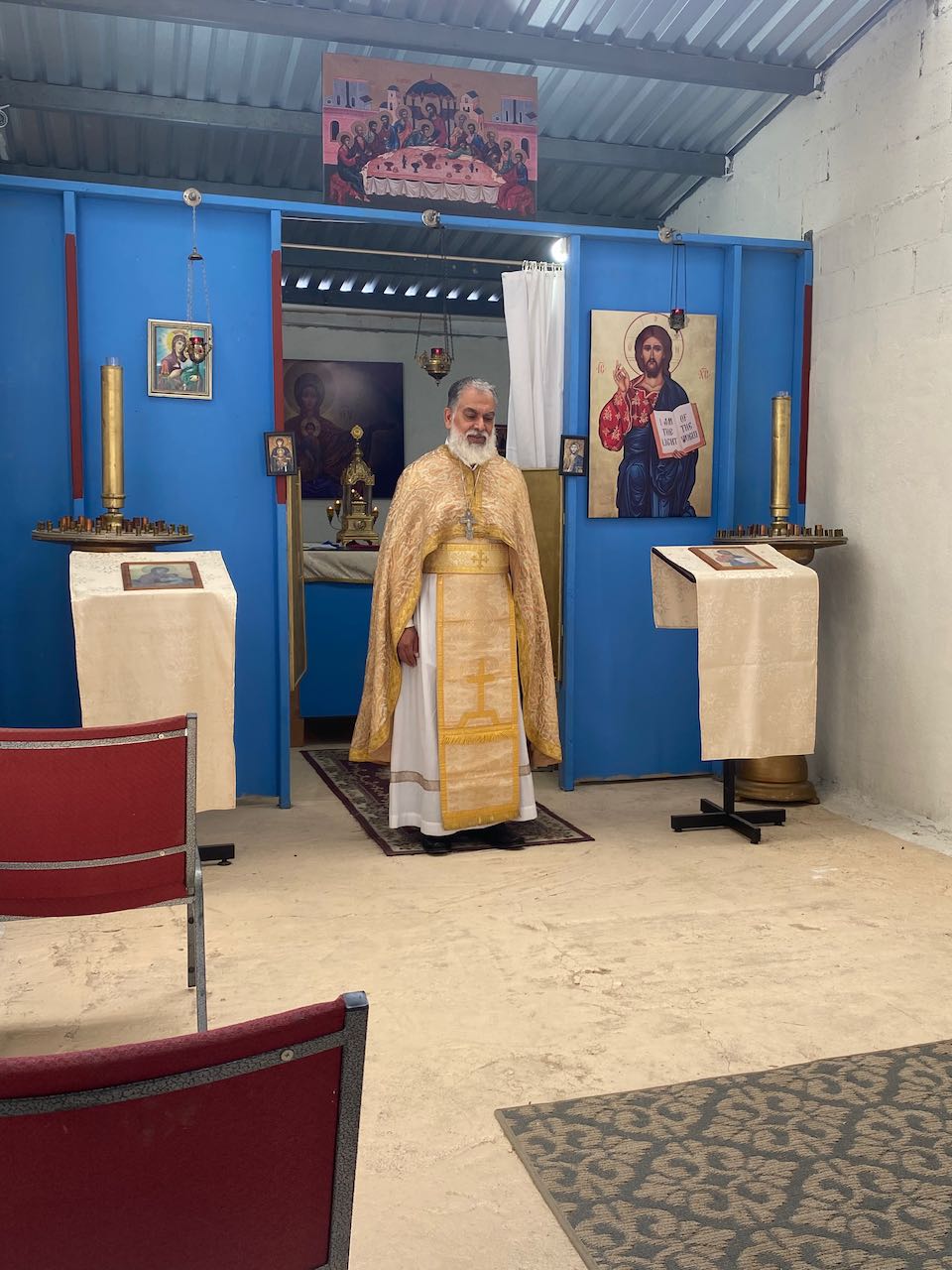 Two Byzantine brothers, Saints Cyril and Methodius, brought Orthodox Christianity to the Slavs in the ninth century. The brilliance of Eastern Orthodox missionary outreach, as opposed to that of the Latin Church, was in the very use of the vernacular. These great saints who became known as the Apostles to the Slavs, left the Slavs with a liturgical language that was understandable to them. The services were not imparted in the Greek language, as though it alone was sacred enough to be used in Divine Worship, but helped them understand their new faith by worshiping in their own language.
The first missionary monks to the North American came to a land where Orthodoxy had never been. Their encounter with the native peoples was one of mutual respect. They did not greet their new neighbors as pagans, but as a people whose experience with God was limited, but who nevertheless held to certain truths that were, by their very nature, Orthodox truths. Sharing with these peoples, the Orthodox monks came to know that the native Alaskans did not worship totem poles, but used them as tools for passing on family and tribal history. The monks honored the indigenous peoples, befriending them, and, most important of all, treating them as God's children.
As Orthodox Christians, we are duty bound to share our faith with others. Christ is for everyone, but with all the bad press Christianity has been getting during the past decade, it is especially important that we approach evangelism in light of the historic Church. The missionary mind of the Orthodox Church must be rekindled in our time. Parishes must not remain enclaves of Greeks, Russians, Bulgarians, Romanians, Palestinians, or Serbs. The doors of the churches must be opened wide, welcoming all.
Orthodox clergy must remember that we are the first line of witness for the Faith, and if we hold ourselves aloof while wearing our cassocks and crosses in public, we are in essence slamming the door in the faces of potential converts to our faith. And, as priests belonging to different jurisdictions, we must cooperate in the foundation of new missions, so we don't undermine the ability of any one mission to support a full time priest, and raise the necessary funds to construct a permanent church. Having numerous little mission parishes without proper facilities, and a full time priest, is counterproductive to the overall goal of a mission, because the witness it gives to the community at large is one of disunity among the Orthodox, and the promotion of the commonly held view that we are multiple denominations.
With love in Christ,
Abbot Tryphon
Photo: Our monastery donated our old candle stands and tabernacle to an Orthodox mission in Tijuana, Mexico. Padre Ángel Andrés is pastor of Estación Misionera de San Andrés Apóstol in the OCA Diocese of Mexico.
Thursday October 15, 2020 / October 2, 2020
19th Week after Pentecost. Tone one.
Hieromartyr Cyprian, Virgin-martyr Justina and Martyr Theoctist of Nicomedia (304).
Blessed Andrew, fool-for-Christ at Constantinople (911).
St. Theodore of Sanaskar (Ushakov), admiral of the Russian Navy (1817).
Virgin-martyr Alexandra (1938).
Venerable Anna of Kashin (1338).
Venerable Cassian, monk, of Uglich (1504).
Martyrs David and Constantine, princes of Argveti, Georgia (740) (Georgia).
Blessed Cyprian of Suzdal, fool-for-Christ (1622).
New Martyr George of Philadelphia in Asia Minor (Mt. Athos) (1794) (Greek).
Venerable Damaris of Athens (1st c.) (Greek).
Great-martyr Theodore (Gavra) of Atran in Chaldia of Pontus (1180) (Greek).
Venerable Theophilus the Confessor (Greek).
The Scripture Readings
Philippians 1:20-27
20 according to my earnest expectation and hope that in nothing I shall be ashamed, but with all boldness, as always, so now also Christ will be magnified in my body, whether by life or by death. 21 For to me, to live is Christ, and to die is gain. 22 But if I live on in the flesh, this will mean fruit from my labor; yet what I shall choose I cannot tell. 23 For I am hard-pressed between the two, having a desire to depart and be with Christ, which is far better. 24 Nevertheless to remain in the flesh is more needful for you. 25 And being confident of this, I know that I shall remain and continue with you all for your progress and joy of faith, 26 that your rejoicing for me may be more abundant in Jesus Christ by my coming to you again.
Striving and Suffering for Christ
27 Only let your conduct be worthy of the gospel of Christ, so that whether I come and see you or am absent, I may hear of your affairs, that you stand fast in one spirit, with one mind striving together for the faith of the gospel,
Luke 6:12-19
The Twelve Apostles
12 Now it came to pass in those days that He went out to the mountain to pray, and continued all night in prayer to God. 13 And when it was day, He called His disciples to Himself; and from them He chose twelve whom He also named apostles: 14 Simon, whom He also named Peter, and Andrew his brother; James and John; Philip and Bartholomew; 15 Matthew and Thomas; James the son of Alphaeus, and Simon called the Zealot; 16 Judas the son of James, and Judas Iscariot who also became a traitor.
Jesus Heals a Great Multitude
17 And He came down with them and stood on a level place with a crowd of His disciples and a great multitude of people from all Judea and Jerusalem, and from the seacoast of Tyre and Sidon, who came to hear Him and be healed of their diseases, 18 as well as those who were tormented with unclean spirits. And they were healed. 19 And the whole multitude sought to touch Him, for power went out from Him and healed them all.
1 Timothy 1:12-17
Glory to God for His Grace
12 And I thank Christ Jesus our Lord who has enabled me, because He counted me faithful, putting me into the ministry, 13 although I was formerly a blasphemer, a persecutor, and an insolent man; but I obtained mercy because I did it ignorantly in unbelief. 14 And the grace of our Lord was exceedingly abundant, with faith and love which are in Christ Jesus. 15 This is a faithful saying and worthy of all acceptance, that Christ Jesus came into the world to save sinners, of whom I am chief. 16 However, for this reason I obtained mercy, that in me first Jesus Christ might show all longsuffering, as a pattern to those who are going to believe on Him for everlasting life. 17 Now to the King eternal, immortal, invisible, to [b]God who alone is wise, be honor and glory forever and ever. Amen.
John 10:9-16
9 I am the door. If anyone enters by Me, he will be saved, and will go in and out and find pasture. 10 The thief does not come except to steal, and to kill, and to destroy. I have come that they may have life, and that they may have it more abundantly.
11 "I am the good shepherd. The good shepherd gives His life for the sheep. 12 But a hireling, he who is not the shepherd, one who does not own the sheep, sees the wolf coming and leaves the sheep and flees; and the wolf catches the sheep and scatters them. 13 The hireling flees because he is a hireling and does not care about the sheep.14 I am the good shepherd; and I know My sheep, and am known by My own. 15 As the Father knows Me, even so I know the Father; and I lay down My life for the sheep. 16 And Other sheep I have which are not of this fold; them also I must bring, and they will hear My voice; and there will be one flock and one shepherd.