And the surrender of self-will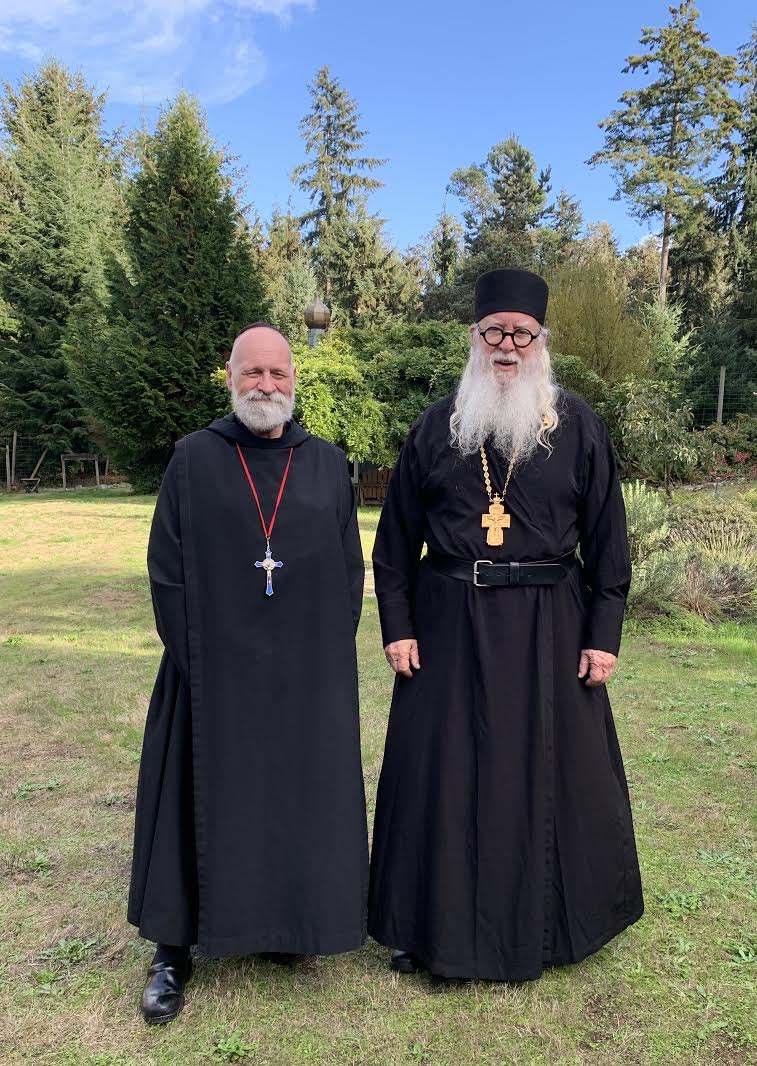 There is freedom from stress, anxiety, and even anger, when we place our trust in God, and in he whom God has set over us as our spiritual guide. The invading enemies to our salvation have power over us only when we depend on ourselves.
Without humility, there can be no victory over the demons that would destroy the soul. When we set ourselves up as our own spiritual guide, we end up feeding the ego and give power to the enemy.
Comfort and joy can only be part of our life when we surrender our self-will to the will of God. Having a good confessor, or a spiritual father, helps destroy the ego, and leads us into the loving embrace of God.
With love in Christ,
Abbot Tryphon
Photos: Abbot Theodore of the Community of Our Lady and Saint Lawerence, a Western Rite Orthodox monastery in Canon City, Colorado, visited our monastery for the weekend.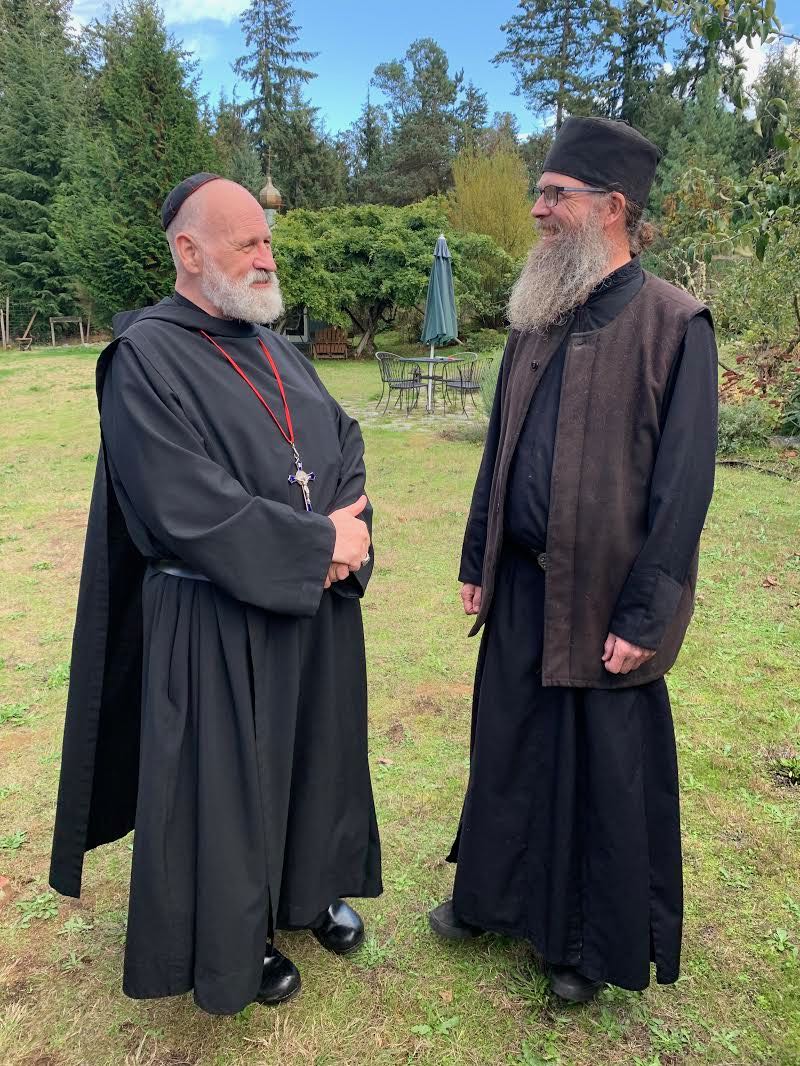 Monday October 12, 2020 / September 29, 2020
19th Week after Pentecost. Tone one.
Venerable Cyriacus the Hermit of Palestine (556).
New Hieromartyr John, archbishop of Riga in Latvia (1934).
Martyrs Dada, Gabdelas, and Casdoe (Casdoa) of Persia (4th c.).
Venerable Theophanes the Merciful of Gaza.
Uncovering of the relics of St. John of Shanghai and San Francisco the Wonderworker (ROCOR)
Holy Martyr Gudelia of Persia (4th c.).
Venerable Cyprian, abbot, of Ustiug (Vologda) (1276).
The Eighty Holy Martyrs of Byzantium (4th c.).
Martyrs Tryphon, Trophimus, and Dorymedon, and 150 Martyrs m Palestine (Greek).
Translation of the relics of Venerable Neophytus the Recluse of Cyprus (1214) (Greek).
St. Auxentius the Wonderworker (Greek).
New Monk-martyr Malachias of Rhodes (1500).
St. Onuphrius the Wonderworker of Garesja, Georgia (18th c.).
The Scripture Readings
Philippians 1:1-7
Greeting
1 Paul and Timothy, bondservants of Jesus Christ,
To all the saints in Christ Jesus who are in Philippi, with the bishops and deacons:
2 Grace to you and peace from God our Father and the Lord Jesus Christ.
Thankfulness and Prayer
3 I thank my God upon every remembrance of you, 4 always in every prayer of mine making request for you all with joy, 5 for your fellowship in the gospel from the first day until now, 6 being confident of this very thing, that He who has begun a good work in you will complete it until the day of Jesus Christ; 7 just as it is right for me to think this of you all, because I have you in my heart, inasmuch as both in my chains and in the defense and confirmation of the gospel, you all are partakers with me of grace.
Luke 4:37-44
37 And the report about Him went out into every place in the surrounding region.
Peter's Mother-in-Law Healed
38 Now He arose from the synagogue and entered Simon's house. But Simon's wife's mother was sick with a high fever, and they made request of Him concerning her. 39 So He stood over her and rebuked the fever, and it left her. And immediately she arose and served them.
Many Healed After Sabbath Sunset
40 When the sun was setting, all those who had any that were sick with various diseases brought them to Him; and He laid His hands on every one of them and healed them. 41 And demons also came out of many, crying out and saying, "You are the Christ, the Son of God!"
And He, rebuking them, did not allow them to speak, for they knew that He was the Christ.
Jesus Preaches in Galilee
42 Now when it was day, He departed and went into a deserted place. And the crowd sought Him and came to Him, and tried to keep Him from leaving them; 43 but He said to them, "I must preach the kingdom of God to the other cities also, because for this purpose I have been sent." 44 And He was preaching in the synagogues of Galilee.