Monasteries are centers for spiritual healing and intercessory prayer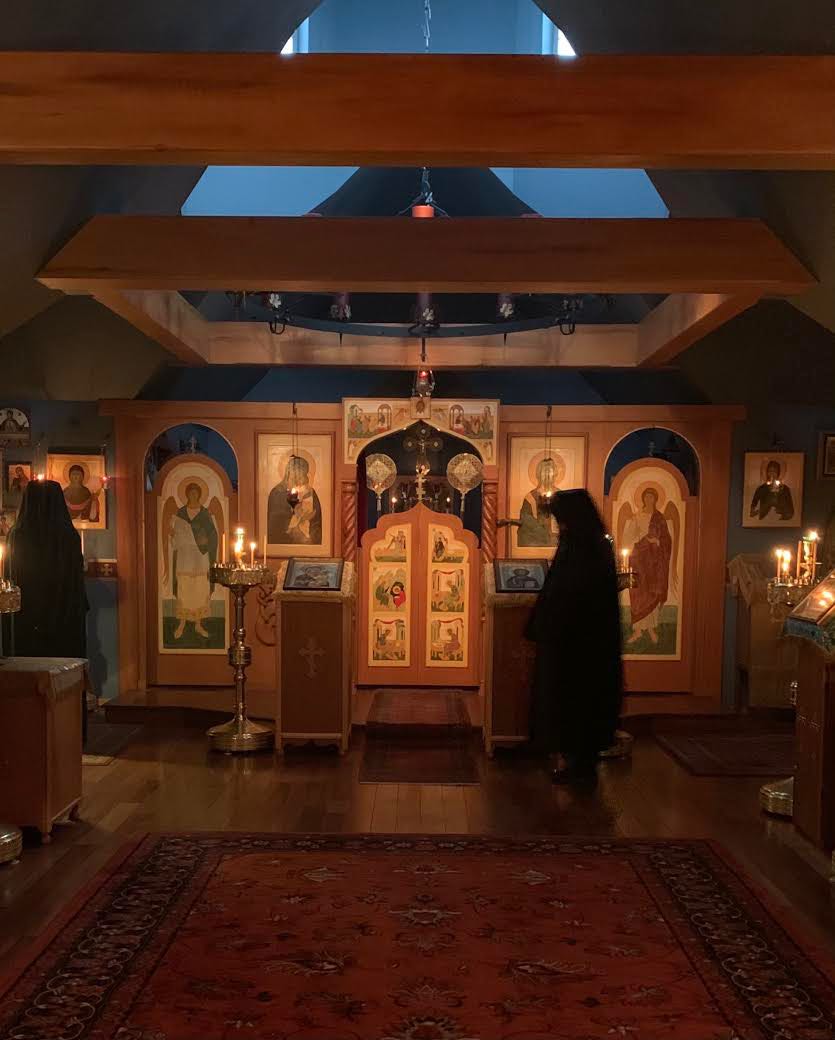 Monastics are an integral part of the Church and should not be seen as independent of the Church Universal. Monks are bound by the same Gospel as other Christians and need to avail themselves to the missionary and pastoral needs of the Church, as needed. Although a primary role of monasticism is to be found in worship and contemplative prayer, monks also have a long history as missionaries.
Many of the great monasteries of Russia, as an example, were founded in remote places but became centers of pilgrimage, attracting countless people. Whole cities often formed around monasteries, precisely because the monks had reached out with the Gospel and worked among the people. Where there was a need, monks responded with charity and evangelical witness.
In these difficult times where people are suffering economic hardship, loss of jobs and foreclosure on homes, monks can bring a different perspective that can give hope to those who've lost all hope. Monasteries are centers of spiritual healing and empowerment. People who have been struggling to find meaning in their lives can walk away with a new vision, gained through the interior work of the monks who've availed themselves as therapists for those who are hurting.
The strength of Orthodox monasticism is not to be found in the sameness of every monastery, for each monastic community has its own expression, often quite different from other monasteries. In Greece and Russia, there are monastic communities that run printing presses, care for the elderly and infirm, run Orthodox bookstores in cities, live as hermits, run large retreat facilities, teach in schools, and even, on occasion, serve parishes.
Monasticism is not something that is mastered through academic pursuits, but is rather acquired over many years of struggle, through obedience, long nights of prayer, ascetical practice, and communal life. A monastic, who is true to his vocation, will often see himself as just a beginner, even though he's been a monk for forty years, for he realized how far he is from the perfection that comes with total surrender to Christ.
Many would wish to see monasticism in a romantic way, with monks quietly and silently living out hidden lives, yet there are monks who work with people as spiritual fathers, preachers, teachers, participating in an active way in service to the world. Each monk, and each monastery is called apart for the service of God and His Church, as God wishes. Thus, it is dangerous ground when we judge a monastery or a monk from our own fanciful image of what we think they should be like, for even on the Holy Mountain of Athos, there are many varieties of monastic expression, none being better than the other, and all based on the prompting of the Holy Spirit, as the monk attempts to live out the evangelical life of the Gospels.
Although the Orthodox Church does not have religious orders as the Latin Church does, there are in Orthodoxy different styles of monastic life, both individually and in community. Generally speaking some monasteries may be more liturgically oriented, while others may be more ascetic, while still others may have a certain mystical tradition, and others be more inclined to spiritual guidance and openness to the world for the purpose of care and counseling. These various styles of monasticism, which take both a personal as well as a corporate form, are not formally predetermined or officially legislated. They are the result of organic development under the living grace of God.
Yet all monastics share the common vows of poverty, chastity, stability, and obedience, ever following the words of Jesus which are the cornerstone for this life, "be ye perfect as your heavenly Father is perfect."
With love in Christ,
Abbot Tryphon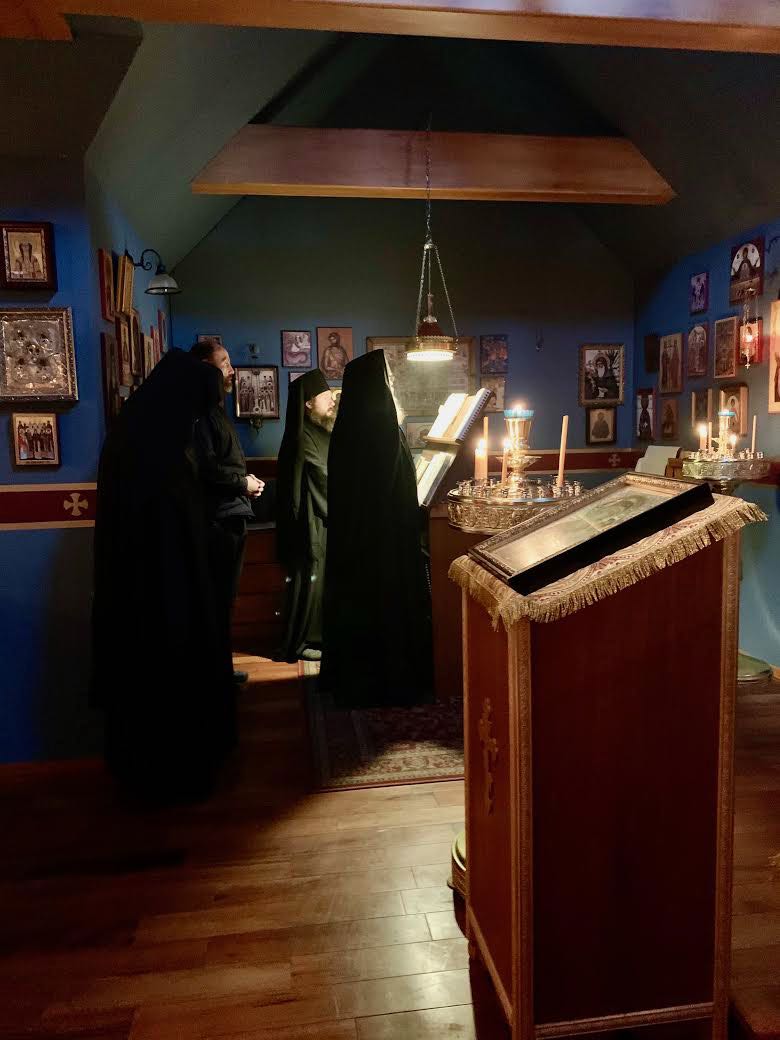 Saturday October 17, 2020 / October 4, 2020
19th Week after Pentecost. Tone one.
Hieromartyr Hierotheus, bishop of Athens (1st c.).
Uncovering of the relics (1595) of St. Gurias, first archbishop of Kazan (1563) and St. Barsanuphius, bishop of Tver (1576).
Synaxis of All Saints of Kazan.
New Hieromartyr Demetrius priest (1918).
New Hieromartyrs Demetrius priest Nicholas, Micael, Jacob and Tikhon priests, Martyr Basil (1937).
St. Khionia confessor (1945).
St. Vladimir Yaroslavich, prince of Novgorod (1052), and his mother, St. Anna of Novgorod (1050).
Venerables Helladius and Onesimus of the Near Caves in Kiev (12th-13th c.).
Venerable Ammon of the Far Caves in Kiev (13th c.).
Martyrs Gaius, Faustus, Eusebius, and Chaeremon of Alexandria (3rd c.).
Venerable Peter of Capitolia, bishop of Bostra (715).
Martyrs Domnina and her daughters Berenice (Bernice) and Prosdoce, of Syria (4th c.).
Venerable Paul the Simple (340) and Venerable Ammon (350), of Egypt, disciples of St. Anthony the Great.
Martyr Adauctus and his daughter St. Callisthene, of Ephesus (4th c.).
Martyr Stephen (Stiljanovich) of Serbia (1515) and his wife, St. Elena (Serbia).
Blessed Elizabeth of Serbia (Greek).
St. Theodore the Wonderworker, bishop of Tamassos in Cyprus (2nd. c.).
St. John (Lampadistes) of Cyprus (10th c.).
Sts. Jonah and Nectarius of Kazan, monks (16th c.).
Martyr Evdemoz the Catholicos of Georgia (1642).
Venerable Peor recluse of the Kiev Caves (13 c.).
St. Peter (Michurin) of Siberia (1820).
The Scripture Readings
1 Corinthians 15:58-16:3
58 Therefore, my beloved brethren, be steadfast, immovable, always abounding in the work of the Lord, knowing that your labor is not in vain in the Lord.
Collection for the Saints
16 Now concerning the collection for the saints, as I have given orders to the churches of Galatia, so you must do also: 2 On the first day of the week let each one of you lay something aside, storing up as he may prosper, that there be no collections when I come. 3 And when I come, whomever you approve by your letters I will send to bear your gift to Jerusalem.
Luke 5:17-26
Jesus Forgives and Heals a Paralytic
17 Now it happened on a certain day, as He was teaching, that there were Pharisees and teachers of the law sitting by, who had come out of every town of Galilee, Judea, and Jerusalem. And the power of the Lord was present to heal them. 18 Then behold, men brought on a bed a man who was paralyzed, whom they sought to bring in and lay before Him. 19 And when they could not find how they might bring him in, because of the crowd, they went up on the housetop and let him down with his bed through the tiling into the midst before Jesus.
20 When He saw their faith, He said to him, "Man, your sins are forgiven you."
21 And the scribes and the Pharisees began to reason, saying, "Who is this who speaks blasphemies? Who can forgive sins but God alone?"
22 But when Jesus perceived their thoughts, He answered and said to them, "Why are you reasoning in your hearts? 23 Which is easier, to say, 'Your sins are forgiven you,' or to say, 'Rise up and walk'? 24 But that you may know that the Son of Man has power on earth to forgive sins"—He said to the man who was paralyzed, "I say to you, arise, take up your bed, and go to your house."
25 Immediately he rose up before them, took up what he had been lying on, and departed to his own house, glorifying God. 26 And they were all amazed, and they glorified God and were filled with fear, saying, "We have seen strange things today!"