And the veneration of the holy icons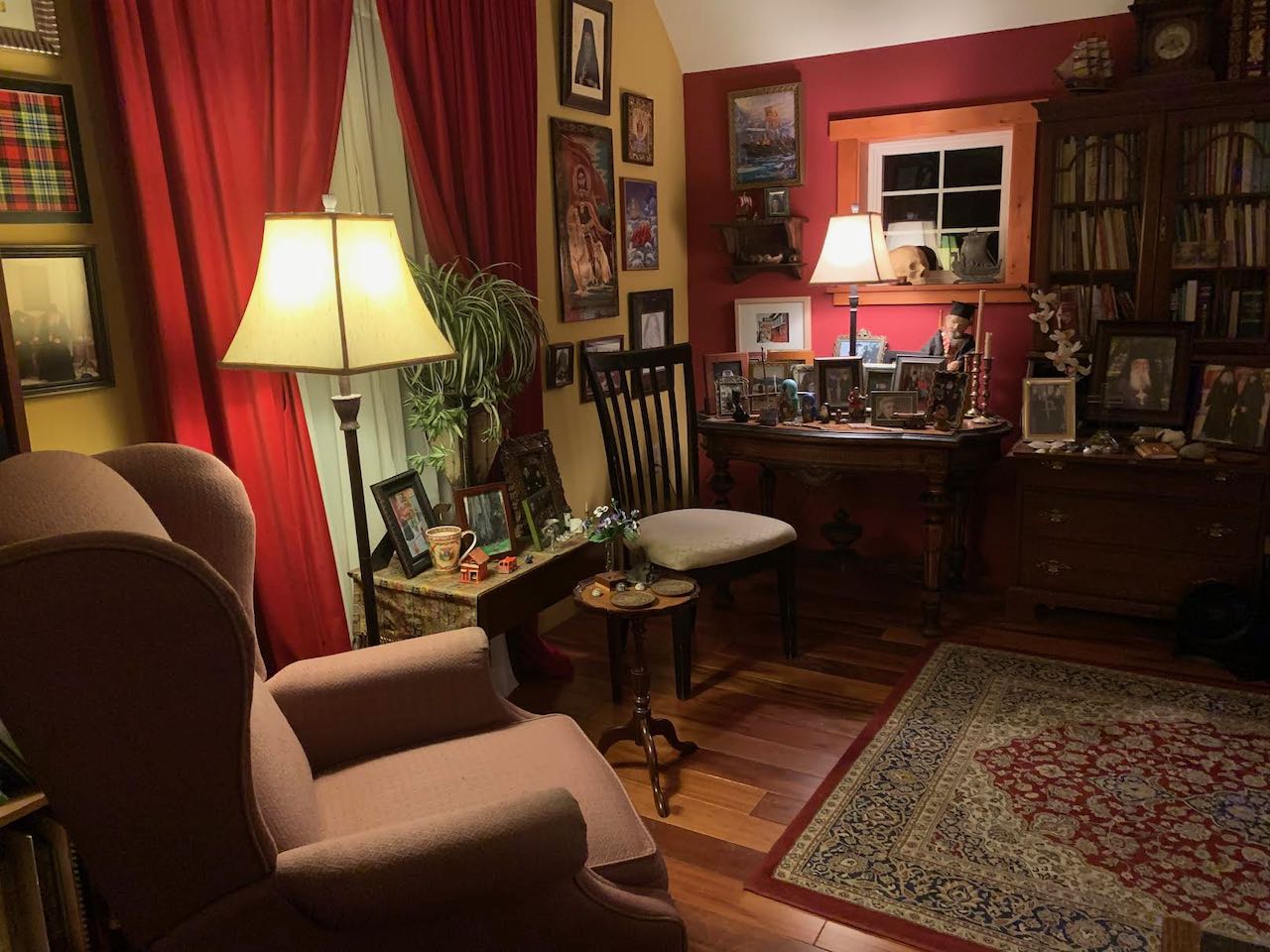 For as long as I can remember I've been a visually oriented person. I've always liked being surrounded by family photos, paintings and photographs on the walls, bookshelves lined with books, and the density, variety and color of an English Cottage Garden. From childhood I've loved the beauty of a forest, the deep blue of a lake in mid summer, the colors of the sky at sunset, and the grandeur of a Gothic cathedral.  While growing up in Spokane, I was always delighted when we went to the home of my great grandmother, for her home was the very best place for a visually oriented young boy, such as I. Her home, located on South Hill near Manitou Park and Gardens, was filled with potted plants, gilded framed paintings and family portraits, and Victorian divans and lamps.
In the same neighborhood was the home of my great aunt, who had a music room with a four manual pipe organ, with many of the pipes in the floor below. She'd purchased an old theatre organ, and had the whole works installed in her home!
My mother's mom, whose home was on the northside of Spokane, was a small house, but filled in much the same way. My Grandma Haraldson had a mantel filled with family photos, and an old clock that always drew me in, with it's chiming on the hour and half hour. It had belonged to her eldest sister, and had been given as a wedding gift back in 1882. I so loved this clock, my grandmother eventually gifted it to me, and it now graces the mantle of our monastery's library.
All three of these women instilled in me a love of what some would call clutter, but what I found as comforting surrounds. I am, at the heart of it all, more of a Victorian man. Modern I'm not. Anyone who has seen our monastery's library knows it, for it was designed and decorated by me, down to the massive fireplace, chosen by me, and gifted by a San Francisco couple. Orthodoxy, my adopted Faith, with its use of icons, beautiful candle stands, fresco's, carved shrines, and colorful vestments, was a perfect fit for that once young boy from Spokane.
When I went off to college in Oregon, I was taken by the beauty of the dense foliage found in Portland, the old Park Blocks with their statuary, and the many fountains throughout the downtown core. Lots to take in, again, for a young man so visually oriented. It was during my college days in Oregon that I made my first journey through the Redwood Forest in coastal Northern California. These giants were, and are, a wonder to me. Coastal redwoods are the tallest living species on Earth. The tallest is 367.8 feet, and is 44 feet around at it's base!  To this day, whenever I travel to Holy Virgin Cathedral in San Francisco, I always return via the Redwoods, on Highway 101. These massive and ancient trees draw me in, and I always stop to walk trails, in solitude, with these trees, some of which were alive during the time of Christ.
Given all I've shared about myself, is it a wonder that Orthodoxy was like coming home? I beheld the interior of Holy Virgin Cathedral on the very same trip I encountered the Redwoods. I felt, in both cases, that I was standing in the presence of God. Both left me with a sense of the awesomeness of God, and transported me to another age, and connected me to that which is eternal. They both took me to a place where there is neither time nor space, but only the eternal.
I'm a visually oriented man, and the Church's veneration of the holy icons is of great and everlasting importance to me. As beautiful as a Gothic cathedral can be, it still falls short of the sense of the eternal that is imparted to me when I walk into our monastery's temple, and am surrounded by  "the cloud of witnesses", as represented in the icons. An Orthodox temple brings to mind the words, "Glory to God Who has shown forth in His saints. Glory to God Who has revealed Himself to us".
With love in Christ,
Abbot Tryphon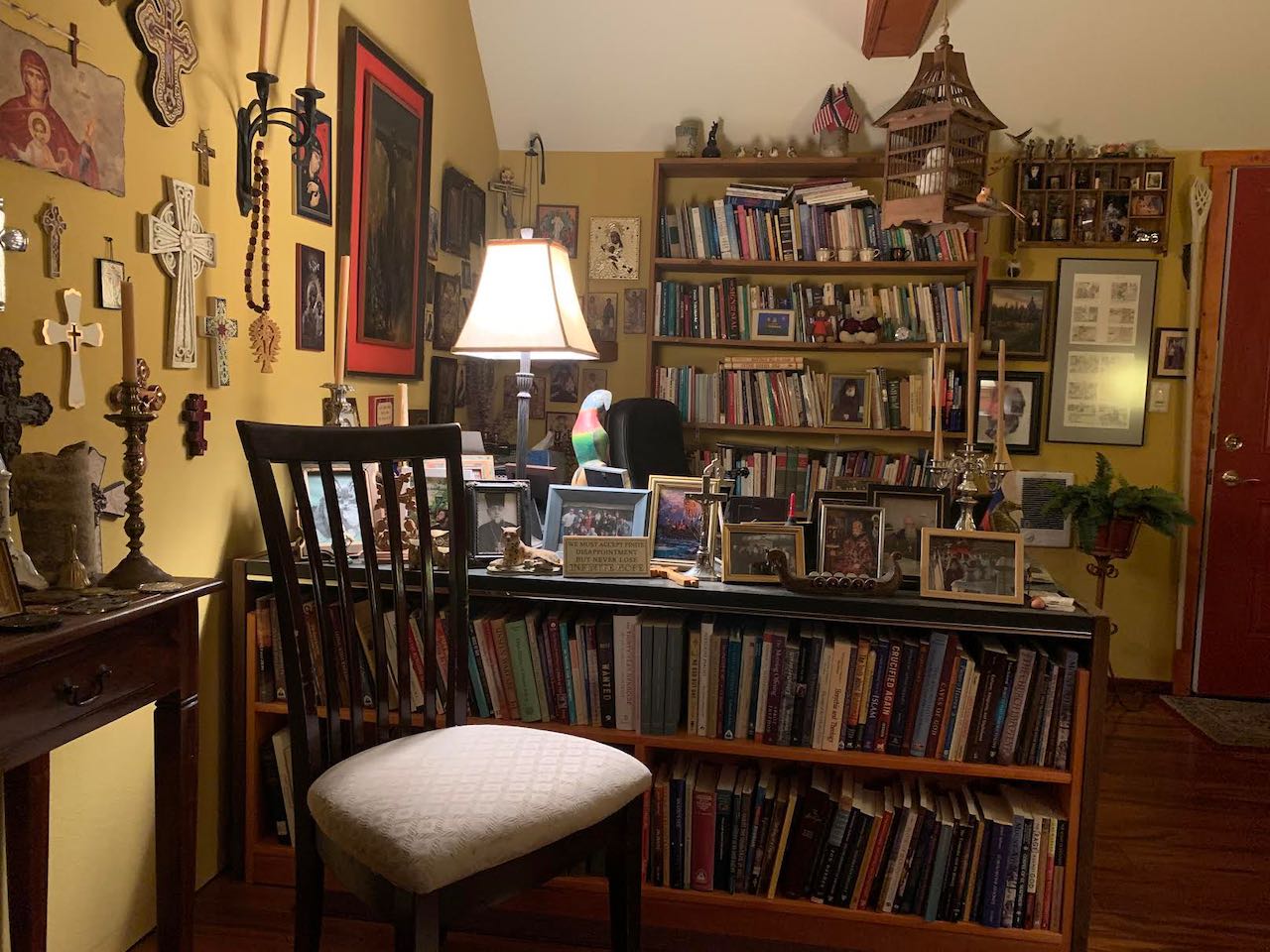 Photos: My study has roots in the homes of family members of my childhood.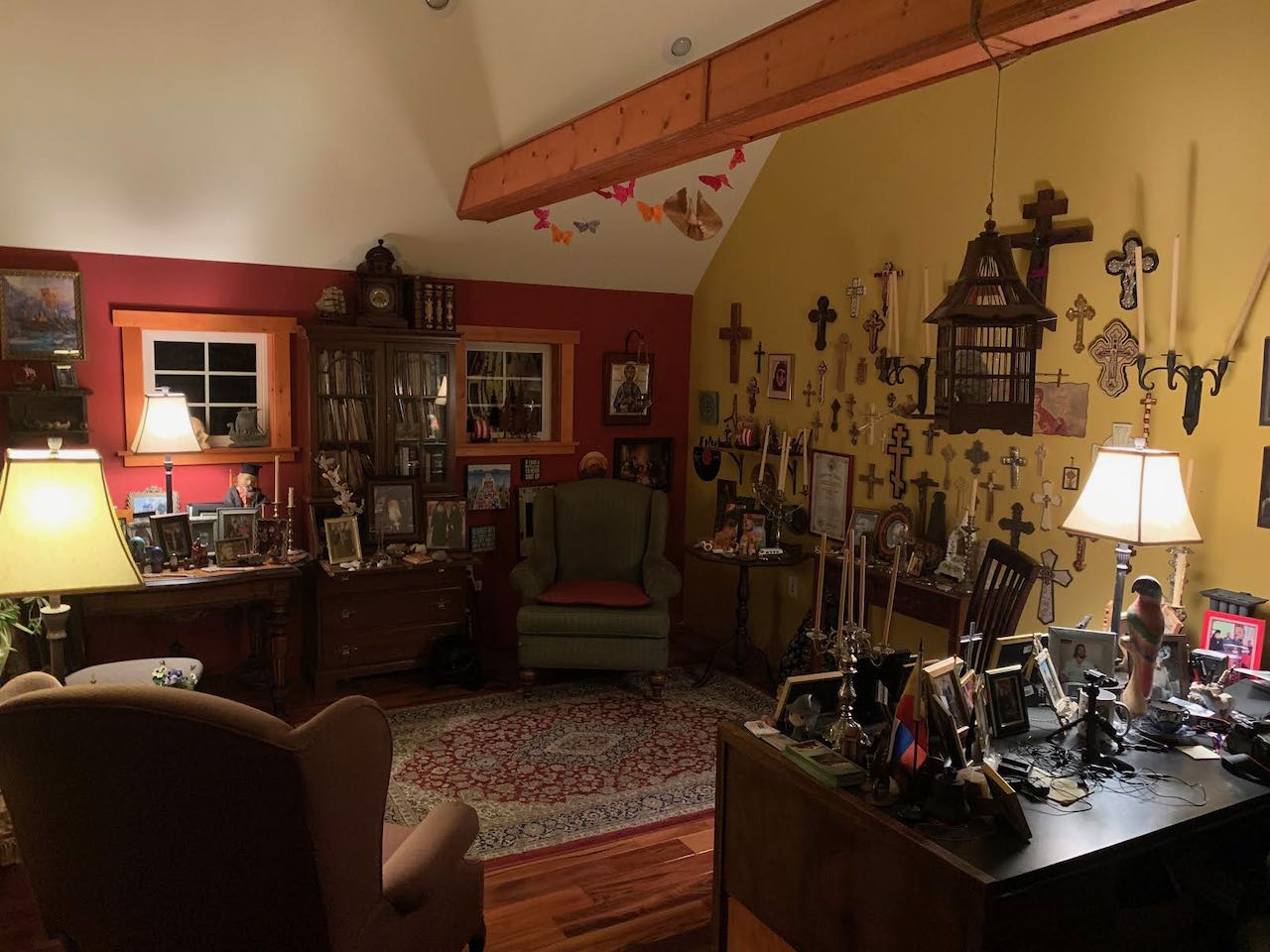 Tuesday September 29, 2020 / September 16, 2020
17th Week after Pentecost. Tone seven.
Great-martyr Euphemia the All-praised, of Chalcedon (304).
New Hieromartyr Gregory Raevsky priest (1937).
New Hieromartyr Sergius priest (1942).
Translation of the relics of St. Alexis of Moscow (2001).
Repose of St. Cyprian, metropolitan of Kiev (1406).
St. Photius, metropolitan of Kiev (1431).
St. Kushka of Odessa confessor (1964).
St. Sebastiana, disciple of St. Paul the Apostle, martyred at Heraclea (86).
Martyr Melitina of Marcianopolis (2nd c.).
Martyrs Victor and Sosthenes at Chalcedon (304).
Venerable Dorotheus, hermit of Egypt (4th c.).
Martyr Ludmilla (927), grandmother of St. Wenceslaus, prince of the Czechs.
Venerable Procopius, abbot, of Sazava in Bohemia (1053).
New Martyrs Isaac and Joseph, who suffered at Karnu, Georgia (808) (Georgia).
The Icon of the Mother of God, named "Support of the Humble"(1420).
St. Ninian, bishop of Whithorn (Candida Casa) ( 432) (Celtic & British).
Venerable Edith, nun, of Wilton, England (984) (Celtic & British).
Venerable Cyprian of Serbia (Serbia).
The Scripture Readings
Ephesians 2:19-3:7
Christ Our Cornerstone
19 Now, therefore, you are no longer strangers and foreigners, but fellow citizens with the saints and members of the household of God, 20 having been built on the foundation of the apostles and prophets, Jesus Christ Himself being the chief cornerstone, 21 in whom the whole building, being fitted together, grows into a holy temple in the Lord, 22 in whom you also are being built together for a dwelling place of God in the Spirit.
The Mystery Revealed
3 For this reason I, Paul, the prisoner of Christ Jesus for you Gentiles— 2 if indeed you have heard of the [a]dispensation of the grace of God which was given to me for you, 3 how that by revelation He made known to me the mystery (as I have briefly written already, 4 by which, when you read, you may understand my knowledge in the mystery of Christ), 5 which in other ages was not made known to the sons of men, as it has now been revealed by the Spirit to His holy apostles and prophets: 6 that the Gentiles should be fellow heirs, of the same body, and partakers of His promise in Christ through the gospel, 7 of which I became a minister according to the gift of the grace of God given to me by the effective working of His power.
Mark 11:11-23
11 And Jesus went into Jerusalem and into the temple. So when He had looked around at all things, as the hour was already late, He went out to Bethany with the twelve.
The Fig Tree Withered
12 Now the next day, when they had come out from Bethany, He was hungry. 13 And seeing from afar a fig tree having leaves, He went to see if perhaps He would find something on it. When He came to it, He found nothing but leaves, for it was not the season for figs. 14 In response Jesus said to it, "Let no one eat fruit from you ever again."
And His disciples heard it.
Jesus Cleanses the Temple
15 So they came to Jerusalem. Then Jesus went into the temple and began to drive out those who bought and sold in the temple, and overturned the tables of the money changers and the seats of those who sold doves. 16 And He would not allow anyone to carry wares through the temple. 17 Then He taught, saying to them, "Is it not written, 'My house shall be called a house of prayer for all nations'? But you have made it a 'den of thieves.' "
18 And the scribes and chief priests heard it and sought how they might destroy Him; for they feared Him, because all the people were astonished at His teaching. 19 When evening had come, He went out of the city.
The Lesson of the Withered Fig Tree
20 Now in the morning, as they passed by, they saw the fig tree dried up from the roots. 21 And Peter, remembering, said to Him, "Rabbi, look! The fig tree which You cursed has withered away."
22 So Jesus answered and said to them, "Have faith in God. 23 For assuredly, I say to you, whoever says to this mountain, 'Be removed and be cast into the sea,' and does not doubt in his heart, but believes that those things he says will be done, he will have whatever he says.