We must love others into the Church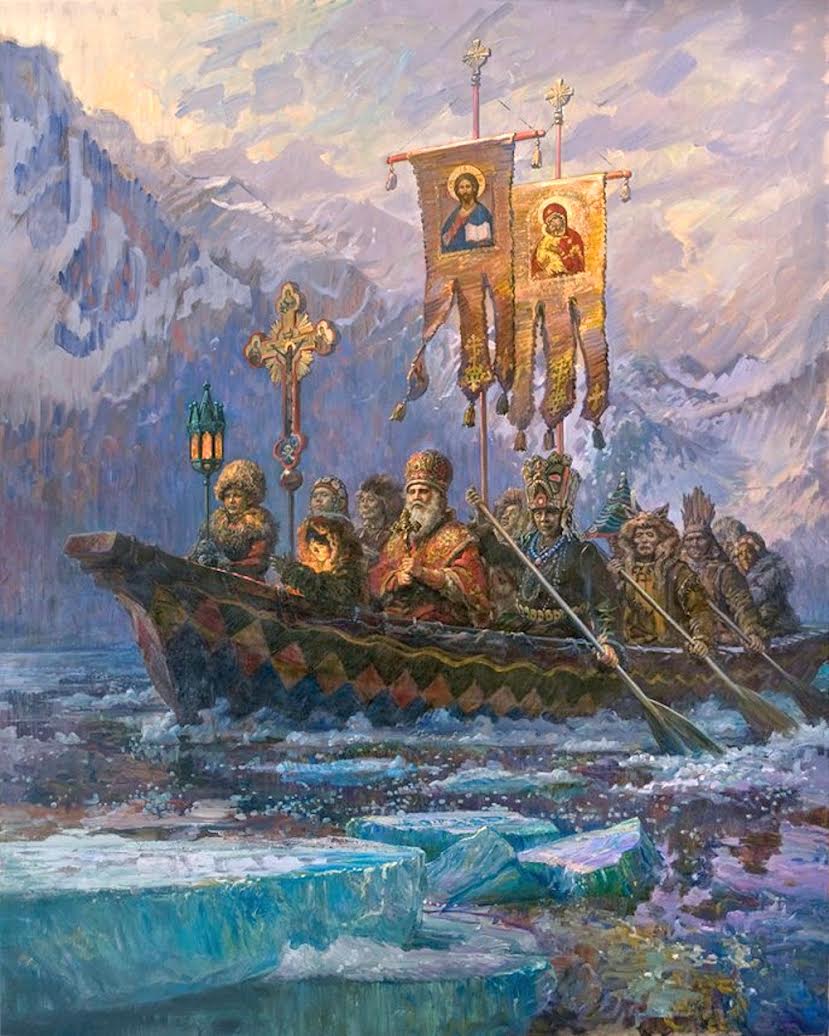 Manifest destiny was the belief that the United States god-given right was to spread westward from sea to shining sea, spreading American beliefs across the continent. As we all know, the First Nations tribes (Indians) were seen as heathen, and fair game for the advancing peoples of European ancestry. Whole tribes were wiped from the face of the map, either by being slaughtered, or succumbing to white man's diseases, for which they had no natural immunity. For those natives who were "lucky enough" to survive the occupation of their lands, relocation by force to reservations, was the norm.
The "Christian" basis for this expansion, had as its roots the Calvinist doctrine of "Predestination," a false and horrid, teaching that some were predestined to salvation, while others were not. The natural link between the two doctrines is obvious.
By contrast, the Orthodox missionary monks to Alaska journeyed under strict orders from the Patriarch and the Czar, to respect the First Nations religion, culture, and peoples. They were under direct orders to avoid baptizing the natives, unless they sought to convert, and then only after they were fully catechized. The missionary monks befriended the natives, even to the point of protecting them from Russian fur traders, who mistreated them. They learned the native languages, and respected the local culture.
To this day, Alaska's Orthodox natives see Orthodoxy as their native religion, because the love and kindness shown them by the Orthodox monks helped them see Christianity as the fulfillment of their own religion.
This has been the Orthodox way of evangelism from the earliest of times. Some have accused we Orthodox of not being missionary minded, not seeing that our missionary efforts are simply different than that of the west. We believe that God transforms hearts, so we, in turn, share our faith by loving those whom we wish to convert. Our evangelism is based in the heart, where love reigns.
The God we Orthodox Christians worship is the God of love and mercy, and the only way to bring others into a relationship with this God, is to love them into God's Kingdom. We don't pronounce them as heathen, who are destined to hellfire, but God's children, created in His image and likeness. We invite them into the Church as our brothers and sisters, because we love them, and desire that they not only have God as their Father, but the Church as their Mother.
With love in Christ,
Abbot Tryphon
Wednesday September 9, 2020 / August 27, 2020
14th Week after Pentecost. Tone four.
Fast. By Monastic Charter: Strict Fast (Bread, Vegetables, Fruits)
Venerable Poemen the Great (450).
New Hieromartyrs Priests Michael Voskresensky and Stephen Nemkov, and those with them, of Nizhni-Novgorod (1918).
New Hieromartyrs Paul, priest (1918).
New Hieromartyrs John, John priest and Hieromartyr Methodius (1937).
New Hieromartyr Aleksander, priest (1939).
New Hieromartyr Vladimir, priest (1940).
St. Demetrius confessor, priest (1952).
Venerables Pimen, Kuksha, and Nicon of the Kiev Caves (1114).
St. Hosius (Osia) the Confessor, bishop of Cordova (4th c.).
St. Liberius, pope of Rome (366).
Venerable Poemen of Palestine (605).
Martyr Anthusa.
Venerable Sabbas of Benephali.
Great-martyr Phanurius the Newly Appeared of Rhodes (Greek).
Translation of the relics of Sts. Theognostus, Cyprian, and Photius, metropolitans of Moscow (1479).
St. Caesarius, bishop of Aries (543) (Celtic & British).
Martyr-hermit Decuman of Watchet.
Martyr Djan Darada, the Ethiopian eunuch of Queen Candace.
The Scripture Readings
2 Corinthians 13:3-13
3 since you seek a proof of Christ speaking in me, who is not weak toward you, but mighty in you. 4 For though He was crucified in weakness, yet He lives by the power of God. For we also are weak in Him, but we shall live with Him by the power of God toward you.
5 Examine yourselves as to whether you are in the faith. Test yourselves. Do you not know yourselves, that Jesus Christ is in you?—unless indeed you are disqualified. 6 But I trust that you will know that we are not disqualified.
Paul Prefers Gentleness
7 Now I pray to God that you do no evil, not that we should appear approved, but that you should do what is honorable, though we may seem disqualified. 8 For we can do nothing against the truth, but for the truth. 9 For we are glad when we are weak and you are strong. And this also we pray, that you may be made complete. 10 Therefore I write these things being absent, lest being present I should use sharpness, according to the authority which the Lord has given me for edification and not for destruction.
Greetings and Benediction
11 Finally, brethren, farewell. Become complete. Be of good comfort, be of one mind, live in peace; and the God of love and peace will be with you.
12 Greet one another with a holy kiss.
13 All the saints greet you.
Mark 4:35-41
Wind and Wave Obey Jesus
35 On the same day, when evening had come, He said to them, "Let us cross over to the other side." 36 Now when they had left the multitude, they took Him along in the boat as He was. And other little boats were also with Him. 37 And a great windstorm arose, and the waves beat into the boat, so that it was already filling. 38 But He was in the stern, asleep on a pillow. And they awoke Him and said to Him, "Teacher, do You not care that we are perishing?"
39 Then He arose and rebuked the wind, and said to the sea, "Peace, be still!" And the wind ceased and there was a great calm. 40 But He said to them, "Why are you so fearful?How is it that you have no faith?" 41 And they feared exceedingly, and said to one another, "Who can this be, that even the wind and the sea obey Him!"
Galatians 5:22-6:2
22 But the fruit of the Spirit is love, joy, peace, longsuffering, kindness, goodness, faithfulness, 23 gentleness, self-control. Against such there is no law. 24 And those who are Christ's have crucified the flesh with its passions and desires. 25 If we live in the Spirit, let us also walk in the Spirit. 26 Let us not become conceited, provoking one another, envying one another.
Bear and Share Burdens
6 Brethren, if a man is overtaken in any trespass, you who are spiritual restore such a one in a spirit of gentleness, considering yourself lest you also be tempted. 2 Bear one another's burdens, and so fulfill the law of Christ.
Matthew 4:25-5:12
25 Great multitudes followed Him—from Galilee, and from Decapolis, Jerusalem, Judea, and beyond the Jordan.
The Beatitudes
5 And seeing the multitudes, He went up on a mountain, and when He was seated His disciples came to Him. 2 Then He opened His mouth and taught them, saying:
3 "Blessed are the poor in spirit,
For theirs is the kingdom of heaven.
4 Blessed are those who mourn,
For they shall be comforted.
5 Blessed are the meek,
For they shall inherit the earth.
6 Blessed are those who hunger and thirst for righteousness,
For they shall be filled.
7 Blessed are the merciful,
For they shall obtain mercy.
8 Blessed are the pure in heart,
For they shall see God.
9 Blessed are the peacemakers,
For they shall be called sons of God.
10 Blessed are those who are persecuted for righteousness' sake,
For theirs is the kingdom of heaven.
11 Blessed are you when they revile and persecute you, and say all kinds of evil against you falsely for My sake. 12 Rejoice and be exceedingly glad, for great is your reward in heaven, for so they persecuted the prophets who were before you.