The holiness of the Divinely founded Church of Christ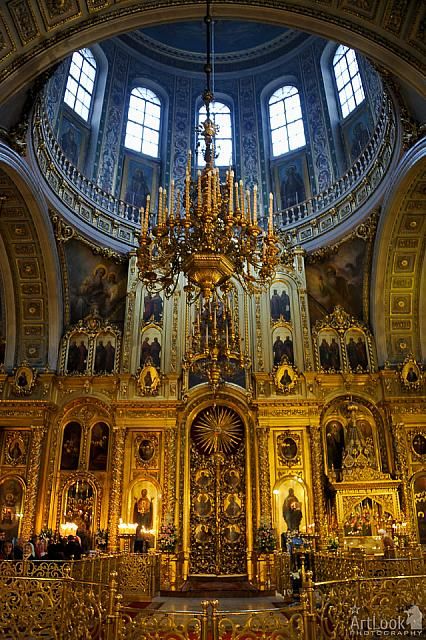 During each and every celebration of the Divine Liturgy, we, as the people of God, recite the Nicene Creed. This ancient declaration is the very core of our common faith, and connects us to the teachings of the Ancient Church. In this creed we declare that we believe in "The One, Holy, Catholic and Apostolic Church". The word "holy" is something we often fail to see as having anything to do with us, personally. The Church is holy, but we are not, we tell ourselves. Yet the first Christians called themselves "the holy", precisely because they knew the Holy Spirit was in their midst, sanctifying the Church. They knew they were not simply members of a religious body, but that they WERE the Church.
Because the Holy Spirit sanctifies the Church, they, as members of the Body of Christ, were sanctified, even if they often fell short of the Glory of God. But how could the Church be holy when she so often experiences moments of darkness, and when even her priests and bishops fall short the standards set forth in the Gospels? How can we call the Church holy, when we are all such sinners?
The Church is holy because her founder is holy, and because Christ has never abandoned His Church. The Church is holy because she is guided by the Holy Spirit. She is holy because she is always being purified and transformed anew, by the Holy Spirit. The Church is not holy because of anything we have done, but because God has made her holy.
If the holiness of the Church was dependent upon her people, most of us would have to be banned from membership. Yet this very holiness is based upon the fact that the Church does not turn away we sinners, but welcomes us with open arms. Because of the great mercy of God, and His tender love for us, we enter the very threshold of the Church with the expectation we will receive healing and forgiveness.
It is within the boundaries of the Church that even the weakest of sinners can become holy, for holiness is the destiny of every Christian. Every Christian is called to holiness because our weakness is overcome by the strength of God's mercy. It is not about living extraordinary lives, but about being transformed by an extraordinary God.
With love in Christ,
Abbot Tryphon
Monday September 28, 2020 / September 15, 2020
17th Week after Pentecost. Tone seven.
Great-martyr Nicetas the Goth (372).
New Hieromartyr John priest and Virgin-martyr Eudocia (1918).
New Hieromartyrs Andrew, Gregory, Gregory, John priests (1921).
Venerable Ignatius confessor (1932).
New Hieromartyr Demetrius priest (1935).
New Hieromartyrs John, Jacob, Peter priests and Nicholas deacon, Martyrs Mary and Ludmila (1937).
Uncovering of the relics of St. Acacius the Confessor, bishop of Melitene (257).
Martyrs Theodotus, Asclepiodotus, and Maximus of Adrianopolis (305-311).
Martyr Porphyrius the Mime of Caesaria (361).
Uncovering of the relics of the Holy Protomartyr and Archdeacon Stephen (415).
Venerable Philotheus the Presbyter of Asia Minor (10th c.).
St. Joseph, abbot, of Alaverdi in Georgia (570) (Georgia).
"Novoniketas" Icon of the Mother of God (372).
St. Symeon, archbishop of Thessalonica (1430).
Sts. Bessarion I and Bessarion II (1540), metropolitans of Larissa (Greek).
New Martyr John of Crete (1811) (Greek).
Venerable Gerasimus, abbot, of Sourvia (1740).
St. Joseph the New of Partos, metropolitan of Timisoara (1656) (Romania).
St. Mirin, abbot of Paisley.
The Scripture Readings
Ephesians 1:22-2:3
22 And He put all things under His feet, and gave Him to be head over all things to the church, 23 which is His body, the fullness of Him who fills all in all.
By Grace Through Faith
2 And you He made alive, who were dead in trespasses and sins, 2 in which you once walked according to the course of this world, according to the prince of the power of the air, the spirit who now works in the sons of disobedience, 3 among whom also we all once conducted ourselves in the lusts of our flesh, fulfilling the desires of the flesh and of the mind, and were by nature children of wrath, just as the others.
Mark 10:46-52
Jesus Heals Blind Bartimaeus
46 Now they came to Jericho. As He went out of Jericho with His disciples and a great multitude, blind Bartimaeus, the son of Timaeus, sat by the road begging. 47 And when he heard that it was Jesus of Nazareth, he began to cry out and say, "Jesus, Son of David, have mercy on me!"
48 Then many warned him to be quiet; but he cried out all the more, "Son of David, have mercy on me!"
49 So Jesus stood still and commanded him to be called.
Then they called the blind man, saying to him, "Be of good cheer. Rise, He is calling you."
50 And throwing aside his garment, he rose and came to Jesus.
51 So Jesus answered and said to him, "What do you want Me to do for you?"
The blind man said to Him, "Rabboni, that I may receive my sight."
52 Then Jesus said to him, "Go your way; your faith has made you well." And immediately he received his sight and followed Jesus on the road.
2 Timothy 2:1-10
Be Strong in Grace
2 You therefore, my son, be strong in the grace that is in Christ Jesus. 2 And the things that you have heard from me among many witnesses, commit these to faithful men who will be able to teach others also. 3 You therefore must endure hardship as a good soldier of Jesus Christ. 4 No one engaged in warfare entangles himself with the affairs of this life, that he may please him who enlisted him as a soldier. 5 And also if anyone competes in athletics, he is not crowned unless he competes according to the rules. 6 The hardworking farmer must be first to partake of the crops. 7 Consider what I say, and may the Lord give you understanding in all things.
8 Remember that Jesus Christ, of the seed of David, was raised from the dead according to my gospel, 9 for which I suffer trouble as an evildoer, even to the point of chains; but the word of God is not chained. 10 Therefore I endure all things for the sake of the elect, that they also may obtain the salvation which is in Christ Jesus with eternal glory.
Matthew 10:16-22
Persecutions Are Coming
16 "Behold, I send you out as sheep in the midst of wolves. Therefore be wise as serpents and harmless as doves. 17 But beware of men, for they will deliver you up to councils and scourge you in their synagogues. 18 You will be brought before governors and kings for My sake, as a testimony to them and to the Gentiles. 19 But when they deliver you up, do not worry about how or what you should speak. For it will be given to you in that hour what you should speak; 20 for it is not you who speak, but the Spirit of your Father who speaks in you.
21 "Now brother will deliver up brother to death, and a father his child; and children will rise up against parents and cause them to be put to death. 22 And you will be hated by all for My name's sake. But he who endures to the end will be saved.