Prayer with force is higher than prayer unforced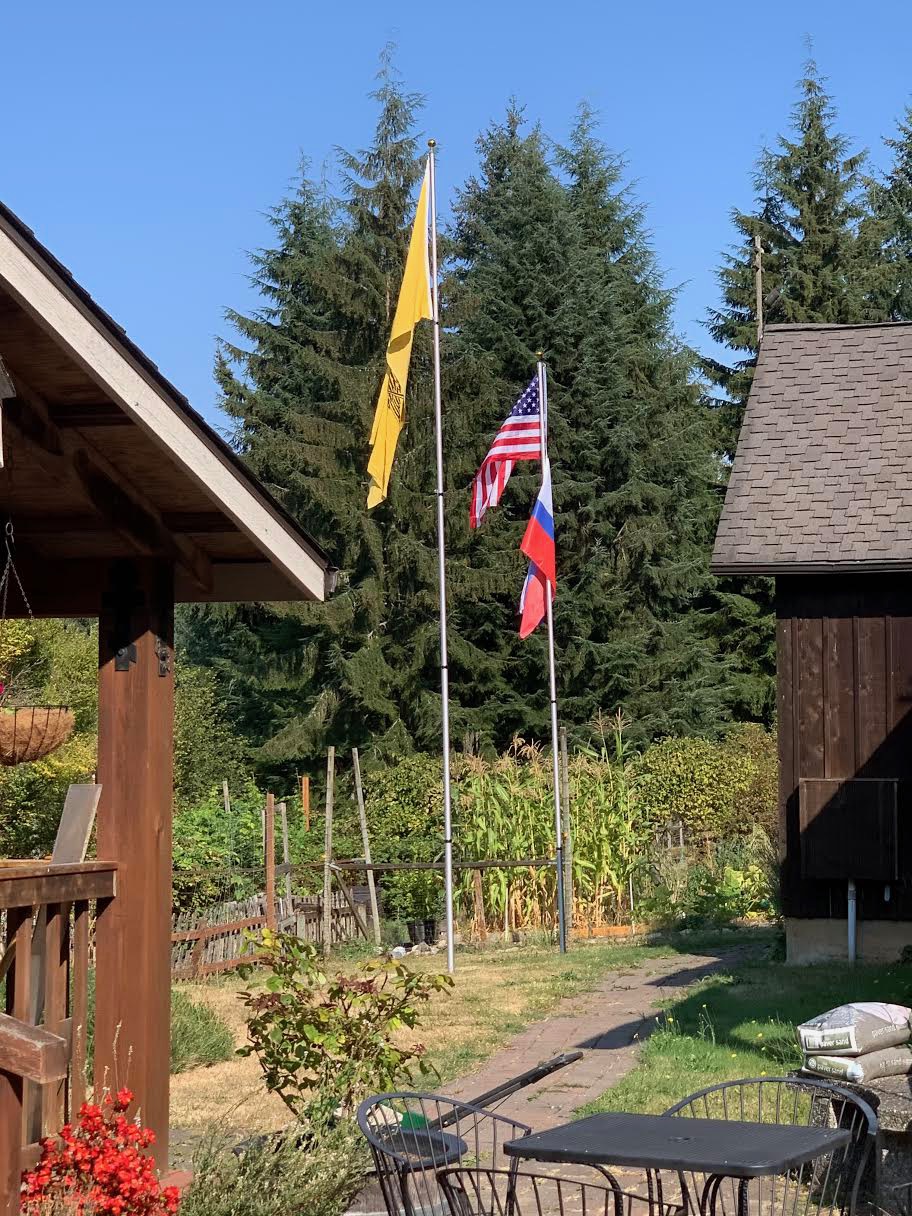 Prayer is a discipline we must nurture, and one that must become a lifetime commitment. We must develop a lifestyle of prayer that is not merely a routine, but something that absorbs us completely. As we Christians go through ups and downs in our prayer life, a true prayer life necessitates we devote ourselves to the discipline where prayer becomes part of who we are.
As Christians we understand how great a thing it is to converse with God, but we often are unaware that our invitation to commune with God positions us in a place of honor that is even higher than the station of angels. Having been granted the honor of conversing with God, we live a life akin to the angels.
But if we deprive ourselves of prayer, we become like fish out of water, for just as water means life to a fish, so our communion with God brings life to our soul. God's grace is the source of immortality, and prayer done rightly is the strongest source of drawing down God's grace upon us, which leads to salvation. Prayer becomes an unassailable fortress that makes demons flee in fear, and protects us from all demonic attack.
When we immerse ourselves  in the reading of the Holy Scriptures, Christ speaks to us, but when we pray we are speaking to Him. The reading of the Holy Scriptures kindles within us hearts that are filled with prayer that will take us into the very Heart of God, into the living Word Himself.
The Holy Fathers say that prayer with force is higher than prayer unforced. If we do not feel like praying, or even if we do not outright want to pray, we must force ourselves, remembering the words of Scripture,  "The Kingdom of Heaven is taken by force (Matt. 11:12)."
With love in Christ,
Abbot Tryphon
Photos: We just installed two twenty-five foot flag poles upon which we are displaying the American flag, the Russian-American Company flag, and the Byzantine flag. We are displaying the American flag in respect and honor of our great country. We are displaying the Russian-American Company flag in honor and gratitude for the Orthodox faith that was delivered to our nation by Russian monks who introduced Orthodoxy to the American land. And, finally, we are displaying the Byzantine flag in gratitude for our Orthodox faith, upon which we base our lives as Orthodox Christian monks.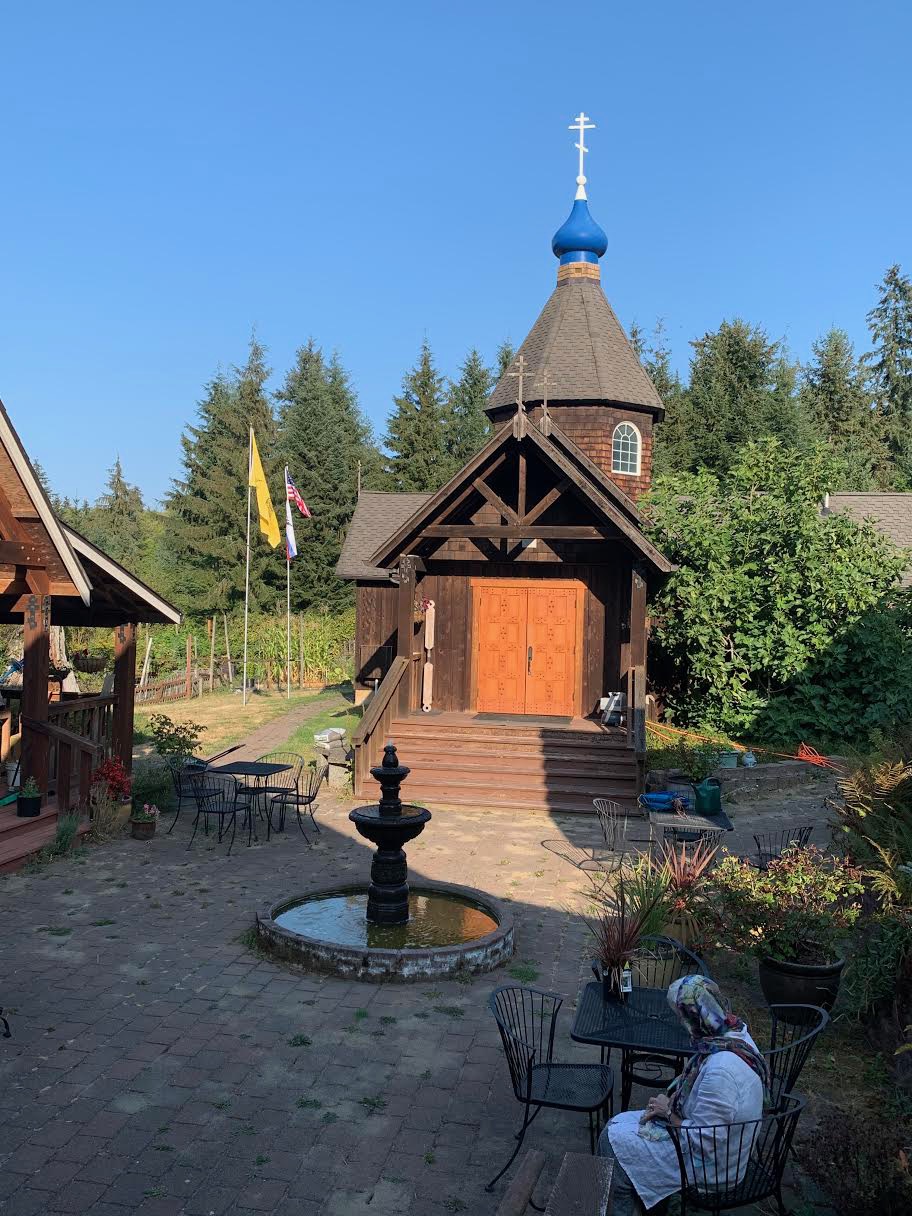 Sunday September 6, 2020 / August 24, 2020
13th Sunday after Pentecost. Tone four.
Synaxis of all saints of Moscow (movable holiday on the Sunday before August 26th, Russian Orthodox Church – the Moscow Patriarchate).
Hieromartyr Eutychius (1st c.), disciple of St. John the Theologian.
Translation of the relics of St. Peter, metropolitan of Kiev (1479).
New Hieromartyr Maximus Sandovich priest (1914).
Venerable Aristoclius elder of Moscow (1918).
New Hieromartyr Seraphim (1946).
Venerable Arsenius, abbot of Komel (Vologda) (1550).
Martyr Tation at Claudiopolis (305).
Virgin-martyr Cyra of Persia (558).
Venerable George Limniotes the Confessor of Mt. Olympus (716).
Equal-to-the-Apostles Cosmas of Aitolia (1779).
Icon of the Most Holy Theotokos "Petrovskaya" ("of St. Peter of Moscow") (1306).
St. Martyrius, ArchBishop of Novgorod (1199).
Commemorating the appearance of Our Most Holy Lady, the Theotokos and Ever-Virgin Mary to Venerable Sergius, abbot, of Radonezh (1385).
St. Dionysius of Zakynthos, archbishop of Aegina (1622).
St. Serapion the Wonderworker, abbot of the Monastery of St. John the Baptist at Garesja, Georgia (1747) (Georgia).
The Scripture Readings
Mark 16:1-8
He Is Risen
16 Now when the Sabbath was past, Mary Magdalene, Mary the mother of James, and Salome bought spices, that they might come and anoint Him. 2 Very early in the morning, on the first day of the week, they came to the tomb when the sun had risen. 3 And they said among themselves, "Who will roll away the stone from the door of the tomb for us?" 4 But when they looked up, they saw that the stone had been rolled away—for it was very large. 5 And entering the tomb, they saw a young man clothed in a long white robe sitting on the right side; and they were alarmed.
6 But he said to them, "Do not be alarmed. You seek Jesus of Nazareth, who was crucified. He is risen! He is not here. See the place where they laid Him. 7 But go, tell His disciples—and Peter—that He is going before you into Galilee; there you will see Him, as He said to you."
8 So they went out quickly and fled from the tomb, for they trembled and were amazed. And they said nothing to anyone, for they were afraid.
1 Corinthians 16:13-24
Final Exhortations
13 Watch, stand fast in the faith, be brave, be strong. 14 Let all that you do be done with love.
15 I urge you, brethren—you know the household of Stephanas, that it is the firstfruits of Achaia, and that they have devoted themselves to the ministry of the saints— 16 that you also submit to such, and to everyone who works and labors with us.
17 I am glad about the coming of Stephanas, Fortunatus, and Achaicus, for what was lacking on your part they supplied. 18 For they refreshed my spirit and yours. Therefore acknowledge such men.
Greetings and a Solemn Farewell
19 The churches of Asia greet you. Aquila and Priscilla greet you heartily in the Lord, with the church that is in their house. 20 All the brethren greet you.
Greet one another with a holy kiss.
21 The salutation with my own hand—Paul's.
22 If anyone does not love the Lord Jesus Christ, let him be accursed. O Lord, come!
23 The grace of our Lord Jesus Christ be with you. 24 My love be with you all in Christ Jesus. Amen.
Matthew 21:33-42
The Parable of the Wicked Vinedressers
33 "Hear another parable: There was a certain landowner who planted a vineyard and set a hedge around it, dug a winepress in it and built a tower. And he leased it to vinedressers and went into a far country. 34 Now when vintage-time drew near, he sent his servants to the vinedressers, that they might receive its fruit. 35 And the vinedressers took his servants, beat one, killed one, and stoned another. 36 Again he sent other servants, more than the first, and they did likewise to them. 37 Then last of all he sent his son to them, saying, 'They will respect my son.' 38 But when the vinedressers saw the son, they said among themselves, 'This is the heir. Come, let us kill him and seize his inheritance.' 39 So they took him and cast him out of the vineyard and killed him.
40 "Therefore, when the owner of the vineyard comes, what will he do to those vinedressers?"
41 They said to Him, "He will destroy those wicked men miserably, and lease his vineyard to other vinedressers who will render to him the fruits in their seasons."
42 Jesus said to them, "Have you never read in the Scriptures:
'The stone which the builders rejected
Has become the chief cornerstone.
This was the Lord's doing,
And it is marvelous in our eyes'?
Hebrews 7:26-8:2
26 For such a High Priest was fitting for us, who is holy, harmless, undefiled, separate from sinners, and has become higher than the heavens; 27 who does not need daily, as those high priests, to offer up sacrifices, first for His own sins and then for the people's, for this He did once for all when He offered up Himself. 28 For the law appoints as high priests men who have weakness, but the word of the oath, which came after the law, appoints the Son who has been perfected forever.
The New Priestly Service
8 Now this is the main point of the things we are saying: We have such a High Priest, who is seated at the right hand of the throne of the Majesty in the heavens, 2 a Minister of the sanctuary and of the true tabernacle which the Lord erected, and not man.
John 10:9-16
9 I am the door. If anyone enters by Me, he will be saved, and will go in and out and find pasture. 10 The thief does not come except to steal, and to kill, and to destroy. I have come that they may have life, and that they may have it more abundantly.
11 "I am the good shepherd. The good shepherd gives His life for the sheep. 12 But a hireling, he who is not the shepherd, one who does not own the sheep, sees the wolf coming and leaves the sheep and flees; and the wolf catches the sheep and scatters them. 13 The hireling flees because he is a hireling and does not care about the sheep.14 I am the good shepherd; and I know My sheep, and am known by My own. 15 As the Father knows Me, even so I know the Father; and I lay down My life for the sheep.16 And other sheep I have which are not of this fold; them also I must bring, and they will hear My voice; and there will be one flock and one shepherd.