What should be our attitude toward icons and other holy things?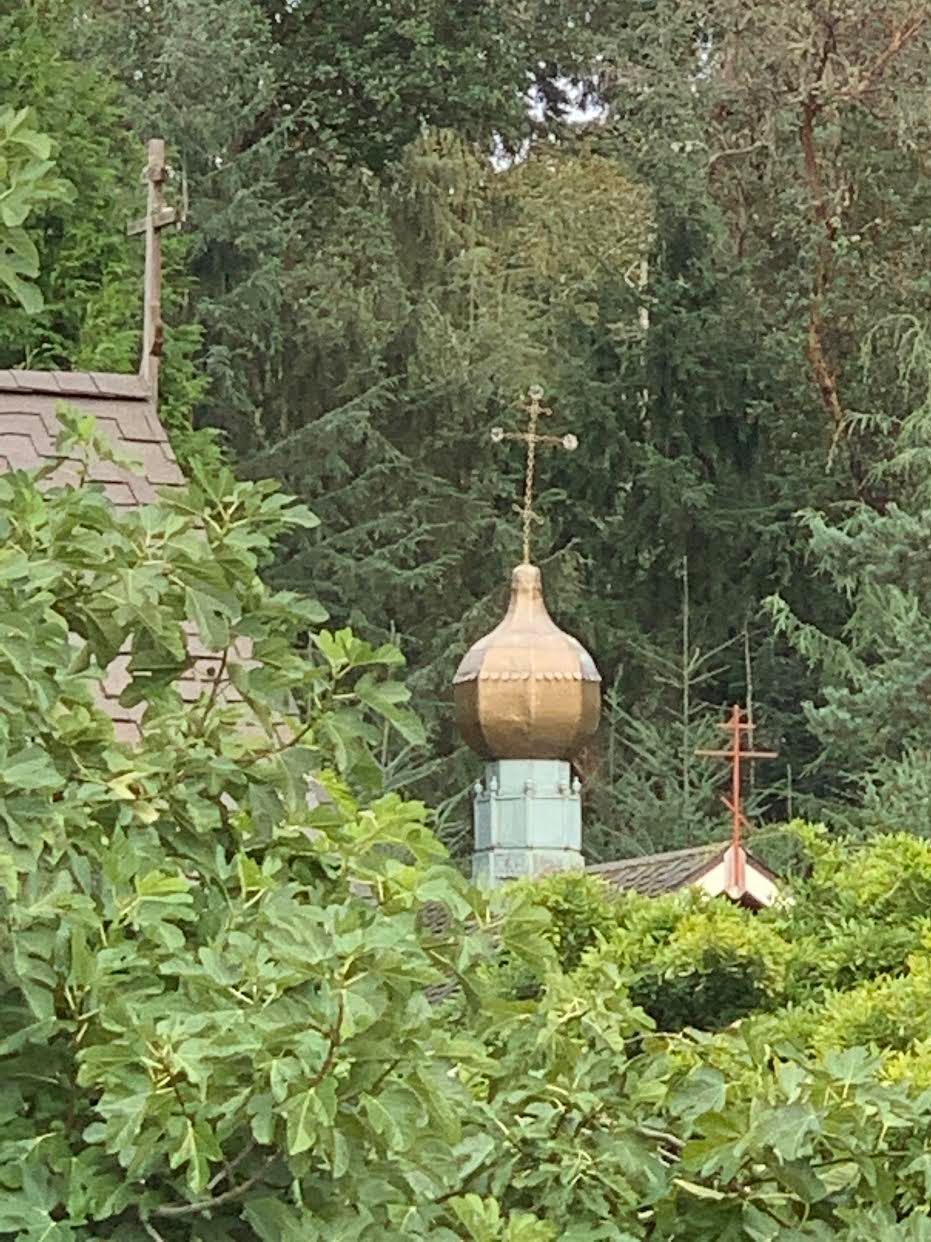 One of the attributes of God is holiness, and is reflected in His people, and in physical objects that have been blessed by the Church for the use of His people in their journey towards Him. Therefore, reverence for these sacred objects and images is the manifestation of the relationship between ourselves and God. "And ye shall be holy unto me: for I the Lord am holy… (Leviticus 20: 26)." Icons of Christ, His Holy Mother, the saints, or depictions of biblical events, are not just art objects, popular today, but disposable tomorrow, but are vehicles for God's sustaining grace.
As Orthodox Christians, we should make it a rule to never have arguments, or engage in improper behavior before the images of the saints, and instill in children, from the earliest of age, reverence for the holy icons. Not only do we call upon the saints for their heavenly intercession, but their icons serve as reminders that Christ has called us to repentance, and the deification of each human soul.
Under no circumstance can such an icon, even one that has not been blessed, be simply thrown away. A holy item, even if it has lost its original appearance, should always be treated with reverence. This is one of the reasons it is never a good idea to send a greeting card with an icon on it, especially if it is to be sent to someone who might not understand the importance of treating an icon with great reverence and respect.
If an icon's condition has rendered it unfit for use and it cannot be restored, it should be taken to the church, where it can be burned in a furnace or special place set aside for the disposal of holy things. If this is not possible, you should burn the icon yourself, and bury the ashes in a place that will not be sullied or disturbed, such as in a cemetery or under a tree in the garden.
Our patronal icon should be held in particular reverence, for following baptism, we each have a special bond with our personal saint. Parents should make it a tradition to bless their children with the child's personal icon, as they set off for a new year at school, an extended journey, or when they leave home, to start their own family. Family members should be sure to bring at least a few icons into the hospital room or the nursing home, of their loved one, so a person's own departure from this life can take place in the presence of their personal icons.
Holy oils, and any other blessed articles used in the home, should always be treated with the uttermost reverence, and, like the icons, never be improperly disposed of. Those things, like bottles of holy oil, that can not be burned, should be placed in the ground, always in a place that will not be used for something else.
With love in Christ,
Abbot Tryphon
The Universal Exaltation of the Precious and Life-giving Cross.
Sunday September 27, 2020 / September 14, 2020
16th Sunday after Pentecost. Tone seven.
Fast. Food with Oil
Synaxis of All Saints of Altai (movable holiday on the Sunday after September 7th).
Repose of St. John Chrysostom (407).
New Hieromartyr John priest (1918).
New Hieromartyr Nicholas priest (1937).
"Lesna" Icon of the Most Holy Theotokos (1696).
Martyr Papas of Lycaonia (305).
St. Placilla the Empress (400), wife of Theodosius the Great.
St. Maria of Tarsus (607).
New Martyr Macarius of Thessalonica (Mt. Athos) (1527), disciple of St. Niphon, patriarch of Constantinople (Greek).
Uncovering of the relics (2000) of Sts. Alexandra, Martha and Helen of Diveyevo.
Holy Fathers of the Seventh Ecumenical Council (Greek).
Martyr Theocles and Child-martyr Valerian (Greek).
The Scripture Readings
John 12:28-36
28 Father, glorify Your name."
Then a voice came from heaven, saying, "I have both glorified it and will glorify it again."
29 Therefore the people who stood by and heard it said that it had thundered. Others said, "An angel has spoken to Him."
30 Jesus answered and said, "This voice did not come because of Me, but for your sake.31 Now is the judgment of this world; now the ruler of this world will be cast out. 32 And I,if I am lifted up from the earth, will draw all peoples to Myself." 33 This He said, signifying by what death He would die.
34 The people answered Him, "We have heard from the law that the Christ remains forever; and how can You say, 'The Son of Man must be lifted up'? Who is this Son of Man?"
35 Then Jesus said to them, "A little while longer the light is with you. Walk while you have the light, lest darkness overtake you; he who walks in darkness does not know where he is going. 36 While you have the light, believe in the light, that you may become sons of light." These things Jesus spoke, and departed, and was hidden from them.
1 Corinthians 1:18-24
Christ the Power and Wisdom of God
18 For the [a]message of the cross is foolishness to those who are perishing, but to us who are being saved it is the power of God. 19 For it is written:
"I will destroy the wisdom of the wise,
And bring to nothing the understanding of the prudent."
20 Where is the wise? Where is the scribe? Where is the [b]disputer of this age? Has not God made foolish the wisdom of this world? 21 For since, in the wisdom of God, the world through wisdom did not know God, it pleased God through the foolishness of the message preached to save those who believe. 22 For Jews request a sign, and Greeks seek after wisdom; 23 but we preach Christ crucified, to the Jews a [c]stumbling block and to the [d]Greeks foolishness, 24 but to those who are called, both Jews and Greeks, Christ the power of God and the wisdom of God.
John 19:6-11
6 Therefore, when the chief priests and officers saw Him, they cried out, saying, "Crucify Him, crucify Him!"
Pilate said to them, "You take Him and crucify Him, for I find no fault in Him."
7 The Jews answered him, "We have a law, and according to our law He ought to die, because He made Himself the Son of God."
8 Therefore, when Pilate heard that saying, he was the more afraid, 9 and went again into the Praetorium, and said to Jesus, "Where are You from?" But Jesus gave him no answer.
10 Then Pilate said to Him, "Are You not speaking to me? Do You not know that I have power to crucify You, and power to release You?"
11 Jesus answered, "You could have no power at all against Me unless it had been given you from above. Therefore the one who delivered Me to you has the greater sin."
John 19:13-20
13 When Pilate therefore heard that saying, he brought Jesus out and sat down in the judgment seat in a place that is called The Pavement, but in Hebrew, Gabbatha. 14 Now it was the Preparation Day of the Passover, and about the sixth hour. And he said to the Jews, "Behold your King!"
15 But they cried out, "Away with Him, away with Him! Crucify Him!"
Pilate said to them, "Shall I crucify your King?"
The chief priests answered, "We have no king but Caesar!"
16 Then he delivered Him to them to be crucified. Then they took Jesus and led Himaway.
The King on a Cross
17 And He, bearing His cross, went out to a place called the Place of a Skull, which is called in Hebrew, Golgotha, 18 where they crucified Him, and two others with Him, one on either side, and Jesus in the center. 19 Now Pilate wrote a title and put it on the cross. And the writing was:
JESUS OF NAZARETH, THE KING OF THE JEWS.
20 Then many of the Jews read this title, for the place where Jesus was crucified was near the city; and it was written in Hebrew, Greek, and Latin.
John 19:25-28
Behold Your Mother
25 Now there stood by the cross of Jesus His mother, and His mother's sister, Mary the wife of Clopas, and Mary Magdalene. 26 When Jesus therefore saw His mother, and the disciple whom He loved standing by, He said to His mother, "Woman, behold your son!"27 Then He said to the disciple, "Behold your mother!" And from that hour that disciple took her to his own home.
It Is Finished
28 After this, Jesus, knowing that all things were now accomplished, that the Scripture might be fulfilled, said, "I thirst!".
John 19:30-35
30 So when Jesus had received the sour wine, He said, "It is finished!" And bowing His head, He gave up His spirit.
Jesus' Side Is Pierced
31 Therefore, because it was the Preparation Day, that the bodies should not remain on the cross on the Sabbath (for that Sabbath was a high day), the Jews asked Pilate that their legs might be broken, and that they might be taken away. 32 Then the soldiers came and broke the legs of the first and of the other who was crucified with Him. 33 But when they came to Jesus and saw that He was already dead, they did not break His legs. 34 But one of the soldiers pierced His side with a spear, and immediately blood and water came out. 35 And he who has seen has testified, and his testimony is true; and he knows that he is telling the truth, so that you may believe.