Being in the presence of God for all eternity, and hating it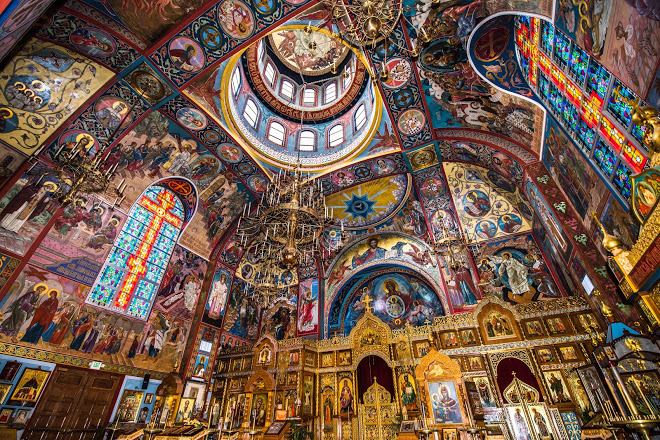 One of my favorite authors as a young man was Thomas Merton, the famous Trappist monk. In the introduction to his work New Seeds of Contemplation he wrote: "Hell was where no one has anything in common with anyone else except the fact that they all hate one other and cannot get away from each other and from themselves."
This very much fits with the Orthodox view of hell (as taught, for example, by Sts. Isaac the Syrian and Paisios of Mount Athos) as being in the presence of God for all eternity, and hating it. For the one who has never loved and who is consumed in his own ego and his own passions, being with God for all eternity will be to him, hell. Without love, we can not experience the Fire of God without being burned.
Upon Christ's Second Coming, everyone who has ever lived will see Him in His uncreated light, forever. For "those who worked good deeds in their lifetime will go towards the resurrection of life, while those who worked evil in their lifetime will go towards the resurrection of judgment (John 5:29)". All will be separated at the moment of the final judgement, with the good experiencing paradise as exceedingly good, and radiant, while those who have rejected His love, and whose lives ended without repentance, will look upon Christ as hell, the "all-consuming fire" spoken of in Hebrews 12:29.
It is from Christ's Second Coming that the river of fire will flow forth. For the saints this river of fire will be a golden light, encompassing them as an eternal joy. Whereas, for the demons and the unrepentant, it will be as a burning hell fire. For this is the very reason we read in Luke 2:34, that Christ is "as the fall and the resurrection of many".
For those who reject the healing that has been offered, Christ will be their hell, their separation from the eternal bliss.  For the saints, Christ will be their resurrection into eternal life. This is why Saint John of the Ladder wrote that the uncreated light of Christ is "an all-consuming fire and an illuminating light". This is why we say heaven and hell are not about location, they are about relationship. Heaven and Hell are within the same realm, which is in the presence of God.
With love in Christ,
Abbot Tryphon
Photo: Interior of Holy Virgin Russian Orthodox Cathedral, San Francisco, CA.
Tuesday September 8, 2020 / August 26, 2020
14th Week after Pentecost. Tone four.
Commemoration of the Meeting of the "Vladimir" Icon of the Most Holy Theotokos and the deliverance of Moscow from the Invasion of Tamerlane in 1395.
Martyrs Adrian and Natalia and 23 companions of Nicomedia (4th c.).
New Hieromartyr Peter priest and St. Gregory confessor, priest (1938).
Blessed Mary Diveyevo (1931).
New Hieromartyr Victor priets, Martyr Demetrius, Peter and New Hiero-confessor Archpriest Roman Medved of Moscow (1937).
New Hieromartyr Nectarius (Trezvinsky), bishop of Yaransk (1937).
Uncovering of the relics of St. Nicholas the Confessor, metropolitan of Almaty (2000).
Venerable Adrian, abbot of Ondrusov (Valaam) (1549).
The Pskov Caves Icon of the Most Holy Mother of God, named the "Tenderness" (1542).
Blessed Cyprian of Storozhev, former outlaw (16th c.).
Venerable Adrian, abbot of Poshekhonye (1550).
Vladimir-Eletsk Icon of the Most Holy Mother of God (1395).
Venerable Tithoes of the Thebaid (4th c.), disciple of St. Pachomius the Great (4th c.).
Venerable Ibestion the Confessor, Egyptian ascetic.
St. Zer-Jacob, missionary of Ethiopia.
Venerable Adrian of Uglich (1504), disciple of St. Paisius of Uglich.
Finding of the relics of Venerable Bassian of Alatyr Monastery (17th c.).
Monk Ioasaph, prince of India (Greek).
Martyrs Atticus and Sisinnius (Greek).
The miraculous renewal of the Vladimir Icon of the Theotokos in Harbin (Manchuria) (1925).
The Scripture Readings
Luke 1:39-49
Mary Visits Elizabeth
39 Now Mary arose in those days and went into the hill country with haste, to a city of Judah, 40 and entered the house of Zacharias and greeted Elizabeth. 41 And it happened, when Elizabeth heard the greeting of Mary, that the babe leaped in her womb; and Elizabeth was filled with the Holy Spirit. 42 Then she spoke out with a loud voice and said, "Blessed are you among women, and blessed is the fruit of your womb! 43 But why is this granted to me, that the mother of my Lord should come to me? 44 For indeed, as soon as the voice of your greeting sounded in my ears, the babe leaped in my womb for joy. 45 Blessed is she who believed, for there will be a fulfillment of those things which were told her from the Lord."
The Song of Mary
46 And Mary said:
"My soul magnifies the Lord,
47 And my spirit has rejoiced in God my Savior.
48 For He has regarded the lowly state of His maidservant;
For behold, henceforth all generations will call me blessed.
49 For He who is mighty has done great things for me,
And holy is His name.
Luke 1:56
56 And Mary remained with her about three months, and returned to her house.
2 Corinthians 12:20-13:2
20 For I fear lest, when I come, I shall not find you such as I wish, and that I shall be found by you such as you do not wish; lest there be contentions, jealousies, outbursts of wrath, selfish ambitions, backbitings, whisperings, conceits, tumults; 21 lest, when I come again, my God will humble me among you, and I shall mourn for many who have sinned before and have not repented of the uncleanness, fornication, and lewdness which they have practiced.
Coming with Authority
13 This will be the third time I am coming to you. "By the mouth of two or three witnesses every word shall be established." 2 I have told you before, and foretell as if I were present the second time, and now being absent I write to those who have sinned before, and to all the rest, that if I come again I will not spare—
Mark 4:24-34
24 Then He said to them, "Take heed what you hear. With the same measure you use, it will be measured to you; and to you who hear, more will be given. 25 For whoever has, to him more will be given; but whoever does not have, even what he has will be taken away from him."
The Parable of the Growing Seed
26 And He said, "The kingdom of God is as if a man should scatter seed on the ground,27 and should sleep by night and rise by day, and the seed should sprout and grow, he himself does not know how. 28 For the earth yields crops by itself: first the blade, then the head, after that the full grain in the head. 29 But when the grain ripens, immediately he puts in the sickle, because the harvest has come."
The Parable of the Mustard Seed
30 Then He said, "To what shall we liken the kingdom of God? Or with what parable shall we picture it? 31 It is like a mustard seed which, when it is sown on the ground, is smaller than all the seeds on earth; 32 but when it is sown, it grows up and becomes greater than all herbs, and shoots out large branches, so that the birds of the air may nest under its shade."
Jesus' Use of Parables
33 And with many such parables He spoke the word to them as they were able to hear it. 34 But without a parable He did not speak to them. And when they were alone, He explained all things to His disciples.
Philippians 2:5-11
The Humbled and Exalted Christ
5 Let this mind be in you which was also in Christ Jesus, 6 who, being in the form of God, did not consider it robbery to be equal with God, 7 but made Himself of no reputation, taking the form of a bondservant, and coming in the likeness of men. 8 And being found in appearance as a man, He humbled Himself and became obedient to the point of death, even the death of the cross. 9 Therefore God also has highly exalted Him and given Him the name which is above every name, 10 that at the name of Jesus every knee should bow, of those in heaven, and of those on earth, and of those under the earth, 11 and that every tongue should confess that Jesus Christ is Lord, to the glory of God the Father.
Luke 10:38-42
Mary and Martha Worship and Serve
38 Now it happened as they went that He entered a certain village; and a certain woman named Martha welcomed Him into her house. 39 And she had a sister called Mary, who also sat at Jesus' feet and heard His word. 40 But Martha was distracted with much serving, and she approached Him and said, "Lord, do You not care that my sister has left me to serve alone? Therefore tell her to help me."
41 And Jesus answered and said to her, "Martha, Martha, you are worried and troubled about many things. 42 But one thing is needed, and Mary has chosen that good part, which will not be taken away from her."
Luke 11:27-28
Keeping the Word
27 And it happened, as He spoke these things, that a certain woman from the crowd raised her voice and said to Him, "Blessed is the womb that bore You, and the breasts which nursed You!"
28 But He said, "More than that, blessed are those who hear the word of God and keep it!"