"Help me, O God, to put off all pretenses and find my true self." ~Living Prayer, by Metropolitan Anthony Bloom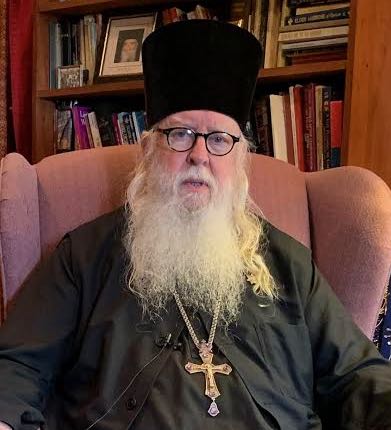 When we enter into communion with one another in the life of the Church, we come broken, and far from the image and likeness that God intended when He created us. We, to a one, are in need of the healing that comes from a life in Christ. Yet we often hinder ourselves from healing because we fear being who we are. This fear is sometimes based on what others may think of us, or what may happen if we don't fit in, or are not liked by others. We fear being rejected for essentially being ourselves.
Yet the Lord calls us to put aside our fear, because He loves us just as we are. In Christ there is no fear, because God is love, perfect and unconditional love. In our walk with Christ, we are healed, and made whole. We don't have to shelve that which makes us who we are, for it is we who are being made whole.
Through total immersion in Christ, and in the disciplines of the Church, the transformational power of God's grace changes us. We don't become some stamped out version of everyone else, but are changed into the person God intended us to be. We are made perfect, just as we are."For we are his workmanship, created in Christ Jesus for good works, which God prepared beforehand, that we should walk in them (Ephesians 2:10)."
In our very weakness we are made whole, for Christ tells us, "'My grace is sufficient for you, for My strength is made perfect in weakness.' Therefore most gladly I will rather boast in my infirmities, that the power of Christ may rest upon me. Therefore I take pleasure in infirmities, in reproaches, in needs, in persecutions, in distresses, for Christ's sake. For when I am weak, then I am strong (2 Corinthians 12:9-10)."
To be a Christian is not about conformity to the image of other people, but rather, to the image of Christ. You needn't shelve who you are, but take on the image of who Christ is.
With love in Christ,
Abbot Tryphon
Saturday September 26, 2020 / September 13, 2020
16th Week after Pentecost. Tone six.
Saturday before the Universal Elevation of the Precious and Life-Creating Cross of the Lord
Forefeast of the Exaltation of the Cross.
Commemoration of the Founding of the Church of the Resurrection(The Holy Sepulchre) at Jerusalem (335).
Hieromartyr Cornelius the Centurion (1st c.).
New Hieromartyrs Stephan, Alexander priests and Nicholas deacon (1937).
Martyrs Cronides, Leontius, and Serapion of Alexandria (237).
Martyr Seleucus in Scythia (320).
Martyr Straton of Nicomedia (3rd c.).
Martyrs Macrobius and Gordian at Tomi in Romania (320).
Hieromartyr Julian of Galatia (4th c.).
Martyrs Elias, Zoticus, Lucian, Valerian, Macrobius, and Gordianat Tomi in Romania (320).
Venerable Peter at Atroe (9th C).
Great-martyr Ketevan, queen of Kakhetia (1624) (Georgia).
Venerable Cornelius of Padan-Olonets (16th c.), disciple of Venerable Alexander of Svir, and with him Venerables Dionysius and Misail
Venerable Litorius, bishop of Tours (370).
Venerable John of Prislop (15th-16th c.) (Romania).
Venerable Basil monk of Iveron Monastery (Greek).
St. Hierotheus of Kalamata, monk of Iveron Monastery, Mt. Athos (1745) (Greek).
The Scripture Readings
Hebrews 3:1-4
The Son Was Faithful
3 Therefore, holy brethren, partakers of the heavenly calling, consider the Apostle and High Priest of our confession, Christ Jesus, 2 who was faithful to Him who appointed Him, as Moses also was faithful in all His house. 3 For this One has been counted worthy of more glory than Moses, inasmuch as He who built the house has more honor than the house. 4 For every house is built by someone, but He who built all things is God.
Matthew 16:13-18
Peter Confesses Jesus as the Christ
13 When Jesus came into the region of Caesarea Philippi, He asked His disciples, saying, "Who do men say that I, the Son of Man, am?"
14 So they said, "Some say John the Baptist, some Elijah, and others Jeremiah or one of the prophets."
15 He said to them, "But who do you say that I am?"
16 Simon Peter answered and said, "You are the Christ, the Son of the living God."
17 Jesus answered and said to him, "Blessed are you, Simon Bar-Jonah, for flesh and blood has not revealed this to you, but My Father who is in heaven. 18 And I also say to you that you are Peter, and on this rock I will build My church, and the gates of Hades shall not prevail against it.
1 Corinthians 2:6-9
Spiritual Wisdom
6 However, we speak wisdom among those who are mature, yet not the wisdom of this age, nor of the rulers of this age, who are coming to nothing. 7 But we speak the wisdom of God in a mystery, the hidden wisdom which God ordained before the ages for our glory, 8 which none of the rulers of this age knew; for had they known, they would not have crucified the Lord of glory.
9 But as it is written:
"Eye has not seen, nor ear heard,
Nor have entered into the heart of man
The things which God has prepared for those who love Him."
Matthew 10:37-11:1
37 He who loves father or mother more than Me is not worthy of Me. And he who loves son or daughter more than Me is not worthy of Me. 38 And he who does not take his cross and follow after Me is not worthy of Me. 39 He who finds his life will lose it, and he who loses his life for My sake will find it.
A Cup of Cold Water
40 "He who receives you receives Me, and he who receives Me receives Him who sent Me. 41 He who receives a prophet in the name of a prophet shall receive a prophet's reward. And he who receives a righteous man in the name of a righteous man shall receive a righteous man's reward. 42 And whoever gives one of these little ones only a cup of cold water in the name of a disciple, assuredly, I say to you, he shall by no means lose his reward."
John the Baptist Sends Messengers to Jesus
11 Now it came to pass, when Jesus finished commanding His twelve disciples, that He departed from there to teach and to preach in their cities.