Man was not created for earth, but for heaven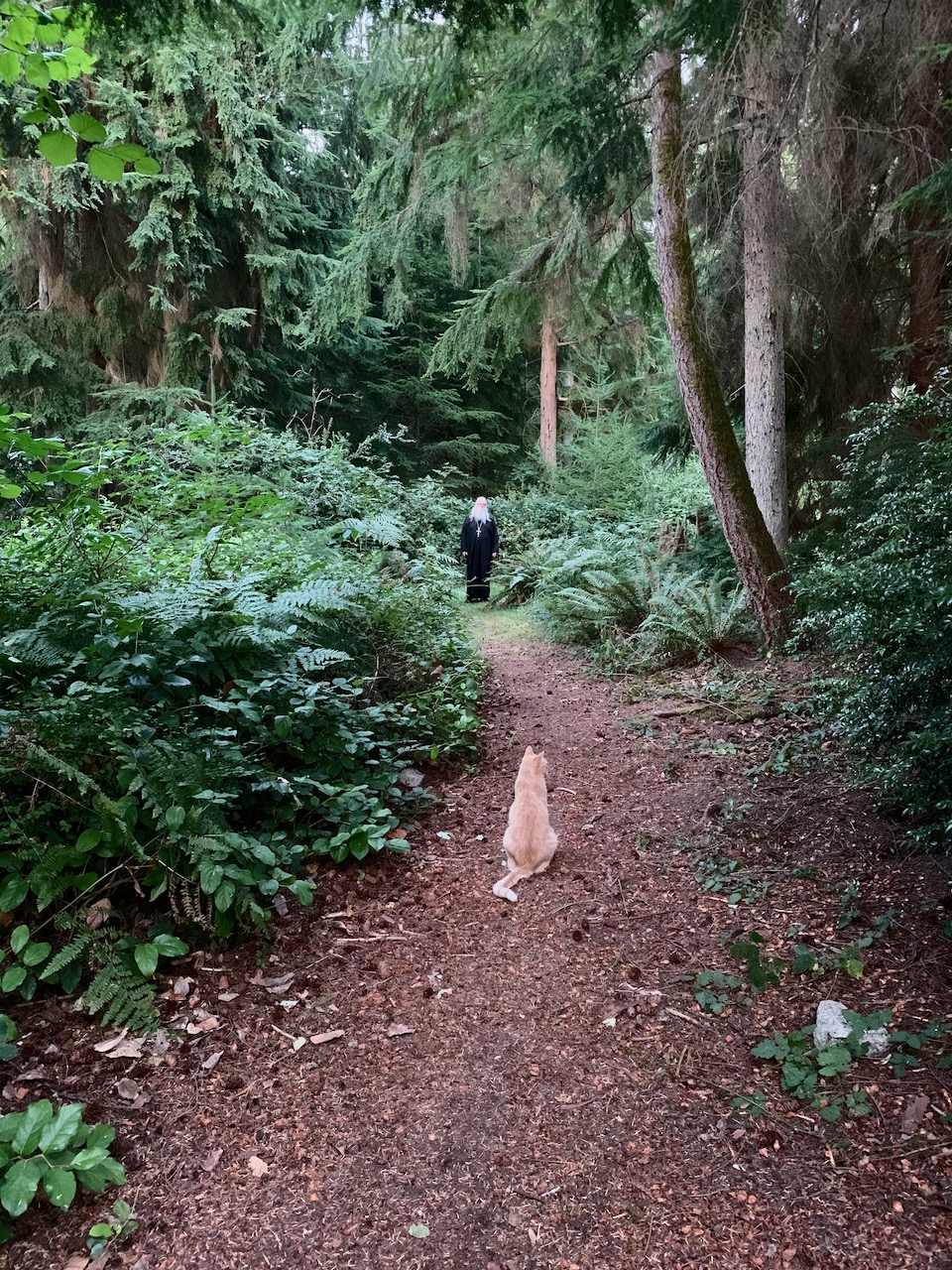 The times we live in are not easy ones, and these difficult times are causing more and more people to lose hope. The struggle just to stay the course has become increasingly stressful for ever-increasing numbers of people, and Christians are no exception. However, we must remember that we are directed reminded to turn our face towards Christ, remembering the words from the Gospel of Matthew, "Thou art indeed the Son of God", and that we are encouraged to do so no matter the change in life we are experiencing at the moment – whether we are in a high or low disposition, whether we are happy or sad, or anything else.
However, for us it is especially important for us to do this when we are in anything we could regard as "unpleasant" or "not ideal". It is then that the call of the "world that lives in evil" most often seems more appealing and "easy", promising at best only temporary forgetfulness of the difficulties we are experiencing, a sort of "false peace". We must never forget that while this world promises us nothing and passes away, in Christ we have everything, for He is the only refuge in Whom we can turn in times of trial, and is the true Author and Source of true peace.
"Here on earth there is nothing that can give us inner peace. For neither riches, nor glory, nor honour, nor position, nor family, nor neighbors can give us unshakable inner peace. There is only one giver of life, peace and joy – God (Elder Thaddeus of Vitovnica)."
There is freedom from stress, anxiety, and even anger, when we place our trust in God on a deep, foundational level. The invading enemies of our salvation have power over us only when we depend on ourselves, and many of us do exactly this without being aware that that is what we are in fact doing. To truly not depend on oneself in a healthy manner means to strive for and cultivate simplicity in the best sense of the word, and especially humility. Without humility, there can be no victory over our own bad habits and dispositions, let alone those fallen spirits that would destroy the soul.
Comfort and joy can only be part of our life if we truly surrender the clamor of the fallen man's self-will, and give ourselves fully into the loving embrace of our God.Trials and temptations, when confronted with a peaceful heart, allow for the grace of God to come and act, which brings forth healing and make the soul that much stronger and healthier in the way it ought to. Knee-jerk level "reacting" or unthinkingly lashing out does nothing but bring forth paralysis of the soul, and only serves to further bind us to our fallen nature. We ought to make every effort we can to receiving all temptations with as peaceful heart as possible with God's help, and not to not just "react" to outside negative stimuli. Doing so helps strengthen us for the next round of trial and temptation. Then, little by little, we will find that the Peace of Christ will slowly fill our every waking moment, and begins to usher in a joyful spirit and a peaceful heart.
As Christians we must not allow anything to disturb our peace of heart, for we know that this life is transitory. "If you think to find paradise on earth, even in a monastery, then you are very mistaken. Paradise—full blessedness—does not exist on earth, and cannot, because man was not created for earth, but for heaven (Abbess Thaisia of Leushino)."
With love in Christ,
Abbot Tryphon
Sunday August 30, 2020 / August 17, 2020
12th Sunday after Pentecost. Tone three.
Synaxis of saints of Kemerovo (movable holiday on the Sunday before August 18th).
Icon of the Mother of God "Enlightener of Minds" (movable holiday on the Sunday after August 15th).
Martyr Myron of Cyzicus (250).
Venerable Pimen, archimandrite of Ugresh (1880)
New Hieromartyr Alexis priest (1918).
New Hieromartyr Demetrius priest (1937).
Venerable Alypius the Iconographer of the Kiev Caves (1114).
Martyrs Paul and his sister Juliana of Syria (273).
Martyrs Thyrsus, Leucius, and Coronatus, with others at Caesarea in Bithynia (250).
Martyr Patroclus of Troyes (3rd c.) (Gaul).
Martyrs Straton, Philip, Eutychian, and Cyprian of Nicomedia (303).
"Svensk" ("of the Kiev Caves") (1288) Icon of the Mother of God.
The Armatian Icon of the Mother of God.
Venerable Leucius, abbot of Volokolamsk (1492).
Venerable Philip, monk of Sukhonsk, Yankovsk (Vologda) (1662).
Blessed Theodoretus, enlightener of the Laps (Solovki) (1571).
Venerable Ellas of Calabria (903).
St. Jeroen, hieromartyr of Noordwijk (857) (Neth.).
New Martyr Demetrius of Samarina in Epirus (1808) (Greek).
New Hieromartyr Archilleus Sirotin.
St. Tbeli Abuseridze of Khikhuni, Adjara (13th c.) (Georgia).
The Scripture Readings
Matthew 28:16-20
The Great Commission
16 Then the eleven disciples went away into Galilee, to the mountain which Jesus had appointed for them. 17 When they saw Him, they worshiped Him; but some doubted.
18 And Jesus came and spoke to them, saying, "All authority has been given to Me in heaven and on earth. 19 Go therefore and make disciples of all the nations, baptizing them in the name of the Father and of the Son and of the Holy Spirit, 20 teaching them to observe all things that I have commanded you; and lo, I am with you always, even to the end of the age." Amen.
1 Corinthians 15:1-11
The Risen Christ, Faith's Reality
15 Moreover, brethren, I declare to you the gospel which I preached to you, which also you received and in which you stand, 2 by which also you are saved, if you hold fast that word which I preached to you—unless you believed in vain.
3 For I delivered to you first of all that which I also received: that Christ died for our sins according to the Scriptures, 4 and that He was buried, and that He rose again the third day according to the Scriptures, 5 and that He was seen by Cephas, then by the twelve. 6 After that He was seen by over five hundred brethren at once, of whom the greater part remain to the present, but some have fallen asleep. 7 After that He was seen by James, then by all the apostles. 8 Then last of all He was seen by me also, as by one born out of due time.
9 For I am the least of the apostles, who am not worthy to be called an apostle, because I persecuted the church of God. 10 But by the grace of God I am what I am, and His grace toward me was not in vain; but I labored more abundantly than they all, yet not I, but the grace of God which was with me. 11 Therefore, whether it was I or they, so we preach and so you believed.
Matthew 19:16-26
Jesus Counsels the Rich Young Ruler
16 Now behold, one came and said to Him, "Good Teacher, what good thing shall I do that I may have eternal life?"
17 So He said to him, "Why do you call Me good? No one is good but One, that is,God. But if you want to enter into life, keep the commandments."
18 He said to Him, "Which ones?"
Jesus said, "'You shall not murder,' 'You shall not commit adultery,' 'You shall not steal,' 'You shall not bear false witness,' 19 'Honor your father and your mother,' and, 'You shall love your neighbor as yourself.' "
20 The young man said to Him, "All these things I have kept [d]from my youth. What do I still lack?"
21 Jesus said to him, "If you want to be perfect, go, sell what you have and give to the poor, and you will have treasure in heaven; and come, follow Me."
22 But when the young man heard that saying, he went away sorrowful, for he had great possessions.
With God All Things Are Possible
23 Then Jesus said to His disciples, "Assuredly, I say to you that it is hard for a rich man to enter the kingdom of heaven. 24 And again I say to you, it is easier for a camel to go through the eye of a needle than for a rich man to enter the kingdom of God."
25 When His disciples heard it, they were greatly astonished, saying, "Who then can be saved?"
26 But Jesus looked at them and said to them, "With men this is impossible, but with God all things are possible."