We think nothing of depriving another human being of life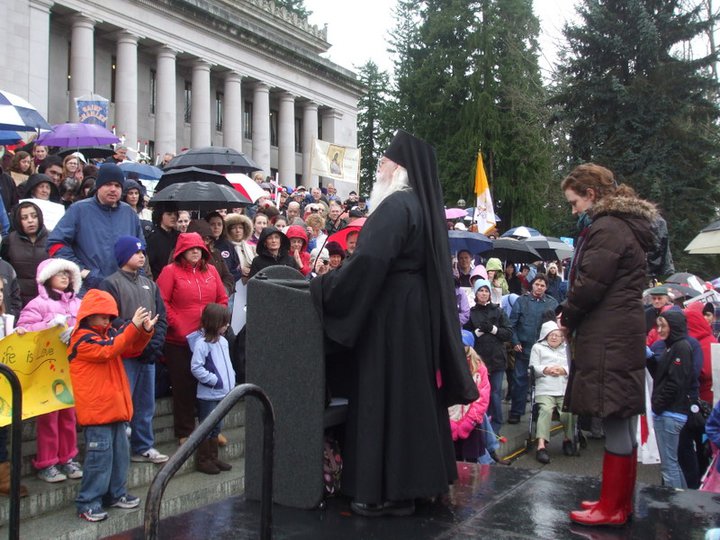 We are living in a period of history that has seen the cause of human rights take the forefront as never before. We champion the cause of equality under the law for minorities, and continue the struggle for equal rights and equal pay for women, but ignore the rights of the most vulnerable among us, the unborn. We'd rather kill the child in the womb than deprive ourselves of a lifestyle that would be hampered by a baby. Sexual gratification takes priority over the right to life of the unwanted child that is the result of our unchecked lust.
We deny the humanity of the unborn, dismissing the reality of a life by deciding the child is not a real person until the moment they are born. We dispose of that which God has created, through the gift of our sexuality, preferring lustful gratification to chastity. The idea of saving oneself for the marriage bed has become as outdated as a Victrola.
We explain away the infanticide that is abortion, while our legal system can find a man guilty of murder should his attack on a pregnant woman result in the death of her unborn child. We think nothing of depriving another human being of life, while we pursue a life of unbridled pleasure for ourselves.
Saint Basil the Great said, "The woman who purposely destroys her unborn child is guilty of murder. The hair-splitting difference between formed and unformed makes no difference to us."
If we are to be a friend of God, we must keep the laws of God. An unborn child has been given the gift of life, even if under circumstances that are the result of our sin. That the child should forfeit her life for the convenience of selfish parents is unconscionable. The sin of sexual intercourse outside the marriage bed is compounded ten thousand times by the sin of abortion. The woman who would abort her child to avoid poverty will have placed her soul in a state of absolute poverty.
In an age when many question the morality of state sanctioned executions of criminals, or question the justification of war, it is beyond the pale that we would think we have the right to kill an unborn child.
We must ask ourselves, as did Saint John Chrysostom, "Why do you sow where the field is eager to destroy the fruit? Where there are medicines for sterility? Where there is murder before birth? You do not even let a harlot remain only a harlot, but you make her a murderer as well. Indeed, it is something worse than murder and I do not know what to call it; for she does not kill what is formed but prevents its formation. What then? Do you condemn the gifts of God, and fight with His laws? What is a curse you seek as though it were a blessing. Do you make the anteroom of slaughter? Do you teach the women who are given to you for a procreation of offspring to perpetuate killing?"
Let us stand firm for the rights of all people, especially for the most vulnerable, defenseless of them all, the unborn children. The Sixth Commandment tells us that we must not kill, and makes no distinction between the killing of another person, the killing of oneself (suicide), or the killing of the unborn.
The Church has confessed from the beginning that each life is created by God, that human life is the supreme gift of the Creator. Human life is not given unconditionally, but is given under the condition that we will be responsible for preserving it. The testimony that God respects life above all else is contained in the words of the Gospel:
"For God so loved the world, that he gave his only begotten Son, that whosoever believeth in him should not perish, but have everlasting life" (John 3:16).
In so far as God's perfection is beyond our understanding, by His grace and mercy we are called to theosis, the process of becoming like God. Theosis (deification) begins from the moment of our conception and continues until the very hour of our death. No one has the right to interfere in this process that was begun when God created us.
In this age when our nation's streets are filled with demonstrators demanding equal rights for all, we cannot ignore the rights of the unborn. If we are to work for the full equality of our black brothers and sisters, we must also back politicians who we know will stand for the rights of unborn children.
As Christians, we are duty bound to work for the rights of all citizens of this country, not just those of a different race or color. Our unborn children are not simply medical waste to be disposed of in the trash. Do we want to stand before God on Judgement Day, having been silent about the extermination of these innocent babies who did not live long enough to have a voice?
With love in Christ,
Abbot Tryphon
Photo: The March for Life at the State Capital in Olympia, Washington.
Saturday August 29, 2020 / August 16, 2020
12th Week after Pentecost. Tone two.
Translation of the Image Not-Made-By-Hands of our Lord Jesus Christ from Edessa to Constantinople (944).
Martyr Diomedes the Physician of Tarsus in Cilicia (298).
33 Martyrs of Palestine.
New Hieromartyr Stephen priest (1918).
New Hieromartyrs priest Vladimir and his brother Boris (1931).
New Hieromartyr Alexander priest, Virgin Martyr Anna and Martyr Jacob (1937).
Venerable Cherimon (Chaeremon) of Egypt (4th c.).
Martyr grand prince Constantine (1714) (Romania).
Icons of the Most Holy Theotokos of St. Theodore ("Feodorovskaya") (1239) and "Triumph of Holy Theotokos" (Port Artur) (1904).
Venerable Joachim, monk, of Osogovo and Sarandapor (11th c.).
New Martyr Nicodemus of Meteora (1551) (Greek).
New Martyr Stamatius of Volos, Thessaly (1680) (Greek).
Venerable Anthony the Stylite of Martq'ophi, Georgia (6th c.) (Georgia).
Holy Martyr Kristepore Guruli (Georgia).
New Martyrs King Constantine Brancoveanu of Wallachia and his four sons Constantine, Stephen, Radu, and Matthew, and his counsellor Ianache (1714) (Romania).
Venerable Gerasimus the New Ascetic of Cephalonia (Mt. Athos) (1579) (Greek).
Venerable Nilus, brother of Emperor Theodore Laskaris, who rebuilt the monastery of the Mother of God at Epirus (Greek).
St. Timothy of Chalcedon, archbishop, founder of the monastery of Pendeli (Greek).
Great New Martyr Apostolos of the town of St. Laurence, martyred in Constantinople (1686) (Greek).
Translation of the relics of Martyrs Seraphim, Dorotheus, James, Demetrius, Basil and Sarantis of Megaris (Greek).
Martyr Alcibiades (Greek).
St. Raphael of Banat, Serbia (17th c.) (Serbia).
St. Roman the Sinaite of Djunisa, Serbia (14th c.) (Serbia).
St. Eustathius II, archbishop of Serbia (1309) (Serbia).
The Scripture Readings
1 Corinthians 1:26-29
Glory Only in the Lord
26 For you see your calling, brethren, that not many wise according to the flesh, not many mighty, not many noble, are called. 27 But God has chosen the foolish things of the world to put to shame the wise, and God has chosen the weak things of the world to put to shame the things which are mighty; 28 and the base things of the world and the things which are despised God has chosen, and the things which are not, to bring to nothing the things that are, 29 that no flesh should glory in His presence.
1 Corinthians 1:28 insignificant or lowly
Matthew 20:29-34
Two Blind Men Receive Their Sight
29 Now as they went out of Jericho, a great multitude followed Him. 30 And behold, two blind men sitting by the road, when they heard that Jesus was passing by, cried out, saying, "Have mercy on us, O Lord, Son of David!"
31 Then the multitude warned them that they should be quiet; but they cried out all the more, saying, "Have mercy on us, O Lord, Son of David!"
32 So Jesus stood still and called them, and said, "What do you want Me to do for you?"
33 They said to Him, "Lord, that our eyes may be opened." 34 So Jesus had compassion and touched their eyes. And immediately their eyes received sight, and they followed Him.
Colossians 1:12-18
12 giving thanks to the Father who has qualified us to be partakers of the inheritance of the saints in the light. 13 He has delivered us from the power of darkness and conveyed us into the kingdom of the Son of His love, 14 in whom we have redemption through His blood, the forgiveness of sins.
15 He is the image of the invisible God, the firstborn over all creation. 16 For by Him all things were created that are in heaven and that are on earth, visible and invisible, whether thrones or dominions or principalities or [d]powers. All things were created through Him and for Him. 17 And He is before all things, and in Him all things consist. 18 And He is the head of the body, the church, who is the beginning, the firstborn from the dead, that in all things He may have the preeminence.
Luke 9:51-56
A Samaritan Village Rejects the Savior
51 Now it came to pass, when the time had come for Him to be received up, that He steadfastly set His face to go to Jerusalem, 52 and sent messengers before His face. And as they went, they entered a village of the Samaritans, to prepare for Him. 53 But they did not receive Him, because His face was set for the journey to Jerusalem. 54 And when His disciples James and John saw this, they said, "Lord, do You want us to command fire to come down from heaven and consume them, just as Elijah did?"
55 But He turned and rebuked them, and said, "You do not know what manner of spirit you are of. 56 For the Son of Man did not come to destroy men's lives but to save them." And they went to another village.
Luke 10:22-24
22 All things have been delivered to Me by My Father, and no one knows who the Son is except the Father, and who the Father is except the Son, and the one to whom the Son wills to reveal Him."
23 Then He turned to His disciples and said privately, "Blessed are the eyes which see the things you see; 24 for I tell you that many prophets and kings have desired to see what you see, and have not seen it, and to hear what you hear, and have not heard it."