"Be not forgetful to entertain strangers: for thereby some have entertained angels unawares (Hebrews 13:2)."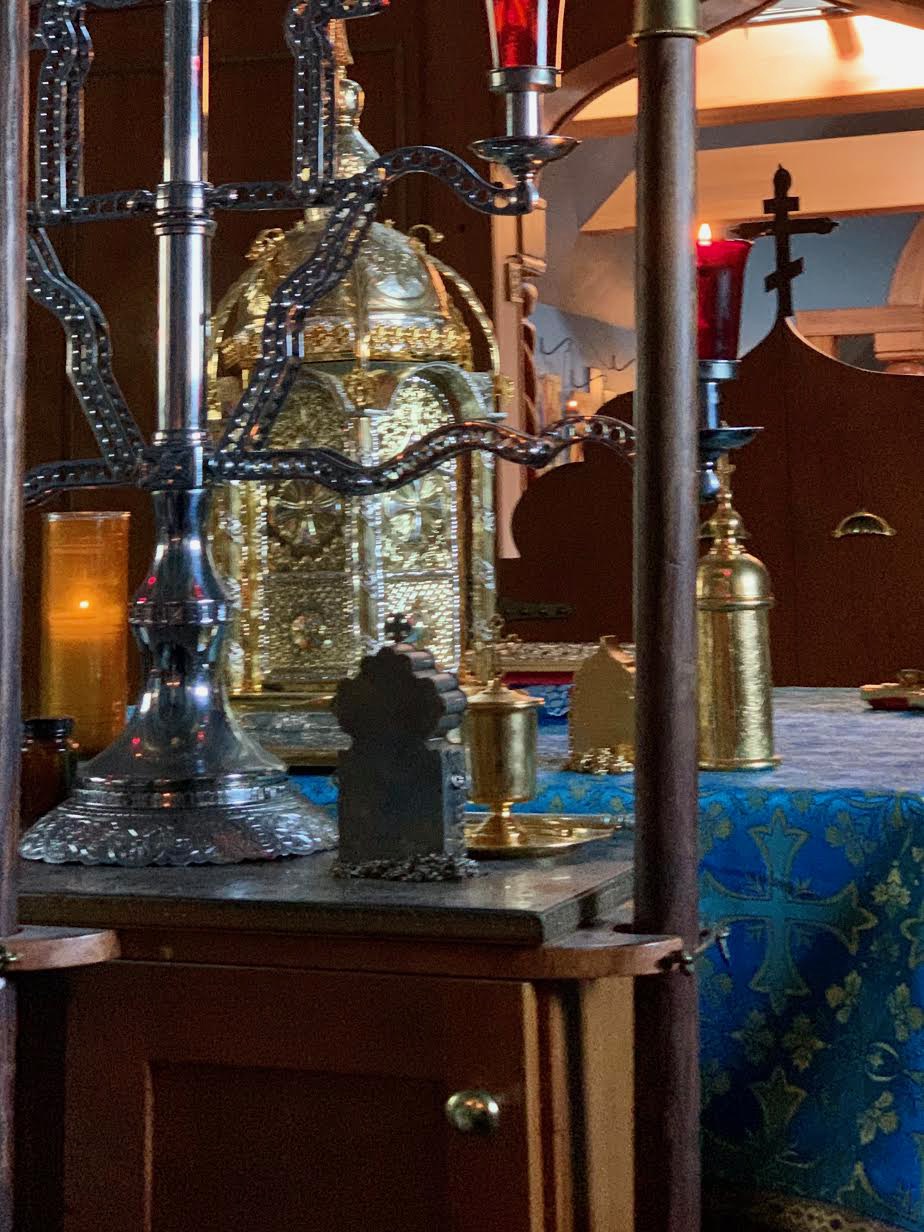 While sitting in Victoria, B.C's, Murchie's sidewalk cafe, back in June of 2013, with my friend Mitred Archpriest Basil Rhodes, we noticed a homeless man stop behind me. The man was staring at our food, so Father Basil asked him if he was hungry. He answered with an enthusiastic "yes", and when Father asked what he'd like to eat, he said "eggs and sausage". Father Basil told him they didn't have such a breakfast here, but gave him five dollars to buy it somewhere else.
The whole time this conversation was taking place with this homeless man, another man, around thirty years of age, was standing nearby, listening to every word. As the homeless man walked away, the younger man walked up and confronted us with the question, "how could you give money to a junky? You are not doing him any good by giving him money. Aren't you men of God?"
I responded by saying that it was not our place to judge anyone, to which he replied, in a confrontational manner, "he's just going to buy drugs with that money. You don't seem to be very intuitive". I told him I'd worked with the homeless before, and that the man was hungry and deserving of our charity. The man said "cheers" and dismissively walked away.
A woman seated at a nearby table called over with the words, "good response". She then came over to our table, knelt down beside me, and with tears in her eyes, identified herself as a social worker, and told us she'd been going through a particularly difficult time, and that the interaction she'd just witnessed had helped her immensely.
I then told this woman the story of the time I was walking with an elderly bishop of the Russian Church, and how I had spotted a filthy homeless man walking towards us. This man's hair was disheveled, filthy with years of dirt, and was wearing torn clothing. He had no soles on his shoes, so with each step we could see the bottom of his feet. Instinctively, I took the elbow of the bishop, and attempted to get him to cross in the middle of the street. The bishop asked why, and I said, "Look at the crazy man coming towards us". The bishop told me we were not crossing, but would continue.
When directly in front of the man, the bishop stopped, reached out, taking the man's filthy right hand into his own, and placed a twenty dollar bill into the man's hand, covering the bill with the man's left hand. At that moment the man looked up into our eyes, saying nothing. But looking back were the bluest, clearest eyes I had ever seen. They were not the eyes of a homeless man, nor the eyes of a deranged man, but were eyes filled with wisdom and holiness.
As we walked away, I remarked about the man's eyes, to which the bishop responded by saying, "We just encountered an angel unaware, and we were being tested."
After the social worker left, a man seated at a nearby table remarked, "that was the most remarkable story I've ever heard, and you made my wife cry". This other couple had witnessed the whole of these encounters.
A moment later, the young man who'd judged us so harshly after the original encounter, returned. He came up, asked forgiveness for having judged us. He'd followed the homeless man, and witnessed him buying yogurt and fruit with the money we'd given him. I stood up, gave the young man a hug, and we all parted ways.
With love in Christ,
Abbot Tryphon
Monday August 31, 2020 / August 18, 2020
13th Week after Pentecost. Tone three.
Martyrs Florus and Laurus of Illyria (2nd c.).
New Martyrs Archimandrite Augustine of Orans Monastery, Proto-priest Nicholas of Nizhni-Novgorod, and 15 people with them (1918).
New Hieromartyr Gregory priest and Martyr Eugene and Michael (1937).
Martyrs Hermes, Serapion, and Polyaenus of Rome (2nd c.).
Martyrs Hilarion, Dionysius, and Hermippus, Hieromartyr Emilian, and others (about 1,000) of Italy (4th c.).
Sts. John (674) and George (683), patriarchs of Constantinople.
Venerable Macarius the Monk of Pelekete (830).
Repose of Venerable John, abbot of Rila (946) (Bulgaria).
The Hodigitria Icon of the Mother of God.
Venerable Barnabus and his nephew Venerable Sophronius, monks of Mt. Mela near Trebizond (412) (Greek).
Venerable Christopher, abbot of Mt. Mela Monastery (1694) (Greek).
Venerable Sophronius of St. Anne's Skete on Mt. Athos (Greek).
Venerable Arsenius the New of Paros (1877) (Greek).
Martyr Juliana near Strobilus (Greek).
Martyr Leo, drowned near Myra in Lycia (Greek).
St. Christodoulos the Philosopher, called the Ossetian, of Georgia (12th c.) (Georgia).
The Scripture Readings
2 Corinthians 8:7-15
7 But as you abound in everything—in faith, in speech, in knowledge, in all diligence, and in your love for us—see that you abound in this grace also.
Christ Our Pattern
8 I speak not by commandment, but I am testing the sincerity of your love by the diligence of others. 9 For you know the grace of our Lord Jesus Christ, that though He was rich, yet for your sakes He became poor, that you through His poverty might become rich.
10 And in this I give advice: It is to your advantage not only to be doing what you began and were desiring to do a year ago; 11 but now you also must complete the doing of it;that as there was a readiness to desire it, so there also may be a completion out of what you have. 12 For if there is first a willing mind, it is accepted according to what one has, and not according to what he does not have.
13 For I do not mean that others should be eased and you burdened; 14 but by an equality, that now at this time your abundance may supply their lack, that their abundance also may supply your lack—that there may be equality. 15 As it is written, "He who gathered much had nothing left over, and he who gathered little had no lack."
Mark 3:6-12
6 Then the Pharisees went out and immediately plotted with the Herodians against Him, how they might destroy Him.
A Great Multitude Followed Jesus
7 But Jesus withdrew with His disciples to the sea. And a great multitude from Galilee followed Him, and from Judea 8 and Jerusalem and Idumea and beyond the Jordan; and those from Tyre and Sidon, a great multitude, when they heard how many things He was doing, came to Him. 9 So He told His disciples that a small boat should be kept ready for Him because of the multitude, lest they should crush Him. 10 For He healed many, so that as many as had afflictions pressed about Him to touch Him. 11 And the unclean spirits, whenever they saw Him, fell down before Him and cried out, saying, "You are the Son of God." 12 But He sternly warned them that they should not make Him known.