We are both soul and body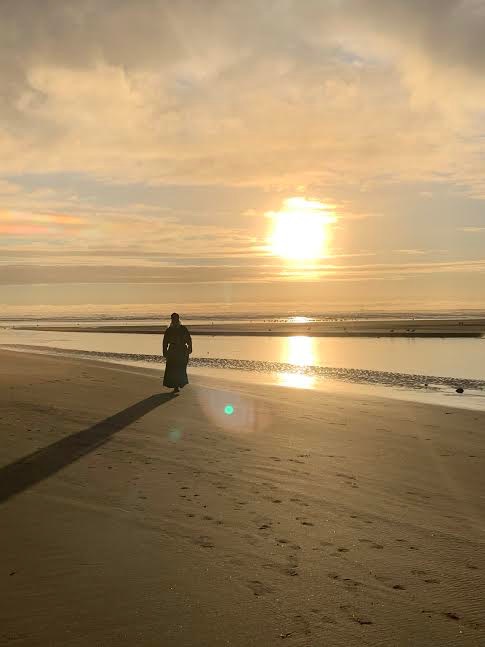 Unlike angels, who are entirely spiritual beings, God has made each of us as creatures dwelling in a material world. To be whole, we must worship God both in body and soul. This teaching is central to our Christian faith and is an affirmation of the sacramental nature of this material world. Because of this truth icons have played a central role in Christian history, for they proclaim Jesus Christ's physical reality as God Incarnate.
Our Lord told his disciples that "he who has seen me, has seen the Father". Icons depicting the Holy Virgin show the Christ Child with bare feet, reminding us that he walked the earth among us. He (the Logos) through Whom all that is was brought into existence, condescended to take on our flesh and walk among us. He joined His divinity to our humanity, that we might become gods.
The Lord Jesus Christ was born, lived, died and rose from the dead in this material world. He broke bread with disciples, ate fish with his friends, and invited His disciple Thomas to feel the wound in his side, after His holy resurrection. Most of the miracles He performed were in the nature of physical healing.
Because of the Incarnation, our use of icons bring our whole nature, body and soul, into the material world. This physical aspect of prayer is what connects us to our true self, composed of body and soul. This is where God reaches down to embrace us.
Icons are wonderful aides in our communion with God because they serve as bridges to Christ and links with the Holy Virgin and the saints. They are by no means the only means , for sitting on the top of a mountain, or walking on the seashore, eyes open, allows us to behold the beauty of God's creation, and His love for us. The icons, like the glory of creation, are windows into eternity, and invite us who live in this material world, into an encounter with God.
Icons are necessary and essential because they protect the full and proper doctrine of the Incarnation. While God cannot be represented in His eternal nature ("…no man has seen God", John 1:18), He can be depicted simply because He "became human and took flesh." Of Him who took a material body, material images can be made. In so taking a material body, God proved that matter can be redeemed. He deified matter, making it spirit-bearing, and so if flesh can be a medium for the Spirit, so can wood or paint, although in a different fashion.
"I do not worship matter, but the Creator of matter, who for my sake became material and deigned to dwell in matter, who through matter affected my salvation…" —St. John of Damascus
The seventh and last Ecumenical Council upheld the iconodules' position in AD 787. They proclaimed: Icons… are to be kept in churches and honored with the same relative veneration as is shown to other material symbols, such as the 'precious and life-giving Cross' and the Book of the Gospels. The 'doctrine of icons' is tied to the Orthodox teaching that all of God's creation is to be redeemed and glorified, both spiritual and material.
With love in Christ,
Abbot Tryphon
Sunday July 5, 2020 / June 22, 2020
4th Sunday after Pentecost. Tone three.
Apostles' (Peter & Paul) Fast. Fish Allowed
Korobeinikov-Kazan Icon of the Most Holy Theotokos (movable holiday on the Saturday after to June 18th ).
Synaxis of All Saints of Pskov-Pechers (movable holiday on the 4th Sunday of Pentecost).
Hieromartyr Eusebius, bishop of Samosata (380).
New Hieromartyr Gennadius priest (1918).
New Hieromartyrs Theodore and Gabriel (1938).
New Hieromartyr Michael Stephanovsky.
St. Alban, protomartyr of Britain (305) (Celtic & British).
Martyrs Zeno and his servant Zenas of Philadelphia (304).
Martyrs Galacteon, Juliana, and Saturninus of Constantinople.
St. Gregory metropolitan of Valasha (1834) (Romania).
Martyr Pompian (Greek).
1,480 martyrs of Samaria in Palestine (615).
The Scripture Readings
He Is Risen
24 Now on the first day of the week, very early in the morning, they, and certain other women with them, came to the tomb bringing the spices which they had prepared. 2 But they found the stone rolled away from the tomb. 3 Then they went in and did not find the body of the Lord Jesus. 4 And it happened, as they were greatly perplexed about this, that behold, two men stood by them in shining garments. 5 Then, as they were afraid and bowed their faces to the earth, they said to them, "Why do you seek the living among the dead? 6 He is not here, but is risen! Remember how He spoke to you when He was still in Galilee, 7 saying, 'The Son of Man must be delivered into the hands of sinful men, and be crucified, and the third day rise again.' "
8 And they remembered His words. 9 Then they returned from the tomb and told all these things to the eleven and to all the rest. 10 It was Mary Magdalene, Joanna, Mary the mother of James, and the other woman with them, who told these things to the apostles. 11 And their words seemed to them like idle tales, and they did not believe them. 12 But Peter arose and ran to the tomb; and stooping down, he saw the linen cloths lying by themselves; and he departed, marveling to himself at what had happened.
Romans 6:18-23
18 And having been set free from sin, you became slaves of righteousness. 19 I speak in human terms because of the weakness of your flesh. For just as you presented your members as slaves of uncleanness, and of lawlessness leading to more lawlessness, so now present your members as slaves of righteousness for holiness.
20 For when you were slaves of sin, you were free in regard to righteousness. 21 What fruit did you have then in the things of which you are now ashamed? For the end of those things is death. 22 But now having been set free from sin, and having become slaves of God, you have your fruit to holiness, and the end, everlasting life. 23 For the wages of sin is death, but the gift of God is eternal life in Christ Jesus our Lord.
Matthew 8:5-13
Jesus Heals a Centurion's Servant
5 Now when Jesus had entered Capernaum, a centurion came to Him, pleading with Him, 6 saying, "Lord, my servant is lying at home paralyzed, dreadfully tormented."
7 And Jesus said to him, "I will come and heal him."
8 The centurion answered and said, "Lord, I am not worthy that You should come under my roof. But only speak a word, and my servant will be healed. 9 For I also am a man under authority, having soldiers under me. And I say to this one, 'Go,' and he goes; and to another, 'Come,' and he comes; and to my servant, 'Do this,' and he does it."
10 When Jesus heard it, He marveled, and said to those who followed, "Assuredly, I say to you, I have not found such great faith, not even in Israel! 11 And I say to you that many will come from east and west, and sit down with Abraham, Isaac, and Jacob in the kingdom of heaven.12 But the sons of the kingdom will be cast out into outer darkness. There will be weeping and gnashing of teeth." 13 Then Jesus said to the centurion, "Go your way; and as you have believed, so let it be done for you." And his servant was healed that same hour.