Standing up to those who would destroy our nation's heritage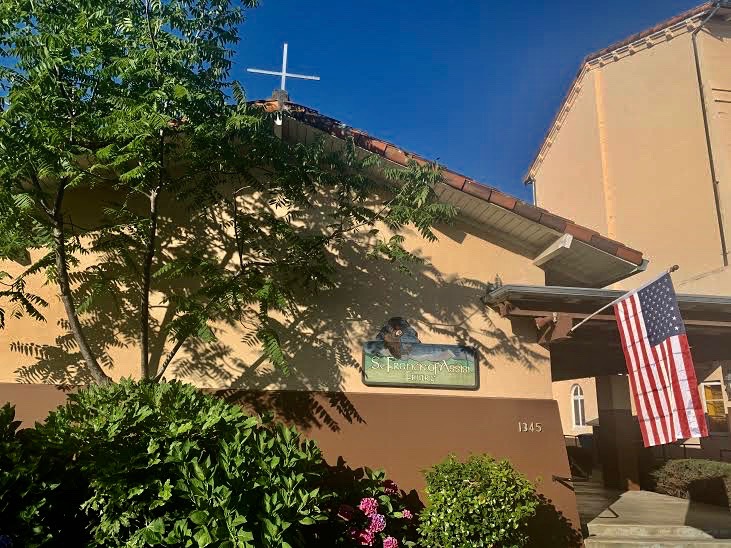 Earlier today it was announced that the statue of Christopher Columbus that has long stood before the state capital in Columbus, Ohio, has been removed. But what really shocked me was hearing that they are now considering changing the name of their city, seeing Christopher Columbus as responsible for the genicide of indigenous peoples.
That we Americans are allowing ANTIFA Marxists to dictate the destruction of national symbols of our history is unbelievable. That there are leftists demanding the removal of the presidential images on Mt. Rushmore, the toppling of statues, not only of Confederacy, but even of George Washington and Thomas Jefferson, all in the name of social justice, is appalling to me. The fact that some of these Marxists have even gone so far as to demand all images of Jesus Christ, and His Holy Mother, be destroyed as symbols of white supremacy, is beyond belief.
All this while the world is witnessing the triumphal rise of Orthodox Christianity in the country of Russia, with over one hundred Orthodox churches built this year alone, in Moscow. While Columbus, Ohio considers changing the name of their city, the Russians long ago returned the name of Saint Petersburg to their historic city, while dumping the communist inspired Leningrad.
As we celebrate our nation's founding on this 4th of July, the State of California has just announced that churches are forbidden to allow singing, all the while allowing for protestors in the streets to continue shouting their hate filled protests throughout the state, "not wanting to interfere with the 1st Amendment rights of her citizens".
Added to the madness, we are witnessing the leftist demand that our nation's police departments be defunded, or even completely disbanded. That these fine men and women, who on a daily basis put their lives on the line that all of us remain safe from violent intruders, thugs, and murderous individuals who care nothing about us average citizens, be free to continue their evil lawlessness.
All this smacks of a Marxist plot to destroy the very Christian foundations of this country, breaking down the economy, displacing every trace of our nation's history, all the while providing thousands of disgruntled young people, having lost all hope for their future, to angrily take to the streets, demanding a bland One World government devoid of every trace of our true heritage.
With love in Christ,
Abbot Tryphon
Photos: Following my trip to Rogue River, Oregon, for the ordination to the holy priesthood of Father Joshua Cardoza, I am spending a few days with my friend of 37 years, Brother Peter Ciolino, O.F.M.Cap., at Saint Francis Friary in Burlingame, CA. Returning to the monastery following the 4th of July.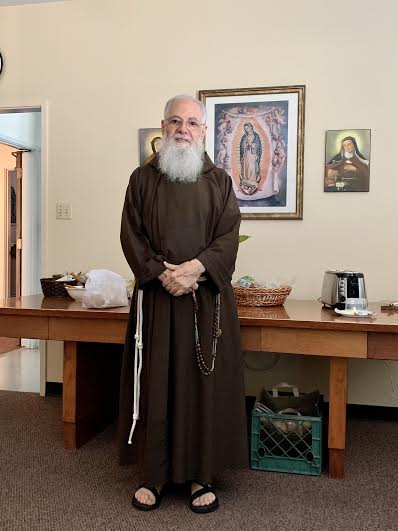 Saturday July 4, 2020 / June 21, 2020
4th Week after Pentecost. Tone two.
Apostles' (Peter & Paul) Fast. Fish Allowed
St. John of Shanghai and San Francisco the Wonderworker (movable holiday on the Saturday closest to June 19th).
Martyr Julian of Tarsus in Cilicia (305).
New Hieromartyr John (1918).
Venerable George (Lavrov) the Confessor, archimandrite of Kaluga (1932).
New Hieromartyrs Alexis, Paul and Nicholas priests (1938).
New Hieromartyr Ionna (1938).
New Martyr Nicetas (1942).
Finding of the relics (1996) of Venerable Maximus the Greek (1556).
Hieromartyr Terence (Tertius), bishop of Iconium (1st c.).
Venerable Julius, presbyter of Novara, and his brother Venerable Julian the Deacon (5th c.).
Martyrs Archil II (744) and Luarsab II (1622), kings of Georgia (Georgia).
New Martyr Nicetas of Nisyros, near Rhodes (1732) (Greek).
Martyr Aphrodisius in Cilicia.
Martyr Julian of Libya (Greek).
Hieromartyr Anthony, Martyrs Anastasius, who was raised from the dead, Celsius and his mother Vasilissa, 20 prison guards and 7 brothers, martyred with St. Julian (Greek).
Venerable Anastasia (Anna) of Serbia, mother of St. Sava (1200) (Serbia).
Martyr Theodore, right-believing prince of Starodub (1330).
St. Cormac of the Sea (590) (Celtic & British).
St. Mewan, abbot of St. Meen.
The Scripture Readings
Romans 6:11-17
11 Likewise you also, reckon yourselves to be dead indeed to sin, but alive to God in Christ Jesus our Lord.
12 Therefore do not let sin reign in your mortal body, that you should obey it in its lusts. 13 And do not present your members as instruments of unrighteousness to sin, but present yourselves to God as being alive from the dead, and your members as instruments of righteousness to God. 14 For sin shall not have dominion over you, for you are not under law but under grace.
From Slaves of Sin to Slaves of God
15 What then? Shall we sin because we are not under law but under grace? Certainly not! 16 Do you not know that to whom you present yourselves slaves to obey, you are that one's slaves whom you obey, whether of sin leading to death, or of obedience leading to righteousness? 17 But God be thanked that though you were slaves of sin, yet you obeyed from the heart that form of doctrine to which you were delivered.
Matthew 8:14-23
Peter's Mother-in-Law Healed
14 Now when Jesus had come into Peter's house, He saw his wife's mother lying sick with a fever. 15 So He touched her hand, and the fever left her. And she arose and served them.
Many Healed in the Evening
16 When evening had come, they brought to Him many who were demon-possessed. And He cast out the spirits with a word, and healed all who were sick, 17 that it might be fulfilled which was spoken by Isaiah the prophet, saying:
"He Himself took our infirmities
And bore our sicknesses."
The Cost of Discipleship
18 And when Jesus saw great multitudes about Him, He gave a command to depart to the other side. 19 Then a certain scribe came and said to Him, "Teacher, I will follow You wherever You go."
20 And Jesus said to him, "Foxes have holes and birds of the air have nests, but the Son of Man has nowhere to lay His head."
21 Then another of His disciples said to Him, "Lord, let me first go and bury my father."
22 But Jesus said to him, "Follow Me, and let the dead bury their own dead."
Wind and Wave Obey Jesus
23 Now when He got into a boat, His disciples followed Him.