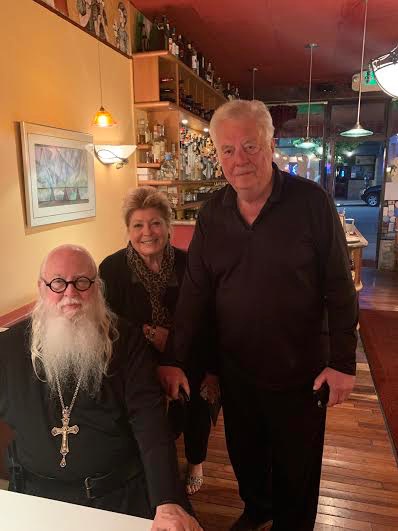 Some years ago I had the mother of a boy of about thirteen arrive at the monastery, son in tow. She was upset because her son had declared himself an atheist and she was afraid he was in danger of eternal damnation. I sat down with the boy and told him that each one of us has to come to a personal awareness of the reality of God for ourselves. Doubting the existence of God, I told him, is all part of building a personal relationship with God. If we simply go through the motions without seeking a real relationship, we might as well be atheists. My own youth was filled with great spiritual struggle, as I sought to fill the void I felt within my heart.
Most young people struggle with questions about things eternal. It is part of relationship building. Like the young lad who visited with his mom, I struggled with doubt. The only difference was that my struggle happened during my college days. It was a period of time when I was filled with anxiety about the future, and fearful of making the wrong decisions. I understand the issues facing young people today because I was a young man with the same fears, and struggling with many of the same issues.
Knowing as I do now the importance of being honest, I told the mother to let her son explore for himself the reality of God. It was better for him to question the existence of God than to simply feign belief. At the same time I told the boy he needed to attend church with his family because it was important to be obedient to his parents and supportive of his younger brother. After all, one does not tell his parents that he's not going to attend school just because he doesn't see his studies as important.
The God this boy was rejecting was the very false image of God that I have long rejected. The God I have come to know personally is not the same god I rejected in my youth. The God revealed in Jesus Christ is the One Whom I've personally experienced and Who first sought me out.
If we are to have a personal relationship with Christ we must be open and honest and unafraid to question. The Lord wants us to be real with Him. Like the sound relationship that one sees in a long and successful marriage, a relationship with God must first and foremost be based in honesty and truth. Love and trust come with time and experience. Our relationship with God is something that builds over time, like all good relationships, results in a sense of peace.
It is this peace and joy that I want to impart to young people. My personal relationship with Christ is something that I want to share, and not just with Orthodox youth. I KNOW God exists because I've experienced His great love in a personal way, and it is this certainty of the reality of God that leads me to reach out with the love of Christ. Those individuals I encounter in everyday life, like me, need to discover God for themselves, and build upon a relationship that began with their conception.
With love in Christ,
Abbot Tryphon
Photos: My dear friends, Nick and Nadine Buick, took me out to dinner on the second night of my stay in Burlingame. Brother Peter Ciolino, O.F.M.Cap., a dear friend of 37 years.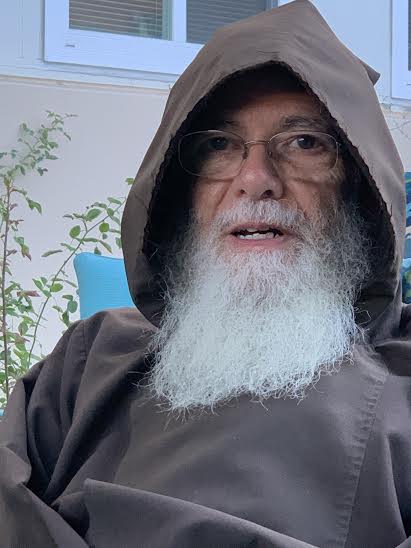 Monday July 6, 2020 / June 23, 2020
5th Week after Pentecost. Tone three.
Apostles' (Peter & Paul) Fast. Fish Allowed
The Meeting of the Vladimir Icon of the Most Holy Theotokos in memory of Saving of Moscow from the Invasion of Khan Achmed.
Synaxis of All Saints of Vladimir.
Martyr Agrippina of Rome (253-260).
New Hieromartyrs Alexander, Alexis, Peter priests (1918).
New Hieromartyr Mitrophan archbishop of Astrakhan (1919), bishop Leonty of Enotaeva, and those with him.
New Hieromartyr Maxim, bishop of Serpukhov (1930).
St. Artemius of Verkola (1545).
Translation of the relics (1714) of St. Herman, archbishop of Kazan (1567).
Martyrs Eustochius, Gaius, Probus, Lollius, and Urban, of Ancyra (4th c.).
Pskov Icon of the Most Holy Theotokos, "Tenderness" (1524), Zaonikeevsk (1588), and "Vratarnitsa"(1894) Icons of the Mother of God.
Venerables Joseph (1612), Anthony, and Ioannicius, abbots, of Vologda.
Translation of the relics of Venerable Michael, fool-for-Christ of Klops Monastery (1482).
Virgin Etheldreda of Ely (England) (679) (Celtic & British).
St. Dionysius of Polotsk (1182).
St. Nicetas of Thebes in Boetia (1079) and his disciples Theodore, Gregory and Daniel.
The Scripture Readings
Luke 1:39-49
Mary Visits Elizabeth
39 Now Mary arose in those days and went into the hill country with haste, to a city of Judah, 40 and entered the house of Zacharias and greeted Elizabeth. 41 And it happened, when Elizabeth heard the greeting of Mary, that the babe leaped in her womb; and Elizabeth was filled with the Holy Spirit. 42 Then she spoke out with a loud voice and said, "Blessed are you among women, and blessed is the fruit of your womb! 43 But why is this granted to me, that the mother of my Lord should come to me? 44 For indeed, as soon as the voice of your greeting sounded in my ears, the babe leaped in my womb for joy. 45 Blessed is she who believed, for there will be a fulfillment of those things which were told her from the Lord."
The Song of Mary
46 And Mary said:
"My soul magnifies the Lord,
47 And my spirit has rejoiced in God my Savior.
48 For He has regarded the lowly state of His maidservant;
For behold, henceforth all generations will call me blessed.
49 For He who is mighty has done great things for me,
And holy is His name.
Luke 1:56
56 And Mary remained with her about three months, and returned to her house.
Romans 12:4-5
4 For as we have many members in one body, but all the members do not have the same function, 5 so we, being many, are one body in Christ, and individually members of one another.
Romans 12:15-21
15 Rejoice with those who rejoice, and weep with those who weep. 16 Be of the same mind toward one another. Do not set your mind on high things, but associate with the humble. Do not be wise in your own opinion.
17 Repay no one evil for evil. Have regard for good things in the sight of all men. 18 If it is possible, as much as depends on you, live peaceably with all men. 19 Beloved, do not avenge yourselves, but rather give place to wrath; for it is written, "Vengeance is Mine, I will repay," says the Lord. 20 Therefore
"If your enemy is hungry, feed him;
If he is thirsty, give him a drink;
For in so doing you will heap coals of fire on his head."
21 Do not be overcome by evil, but overcome evil with good.
Matthew 12:9-13
Healing on the Sabbath
9 Now when He had departed from there, He went into their synagogue. 10 And behold, there was a man who had a withered hand. And they asked Him, saying, "Is it lawful to heal on the Sabbath?"—that they might accuse Him.
11 Then He said to them, "What man is there among you who has one sheep, and if it falls into a pit on the Sabbath, will not lay hold of it and lift it out? 12 Of how much more value then is a man than a sheep? Therefore it is lawful to do good on the Sabbath." 13 Then He said to the man, "Stretch out your hand." And he stretched it out, and it was restored as whole as the other.