The link between the Old and New Testament temples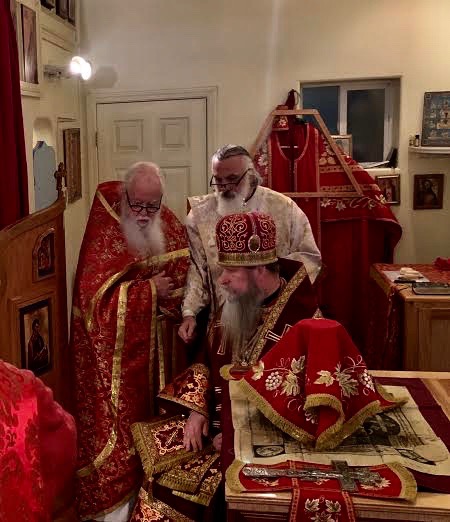 Orthodox temples have kept to the same form and function since ancient times. Using the Old Testament Temple model, Orthodox churches are divided into several courts or spaces peculiar to their function. The Holy Table, upon which is celebrated the Eucharist, is situated at the east end of the building behind the Iconostasis (icon screen). This is a continuation of and corresponds to the Holy of Holies in the ancient Israelite temple in Jerusalem.
The whole area behind the iconostasis is called the altar, and is considered the most sacred part of the temple. The Eucharistic table is commonly known as the Holy Table. While great respect must be shown throughout the Church, the altar is very special. It is here that the Holy Spirit descends upon the offering of bread and wine , changing them into the Body and Blood of Christ.
Only those who receive the specific blessing of the bishop or the priest may enter, since no one has the right to go behind the iconostasis. The Church allows only those who have a particular reason, specific task, or function, to enter. A blessing must be received each and every time, even if a person serves regularly behind the iconostasis. No one should ever simply wander into the altar without a blessing.
The Holy Table, the Proskomedia Table (Table of Preparation), and the discos and chalice, should never be touched by anyone other than a bishop, priest or deacon. The sacredness of these items, set apart for divine worship, is such because they have all been blessed and consecrated by the Church for the worship of God.
We approach our God with fear and awe, bowing down in worship before His Throne in wonder. We worship the Holy Trinity with the same reverence as did the ancients. The very God Who created us, and Who condescended to join His Divinity with our humanity, is worshiped in temples just as beautiful as that which He commanded to be built in the Holy City, because He has invited us into communion with Him. The worship we offer on this earth is an image of that which is taking place before the Throne in Heaven.
With love in Christ,
Abbot Tryphon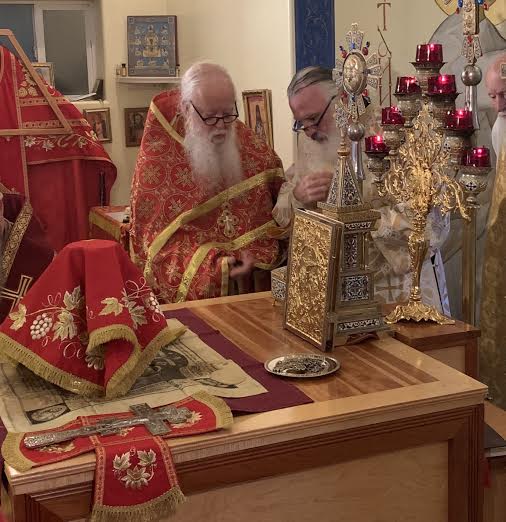 Photos: Abbot Tryphon guiding Father Joshua Cardoza around the altar, just prior to his ordination into the holy priesthood by His Eminence Archbishop Kyrill. Father Joshua Cardoza, newly vested as a priest of the Holy Orthodox Catholic and Apostolic Church.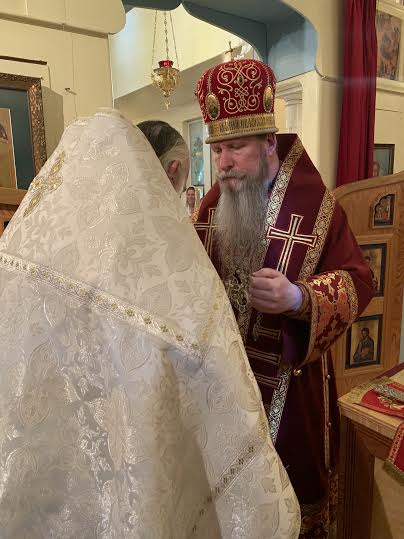 Wednesday July 1, 2020 / June 18, 2020
4th Week after Pentecost. Tone two.
Apostles' (Peter & Paul) Fast. By Monastic Charter: Strict Fast (Bread, Vegetables, Fruits)
Martyr Leontius, and with him Martyrs Hypatius and Theodulus, at Tripoli in Syria (73).
New Hieromartyrs Nicanor, Basil, Alexander, Basil and Sergius priests (1938).
Uncovering of the relics of St. Victor confessor, bishop of Glazov (1997).
Venerable Leontius, canonarch of the Kiev Caves (14th c.).
"Bogoliubov" (1157) Icon of the Most Holy Theotokos.
Reverence list of an "Bogoliubov" Icon of the Most Holy Theotokos: "Zimarovsky" (13th c.), Moscow (1157), "Uglich" and "Iur'evsk".
The Meeting of the "Piukhtinsk" ("At the Source") Icon of the Most Holy Theotokos (1946).
Venerable Leontius, clairvoyant of Dionysiou Monastery, Mt. Athos (1605).
Martyr Aetherus of Nicomedia (305).
St. Marina the Virgin of Bithynia (8th c.).
Finding of the relics (1997) of New Hieromartyr Victor, bishop of Glazov (1934).
St. Erasmus, monk (Greek).
St. Leontius the Shepherd, monk (Greek).
The Scripture Readings
Luke 1:39-49
Mary Visits Elizabeth
39 Now Mary arose in those days and went into the hill country with haste, to a city of Judah, 40 and entered the house of Zacharias and greeted Elizabeth. 41 And it happened, when Elizabeth heard the greeting of Mary, that the babe leaped in her womb; and Elizabeth was filled with the Holy Spirit. 42 Then she spoke out with a loud voice and said, "Blessed are you among women, and blessed is the fruit of your womb! 43 But why is this granted to me, that the mother of my Lord should come to me? 44 For indeed, as soon as the voice of your greeting sounded in my ears, the babe leaped in my womb for joy. 45 Blessed is she who [a]believed, for there will be a fulfillment of those things which were told her from the Lord."
The Song of Mary
46 And Mary said:
"My soul [b]magnifies the Lord,
47 And my spirit has rejoiced in God my Savior.
48 For He has regarded the lowly state of His maidservant;
For behold, henceforth all generations will call me blessed.
49 For He who is mighty has done great things for me,
And holy is His name.
Luke 1:56
56 And Mary remained with her about three months, and returned to her house.
Romans 11:2-12
2 God has not cast away His people whom He foreknew. Or do you not know what the Scripture says of Elijah, how he pleads with God against Israel, saying, 3 "Lord, they have killed Your prophets and torn down Your altars, and I alone am left, and they seek my life"? 4 But what does the divine response say to him? "I have reserved for Myself seven thousand men who have not bowed the knee to Baal." 5 Even so then, at this present time there is a remnant according to the election of grace. 6 And if by grace, then it is no longer of works; otherwise grace is no longer grace. But if it is of works, it is no longer grace; otherwise work is no longer work.
7 What then? Israel has not obtained what it seeks; but the elect have obtained it, and the rest were blinded. 8 Just as it is written:
"God has given them a spirit of stupor,
Eyes that they should not see
And ears that they should not hear,
To this very day."
9 And David says:
"Let their table become a snare and a trap,
A stumbling block and a recompense to them.
10 Let their eyes be darkened, so that they do not see,
And bow down their back always."
Israel's Rejection Not Final
11 I say then, have they stumbled that they should fall? Certainly not! But through their fall, to provoke them to jealousy, salvation has come to the Gentiles. 12 Now if their fall is riches for the world, and their failure riches for the Gentiles, how much more their fullness!
Matthew 11:20-26
Woe to the Impenitent Cities
20 Then He began to rebuke the cities in which most of His mighty works had been done, because they did not repent: 21 "Woe to you, Chorazin! Woe to you, Bethsaida! For if the mighty works which were done in you had been done in Tyre and Sidon, they would have repented long ago in sackcloth and ashes. 22 But I say to you, it will be more tolerable for Tyre and Sidon in the day of judgment than for you. 23 And you, Capernaum, who are exalted to heaven, will be brought down to Hades; for if the mighty works which were done in you had been done in Sodom, it would have remained until this day. 24 But I say to you that it shall be more tolerable for the land of Sodom in the day of judgment than for you."
Jesus Gives True Rest
25 At that time Jesus answered and said, "I thank You, Father, Lord of heaven and earth, that You have hidden these things from the wise and prudent and have revealed them to babes. 26 Even so, Father, for so it seemed good in Your sight.