The importance of the desert to the inner life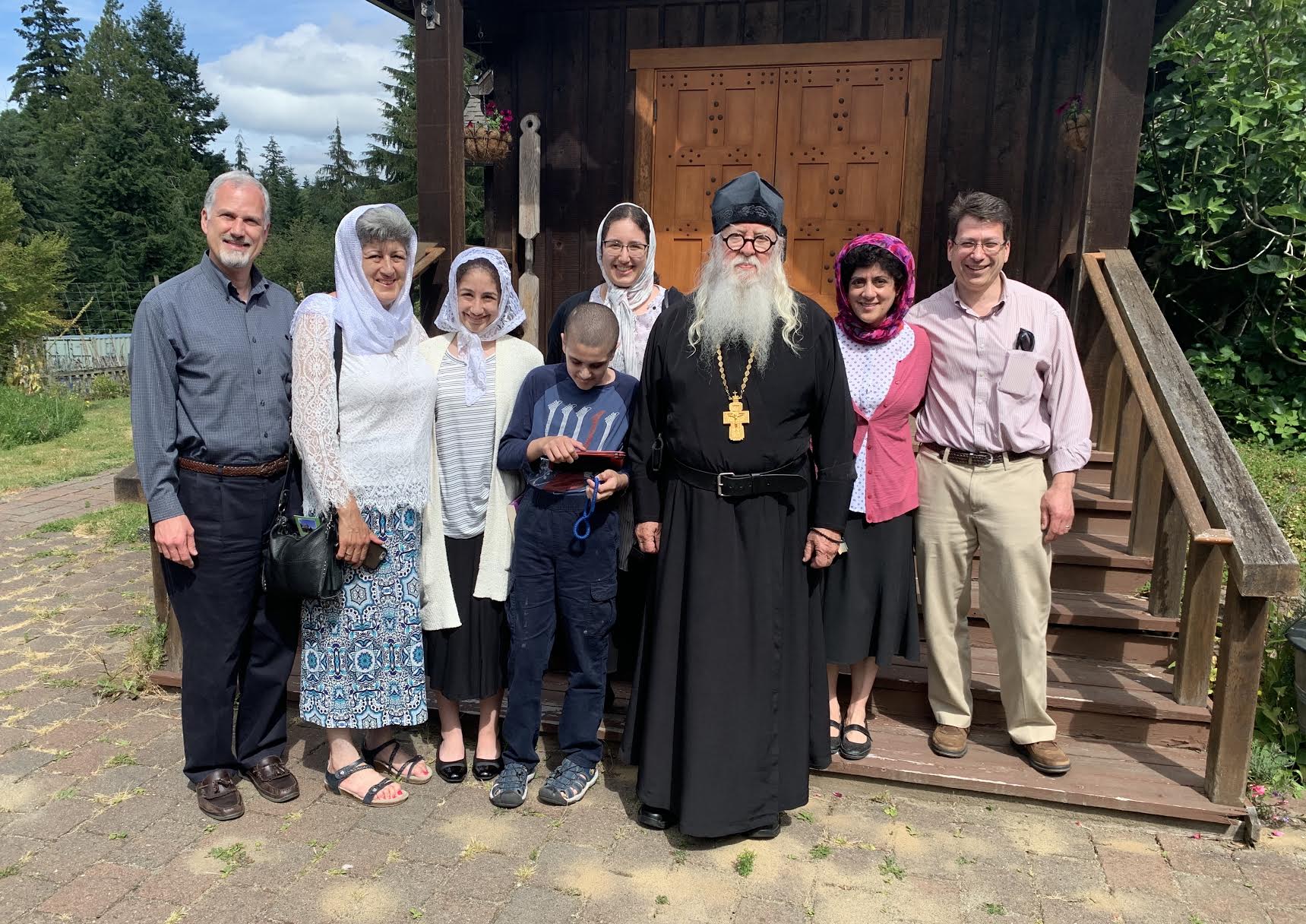 The Russian word, "Poustinia", means "desert", and the importance of the poustinia to the inner life can not be dismissed. If we are to hear the voice of God speaking to us, we must listen to His silence. If we are to learn to hear His voice, we must learn to be silent. Without recollection and silence, the inner life is impossible, and we will not make spiritual progress.
The desert must be a part of our daily living, for without entering into the desert of the heart, nothing can be gained. With the noise of the Internet, and the world of computers, iPods, laptops, and iPhones, the noise of the world threatens our soul like nothing in the previous history of humanity. The world of cybernetics has its place, but we must not allow it to overwhelm the spiritual dimension of our humanity.
With love in Christ,
Abbot Tryphon
Photo: Pilgrims from Saint Demetrios Greek Orthodox Church in Seattle, visited the monastery on Thursday afternoon.
Friday July 17, 2020 / July 4, 2020
6th Week after Pentecost. Tone four.
Fast. Food with Oil
Holy Royal Martyrs of Russia: Tsar Nicholas II, Tsarit-sa Alexandra, Crown Prince Alexis, and Grand-duchesses Olga, Tatiana, Maria, and Anastasia, and those martyred with them (1918).
St. Andrew, archbishop of Crete (712-726).
Venerable Martha, mother of St. Symeon Stylites the Younger (551).
Venerable Andrew (Rublev), iconographer (1430).
New Hieromartyr Hieromonk Nilus of Poltava (1918).
New Hieromartyr Demetrius priest (1942).
New Hieromartyrs Sava (Trlajic), Bishop of Gornji Karlovac and George of Serbia (1941).
Burial of St. Andrew, prince of Bogoliubsk (1174).
Uncovering of the relics (1507) of Venerable Euthymius the Wonderworker, archimandrite of Suzdal (1404).
Martyrs Theodotus and Theodota at Caesarea in Cappadocia (108).
Hieromartyr Theodore, bishop of Cyrene in Libya, and with him Martyrs Cyprilla, Aroa, and Lucia (310).
Icon of the Mother of Godof "Galatea".
Venerables Tikhon, Basil and Nikon Monks of Solovki.
St. Andrew the Russian of Cairo (1174).
St. Donatus of Libya, bishop (Greek).
St. Asclepias the Wonderworker (Greek).
Hieromartyr Theophilus (Greek).
St. Menignus, monk (Greek).
Hieromartyr Theodotus (Greek).
Hieromartyrs Innocent and Sabbatius and 30 others with them in Sirmium of Pannonia (304).
Translation of the relics of St. Martin the Merciful, bishop of Tours (397).
St. Urlich of Augsburg and Bavaria (973).
The Scripture Readings
Romans 8:28-39
28 And we know that all things work together for good to those who love God, to those who are the called according to His purpose. 29 For whom He foreknew, He also predestined to be conformed to the image of His Son, that He might be the firstborn among many brethren. 30 Moreover whom He predestined, these He also called; whom He called, these He also justified; and whom He justified, these He also glorified.
God's Everlasting Love
31 What then shall we say to these things? If God is for us, who can be against us? 32 He who did not spare His own Son, but delivered Him up for us all, how shall He not with Him also freely give us all things? 33 Who shall bring a charge against God's elect? It is God who justifies. 34 Who is he who condemns? It is Christ who died, and furthermore is also risen, who is even at the right hand of God, who also makes intercession for us. 35 Who shall separate us from the love of Christ? Shall tribulation, or distress, or persecution, or famine, or nakedness, or peril, or sword? 36 As it is written:
"For Your sake we are killed all day long;
We are accounted as sheep for the slaughter."
37 Yet in all these things we are more than conquerors through Him who loved us. 38 For I am persuaded that neither death nor life, nor angels nor principalities nor powers, nor things present nor things to come, 39 nor height nor depth, nor any other created thing, shall be able to separate us from the love of God which is in Christ Jesus our Lord.
John 15:17-16:2
17 These things I command you, that you love one another.
The World's Hatred
18 "If the world hates you, you know that it hated Me before it hated you. 19 If you were of the world, the world would love its own. Yet because you are not of the world, but I chose you out of the world, therefore the world hates you. 20 Remember the word that I said to you, 'A servant is not greater than his master.' If they persecuted Me, they will also persecute you. If they kept My word, they will keep yours also. 21 But all these things they will do to you for My name's sake, because they do not know Him who sent Me. 22 If I had not come and spoken to them, they would have no sin, but now they have no excuse for their sin. 23 He who hates Me hates My Father also. 24 If I had not done among them the works which no one else did, they would have no sin; but now they have seen and also hated both Me and My Father. 25 But this happened that the word might be fulfilled which is written in their law, 'They hated Me without a cause.'
The Coming Rejection
26 "But when the Helper comes, whom I shall send to you from the Father, the Spirit of truth who proceeds from the Father, He will testify of Me. 27 And you also will bear witness, because you have been with Me from the beginning.
Jesus Warns and Comforts His Disciples
16 "These things I have spoken to you, that you should not be made to stumble. 2 They will put you out of the synagogues; yes, the time is coming that whoever kills you will think that he offers God service.