I must accuse myself, blame myself, judge myself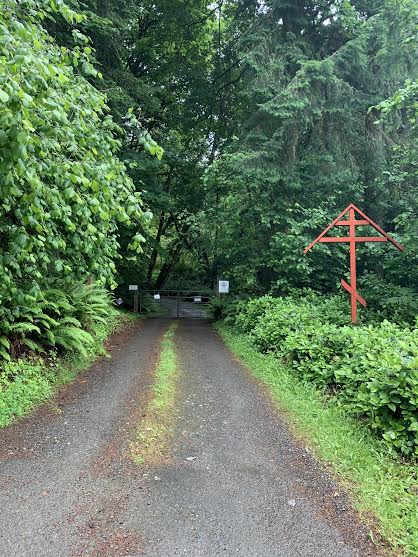 We see people's sins, but we don't know whether they have made peace with God. We don't know if the person who has sinned regrets it, but we are not called to judge them, but only to forgive them. As we become aware of our own sins, and begin to realize how much forgiveness and mercy we need, we are less likely to see the sins of others.
If we find ourselves judging others, we must simply turn it around, and judge only ourselves. Abba Dorotheos' Practical Teaching on the Christian Life, (the one published in Athens, Greece), is a book every Orthodox Christian should own, and one that should be our constant companion, in our struggle to truly forgive others, and turn our gaze on our own need for change.
We must accuse ourselves, blame ourselves, judge ourselves, and get our focus off the other person. The only way we can overcome the sin of judging others, is to see only the sins of ourselves. True repentance comes only when we work on our own fallen nature.
With love in Christ,
Abbot Tryphon
Friday July 3, 2020 / June 20, 2020
4th Week after Pentecost. Tone two.
Apostles' (Peter & Paul) Fast. By Monastic Charter: Strict Fast (Bread, Vegetables, Fruits)
Hieromartyr Methodius, bishop of Patara (312).
Holy Prince Gleb Andreyevich of Vladimir (1175).
St. Minas, bishop of Polotsk (1116).
Translation of the relics of St. Gurias, archbishop of Kazan (1630).
Martyrs Inna, Pinna, and Rimma, disciples of Apostle Andrew in Scythia (1st-2nd c.).
Martyrs Aristocleus presbyter, Demetrian deacon, and Athanasiusreader, of Cyprus (306).
St. Leucius the Confessor, bishop of Brindisi (5th c.).
St. Nicholas (Cabasilas) (1397).
Icon of the Most Holy Theotokos "Modensk-Kosninsk".
St. Nahum of Ochrid (910) (Bulgaria).
St. Callistus I, patriarch of Constantinople (Mt. Athos) (1363).
Translation of the relics and garments (ca. 960) of the Apostles Luke, Andrew, and Thomas, the Prophet Elisha, and Martyr Lazarus to the Church of the Holy Apostles in Constantinople (Greek).
Martyrs Paul, Cyriacus, Paula, Felicilana, Thomas, Felix, Martyrius, Vitaly, Crispinus, and Emilius in Tomi (290).
Blessed Studios, founder of the Studion Monastery (5th c.).
Finding of the relics (1959) of New Martyr Hieromonk Raphael of Lesbos (1463).
The Scripture Readings
Romans 11:25-36
25 For I do not desire, brethren, that you should be ignorant of this mystery, lest you should be wise in your own opinion, that blindness in part has happened to Israel until the fullness of the Gentiles has come in. 26 And so all Israel will be saved, as it is written:
"The Deliverer will come out of Zion,
And He will turn away ungodliness from Jacob;
27 For this is My covenant with them,
When I take away their sins."
28 Concerning the gospel they are enemies for your sake, but concerning the election they are beloved for the sake of the fathers. 29 For the gifts and the calling of God are irrevocable. 30 For as you were once disobedient to God, yet have now obtained mercy through their disobedience, 31 even so these also have now been disobedient, that through the mercy shown you they also may obtain mercy. 32 For God has committed them all to disobedience, that He might have mercy on all.
33 Oh, the depth of the riches both of the wisdom and knowledge of God! How unsearchable are His judgments and His ways past finding out!
34 "For who has known the mind of the Lord?
Or who has become His counselor?"
35 "Or who has first given to Him
And it shall be repaid to him?"
36 For of Him and through Him and to Him are all things, to whom be glory forever. Amen.
Matthew 12:1-8
Jesus Is Lord of the Sabbath
12 At that time Jesus went through the grainfields on the Sabbath. And His disciples were hungry, and began to pluck heads of grain and to eat. 2 And when the Pharisees saw it, they said to Him, "Look, Your disciples are doing what is not lawful to do on the Sabbath!"
3 But He said to them, "Have you not read what David did when he was hungry, he and those who were with him: 4 how he entered the house of God and ate the showbread which was not lawful for him to eat, nor for those who were with him, but only for the priests? 5 Or have you not read in the law that on the Sabbath the priests in the temple profane the Sabbath, and are blameless?6 Yet I say to you that in this place there is One greater than the temple. 7 But if you had known what this means, 'I desire mercy and not sacrifice,' you would not have condemned the guiltless. 8 For the Son of Man is Lord even of the Sabbath."