The life-giving power of the Body and Blood of the Saviour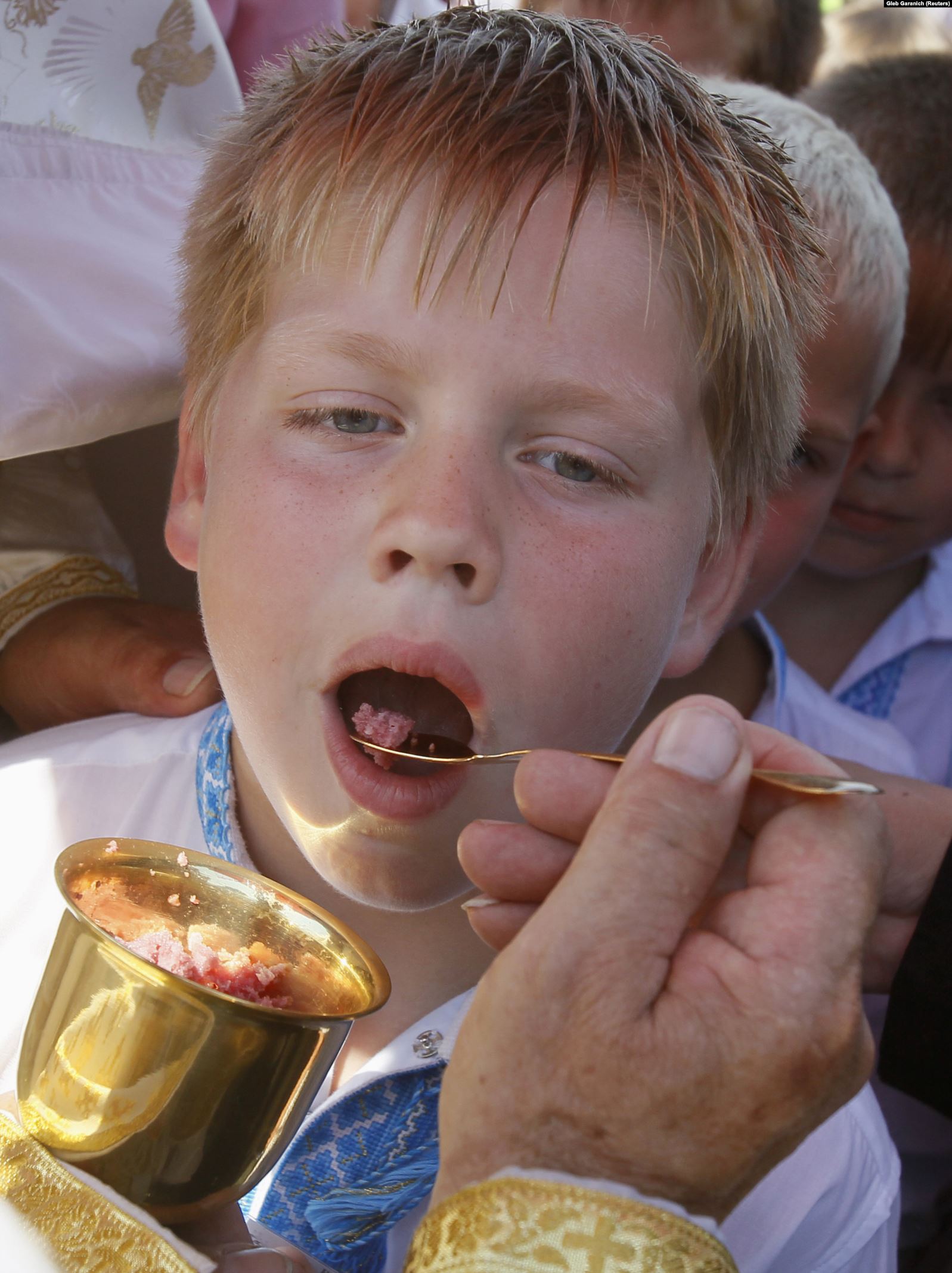 Eternity is an everlasting banquet (the Divine Liturgy) that takes place in the heavenly realm. Every time we participate in the Divine Liturgy we are transported into a place where there is neither time nor space, and participate in that very banquet. As we receive the Holy Mysteries (Christ's very Body and Blood), we receive the healing medicine for that which ails us. Our brokenness in both body and soul are given the healing medicine that we so very much need.
God is everywhere present and fills all things. There is nowhere He is not. Hell fire is none other than the Fire of God, burning those who are unloving and unresponsive to His invitation to commune with Him. God does not send anyone to hell, for we sentence ourselves. Eternity with God necessitates a transformation of our souls, that we be purified in order to be engulfed by God's uncreated light. Without transformation the fire of God burns us, not because He desires we be burned, but because our fallen nature can not withstand the presence of God without having been purified.
The Eucharist is the very medicine that God designed for this transformation. Our response should be one of humble submission to this invitation to commune with the very God Who created us. Holy Communion is meant to be the very agent that changes us, making us whole. The Holy Mysteries give us life. Frequent confession and communion are the means we have for change.
The Eucharist is both mystical and symbolic and is understood to be the genuine Body and Blood of Christ, precisely because bread and wine are the mysteries and symbols of God's true and genuine presence and His manifestation to us in Christ.
The Holy Eucharist defies analysis and explanation in purely rational and logical terms precisely because it is a mystery. The Eucharist, as is Christ himself, is a mystery of the Kingdom of Heaven which, as Jesus has told us, is "not of this world." The Eucharist, because it belongs to God's Kingdom, is truly free from the earth-born "logic" of fallen humanity.
Saint John of Damascus says,  "If you enquire how this happens, it is enough for you to learn that it is through the Holy Spirit … we know nothing more than this, that the word of God is true, active, and omnipotent, but in its manner of operation unsearchable".
During this pandemic there are a small number of people who fear receiving the Holy Mysteries from the same spoon as those who have gone before them in the communion line. These people are thus depriving themselves of the Live-Giving Body and Blood of Christ, for fear of getting the virus. To them I would say, it is important to remember that the Eucharist brings about healing of BOTH body and soul.
As a priest, following the reception of the Body and Blood by the faithful, I place the holy spoon into my own mouth, lest any particles of the precious Gifts fall off the spoon. I, like all priests, have done this since the day my archbishop ordained me into the sacred priesthood. I have NEVER come down with a virus of any sort for doing so, and I never will. It would be impossible, given that which I am taking into my mouth.
It is from the Powers of Darkness that such fear is generated, as the Evil One would have us fear receiving the very life-giving grace that comes from the reception of the Holy Mysteries. The Evil One knows of the life-giving power of the Body and Blood of the Saviour, and it is the devil who would strike fear in believers, so we avoid receiving the Medicine needed for our souls. Let us, collectively as believers, stand firm in our faith, and tell the devil to go back to hell, from which he came.
Love in Christ,
Abbot Tryphon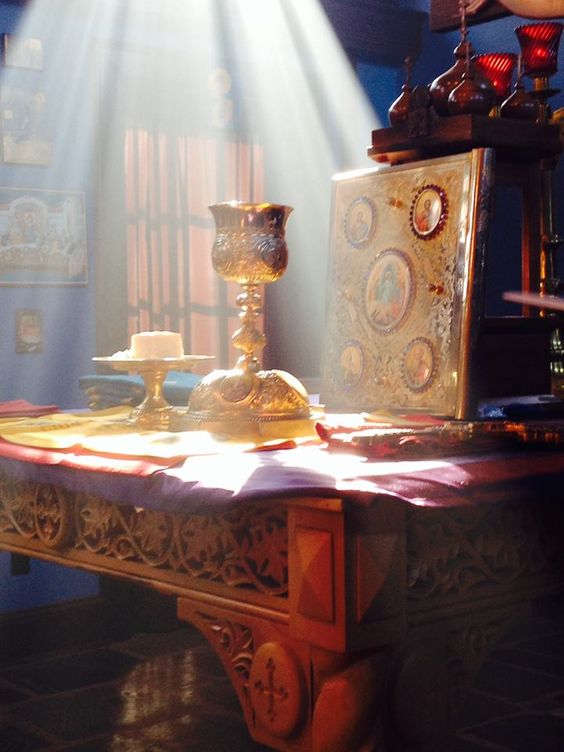 Sunday July 19, 2020 / July 6, 2020
6th Sunday after Pentecost. Tone five.
Venerables Tikhon, Basil and Nikon Sokolovsky (16th c.) (movable holiday on the 1st Sunday after June 29th).
St. Arsenius, bishop of Tver (movable holiday on the 1st Sunday after June 29th).
Synaxis of saints of Tver (movable holiday on the 1st Sunday after June 29th).
Synaxis of All Saints of Radonezh.
Venerable Sisoes the Great of Egypt (429).
New Hieromartyr Simon, bishop of Ufa (1921).
New Martyr Euthymius (1931).
New Martyr Theodore (1943).
Venerable Sisoes of the Kiev Caves (13th c.).
Uncovering of the relics of Holy Princess Juliana Olshanskaya (1540).
Martyrs Marinus and Martha, their children Audifax and Abbacum(Habakkuk), and those with them at Rome: Cyrinus, Valentine the Presbyter, and Asterius (269).
Martyrs Isaurus the Deacon, Innocent, Felix, Hermias, Basil, Peregrinus, Rufus, and Rufinus of Apollonia in Macedonia (283-284).
St. Cointus (Quintus) of Phrygia, confessor and wonderworker (283).
Virgin-martyr Lucy, Martyr Rixius, and those with them at Rome (301): Martyrs Anthony, Lucian, Isidore, Dion, Diodorus, Cutonius, Arnosus, Capicus, Satyrus, and others.
"Bogorodsko-Ufimsky" Icon of the Mother of God (1621).
St. Gleb Vsevolodovich of Kiev (12th c.).
Venerable Monenna, foundress of Killeevy Monastery (Ireland) (518) (Celtic & British).
Synaxis of the Apostles Archippus, Philemon, and Onesimus (Greek).
Martyrs Apollonius, Alexander, and Epimachus (Greek).
New monk-martyr Cyril of Hilandar, Mt. Athos, who suffered at Thessalonica (1566).
St. Barnabas, elder of the Gethsemane Skete of St. Sergius' Lavra (1906).
St. Goar, hieromonk, hermit, and missionary along the Rhine (Germany) (649)..
The Scripture Readings
Luke 24:36-53
Jesus Appears to His Disciples
36 Now as they said these things, Jesus Himself stood in the midst of them, and said to them, "Peace to you." 37 But they were terrified and frightened, and supposed they had seen a spirit. 38 And He said to them, "Why are you troubled? And why do doubts arise in your hearts? 39 Behold My hands and My feet, that it is I Myself. Handle Me and see, for aspirit does not have flesh and bones as you see I have."
40 When He had said this, He showed them His hands and His feet. 41 But while they still did not believe for joy, and marveled, He said to them, "Have you any food here?" 42 So they gave Him a piece of a broiled fish and some honeycomb. 43 And He took it and ate in their presence.
The Scriptures Opened
44 Then He said to them, "These are the words which I spoke to you while I was still with you, that all things must be fulfilled which were written in the Law of Moses and the Prophets and the Psalms concerning Me." 45 And He opened their understanding, that they might comprehend the Scriptures.
46 Then He said to them, "Thus it is written, and thus it was necessary for the Christ to suffer and to rise from the dead the third day, 47 and that repentance and remission of sins should be preached in His name to all nations, beginning at Jerusalem. 48 And you are witnesses of these things. 49 Behold, I send the Promise of My Father upon you; but tarry in the city of Jerusalem until you are endued with power from on high."
The Ascension
50 And He led them out as far as Bethany, and He lifted up His hands and blessed them. 51 Now it came to pass, while He blessed them, that He was parted from them and carried up into heaven. 52 And they worshiped Him, and returned to Jerusalem with great joy, 53 and were continually in the temple praising and blessing God. Amen.
Romans 12:6-14
6 Having then gifts differing according to the grace that is given to us, let us use them: if prophecy, let us prophecy in proportion to our faith; 7 or ministry, let us use it in our ministering; he who teaches, in teaching; 8 he who exhorts, in exhortation; he who gives, with liberality; he who leads, with diligence; he who shows mercy, with cheerfulness.
Behave Like a Christian
9 Let love be without hypocrisy. Abhor what is evil. Cling to what is good. 10 Be kindly affectionate to one another with brotherly love, in honor giving preference to one another; 11 not lagging in diligence, fervent in spirit, serving the Lord; 12 rejoicing in hope, patient in tribulation, continuing steadfastly in prayer; 13 distributing to the needs of the saints, given to hospitality.
14 Bless those who persecute you; bless and do not curse.
Matthew 9:1-8
Jesus Forgives and Heals a Paralytic
9 So He got into a boat, crossed over, and came to His own city. 2 Then behold, they brought to Him a paralytic lying on a bed. When Jesus saw their faith, He said to the paralytic, "Son, be of good cheer; your sins are forgiven you."
3 And at once some of the scribes said within themselves, "This Man blasphemes!"
4 But Jesus, knowing their thoughts, said, "Why do you think evil in your hearts? 5 For which is easier, to say, 'Your sins are forgiven you,' or to say, 'Arise and walk'? 6 But that you may know that the Son of Man has power on earth to forgive sins"—then He said to the paralytic, "Arise, take up your bed, and go to your house." 7 And he arose and departed to his house.
8 Now when the multitudes saw it, they marveled and glorified God, who had given such power to men.