"There's a war on today, a holy war…" Saint Paisios of Mount Athos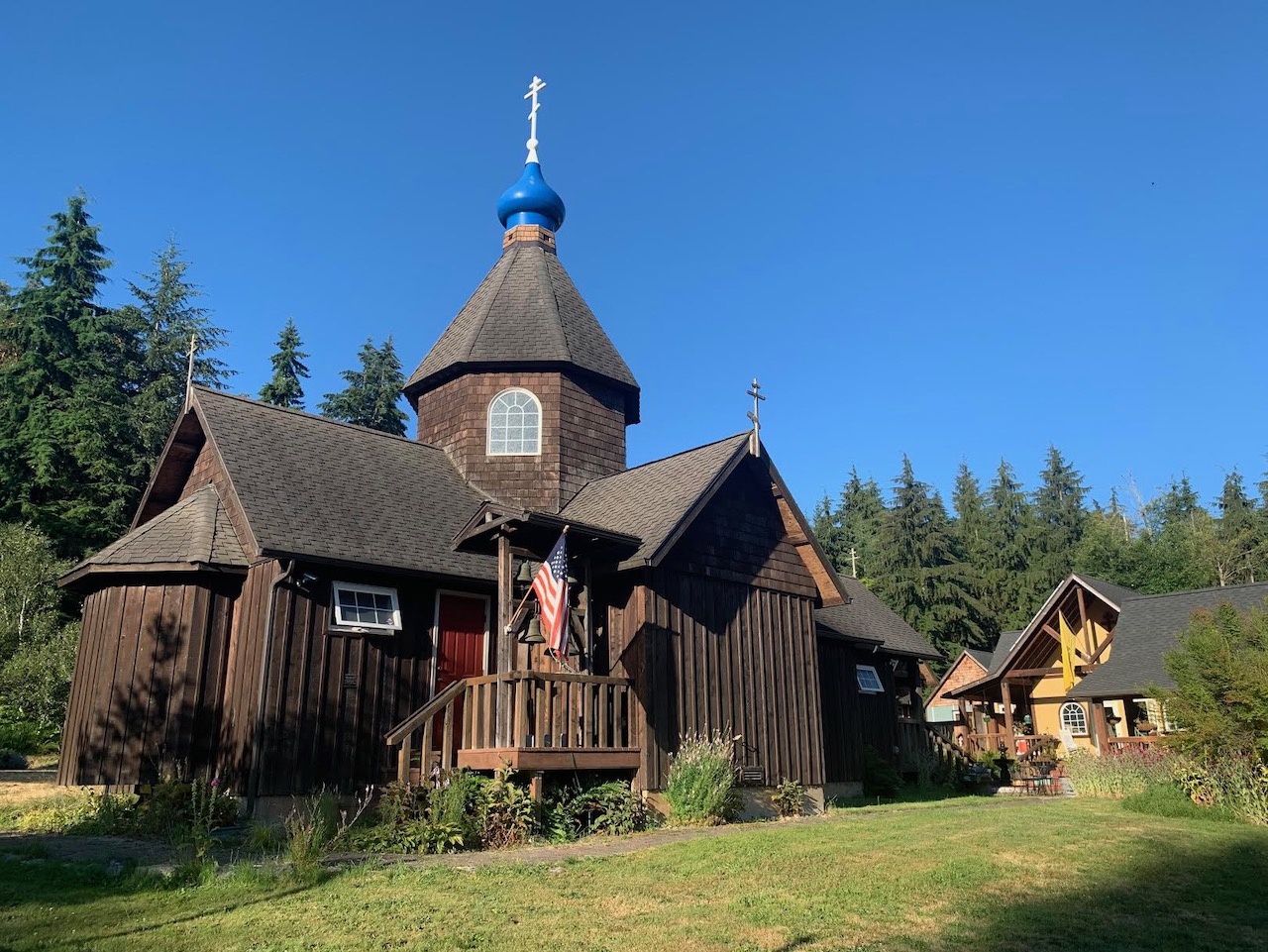 We Christians must not surrender to the "mystery of iniquity" (cf. II Thess 2)  that, in and of itself, has led to the disintegration of societies over the past several hundred years or so, that were traditionally grounded on Christian principles of morality and faith.
The danger of civil war seems to be edging closer to becoming a reality, adding to an ever more polarized and dangerous age. Saint Paisios of Mt. Athos said, "It is therefore even more important that we witness our faith with boldness, because if we continue to be silent we'll have to answer in the end. In these difficult days each must do what's in their power. And leave what's out of their power to the will of God. In this way our conscience will be clear."
Being an igumen of the Russian Orthodox Church, I can testify that all the Orthodox churches that suffered under communism know all too well the tyranny that was birthed through Marxist ideology. Like others pastors from these countries before communism took over, I feel I must also warn my fellow countrymen of the perilous times we may be entering here in our nation. We need to correctly identify and respond/stand up as true disciples of Christ to the dangers of the movements facing our land, lest, God forbid, we find ourselves captive under a similar godless regime that will hold all of us in various forms of slavery, devoid of the freedoms our forbearers fought for, and treasured.
The Holy Orthodox Church is and always has been a multi-ethnic, multi-racial and a multicultural community of believers, because Christ came to unite all mankind in the unity that proceeds from the unity of the Divine Persons, Themselves.  The saints of the church, the 'great cloud of witnesses', clearly demonstrate that.
It is therefore our duty, as Orthodox Christians, to image that truth, that Christ can reign in the minds and hearts of we, and our fellow Americans. God has entrusted us with the gift of freedom of religion, and this requires that we treasure our inheritance of God's divine providence, and protect this treasure for the coming generations. Like the talents spoken of in the gospels, He has given us this treasure that we must nurture.
We must not allow ourselves to focus only on this darkness that seems to be approaching from many sides, but remember that Christ, as the Light of the World, can lessen or even dispatch, the darkness in an instant. Now is the time for all we who are concerned about the chaotic, unstable, seeming downward turns in our society, to turn our gaze on Christ, and repent before the God that so loves us, that He sent His Only Begotten Son to save us.
With love in Christ,
Abbot Tryphon
Thursday July 16, 2020 / July 3, 2020
6th Week after Pentecost. Tone four.
Martyr Hyacinth of Caesarea in Cappadocia.
Translation of the relics (1652) of Hieromartyr Philip, metropolitan of Moscow (1569).
New Hieromartyr Anthony, archbishop of Archangelsk (1931).
Uncovering of the relics of Sylvester, bishop of Omsk (2005).
Venerable Anatolius, of the Near Caves in Kiev (12th c.).
St. Anatolius (another) recluse of the Far Caves in Kiev (13th c.).
Holy Princes Basil (1249) and Constantine (1257) of Yaroslavl.
Repose of St. Basil, bishop of Ryazan (1295).
Venerables John and Longinus, wonderworkers of Yarenga (Solovki) (1544-45).
Blessed John of Moscow, fool-for-Christ (1589).
Venerable Nicodemus, abbot of Kozha Lake (1640).
Martyrs Diomedes, Eulampius, Asclepiodotus, and Golinduc of Caesarea in Cappadocia (108).
Martyrs Mocius (Mucian) and Mark (4th c.).
Venerable Alexander, founder of the Monastery of the Unsleeping Ones (430).
St. Anatolius, patriarch of Constantinople (458).
Venerable Isaiah the Solitary of Seeds and Palestine (370).
Blessed Michael, Herodion, Basil, and Thomas, fools-for-Christ of Solvychegodsk (17th c.).
St. Germanus, bishop of the Isle of Man and enlightener of Peel, nephew of St. Patrick of Ireland (5th c.) (Celtic & British).
Martyrs Theodotus and Theodota, martyred with St. Hyacinth (Greek).
Venerable Gerasimus the New of Carpenision (1812) (Greek).
St. Claudianus, patriarch of Alexandria (167).
St. Anatolius, bishop of Laodicea, and his successor, St. Eusebius (3rd c.).
St. Symeon, the third stylite of Cilicia (6th c.).
St. George the God-bearer of the Black Mountain, teacher of St. George of Mt. Athos (10th c.)
St. Basil, archbishop of Novgorod (1352).
The Scripture Readings
Luke 6:17-23
Jesus Heals a Great Multitude
17 And He came down with them and stood on a level place with a crowd of His disciples and a great multitude of people from all Judea and Jerusalem, and from the seacoast of Tyre and Sidon, who came to hear Him and be healed of their diseases, 18 as well as those who were tormented with unclean spirits. And they were healed. 19 And the whole multitude sought to touch Him, for power went out from Him and healed them all.
The Beatitudes
20 Then He lifted up His eyes toward His disciples, and said:
"Blessed are you poor,
For yours is the kingdom of God.
21 Blessed are you who hunger now,
For you shall be filled.
Blessed are you who weep now,
For you shall laugh.
22 Blessed are you when men hate you,
And when they exclude you,
And revile you, and cast out your name as evil,
For the Son of Man's sake.
23 Rejoice in that day and leap for joy!
For indeed your reward is great in heaven,
For in like manner their fathers did to the prophets.
1 Corinthians 3:18-23
Avoid Worldly Wisdom
18 Let no one deceive himself. If anyone among you seems to be wise in this age, let him become a fool that he may become wise. 19 For the wisdom of this world is foolishness with God. For it is written, "He catches the wise in their own craftiness"; 20 and again, "TheLord knows the thoughts of the wise, that they are futile." 21 Therefore let no one boast in men. For all things are yours: 22 whether Paul or Apollos or Cephas, or the world or life or death, or things present or things to come—all are yours. 23 And you are Christ's, and Christ is God's.
Matthew 13:36-43
The Parable of the Tares Explained
36 Then Jesus sent the multitude away and went into the house. And His disciples came to Him, saying, "Explain to us the parable of the tares of the field."
37 He answered and said to them: "He who sows the good seed is the Son of Man. 38 The field is the world, the good seeds are the sons of the kingdom, but the tares are the sons of the wicked one. 39 The enemy who sowed them is the devil, the harvest is the end of the age, and the reapers are the angels. 40 Therefore as the tares are gathered and burned in the fire, so it will be at the end of this age. 41 The Son of Man will send out His angels, and they will gather out of His kingdom all things that offend, and those who practice lawlessness, 42 and will cast them into the furnace of fire. There will be wailing and gnashing of teeth. 43 Then the righteous will shine forth as the sun in the kingdom of their Father. He who has ears to hear, let him hear!