We must all learn to respect differences of opinion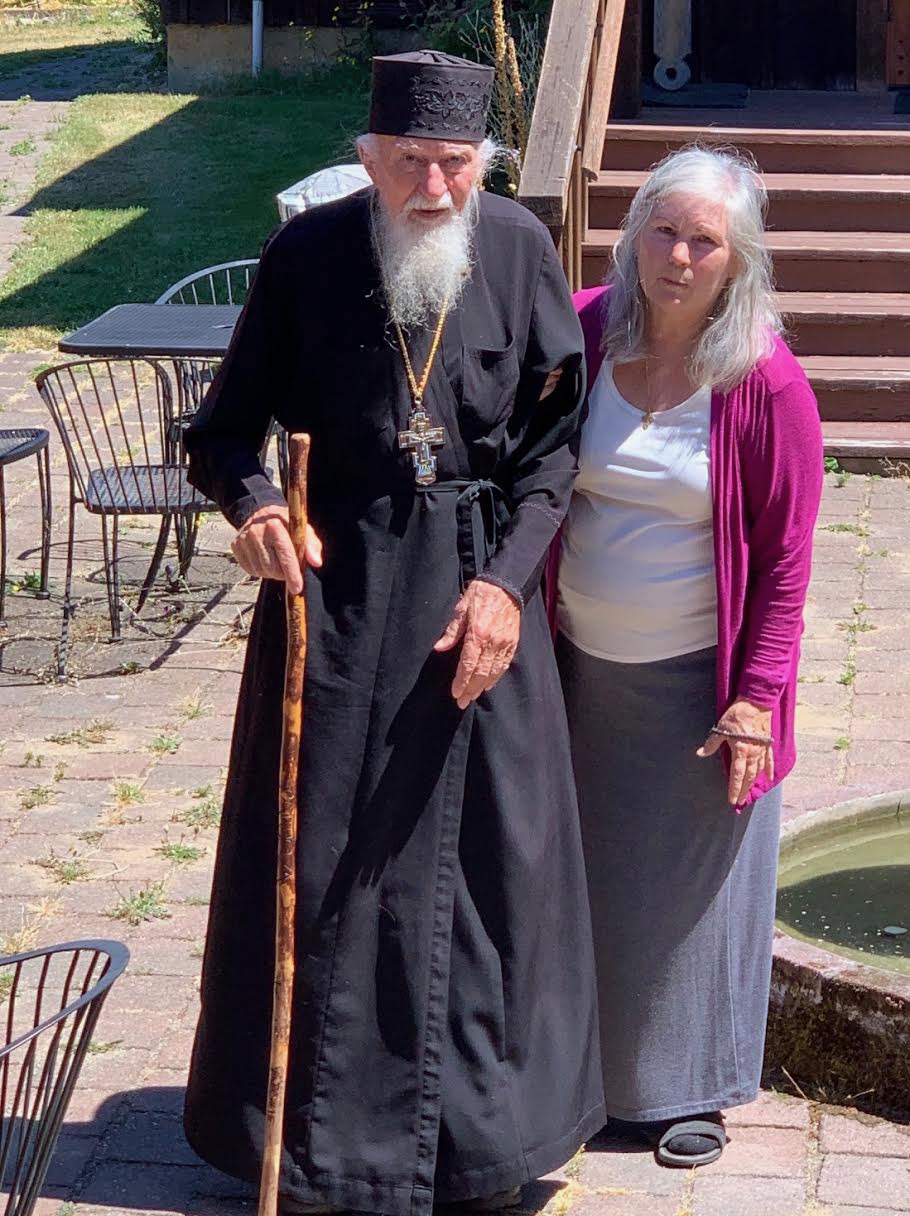 The cultural and spiritual warfare that is taking place in this country has served to divide many people, even pitting friends and family members against one another. Not since the Civil War have American's been so divided. Conservatives are often seen as enemies and reactionaries by those holding to liberal views, and Liberals are sometimes demonized by those espousing conservative perspectives. Some have experienced being marginalized, or even rejected, by those who were previously seen as good friends.
Coupled with the polarization of the populous within the United States, and the mass apostasy from Christianity in the West, many Christians are now fearing we may be hurtling towards the End Times, faster than ever. Others have voiced worry that our nation may even be on the brink of another Civil War, remembering that the original Civil War was not solely between the Southern States, and the North, but often between brothers of the same family.
Yet when we consider the words of the Our Father, "Thy will be done, on earth as it is in heaven", we must know, as Christians, that our prayers do make a difference. Just as the faithful of the Early Church looked at events taking place in their world as possible signs of the imminent Second Coming of Christ, they, nevertheless, kept their focus on the possibility that there could be a "first resurrection", as described in the 20th chapter of the Book of Revelation, where the Church could experience a triumph, even in this world.
It is this hope that must serve as the foundation of our daily lives, for as Christians we are not to be giving ourselves over to fate, but to the hope that comes from Christ. God IS in charge, and He is NOT bound by anything. When we pray, "Thy will be done", we must mean it!
The unity of our national identity as citizens of this great nation have always depended on our willingness to respect the opinions of others, and even listen to the views of those who differ from us, always keeping an open mind, willing to accept the fact that a family member, or even a close friend, even though holding differing political or religious views, is still worthy of our love and friendship.
The best response we can give as Christians, when confronted by warring parties, and differing opinions, is to pray for those who have turned their backs on the Christian foundations of our heritage, trusting that God, in His loving kindness, can restore the civility of this society, and restore us to the place where we can all learn to respect differences of opinion, and learn the importance of really listening to opposing ideas.
Be we conservatives or progressives, we must not allow our sin to smother us, and thus destroy our ability to love others, and, ultimately, to love Christ. Our Lord Jesus Christ, God Himself, is the source of our "spiritual oxygen". Many people today feel spiritually choked on all levels, which in itself is a testament to the great need for us to radiate Christ to our neighbors. In doing so, we will not only breath deeply, but our neighbors will sense this, and wish to live, take in, and become one with that great spiritual expanse that is our Lord Jesus Christ.
With love in Christ,
Abbot Tryphon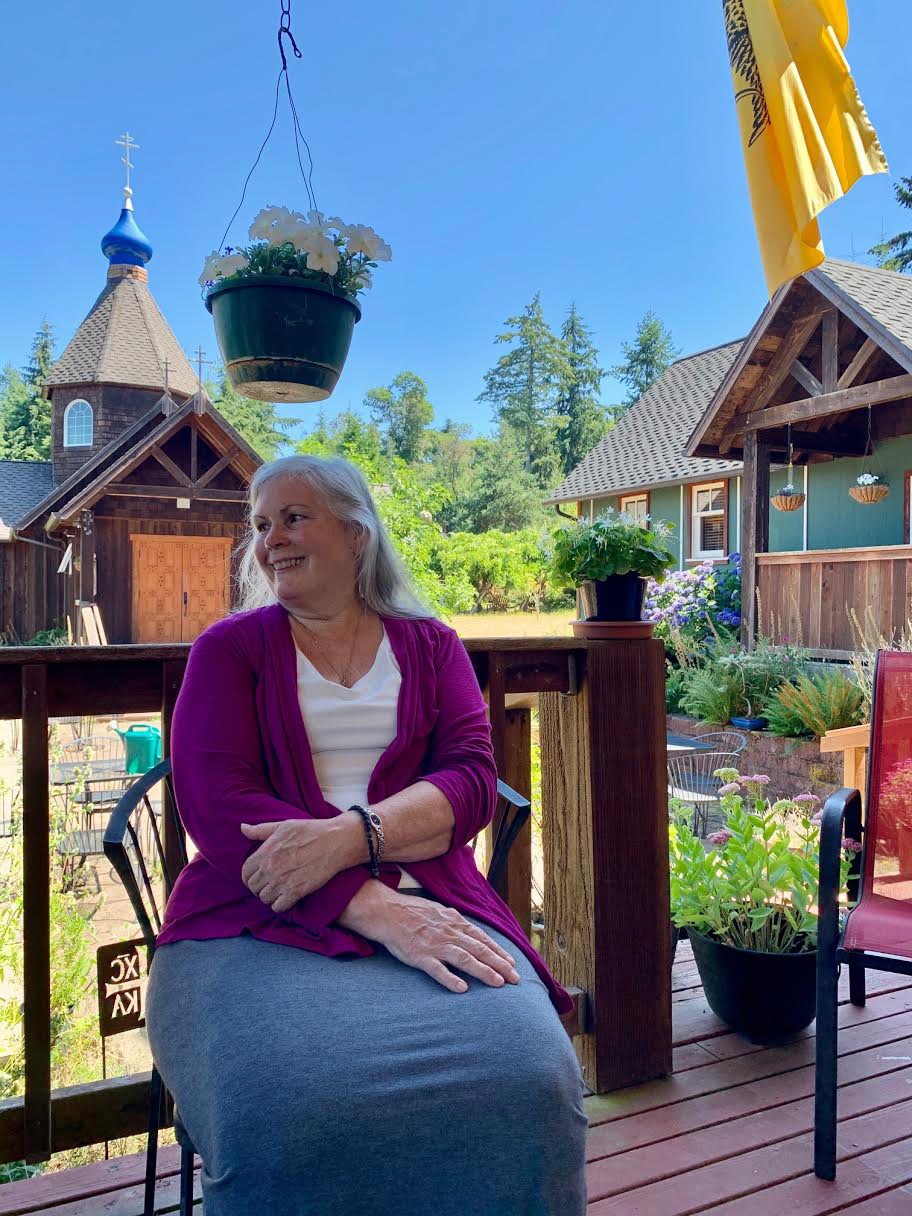 Photos: I am grateful to all my readers for praying for the recovery of Archpriest Seraphim Cardoza. His doctor did not expect him to survive his two heart attacks, and he was very weak for months, unable to even stand for his son's ordination. Thanks to all the prayers, and God's great mercy, Father Seraphim and his wife, Matushka Juliana, were able to drive up to Vashon Island, and spend time with the monks who love them. (Be sure to check out the two photos posted after today's scripture readings).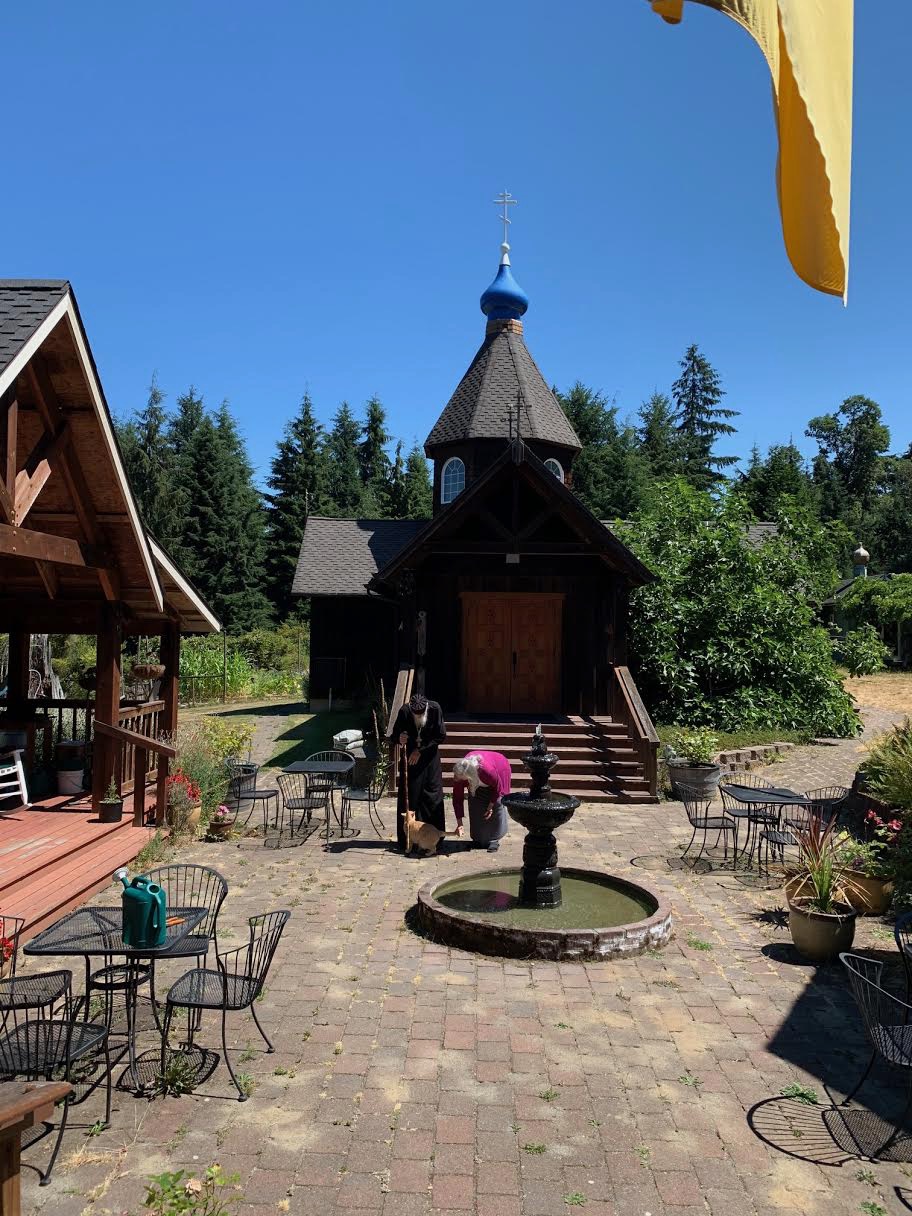 Thursday July 30, 2020 / July 17, 2020
8th Week after Pentecost. Tone six.
Great-martyr Marina (Margaret) of Antioch in Pisidia (4th c.).
Venerable Irenarchus, abbot of Solovki (1628).
Venerable Leonid, abbot of Ust-Neduma (Vologda) (1654).
Translation of the relics of Venerable Lazarus, monk, of Mt. Galesion near Ephesus (1054).
"Svyatogorsk" (1569) Icon of the Mother of God.
Child Martyr Prince Kenelm of Wales (821) (Celtic & British).
Martyrs Speratus and Veronica (Greek).
St. Euphrasius of Ionopolis, bishop (Greek).
St. Timothy, fool-for-Christ of Svyatogorsk near Pskov (1563).
The Scripture Readings
1 Corinthians 10:28-11:7
28 But if anyone says to you, "This was offered to idols," do not eat it for the sake of the one who told you, and for conscience' sake; for "the earth is the Lord's, and all its fullness." 29 "Conscience," I say, not your own, but that of the other. For why is my liberty judged by another man's conscience? 30 But if I partake with thanks, why am I evil spoken of for the food over which I give thanks?
31 Therefore, whether you eat or drink, or whatever you do, do all to the glory of God. 32 Give no offense, either to the Jews or to the Greeks or to the church of God, 33 just as I also please all men in all things, not seeking my own profit, but the profit of many, that they may be saved.
Worship and the Lord's Supper
11 Imitate me, just as I also imitate Christ.
Head Coverings
2 Now I praise you, brethren, that you remember me in all things and keep the traditions just as I delivered them to you. 3 But I want you to know that the head of every man is Christ, the head of woman is man, and the head of Christ is God. 4 Every man praying or prophesying, having his head covered, dishonors his head. 5 But every woman who prays or prophesies with her head uncovered dishonors her head, for that is one and the same as if her head were shaved. 6 For if a woman is not covered, let her also be shorn. But if it is shameful for a woman to be shorn or shaved, let her be covered. 7 For a man indeed ought not to cover his head, since he is the image and glory of God; but woman is the glory of man.
Matthew 16:24-28
Take Up the Cross and Follow Him
24 Then Jesus said to His disciples, "If anyone desires to come after Me, let him deny himself, and take up his cross, and follow Me. 25 For whoever desires to save his life will lose it, but whoever loses his life for My sake will find it. 26 For what profit is it to a man if he gains the whole world, and loses his own soul? Or what will a man give in exchange for his soul? 27 For the Son of Man will come in the glory of His Father with His angels, and then He will reward each according to his works. 28 Assuredly, I say to you, there are some standing here who shall not taste death till they see the Son of Man coming in His kingdom."
2 Corinthians 6:1-10
Marks of the Ministry
6 We then, as workers together with Him also plead with you not to receive the grace of God in vain. 2 For He says:
"In an acceptable time I have heard you,
And in the day of salvation I have helped you."
Behold, now is the accepted time; behold, now is the day of salvation.
3 We give no offense in anything, that our ministry may not be blamed. 4 But in all things we commend ourselves as ministers of God: in much [a]patience, in tribulations, in needs, in distresses, 5 in stripes, in imprisonments, in tumults, in labors, in sleeplessness, in fastings; 6 by purity, by knowledge, by longsuffering, by kindness, by the Holy Spirit, by [b]sincere love, 7 by the word of truth, by the power of God, by the armor of righteousness on the right hand and on the left, 8 by honor and dishonor, by evil report and good report; as deceivers, and yet true; 9 as unknown, and yet well known; as dying, and behold we live; as chastened, and yet not killed; 10 as sorrowful, yet always rejoicing; as poor, yet making many rich; as having nothing, and yet possessing all things.
Luke 7:36-50
A Sinful Woman Forgiven
36 Then one of the Pharisees asked Him to eat with him. And He went to the Pharisee's house, and sat down to eat. 37 And behold, a woman in the city who was a sinner, when she knew that Jesus sat at the table in the Pharisee's house, brought an alabaster flask of fragrant oil, 38 and stood at His feet behind Him weeping; and she began to wash His feet with her tears, and wiped them with the hair of her head; and she kissed His feet and anointed them with the fragrant oil. 39 Now when the Pharisee who had invited Him saw this, he spoke to himself, saying, "This Man, if He were a prophet, would know who and what manner of woman this is who is touching Him, for she is a sinner."
40 And Jesus answered and said to him, "Simon, I have something to say to you."
So he said, "Teacher, say it."
41 "There was a certain creditor who had two debtors. One owed five hundred denarii, and the other fifty. 42 And when they had nothing with which to repay, he freely forgave them both. Tell Me, therefore, which of them will love him more?"
43 Simon answered and said, "I suppose the one whom he forgave more."
And He said to him, "You have rightly judged." 44 Then He turned to the woman and said to Simon, "Do you see this woman? I entered your house; you gave Me no water for My feet, but she has washed My feet with her tears and wiped them with the hair of her head. 45 You gave Me no kiss, but this woman has not ceased to kiss My feet since the time I came in. 46 You did not anoint My head with oil, but this woman has anointed My feet with fragrant oil. 47 Therefore I say to you, her sins, which are many, are forgiven, for she loved much. But to whom little is forgiven, the same loves little."
48 Then He said to her, "Your sins are forgiven."
49 And those who sat at the table with Him began to say to themselves, "Who is this who even forgives sins?"
50 Then He said to the woman, "Your faith has saved you. Go in peace."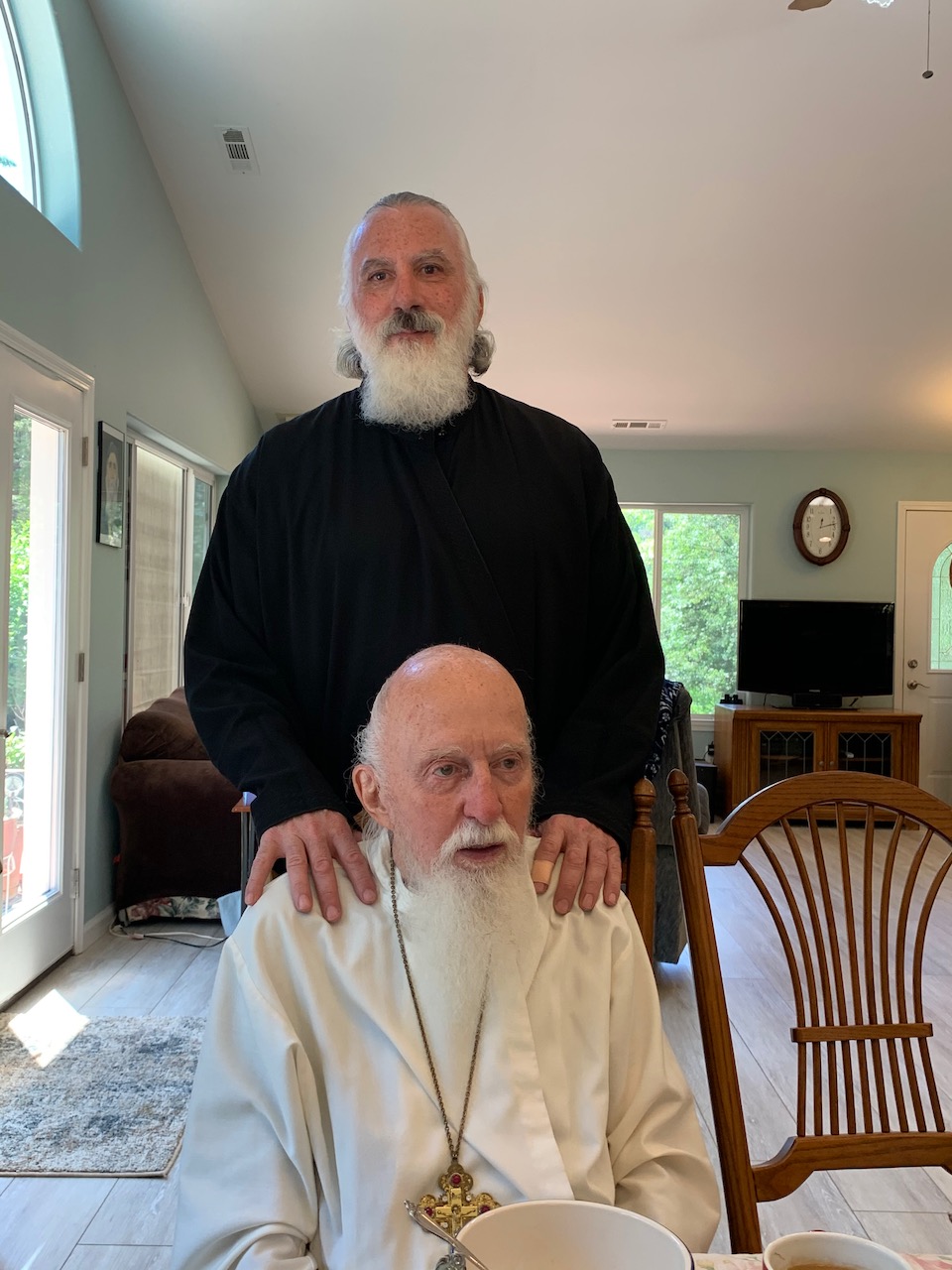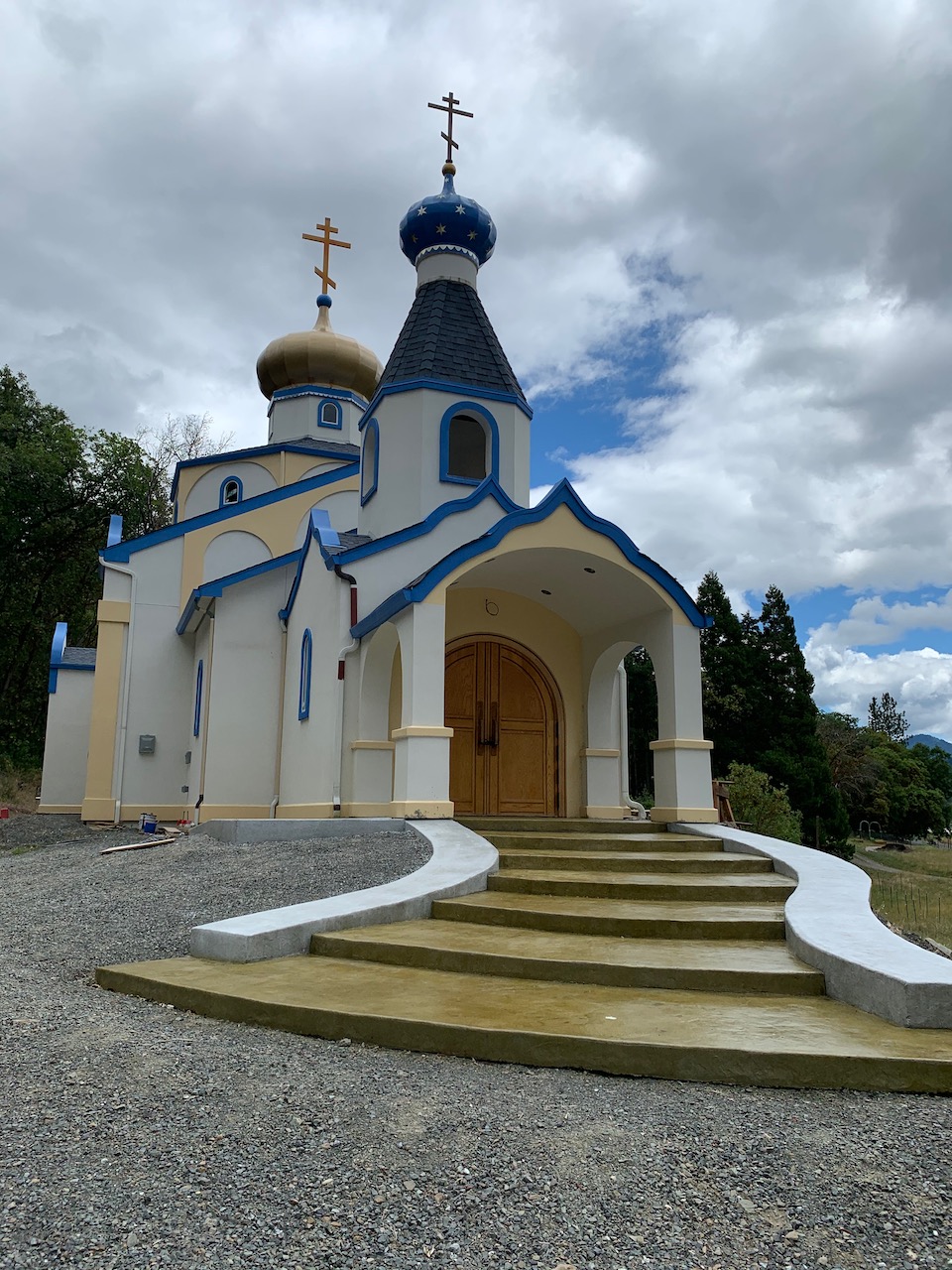 The last two photos show Father Seraphim's under construction parish in Rogue River, Oregon (seen along I-5), and he and his son, Father Joshua Cardoza, newly ordained for the parish.