The sin of our first parents, Adam and Eve, resulted in our inheritance of death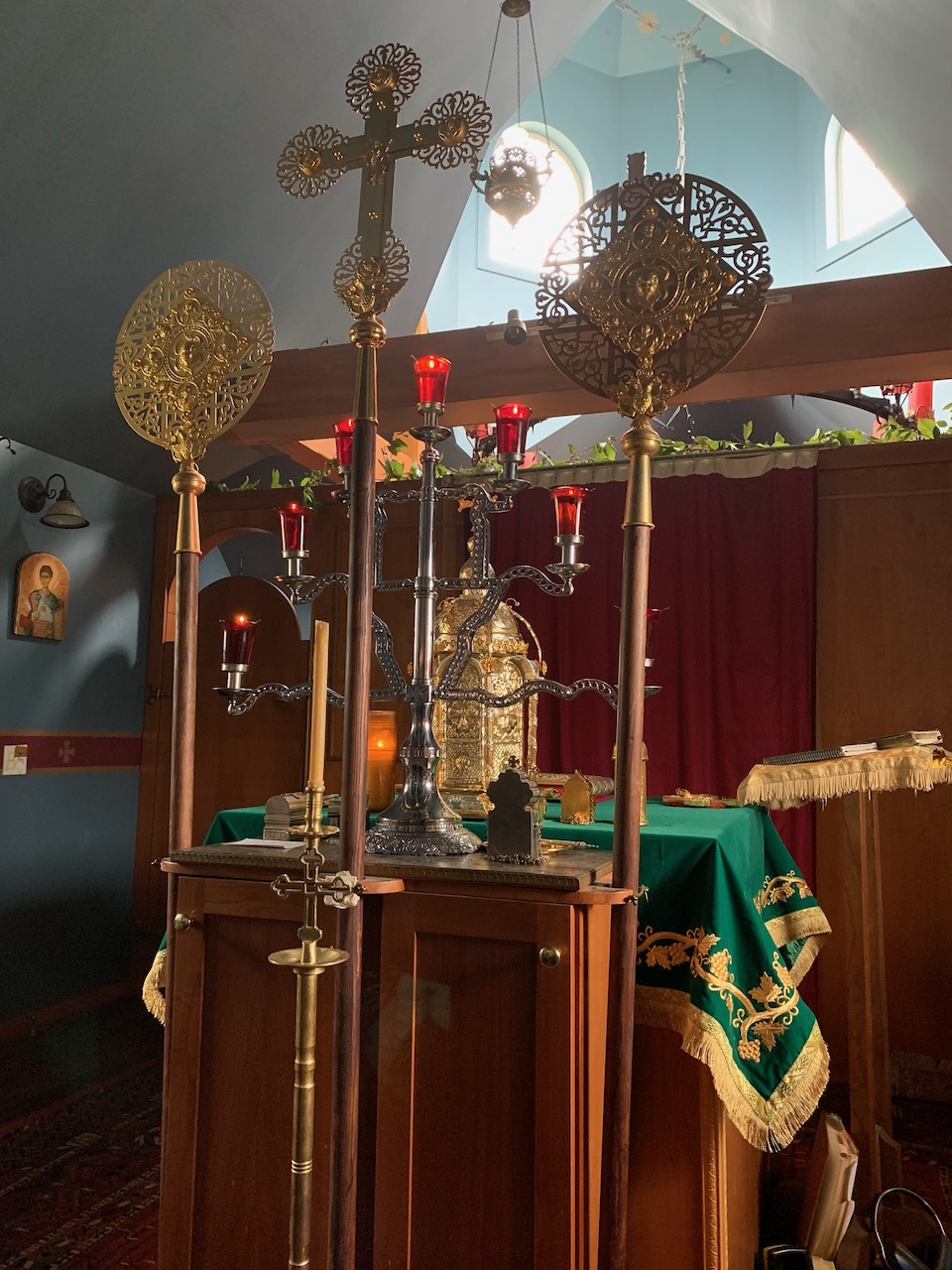 The fact that we Orthodox do not accept the doctrine of original sin as espoused in the West, does in no way suggest that we do not need to be born again (born anew). We believe, as did the Early Church Fathers, that we inherit only the results of Adam's sin, not his guilt. This is known as ancestral sin because the sin of our first parents, Adam and Eve, resulted in our inheritance of death, sickness and an inclination toward evil. Christ's death on the cross has its power, not in an atonement sacrifice, but in the conquering of the power of death. Death is trampled down by death. It is by Christ's resurrection that a way was made for us to be transformed by contact with the Living God, thus becoming his children by adoption.
Although we do not refer to ourselves as "saved", as do Evangelical Christians, we nevertheless believe that we are in need of salvation. (We believe salvation is a process.) Our understanding of sin in an ancestral way, which is distinct from the concept of original sin and the hereditary guilt that required, consequently, a substitutionary atonement-type of sacrifice, separates us doctrinally from Western Christianity.
Had there not been a fall, the Second Person of the Holy Trinity, the Logos (Word) would still have incarnated into the flesh and taken on our nature. For it is by this condescension by our Creator God to take on the nature of that which He created that we are given the opportunity of being deified (Saint Paul said we shall become as gods).
Our journey into the heart culminates in theosis, whereby we are joined in everlasting communion with the very God Who created us. Saint Athanasius of Alexandria said, "The Son of God became man, that we might become god." In II Peter 1:4, we read that we have become "…partakers of divine nature." Saint Athanasius further says that theosis is "becoming by grace what God is by nature."
With love in Christ,
Abbot Tryphon
Saturday June 13, 2020 / May 31, 2020
Adoposis of Pentecost. Tone seven.
Fast-free Week. Fast-free
Apostle Hermes of the Seventy (1st c.).
Martyr Hermias at Comana (160).
New Hieromartyr Archpriest Philosoph Ornatsky with his sons Boris and Nicholas, in St. Petersburg (1918).
New Hieromartyrs Hierotheus, bishop of Nikolsk (1928), and his friend Hieroschemamonk Seraphim (Nikolsky) (1923).
Martyr Philosophus at Alexandria (252).
Martyr Marus the Magician who was converted on witnessing the martyrdom of Hermias.
Five Martyrs of Ascalon (Greek).
Martyrs Eusebius and Charalampus (Greek).
St. Eustathius, patriarch of Constantinople (1025).
Finding of the relics of New Martyr Nicholas the Deacon of Lesbos.
Translation of the relics (1591) of St. Philip, Metropolitan of Moscow (1569), to Solovki.
St. Philotheus, metropolitan of Tobolsk (1727).
The Scripture Readings
Romans 1:7-12
7 To all who are in Rome, beloved of God, called to be saints:
Grace to you and peace from God our Father and the Lord Jesus Christ.
Desire to Visit Rome
8 First, I thank my God through Jesus Christ for you all, that your faith is spoken of throughout the whole world. 9 For God is my witness, whom I serve [a]with my spirit in the gospel of His Son, that without ceasing I make mention of you always in my prayers, 10 making request if, by some means, now at last I may find a way in the will of God to come to you. 11 For I long to see you, that I may impart to you some spiritual gift, so that you may be established— 12 that is, that I may be encouraged together with you by the mutual faith both of you and me.
Matthew 5:42-48
42 Give to him who asks you, and from him who wants to borrow from you do not turn away.
Love Your Enemies
43 "You have heard that it was said, 'You shall love your neighbor and hate your enemy.' 44 But I say to you, love your enemies, bless those who curse you, do good to those who hate you, and pray for those who spitefully use you and persecute you, 45 that you may be sons of your Father in heaven; for He makes His sun rise on the evil and on the good, and sends rain on the just and on the unjust. 46 For if you love those who love you, what reward have you? Do not even the tax collectors do the same? 47 And if you greet your brethren only, what do you do more than others? Do not even the tax collectors do so? 48 Therefore you shall be perfect, just as your Father in heaven is perfect.