We must give thanks to God for everything that comes our way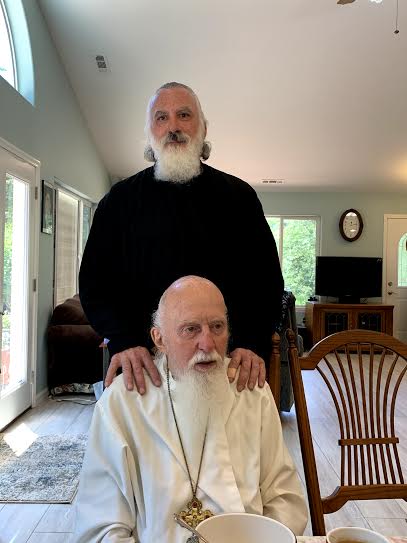 Whatever circumstances in which we find ourselves, God is giving us the opportunity to gain a freedom that comes only when we acquire humility. Whatever our job, whichever task we are asked to perform, whatever life places before us, all is an opportunity to give thanks to God. Even when we experience difficulties or hardships, if we embrace them with a trusting heart and a willingness to please God with our response, a humble heart will be ours.
It is the acquisition of a humble heart that opens the doors to the peace that passes all understanding. As well, it is the acquisition of a humble heart that opens wide the Gates of Paradise, and floods our heart with the joy of the indwelling Holy Spirit. The acquisition of humility will fill us with a joy and peace that will make all the suffering and hardship we feel, something we can embrace with the knowledge that God is with us, and we will fear nothing.
Love in Christ,
Abbot Tryphon
Photos: Newly ordained Father Deacon Joshua Cardoza, together with his dad, Archpriest Seraphim Cardoza. The second photo shows His Eminence Archbishop Kyrill during the ordination to the diaconate of Father Joshua. Father Protodeacon Peter served as master of ceremonies.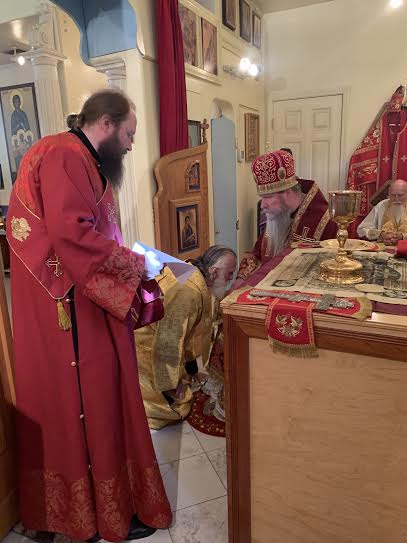 Tuesday June 30, 2020 / June 17, 2020
4th Week after Pentecost. Tone two.
Apostles' (Peter & Paul) Fast. Food with Oil
Martyrs Manuel, Sabel, and Ismael of Persia (362).
New Hieromartyrs Aberkius priest and Nicander (1918).
New Hieromartyr Maximus (1934).
Virgin-Martyr Pelagia (1943).
Hieromartyr Philoneides, bishop of Kurion in Cyprus (306).
Venerables Joseph and Pior, disciples of St. Anthony the Great (4th c.).
Uncovering of the relics (1562) of the Alfanov Brothers of Novgorod (1389): Saints Nicetas, Cyril, Nicephorus, Clement, and Isaac of Novgorod, founders of the Sikolnitzki Monastery.
Venerable Ananias the Iconographer of Novgorod (1581).
Martyr Nectan of Hartland (Devon) (6th c.), and St. Botolph, abbot and confessor, of Boston (England) (680) (Celtic & British).
Martyr Isaurus, and with him Basil, Innocent, Felix, Hermes, and Peregrinus of Athens (Greek).
St. Aetius the Eunuch, enlightener of Ethiopia, baptized by the Apostle Philip (1st c.).
Martyr Shalva of Akhaltsikhe (1227) (Georgia).
St. Hypatius, abbot of monastery of Rufinianos (446).
The Scripture Readings
Romans 10:11-11:2
11 For the Scripture says, "Whoever believes on Him will not be put to shame." 12 For there is no distinction between Jew and Greek, for the same Lord over all is rich to all who call upon Him. 13 For "whoever calls on the name of the Lord shall be saved."
Israel Rejects the Gospel
14 How then shall they call on Him in whom they have not believed? And how shall they believe in Him of whom they have not heard? And how shall they hear without a preacher? 15 And how shall they preach unless they are sent? As it is written:
"How beautiful are the feet of those who preach the gospel of peace,
Who bring glad tidings of good things!"
16 But they have not all obeyed the gospel. For Isaiah says, "Lord, who has believed our report?" 17 So then faith comes by hearing, and hearing by the word of God.
18 But I say, have they not heard? Yes indeed:
"Their sound has gone out to all the earth,
And their words to the ends of the world."
19 But I say, did Israel not know? First Moses says:
"I will provoke you to jealousy by those who are not a nation,
I will move you to anger by a foolish nation."
20 But Isaiah is very bold and says:
"I was found by those who did not seek Me;
I was made manifest to those who did not ask for Me."
21 But to Israel he says:
"All day long I have stretched out My hands
To a disobedient and contrary people."
Israel's Rejection Not Total
11 I say then, has God cast away His people? Certainly not! For I also am an Israelite, of the seed of Abraham, of the tribe of Benjamin. 2 God has not cast away His people whom He foreknew. Or do you not know what the Scripture says of Elijah, how he pleads with God against Israel, saying,
Matthew 11:16-20
16 "But to what shall I liken this generation? It is like children sitting in the marketplaces and calling to their companions, 17 and saying:
'We played the flute for you,
And you did not dance;
We mourned to you,
And you did not lament.'
18 For John came neither eating nor drinking, and they say, 'He has a demon.' 19 The Son of Man came eating and drinking, and they say, 'Look, a glutton and a winebibber, a friend of tax collectors and sinners!' But wisdom is justified by her children."
Woe to the Impenitent Cities
20 Then He began to rebuke the cities in which most of His mighty works had been done, because they did not repent: