The pandemic lockdown can not separate us from one another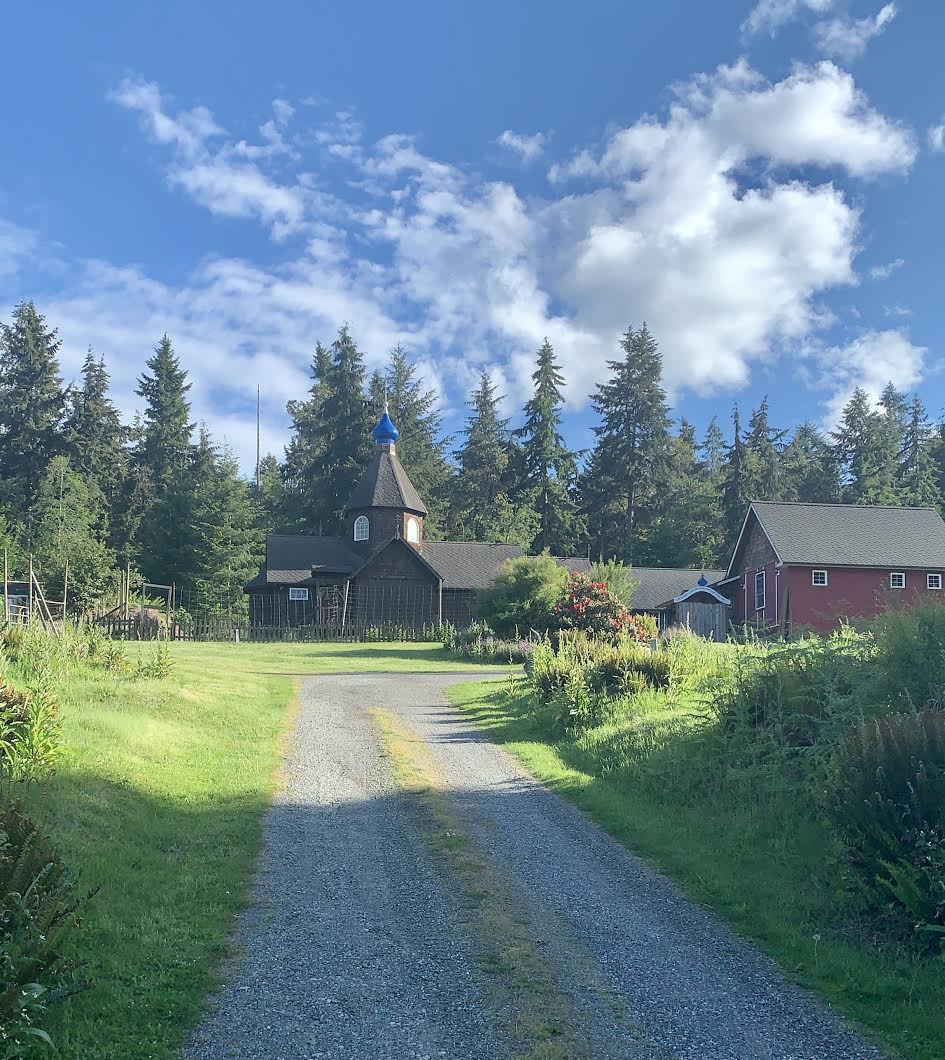 As we struggle during this pandemic, it is good to remember that we are all united as one. We find our place of silence, sequestered in our homes and apartments, but in our aloneness, we encounter God. Even in our separation from one another.
Even in our isolation from one another, as we suffer separation from the communal services in our churches, kept apart due to the Covid-19 pandemic stay at home lockdown, we are together. Even as we are unable to physically participate in the Divine Liturgy, we are united together in the Heavenly Banquet.
Each celebration of the Eucharist unites us with each other and the whole of the Church. Together we who are members of the Church Militant, are united with the Church Triumphant in heaven. Nothing can separate us from Christ, and from each other. In our suffering and loneliness, we are one with the martyrs who have gone on before us, and with the saints whose heavenly intercession we so depend.
Even as we are barred from our parish's celebration of the Divine Liturgy, forbidden, as we are,  to congregate in our temples, we are together, united together in the Mystical Supper. Like the spokes of a wheel, gathered around the center, we are one with each other, through the unity of the Church, and made one flesh in Jesus Christ.
So, take heart my dear ones. We Christians have endured pandemics before, and like our forebears, we will survive this one. Remembering that nothing is allowed by God that is without salvific benefits, we will find ourselves, once again, standing next to our friends, relatives, and fellow believers, celebrating the Divine Liturgy, perhaps even experiencing it as never before. The City of God is on a high hill, standing brightly before us, and we have reason to rejoice.
With love in Christ,
Abbot Tryphon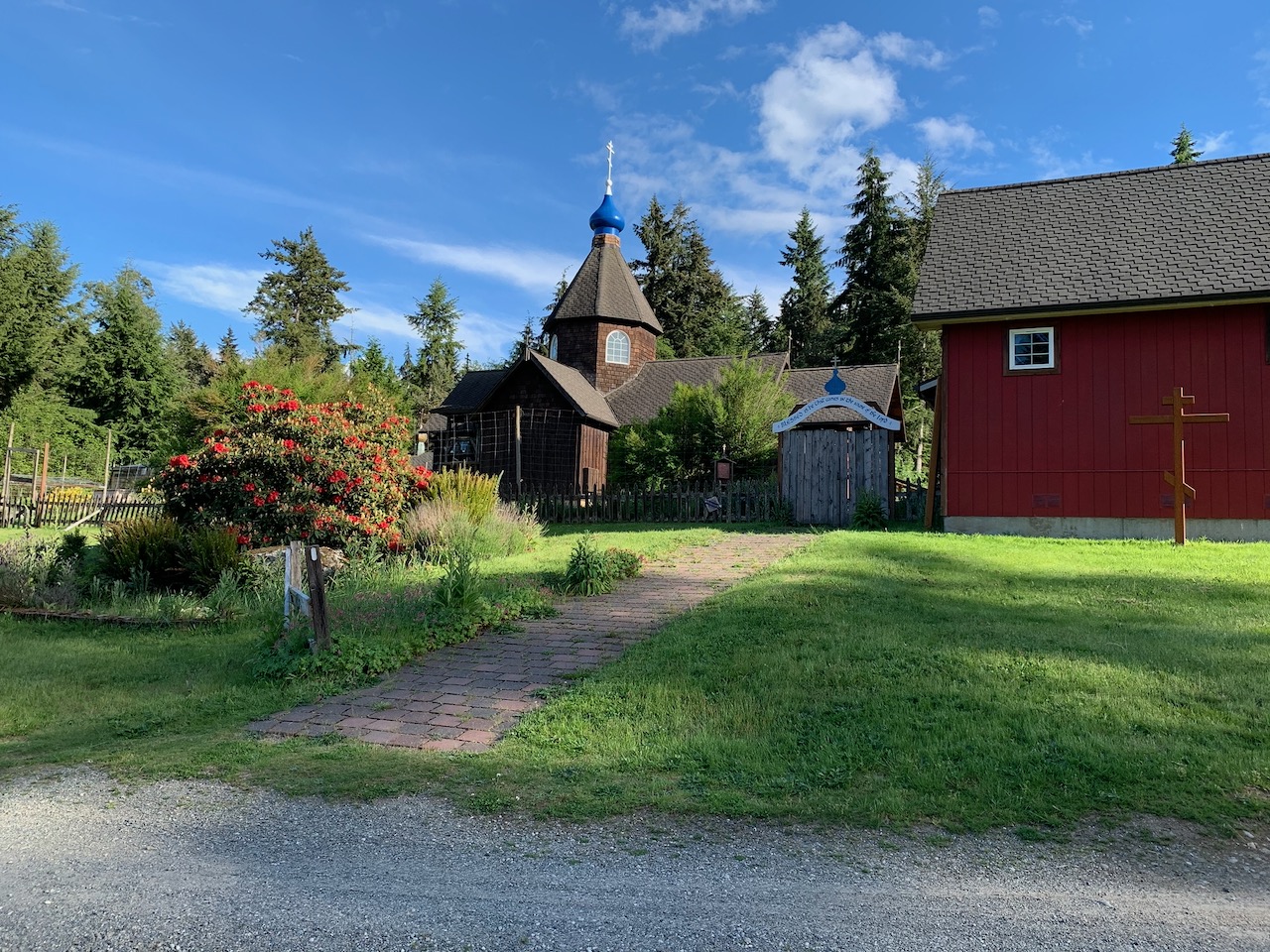 Sunday May 17, 2020 / May 4, 2020
Fifth Sunday of Pascha: The Samaritan Woman. Tone four.
Virgin-martyr Pelagia of Tarsus in Asia Minor (287).
New Hieromartyr John priest (1942).
New Hieromartyr Nicholas diacon (1943).
The Alfanov brothers: Venerables Nicetas, Cyril, Nicephorus, Clement, and Isaac of Novgorod, founders of the Sokolnitzki Monastery (1389).
Hieromartyr Erasmus, bishop of Formia in Campania (303).
Hieromartyr Albian (Olbian), bishop of Anaea in Asia Minor (304).
Hieromartyr Silvanus of Gaza and with him 40 martyrs (311).
Icon of the Mother of God "Staro Rus" Old Russian (1570).
Venerables Aphrodisius, Leontius, Anthony, Valerian, Macrobius, and others, monks of Palestine.
Translation of the relics of the Righteous Lazarus and Mary Magdalene, Equal-to-the-Apostles.
St. Nicephorus, abbot of Medikion.
St. Ethelred, king of Mercia and monk in England (716) (Celtic & British).
Venerable Nicephorus the Solitary of Mt. Athos, the spiritual father of St. Gregory Palamas (1340) (Greek).
St. Athanasius, bishop of Corinth (10th – 11th c.) (Greek).
Venerable Hilary the Wonderworker of the desert (Greek).
St. Monica of Tagaste (mother of Blessed Augustine) (387).
Martyr Florian and 40 companions, at Lorsch, Austria (304).
The Scripture Readings
John 20:1-10
The Empty Tomb
20 Now the first day of the week Mary Magdalene went to the tomb early, while it was still dark, and saw that the stone had been taken away from the tomb. 2 Then she ran and came to Simon Peter, and to the other disciple, whom Jesus loved, and said to them, "They have taken away the Lord out of the tomb, and we do not know where they have laid Him."
3 Peter therefore went out, and the other disciple, and were going to the tomb. 4 So they both ran together, and the other disciple outran Peter and came to the tomb first. 5 And he, stooping down and looking in, saw the linen cloths lying there; yet he did not go in. 6 Then Simon Peter came, following him, and went into the tomb; and he saw the linen cloths lying there, 7 and the handkerchief that had been around His head, not lying with the linen cloths, but folded together in a place by itself. 8 Then the other disciple, who came to the tomb first, went in also; and he saw and believed. 9 For as yet they did not know the Scripture, that He must rise again from the dead. 10 Then the disciples went away again to their own homes.
Acts 11:19-26
Barnabas and Saul at Antioch
19 Now those who were scattered after the persecution that arose over Stephen traveled as far as Phoenicia, Cyprus, and Antioch, preaching the word to no one but the Jews only. 20 But some of them were men from Cyprus and Cyrene, who, when they had come to Antioch, spoke to the Hellenists, preaching the Lord Jesus. 21 And the hand of the Lord was with them, and a great number believed and turned to the Lord.
22 Then news of these things came to the ears of the church in Jerusalem, and they sent out Barnabas to go as far as Antioch. 23 When he came and had seen the grace of God, he was glad, and encouraged them all that with purpose of heart they should continue with the Lord. 24 For he was a good man, full of the Holy Spirit and of faith. And a great many people were added to the Lord.
25 Then Barnabas departed for Tarsus to seek Saul. 26 And when he had found him, he brought him to Antioch. So it was that for a whole year they assembled with the church and taught a great many people. And the disciples were first called Christians in Antioch.
Acts 11:29-30
29 Then the disciples, each according to his ability, determined to send relief to the brethren dwelling in Judea. 30 This they also did, and sent it to the elders by the hands of Barnabas and Saul.
John 4:5-42
5 So He came to a city of Samaria which is called Sychar, near the plot of ground that Jacob gave to his son Joseph. 6 Now Jacob's well was there. Jesus therefore, being wearied from His journey, sat thus by the well. It was about the sixth hour.
7 A woman of Samaria came to draw water. Jesus said to her, "Give Me a drink."8 For His disciples had gone away into the city to buy food.
9 Then the woman of Samaria said to Him, "How is it that You, being a Jew, ask a drink from me, a Samaritan woman?" For Jews have no dealings with Samaritans.
10 Jesus answered and said to her, "If you knew the gift of God, and who it is who says to you, 'Give Me a drink,' you would have asked Him, and He would have given you living water."
11 The woman said to Him, "Sir, You have nothing to draw with, and the well is deep. Where then do You get that living water? 12 Are You greater than our father Jacob, who gave us the well, and drank from it himself, as well as his sons and his livestock?"
13 Jesus answered and said to her, "Whoever drinks of this water will thirst again,14 but whoever drinks of the water that I shall give him will never thirst. But the water that I shall give him will become in him a fountain of water springing up into everlasting life."
15 The woman said to Him, "Sir, give me this water, that I may not thirst, nor come here to draw."
16 Jesus said to her, "Go, call your husband, and come here."
17 The woman answered and said, "I have no husband."
Jesus said to her, "You have well said, 'I have no husband,' 18 for you have had five husbands, and the one whom you now have is not your husband; in that you spoke truly."
19 The woman said to Him, "Sir, I perceive that You are a prophet. 20 Our fathers worshiped on this mountain, and you Jews say that in Jerusalem is the place where one ought to worship."
21 Jesus said to her, "Woman, believe Me, the hour is coming when you will neither on this mountain, nor in Jerusalem, worship the Father. 22 You worship what you do not know; we know what we worship, for salvation is of the Jews. 23 But the hour is coming, and now is, when the true worshipers will worship the Father in
spirit and truth; for the Father is seeking such to worship Him. 24 God is Spirit, and those who worship Him must worship in spirit and truth."
25 The woman said to Him, "I know that Messiah is coming" (who is called Christ). "When He comes, He will tell us all things."
26 Jesus said to her, "I who speak to you am He."
The Whitened Harvest
27 And at this point His disciples came, and they marveled that He talked with a woman; yet no one said, "What do You seek?" or, "Why are You talking with her?"
28 The woman then left her waterpot, went her way into the city, and said to the men, 29 "Come, see a Man who told me all things that I ever did. Could this be the Christ?" 30 Then they went out of the city and came to Him.
31 In the meantime His disciples urged Him, saying, "Rabbi, eat."
32 But He said to them, "I have food to eat of which you do not know."
33 Therefore the disciples said to one another, "Has anyone brought Him anything to eat?"
34 Jesus said to them, "My food is to do the will of Him who sent Me, and to finish His work. 35 Do you not say, 'There are still four months and then comes the harvest'? Behold, I say to you, lift up your eyes and look at the fields, for they are already white for harvest! 36 And he who reaps receives wages, and gathers fruit for eternal life, that both he who sows and he who reaps may rejoice together.37 For in this the saying is true: 'One sows and another reaps.' 38 I sent you to reap that for which you have not labored; others have labored, and you have entered into their labors."
The Savior of the World
39 And many of the Samaritans of that city believed in Him because of the word of the woman who testified, "He told me all that I ever did." 40 So when the Samaritans had come to Him, they urged Him to stay with them; and He stayed there two days. 41 And many more believed because of His own word.
42 Then they said to the woman, "Now we believe, not because of what you said, for we ourselves have heard Him and we know that this is indeed the Christ, the Savior of the world."