Let us empower the generations that will follow us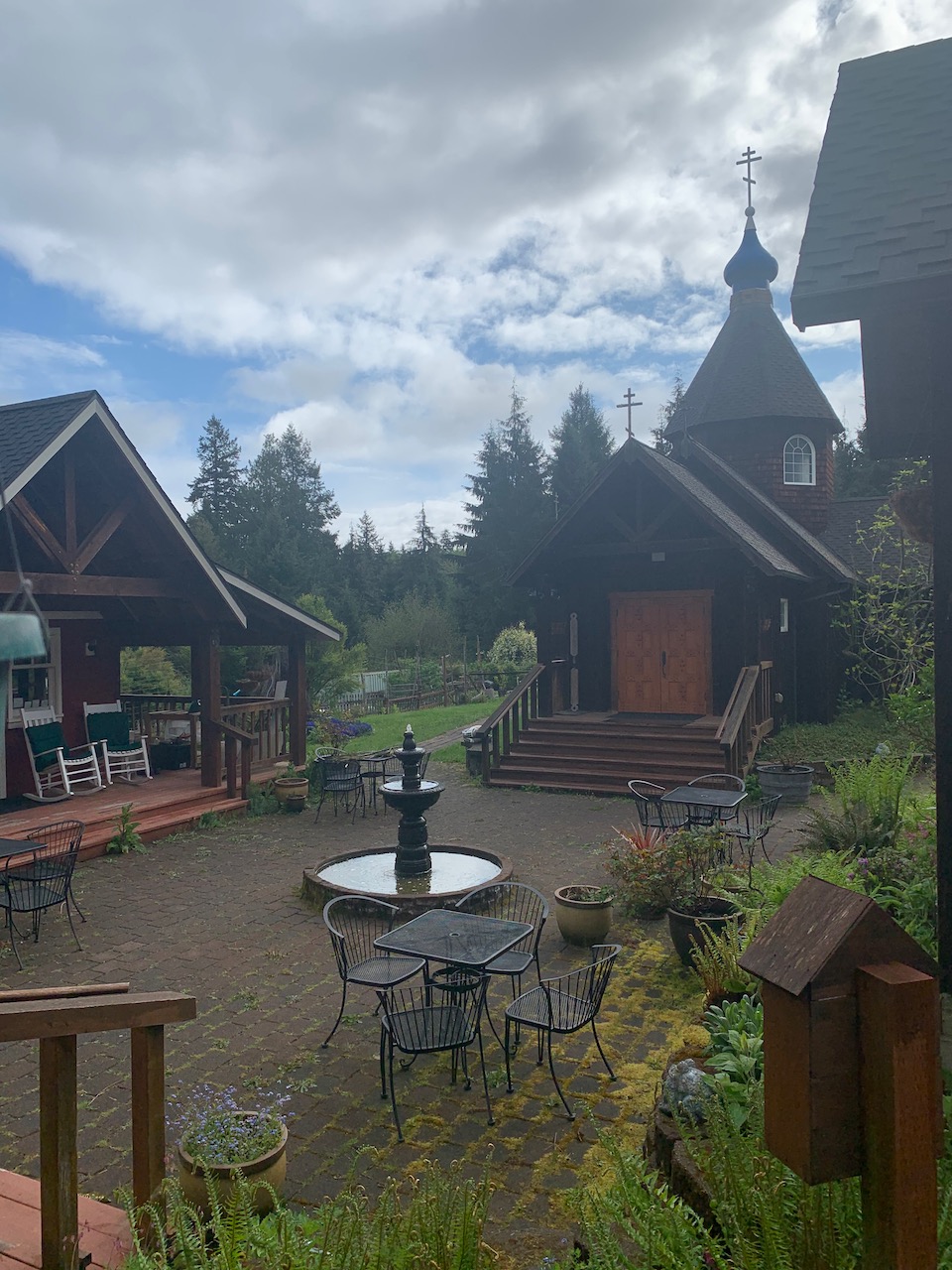 The Church is the Body of Christ, and by Her very nature is anything but an institution where one can be separated from others. We only let it separate us if we fail to involve ourselves as the people of God, with one another. The greeting given by Orthodox Christians, passing on the holy kiss when we meet one another, or kissing the hand of our priest, are ways we avoid the separation that dominates the society in which we live. Staying for the coffee hour, or the agape meal following the Sunday Liturgy, are ways in which we can do   battle against the separation that dominates the rest of our world. Attending midweek services is another way to stave off separation.
Our youth need to learn from us the importance of communicating directly with their friends and family. Taking children out for a Sunday afternoon drive, exploring the countryside, radio off, is a wonderful way families can reconnect. Taking grandmother on a family picnic to a local park, avoiding the backyard, is a wonderful, old fashioned way of introducing community to children. Letting them play with cousins in a park, as the extended family gathers for a picnic, can build families bonds that will last a lifetime.
When was the last time we sat around with a senior member of our family and asked them to share the memories of their youth? What a wonderful way to reconnect an aging grandfather to his own youth, and showing him that we value his life experiences and the memories of his own parents and grandparents. What an invaluable legacy we impart to our own children, as we let them know they were not born in a vacuum, but are a part of a long line of real people.
Isolation is a terrible threat to our way of life. Young people often lack the communication skills that past generations learned from older family members. I am astounded when I think of how much of my grandparents are a real part of who I've become. It is not just genetics that they passed on to me, but memories of family history that was long gone when I was born. Even parts of my personality were gleaned  from my great grandfather. My study, filled as it is with photographs, icons and collectibles, is a style that became my own, having loved the same clutter and warmth of my grandparents home.
Separation does not have to be a part of our world. It just takes commitment on our part to build the bond of family and community. When people visit the monastery I routinely ask that they turn off their cell phones, so they can leave separation behind and connect with the monks as family, and the children of the Church. What a wonderful thing it would be if each family would set aside two hours each night when the house phone, cell phones, the TV, and all other outside intrusions were banned. How about an evening of playing Uno, as a family, or putting a puzzle together? Then, end the evening with the whole family standing before the icon corner, doing the evening prayers!
The sequestering we're all experiencing due to this pandemic, will come to an end, and we can take the lessons we've learned from this ordeal and make our world a better place. We can come out of this forced separation from our work place, our neighbors, our extended family, and our church community, as better people. The culture that can become the norm, following the end of this pandemic, can be a reclamation of the world our ancestors experienced, and one that will empower the generations that will follow us, a better people.
Love in Christ,
Abbot Tryphon
Support of the Monastery
The monastery is a 501-C3 Non-Profit, so all donations are tax
deductible. Donations can be made through PayPal, or sending a check directly to the monastery:
All-Merciful Saviour Monastery
PO Box 2420
Vashon Island, WA 98070
The Monastery's On-Line Gift Shop
We appreciate your patronage of our on-line gift shop. Monastery Blend Coffee, Monastery Soaps and Beard Oil (all produced by the monks). Books and icons are also available on-line.
https://store.vashonmonks.com
Monday May 4, 2020 / April 21, 2020
Third Week of Pascha. Tone two.
Hieromartyr Januarius, bishop of Benevento, and his companions:
Festus, Proclus, and Sosius, deacons; Desiderius, reader; and
Eutychius and Acutius, laymen, at Pozzuoli (305).
Hieromartyr Theodore of Perge in Pamphylia, his mother Philippa, and Martyrs Dioscorus, Socrates, and Dionysius (2nd c.).
Uncovering of the relics (1999) of St. Theodore of Sanaxar (1791).
St. Alexis, priest of Bortsumany, Nizhni-Novgorod (1848).
New Hieromartyr John priest (1918).
St. Nicholas confessor, priest (1933).
New Hieromartyr Alexis priest (1938).
New Hieromartyr Protopresbyter Basil Martysz of Teratyn (Chelm and Podlasie, Poland) (1945).
Martyrs Isaacius, Apollo, and Codratus of Nicomedia (303).
St. Maximus (Maximian), patriarch of Constantinople (434).
The Mozdok Icon of the Mother of God.
Martyr Alexandra the Empress (303).
Venerable Jakov (James) of Stromynsk.
St. Niphon, bishop of Novgorod (Kiev Caves).
Venerable Beuno, abbot of Clynnog, England (ca. 640) (Celtic & British).
St. Maelruba of Apur Crossan (722) (Celtic & British).
St. Ethilwald, hermit of Farne. (Celtic & British).
St. Anastasius of Sinai (beg. of 8th c.).
The Scripture Readings
Acts 6:8-7:5
Stephen Accused of Blasphemy
8 And Stephen, full of faith and power, did great wonders and signs
among the people. 9 Then there arose some from what is called the
Synagogue of the Freedmen (Cyrenians, Alexandrians, and those from
Cilicia and Asia), disputing with Stephen. 10 And they were not able
to resist the wisdom and the Spirit by which he spoke. 11 Then they
secretly induced men to say, "We have heard him speak blasphemous
words against Moses and God." 12 And they stirred up the people, the
elders, and the scribes; and they came upon him, seized him, and
brought him to the council. 13 They also set up false witnesses who
said, "This man does not cease to speak blasphemous words against this
holy place and the law; 14 for we have heard him say that this Jesus
of Nazareth will destroy this place and change the customs which Moses
delivered to us." 15 And all who sat in the council, looking
steadfastly at him, saw his face as the face of an angel.
Stephen's Address: The Call of Abraham
7 Then the high priest said, "Are these things so?"
2 And he said, "Brethren and fathers, listen: The God of glory
appeared to our father Abraham when he was in Mesopotamia, before he
dwelt in Haran, 3 and said to him, 'Get out of your country and from
your relatives, and come to a land that I will show you.' 4 Then he
came out of the land of the Chaldeans and dwelt in Haran. And from
there, when his father was dead, He moved him to this land in which
you now dwell. 5 And God gave him no inheritance in it, not even
enough to set his foot on. But even when Abraham had no child, He
promised to give it to him for a possession, and to his descendants
after him.
Acts 7:47-60
47 But Solomon built Him a house.
48 "However, the Most High does not dwell in temples made with hands,
as the prophet says:
49 'Heaven is My throne,
And earth is My footstool.
What house will you build for Me? says the Lord,
Or what is the place of My rest?
50 Has My hand not made all these things?'
Israel Resists the Holy Spirit
51 "You stiff-necked and uncircumcised in heart and ears! You always
resist the Holy Spirit; as your fathers did, so do you. 52 Which of
the prophets did your fathers not persecute? And they killed those who
foretold the coming of the Just One, of whom you now have become the
betrayers and murderers, 53 who have received the law by the direction
of angels and have not kept it."
Stephen the Martyr
54 When they heard these things they were cut to the heart, and they
gnashed at him with their teeth. 55 But he, being full of the Holy
Spirit, gazed into heaven and saw the glory of God, and Jesus standing
at the right hand of God, 56 and said, "Look! I see the heavens opened
and the Son of Man standing at the right hand of God!"
57 Then they cried out with a loud voice, stopped their ears, and ran
at him with one accord; 58 and they cast him out of the city and
stoned him. And the witnesses laid down their clothes at the feet of a
young man named Saul. 59 And they stoned Stephen as he was calling on
God and saying, "Lord Jesus, receive my spirit." 60 Then he knelt down
and cried out with a loud voice, "Lord, do not charge them with this
sin." And when he had said this, he fell asleep.
John 4:46-54
A Nobleman's Son Healed
46 So Jesus came again to Cana of Galilee where He had made the water
wine. And there was a certain [a]nobleman whose son was sick at
Capernaum. 47 When he heard that Jesus had come out of Judea into
Galilee, he went to Him and implored Him to come down and heal his
son, for he was at the point of death. 48 Then Jesus said to him,
"Unless you people see signs and wonders, you will by no means
believe."
49 The nobleman said to Him, "Sir, come down before my child dies!"
50 Jesus said to him, "Go your way; your son lives." So the man
believed the word that Jesus spoke to him, and he went his way. 51 And
as he was now going down, his servants met him and told him, saying,
"Your son lives!"
52 Then he inquired of them the hour when he got better. And they said
to him, "Yesterday at the seventh hour the fever left him." 53 So the
father knew that it was at the same hour in which Jesus said to him,
"Your son lives." And he himself believed, and his whole household.
54 This again is the second sign Jesus did when He had come out of
Judea into Galilee.