Our soldiers need the support of chaplains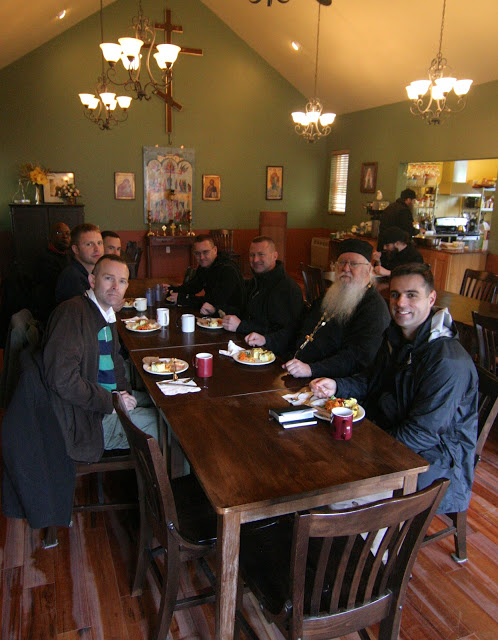 A number of years ago our monastic community welcomed seven military chaplains from Joint Base Lewis-McChord. These fine young men who answered the call to serve the nation as military chaplains, inspired me with their commitment to Christ, and their willingness to enter into a dangerous and combative world with our military, willing to lay down their lives for our troops.
It should be clearly evident that a strong U.S. military depends on more than high-tech equipment and highly trained soldiers. Our military chaplains help soldiers struggling with loneliness, drug addiction, failing marriages, and a myriad of other problems that the civilian population faces, but that are made all the more difficult when one is deprived of the support of family and friends. Soldiers need the guidance of chaplains as they face being away from home, and missing their loved ones. Our soldiers need the support of chaplains as they struggle with faith in the field, and the many deployment issues that arise.
The military chaplaincy is a special vocation, a calling that only a few clergy receive, but one that is direly needed by the young men and women who face loneliness, and the temptations that deployment brings. Those willing to put their lives on the line for our nation are deserving of the very best in pastoral care, and I was deeply moved by the quality of these men who have answered the call of both God, and nation.
Military chaplains deserve the encouragement and prayerful support of all of us who are in civilian life. They especially deserve the friendship, support, and prayers, of parish priests, who too often do not understand this special calling.
With love in Christ,
Abbot Tryphon
Saturday May 2, 2020 / April 19, 2020
Second Week of Pascha. Tone one.
Venerable John of the Ancient Caves in Palestine (8th c.).
St. Matrona the Blind of Moscow (1952).
New Hieromartyr Victor, bishop of Glazov (1934).
New Hieromartyr Demetrius priest (1942).
Martyrs Christopher, Theonas, and Antoninus in Nicomedia (303).
Hieromartyr Paphnutius of Jerusalem.
St. George the Confessor, bishop of Antioch in Pisidia (813-820).
St. Tryphon, patriarch of Constantinople (933).
Venerable Nicephorus, abbot of Katabad.
Venerable Symeon the Barefoot of Philotheou Monastery, Mt. Athos.
Finding of the relics (1621) of Venerable Joachim, abbot of Opochka (Pskov) (1515).
Venerable Joasaph (Bolotov) of Alaska.
Hieromartyr Alphege, archbishop of Canterbury (1012) (Celtic & British).
New Martyr Agathangelus of Esphigmenou Monastery, Mt. Athos (1819) (Greek).
Martyrs Theodore, his mother Philippa and two soldiers, Socrates and Dionysius at Perge in Pamphylia (2nd c.).
The Scripture Readings
Matthew 25:1-13
The Parable of the Wise and Foolish Virgins
25 "Then the kingdom of heaven shall be likened to ten virgins who took their lamps and went out to meet the bridegroom. 2 Now five of them were wise, and five were foolish. 3 Those who were foolish took their lamps and took no oil with them, 4 but the wise took oil in their vessels with their lamps. 5 But while the bridegroom was delayed, they all slumbered and slept.
6 "And at midnight a cry was heard: 'Behold, the bridegroom is coming; go out to meet him!' 7 Then all those virgins arose and trimmed their lamps. 8 And the foolish said to the wise, 'Give us some of your oil, for our lamps are going out.' 9 But the wise answered, saying, 'No, lest there should not be enough for us and you; but go rather to those who sell, and buy for yourselves.'10 And while they went to buy, the bridegroom came, and those who were ready went in with him to the wedding; and the door was shut.
11 "Afterward the other virgins came also, saying, 'Lord, Lord, open to us!' 12 But he answered and said, 'Assuredly, I say to you, I do not know you.'
13 "Watch therefore, for you know neither the day nor the hour in which the Son of Man is coming.
Acts 5:21-33
21 And when they heard that, they entered the temple early in the morning and taught. But the high priest and those with him came and called the council together, with all the elders of the children of Israel, and sent to the prison to have them brought.
Apostles on Trial Again
22 But when the officers came and did not find them in the prison, they returned and reported, 23 saying, "Indeed we found the prison shut securely, and the guards standing outside before the doors; but when we opened them, we found no one inside!" 24 Now when the high priest, the captain of the temple, and the chief priests heard these things, they wondered what the outcome would be. 25 So one came and told them, saying, "Look, the men whom you put in prison are standing in the temple and teaching the people!"
26 Then the captain went with the officers and brought them without violence, for they feared the people, lest they should be stoned. 27 And when they had brought them, they set them before the council. And the high priest asked them, 28 saying, "Did we not strictly command you not to teach in this name? And look, you have filled Jerusalem with your doctrine, and intend to bring this Man's blood on us!"
29 But Peter and the other apostles answered and said: "We ought to obey God rather than men. 30 The God of our fathers raised up Jesus whom you murdered by hanging on a tree. 31 Him God has exalted to His right hand to be Prince and Savior, to give repentance to Israel and forgiveness of sins. 32 And we are His witnesses to these things, and so also is the Holy Spirit whom God has given to those who obey Him."
Gamaliel's Advice
33 When they heard this, they were furious and plotted to kill them.
John 6:14-27
14 Then those men, when they had seen the sign that Jesus did, said, "This is truly the Prophet who is to come into the world."
Jesus Walks on the Sea
15 Therefore when Jesus perceived that they were about to come and take Him by force to make Him king, He departed again to the mountain by Himself alone.
16 Now when evening came, His disciples went down to the sea, 17 got into the boat, and went over the sea toward Capernaum. And it was already dark, and Jesus had not come to them. 18 Then the sea arose because a great wind was blowing. 19 So when they had rowed about three or four miles, they saw Jesus walking on the sea and drawing near the boat; and they were afraid. 20 But He said to them, "It is I; do not be afraid." 21 Then they willingly received Him into the boat, and immediately the boat was at the land where they were going.
The Bread from Heaven
22 On the following day, when the people who were standing on the other side of the sea saw that there was no other boat there, except that one which His disciples had entered, and that Jesus had not entered the boat with His disciples, but His disciples had gone away alone— 23 however, other boats came from Tiberias, near the place where they ate bread after the Lord had given thanks— 24 when the people therefore saw that Jesus was not there, nor His disciples, they also got into boats and came to Capernaum, seeking Jesus. 25 And when they found Him on the other side of the sea, they said to Him, "Rabbi, when did You come here?"
26 Jesus answered them and said, "Most assuredly, I say to you, you seek Me, not because you saw the signs, but because you ate of the loaves and were filled. 27 Do not labor for the food which perishes, but for the food which endures to everlasting life, which the Son of Man will give you, because God the Father has set His seal on Him."