Versus the true evangelization of the First Nations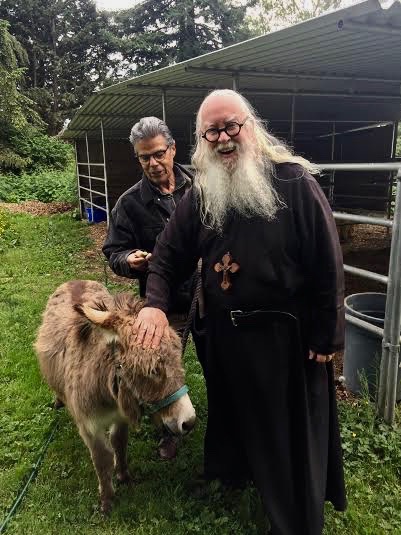 Manifest destiny was the belief that the United States god-given right was to spread westward from sea to shining sea, spreading American beliefs across the continent. As we all know, the First Nations tribes (Indians) were seen as heathen, and fair game for the advancing peoples of European ancestry. Whole tribes were wiped from the face of the map, either by being slaughtered, or succumbing to white man's diseases, for which they had no natural immunity. For those natives who were "lucky enough" to survive the occupation of their lands, relocation by force to reservations, was the norm.
The "Christian" basis for this expansion had as it's roots the Calvinist doctrine of "Predestination," a false and horrid teaching that some were predestined to salvation, while others were not. The natural link between the two doctrines is obvious.
By contrast, the Orthodox missionary monks to Alaska journeyed under strict orders from the Patriarch and the Czar, to respect the First Nations religion, culture, and peoples. They were under direct orders to avoid baptizing the natives, unless they sought to convert, and then only after they were fully catechized. The missionary monks befriended the natives, even to the point of protecting them from Russian fur traders, who mistreated them. They learned the native languages, and respected the local culture.
To this day, Alaska's Orthodox natives see Orthodoxy as their native religion, because the love and kindness shown them by the Orthodox monks helped them see Christianity as the fulfillment of their own religion.
This has been the Orthodox way of evangelism from the earliest of times. Some have accused we Orthodox of not being missionary minded, not seeing that our missionary efforts are simply different than that of the west. We believe that God transforms hearts, so we, in turn, share our faith by loving those whom we wish to convert. Our evangelism is based in the heart, where love reigns.
The God we Orthodox Christians worship, is the God of love and mercy, and the only way to bring others into a relationship with this God, is to love them into God's Kingdom. We don't pronounce them as heathen, who are destined to hellfire, but God's children, created in His image and likeness. We invite them into the Church as our brothers and sisters, because we love them, and desire that they not only have God as their Father, but the Church as their Mother.
With love in Christ,
Abbot Tryphon
Tuesday May 26, 2020 / May 13, 2020
Sixth Week of Pascha. Tone five.
Virgin-martyr Glyceria at Heraclea (141) and with her Martyr Laodicius, jailer of St. Glyceria.
New Hieromartyrs Basil, Alexander and Christopher, Hieromartyr Macarius and Martyr Sergius (1922).
103 New Hieromartyrs of Cherkassk (20th c.).
Righteous Virgin Glyceria of Novgorod (1522).
Translation of the relics of St. Macarius, archimandrite of Obruch or Kanev (1678).
Martyr Alexander of Rome (298).
St. Pausicacius, bishop of Synnada (606).
St. George the Confessor of Constantinople, with his wife and children (ca. 842).
Venerable Euthymius of Athos the translator (1028) (Georgia).
Venerables Amphilochius (1452), Macarius (1462), and Tarasius(1440), abbots, and Theodosius (15 c.), monk, of Glushitsa Monastery (Vologda).
St. Servatius, first bishop of Maastricht (384).
Martyrs killed by the Latins at the Iveron Monastery on Mt. Athos (Georgia).
Monkmartyr John of the Iveron Monastery on Mt Athos (Greek).
St. Sergius the Confessor of Constantinople (9th c.) (Greek).
Venerable Nicephorus, priest of the monastery of Ephapsios (Greek).
Hieromartyr Alexander of Tiverias. (Greek).
St. Leander of Seville (600).
The Scripture Readings
Acts 17:19-28
19 And they took him and brought him to the Areopagus, saying, "May we know what this new doctrine is of which you speak? 20 For you are bringing some strange things to our ears. Therefore we want to know what these things mean." 21 For all the Athenians and the foreigners who were there spent their time in nothing else but either to tell or to hear some new thing.
Addressing the Areopagus
22 Then Paul stood in the midst of the Areopagus and said, "Men of Athens, I perceive that in all things you are very religious; 23 for as I was passing through and considering the objects of your worship, I even found an altar with this inscription:
TO THE UNKNOWN GOD.
Therefore, the One whom you worship without knowing, Him I proclaim to you: 24 God, who made the world and everything in it, since He is Lord of heaven and earth, does not dwell in temples made with hands. 25 Nor is He worshiped with men's hands, as though He needed anything, since He gives to all life, breath, and all things. 26 And He has made from one blood every nation of men to dwell on all the face of the earth, and has determined their preappointed times and the boundaries of their dwellings, 27 so that they should seek the Lord, in the hope that they might grope for Him and find Him, though He is not far from each one of us; 28 for in Him we live and move and have our being, as also some of your own poets have said, 'For we are also His offspring.'
John 12:19-36
19 The Pharisees therefore said among themselves, "You see that you are accomplishing nothing. Look, the world has gone after Him!"
The Fruitful Grain of Wheat
20 Now there were certain Greeks among those who came up to worship at the feast. 21 Then they came to Philip, who was from Bethsaida of Galilee, and asked him, saying, "Sir, we wish to see Jesus."
22 Philip came and told Andrew, and in turn Andrew and Philip told Jesus.
23 But Jesus answered them, saying, "The hour has come that the Son of Man should be glorified. 24 Most assuredly, I say to you,unless a grain of wheat falls into the ground and dies, it remains alone; but if it dies, it produces much grain. 25 He who loves his life will lose it, and he who hates his life in this world will keep it for eternal life. 26 If anyone serves Me, let him follow Me; and where I am, there My servant will be also. If anyone serves Me, him My Father will honor.
Jesus Predicts His Death on the Cross
27 "Now My soul is troubled, and what shall I say? 'Father, save Me from this hour'? But for this purpose I came to this hour. 28 Father, glorify Your name."
Then a voice came from heaven, saying, "I have both glorified it and will glorify it again."
29 Therefore the people who stood by and heard it said that it had thundered. Others said, "An angel has spoken to Him."
30 Jesus answered and said, "This voice did not come because of Me, but for your sake. 31 Now is the judgment of this world; now the ruler of this world will be cast out. 32 And I, if I am lifted up from the earth, will draw all peoples to Myself." 33 This He said, signifying by what death He would die.
34 The people answered Him, "We have heard from the law that the Christ remains forever; and how can You say, 'The Son of Man must be lifted up'? Who is this Son of Man?"
35 Then Jesus said to them, "A little while longer the light is with you. Walk while you have the light, lest darkness overtake you; he who walks in darkness does not know where he is going. 36 While you have the light, believe in the light, that you may become sons of light." These things Jesus spoke, and departed, and was hidden from them.