Through which the temporal and the eternal are connected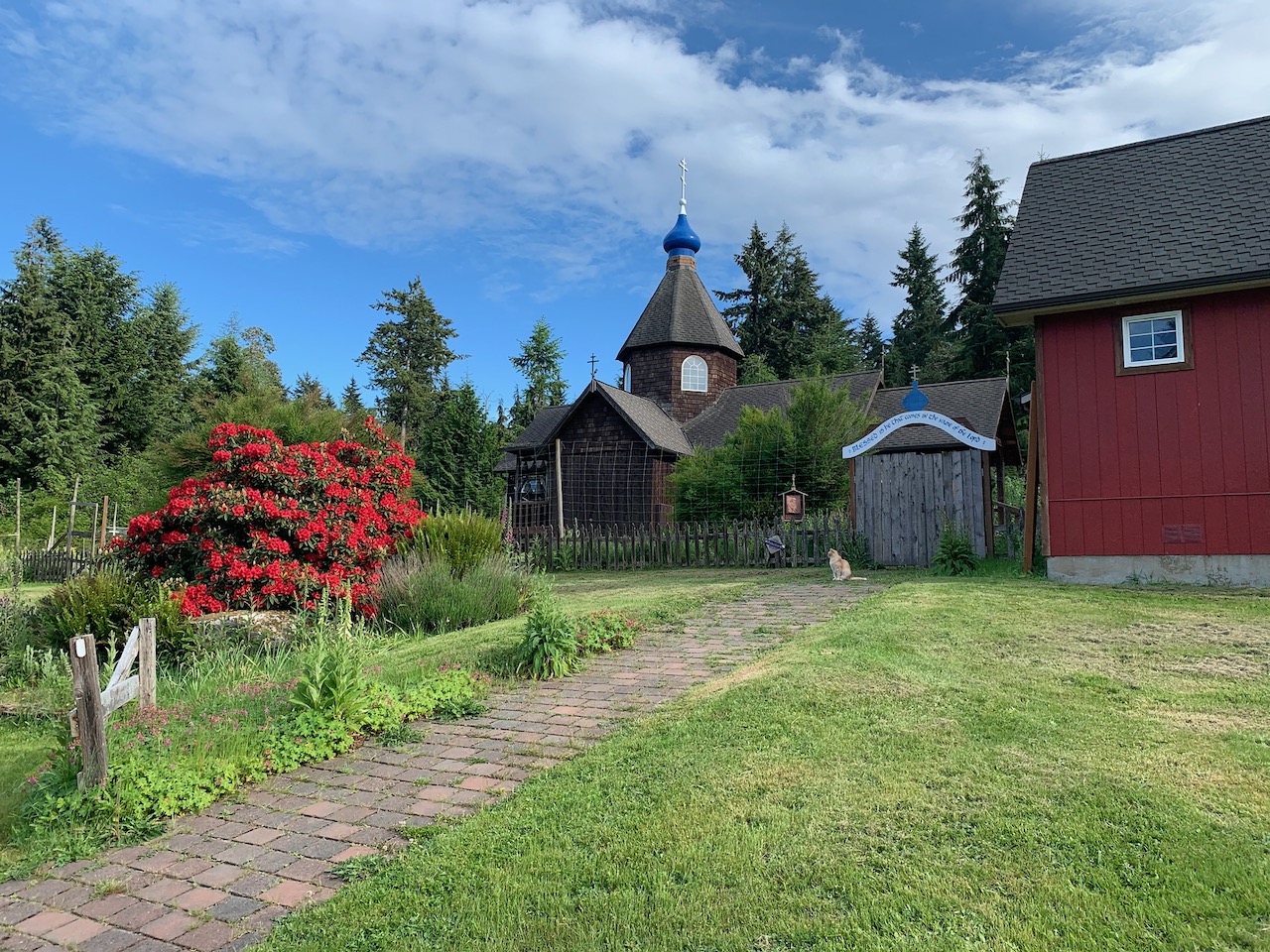 Our liturgical rites and practices are not ends in themselves, but God-given vehicles by which we enter into a profound relationship with Him, Who is love. The very essence of our Christian faith is love because God Himself is love (1 John 4:8). Thus, our Christian morality, our ethics, and even our liturgical services and rites, are inconceivable in the absence of love. And, this love is not merely an act that has sprung up from a sense of ethical duty, but something that connects our world, the one seen, to the heavenly world, that world unseen. One world is temporal, and the other world is eternal, yet both have been created by God. The temporal world is the place we have been given to prepare ourselves for the eternal world. Mercy and love is the means by which both are connected.
Liturgical rites and religious traditions are of little value if we have not love and mercy. When we rise to a sincere evangelical love for others, we become God's collaborators, for Christian love and mercy is the most divine trait possible for the human being. Christ-like mercy is the expression of our love of God, for it is in our love of God that this mercy is poured out upon those who suffer, and upon those who are ill, or helpless in body and mind. True Christian mercy springs from love and is a concrete expression of love.
Our Lord Himself made love and mercy the chief criterion whereby we will be judged on the Last Day (cf. Mt. 25:31-46). The fulfillment of the law is love, not liturgical correctness, as was thought by the Pharisees. If we see our Orthodox Christian faith only in the context of liturgical correctness, and the length of our services, but do not love others, we will have gained nothing of eternal value. If we do not show compassion and mercy towards everyone we meet, we will have committed a grievous crime against our Orthodox faith, and will stand before God with nothing to show for our life.
With love in Christ,
Abbot Tryphon
Photos: Our fifty-five year old rhododendron, bathing the entrance to the monastery in red.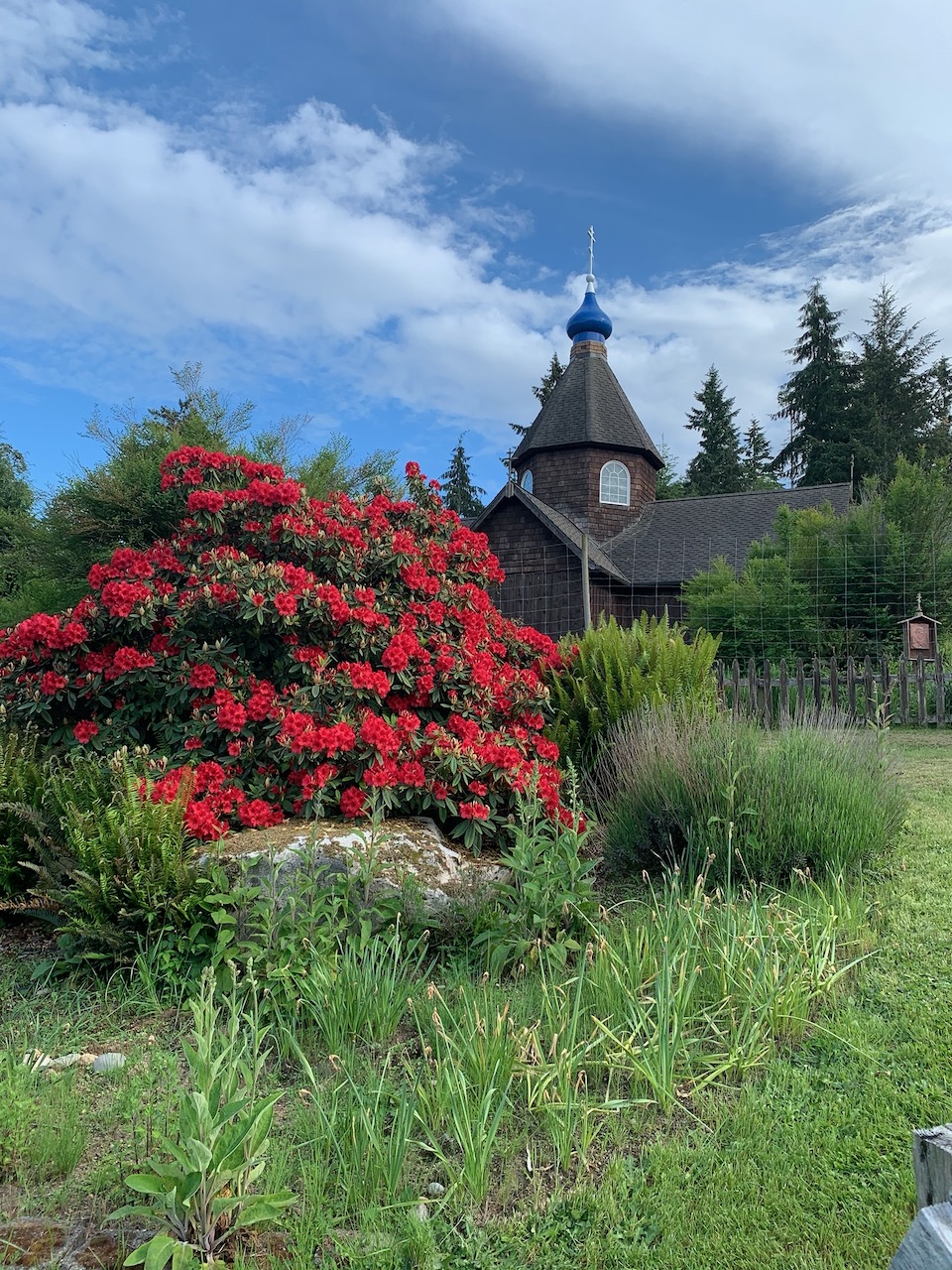 Wednesday May 20, 2020 / May 7, 2020
Apodosis of Prepolovenie. Tone four.
Fast. Fish Allowed
Commemoration of the Apparition of the Sign of the Precious Crossover Jerusalem in 351 A.D.
Martyr Acacius the Centurion at Byzantium (303).
Repose of Venerable Nilus, abbot of Sora (1508).
Venerable John of Zedazeni in Georgia, and 12 disciples: Venerables Shio Mgvime, David of Gareji, Anthony of Martq'ophi, Thaddeus of Urbnisi or Stepantsminda, Stephen of Khirsa, Isidore of Samtavisi, Michael of Ulumbo, Pyrrhus of Breta, Zenon of Iqalto, Jesse (Ise) of Tsilkani, Joseph of Alaverdi, and Abibus of Nekressi (6th c.) (Georgia).
Uncovering of the relics (1815) of Venerable Nilus the Myrrh-gusher of Mt. Athos.
Synaxis of All Holy Russian Sovereigns Commemorated on Athos.
Icons of the Most Holy Theotokos "Zhirovits" (1470) and "Lubech"(11th c.).
New Martyr Pachomius of Patmos (1730) (Greek).
St. Domitianus, bishop of Maastricht (560) (Neth.).
St. John of Beverley, bishop of York (721) (Celtic & British).
St. Lydia of Philippi (1st c.).
Uncovering of the relics of St. Euthymius the Great.
The Scripture Readings
Acts 13:13-24
At Antioch in Pisidia
13 Now when Paul and his party set sail from Paphos, they came to Perga in Pamphylia; and John, departing from them, returned to Jerusalem. 14 But when they departed from Perga, they came to Antioch in Pisidia, and went into the synagogue on the Sabbath day and sat down. 15 And after the reading of the Law and the Prophets, the rulers of the synagogue sent to them, saying, "Men and brethren, if you have any word of exhortation for the people, say on."
16 Then Paul stood up, and motioning with his hand said, "Men of Israel, and you who fear God, listen: 17 The God of this people Israel chose our fathers, and exalted the people when they dwelt as strangers in the land of Egypt, and with an uplifted arm He brought them out of it. 18 Now for a time of about forty years He put up with their ways in the wilderness. 19 And when He had destroyed seven nations in the land of Canaan, He distributed their land to them by allotment.
20 "After that He gave them judges for about four hundred and fifty years, until Samuel the prophet. 21 And afterward they asked for a king; so God gave them Saul the son of Kish, a man of the tribe of Benjamin, for forty years. 22 And when He had removed him, He raised up for them David as king, to whom also He gave testimony and said, 'I have found David the son of Jesse, a man after My Own heart, who will do all My will.' 23 From this man's seed, according to the promise, God raised up for Israel a Savior—Jesus— 24 after John had first preached, before His coming, the baptism of repentance to all the people of Israel.
John 6:5-14
5 Then Jesus lifted up His eyes, and seeing a great multitude coming toward Him, He said to Philip, "Where shall we buy bread, that these may eat?" 6 But this He said to test him, for He Himself knew what He would do.
7 Philip answered Him, "Two hundred denarii worth of bread is not sufficient for them, that every one of them may have a little."
8 One of His disciples, Andrew, Simon Peter's brother, said to Him, 9 "There is a lad here who has five barley loaves and two small fish, but what are they among so many?"
10 Then Jesus said, "Make the people sit down." Now there was much grass in the place. So the men sat down, in number about five thousand. 11 And Jesus took the loaves, and when He had given thanks He distributed them to the disciples, and the disciples to those sitting down; and likewise of the fish, as much as they wanted. 12 So when they were filled, He said to His disciples, "Gather up the fragments that remain, so that nothing is lost." 13 Therefore they gathered them up, and filled twelve baskets with the fragments of the five barley loaves which were left over by those who had eaten. 14 Then those men, when they had seen the sign that Jesus did, said, "This is truly the Prophet who is to come into the world."