We must not surrender to hopelessness and despair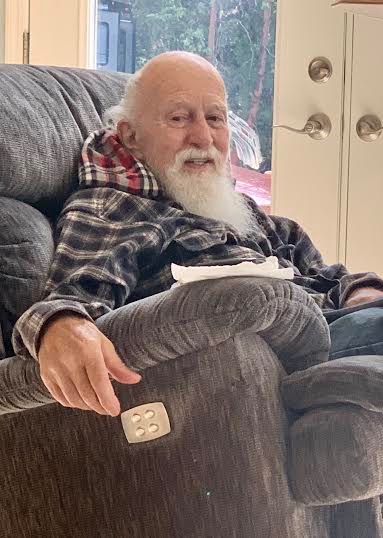 I am in Rogue River, Oregon, where I came to serve the Divine Liturgy for my dear friend and concelebrant, Archpriest Seraphim Cardoza. Father Seraphim has been dealing with very serious heart issues, having suffered two heart attacks during the past few weeks. Due to his declining health, he needed me to minister to his parishioners, and I was more than happy to do so.
On my seven hour drive from Vashon Island, to Rogue River, Oregon, I stopped into a convenience store at a gas station, to get a little bite for the road. While paying for the chips, the counter clerk asked if I was the pastor for the young man sitting in the van out front. When I told her I was not, she shared with me the young fellow was waiting for his pastor, and that he was going through some crisis.
As I left the store I glanced at the van, and witnessed the young man leaning against the steering wheel of his car, weeping. It took every ounce of strength for me to continue walking toward the gas pumps, and my own van. I wanted with all my soul to reach out to him, and offer help for whatever was troubling him, but knew he'd already called for his own pastor, so it was best to let him be.
A few days ago I read an article that pointed out the suicide rate for the nation is soaring, and is, in some regions, higher than the death rates of the Covid-19 virous. Both as a priest, and as a police chaplain, I've had to deal with more than my share of suicides, and it is never easy. Although ministering to people who've lost a loved one, helping people who have lost a close friend, or family member, to suicide, is always much more difficult.
With the millions who are now without jobs or income, and facing a bleak future of homelessness, much like the Great Depression, is it any wonder so many are choosing to end their lives, rather than endure the terrible losses they've endured because of this pandemic.
While delivering the homily for today (Southern Oregon is allowing limited numbers to return to church), I observed many young people, and little children, in the congregation. They reminded me of what my own life was like when I was their age, and how much I depended on the support that only kids my own age could give. Now, all across the nation, we are witnessing children and young people being forced into lockdown, deprived of the love and support of their friends.
Added to this sorrow, we are seeing countless adults of all ages going through the same separation. Is it any wonder we are witnessing large numbers of people on the verge of giving up all hope for future happiness?
Saint Mark the Ascetic said, "When tested by some trial you should try to find out not why or through whom it came, but only how to endure it gratefully, without distress or rancour." It is so easy to seek out political parties, world leaders, or even nations, as places to lay the blame for the pandemic that has befallen us all. And, it is incredibly easy to surrender to the belief that things will only be getting worse, and that hope for a bright future is forever gone. But this is not true.
We humans have experienced numerous periods in our collective history, where things looked hopeless, but history has proved, time and again, that even periods that seemed hopeless, turned around for the good. As Christians, we know all the more so, the truth of this. There is hope, and the hope we have is in none other than our faith in Christ. He is our hope and our salvation, and we need only to put our trust in Him. Our suffering, no matter how horrid it may seem in the moment, is but a speck in the sand when we compare it to eternity.
With love in Christ,
Abbot Tryphon
Photos: Archpriest Seraphim Cardoza, the godly priest of Saint Innocent Orthodox Church in Rogue River, Oregon, a man worthy of your prayers. Abbot Tryphon, serving the Sunday Liturgy in Rogue River.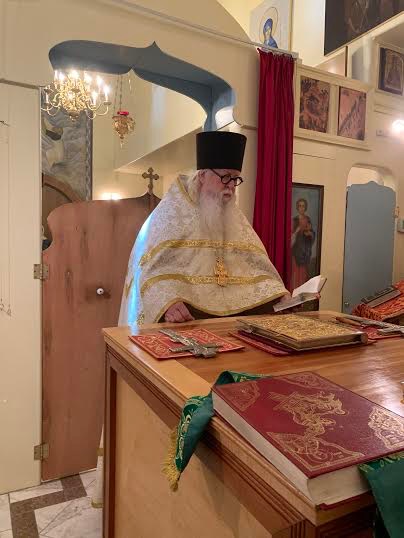 Monday May 25, 2020 / May 12, 2020
Sixth Week of Pascha. Tone five.
St. Epiphanius, bishop of Cyprus (403).
St. Germanus, patriarch of Constantinople (740).
Glorification (1913) of Hieromartyr Hermogenes (1612) the Patriarch of Moscow and All Russia.
New Martyr Abbess Athanasia of the Smolensk Hodigitria Convent, near Moscow (1931).
New Hieromartyr Peter priest (1937).
Virgin-martyr Eudokia (1938).
Venerable Dionysius, archimandrite of St. Sergius' Lavra (1633).
Second Uncovering of the relics (1992) of Righteous Simeon of Verkhoturye (1642).
St. Sabinus, archbishop of Cyprus (5th c.).
St. Polybius of Cyprus, bishop of Rinokyr in Egypt (5th c.).
Martyr John of Wallachia, at Constantinople (1662).
Martyr Pancratius of Rome (304).
St. Philp Argyrius (Silversmith) (395-408).
Venerable Theodore of Cythera, monk (Greek).
St. Anthony (Medvedev), archimandrite of St. Sergius' Lavra (1877).
The Scripture Readings
John 10:1-9
Jesus the True Shepherd
10 "Most assuredly, I say to you, he who does not enter the sheepfold by the door, but climbs up some other way, the same is a thief and a robber. 2 But he who enters by the door is the shepherd of the sheep. 3 To him the doorkeeper opens, and the sheep hear his voice; and he calls his own sheep by name and leads them out. 4 And when he brings out his own sheep, he goes before them; and the sheep follow him, for they know his voice. 5 Yet they will by no means follow a stranger, but will flee from him, for they do not know the voice of strangers." 6 Jesus used this illustration, but they did not understand the things which He spoke to them.
Jesus the Good Shepherd
7 Then Jesus said to them again, "Most assuredly, I say to you, I am the door of the sheep. 8 All who ever came before Me are thieves and robbers, but the sheep did not hear them. 9 I am the door. If anyone enters by Me, he will be saved, and will go in and out and find pasture.
John 10:8 M omits before Me
Acts 17:1-15
Preaching Christ at Thessalonica
17 Now when they had passed through Amphipolis and Apollonia, they came to Thessalonica, where there was a synagogue of the Jews. 2 Then Paul, as his custom was, went in to them, and for three Sabbaths reasoned with them from the Scriptures, 3 explaining and demonstrating that the Christ had to suffer and rise again from the dead, and saying, "This Jesus whom I preach to you is the Christ." 4 And some of them were persuaded; and a great multitude of the devout Greeks, and not a few of the leading women, joined Paul and Silas.
Assault on Jason's House
5 But the Jews who were not persuaded, becoming envious, took some of the evil men from the marketplace, and gathering a mob, set all the city in an uproar and attacked the house of Jason, and sought to bring them out to the people. 6 But when they did not find them, they dragged Jason and some brethren to the rulers of the city, crying out, "These who have turned the world upside down have come here too. 7 Jason has harbored them, and these are all acting contrary to the decrees of Caesar, saying there is another king—Jesus." 8 And they troubled the crowd and the rulers of the city when they heard these things. 9 So when they had taken security from Jason and the rest, they let them go.
Ministering at Berea
10 Then the brethren immediately sent Paul and Silas away by night to Berea. When they arrived, they went into the synagogue of the Jews. 11 These were more fair-minded than those in Thessalonica, in that they received the word with all readiness, and searched the Scriptures daily to find out whether these things were so. 12 Therefore many of them believed, and also not a few of the Greeks, prominent women as well as men. 13 But when the Jews from Thessalonica learned that the word of God was preached by Paul at Berea, they came there also and stirred up the crowds. 14 Then immediately the brethren sent Paul away, to go to the sea; but both Silas and Timothy remained there. 15 So those who conducted Paul brought him to Athens; and receiving a command for Silas and Timothy to come to him with all speed, they departed.
John 11:47-57
47 Then the chief priests and the Pharisees gathered a council and said, "What shall we do? For this Man works many signs. 48 If we let Him alone like this, everyone will believe in Him, and the Romans will come and take away both our place and nation."
49 And one of them, Caiaphas, being high priest that year, said to them, "You know nothing at all, 50 nor do you consider that it is expedient for us that one man should die for the people, and not that the whole nation should perish." 51 Now this he did not say on his own authority;but being high priest that year he prophesied that Jesus would die for the nation, 52 and not for that nation only, but also that He would gather together in one the children of God who were scattered abroad.
53 Then, from that day on, they plotted to put Him to death. 54 Therefore Jesus no longer walked openly among the Jews, but went from there into the country near the wilderness, to a city called Ephraim, and there remained with His disciples.
55 And the Passover of the Jews was near, and many went from the country up to Jerusalem before the Passover, to purify themselves. 56 Then they sought Jesus, and spoke among themselves as they stood in the temple, "What do you think—that He will not come to the feast?" 57 Now both the chief priests and the Pharisees had given a command, that if anyone knew where He was, he should report it, that they might seize Him.