We must receive the closure of our churches with a peaceful heart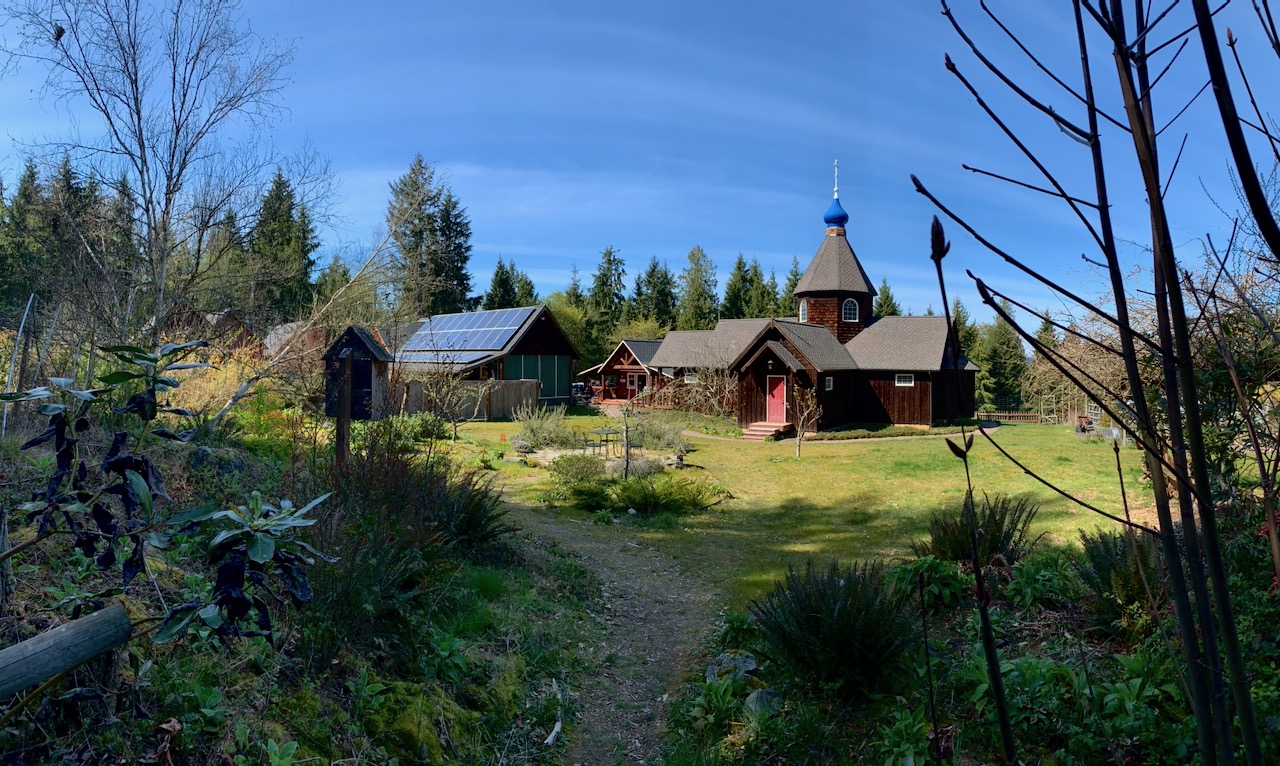 I remember hearing, early on in my monastic life, of a holy elder who lived as a hermit, far from any group of other monks, and deprived of the chance to participate in the celebration of the Divine Liturgy. Hearing of this, I thought to myself, how could such a man survive without the Holy Body and Blood of the Saviour? How could this hermit experience the saving grace that comes from the Eucharist, while living alone in a mountain cabin, far from any church?
When asking the elder who'd shared this story of a hermit who'd not received the Eucharist in years, he reminded me of Saint Mary of Egypt, who'd received only once in her life, yet is venerated today as one of the greatest of saints, even to the point that we commemorate her twice each year, during the Great Fast and Passion Week. Saint Mary never partook of any of the Great Feasts of the Church, including the Nativity of Christ, the Annunciation, Pentecost, and not even Holy Pascha!
My own Elder Dimitry of Santa Rosa, told me that hermits would fast as if preparing for Holy Communion, reading the services in their chapels, and would "commune" by drinking Holy Water and eating particles of the Holy Bread taken by communicants following the reception of the Holy Mysteries,  noetically receiving Holy Communion as if from Holy Angels.
So, being deprived of participation in the Holy Eucharist, are we filled with judgement against our bishops for the closure of our churches, obeying the dictates of our governmental authorities who are trying to keep the population of our cities safe from the ravages of this pandemic? Or are we humbly worshipping before the Throne of God, having created a domestic church for ourselves? Do we complain that our local church is closed down, while ignoring the fact that such closures are wonderful opportunities for us to replace one parish with four hundred domestic churches?
Elder Thaddeus of Vitovnica tells us, "Our life depends on the kind of thoughts we nurture. If our thoughts are peaceful, calm, meek, and kind, then that is what our life is like. If our attention is turned to the circumstances in which we live, we are drawn into a whirlpool of thoughts and can have neither peace nor tranquility."
Saint Seraphim of Sarov said that if we "acquire peace, a thousand around us will be saved". While each of us has been created in the image of God, our thoughts directly influence both those around us, and even extend to affect the entire cosmos. If we focus on the negative, those negative thoughts impact everyone around us, and even the whole world. The Elder Thaddeus tells us we can be either very good, or very bad, depending on the thoughts and desires we breed.
There is a lot that is wrong with the world, and the Covid-19 pandemic that is wreaking havoc around the globe must be seen as having begun with us. If there is to be peace in our world, it must begin with me. If hatred, anger, envy, lust, and spite, are to end, it must end with me. Likewise, if this pandemic is to come to an end, it must begin with me.
When we allow destructive thoughts to destroy our peace, the peace around us is destroyed. We should not blame our governmental authorities, nor our bishops, for the closure of our churches, because of this pandemic that is ravaging our cities, is radiating from us. Blame for all that is wrong with the world, can not be placed beyond our own hearts.
If this Holy Week and Pascha leaves us spiritually depleted, because we can not attend services in our parish, and we are left immersed in the blame game, we will have no one to blame but ourselves. That God is allowing this terrible virus to lay waste our world, must be seen as a wakeup call for all of us. If we truly see this pandemic for what it truly is, we will have all the more reason to shout out on Pascha, even if alone in our apartments, "Christ is Risen", and perhaps really feel the truth of these words for the very first time.
Love in Christ,
Abbot Tryphon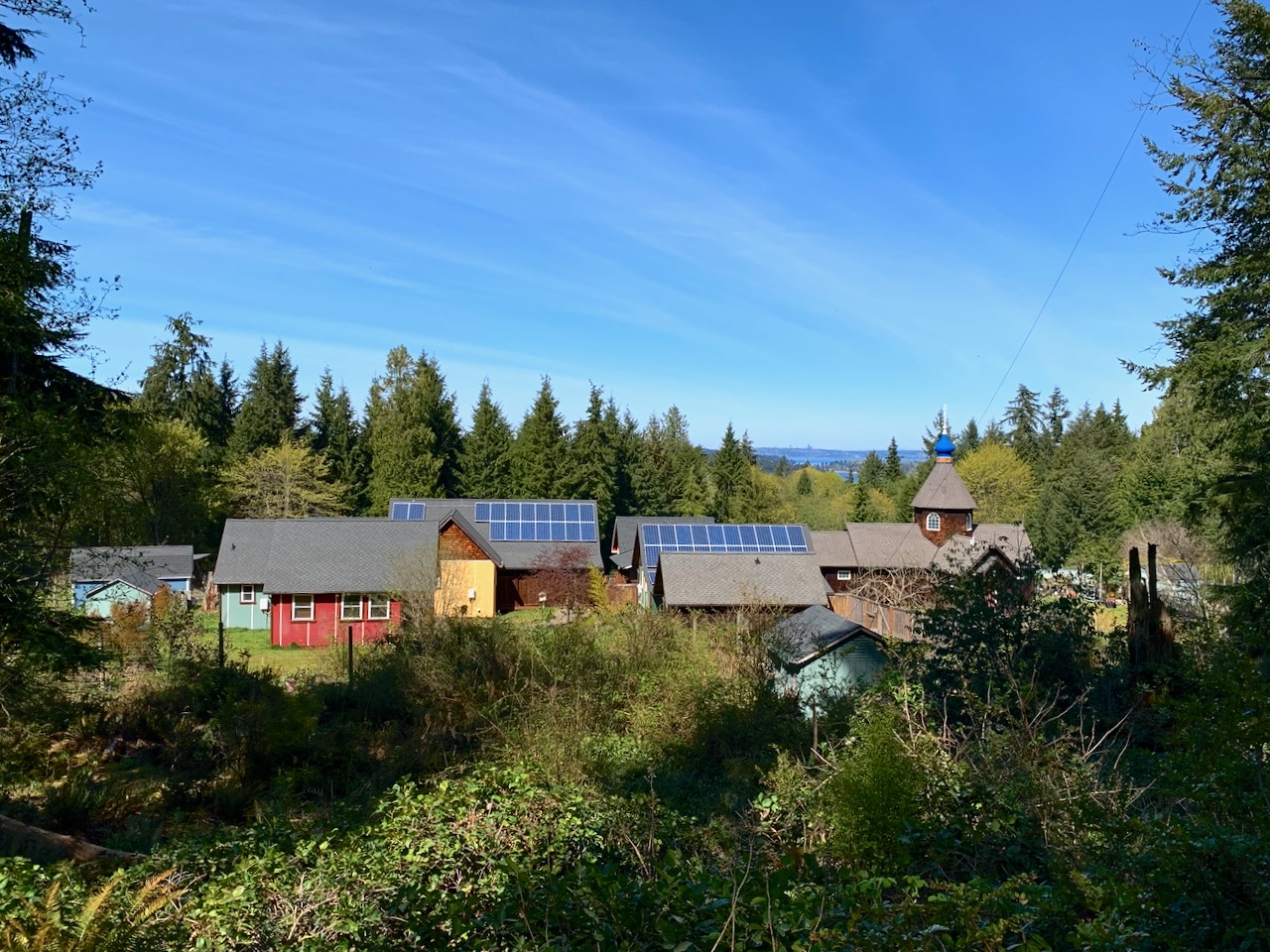 Photos: All-Merciful Saviour Monastery on Vashon Island.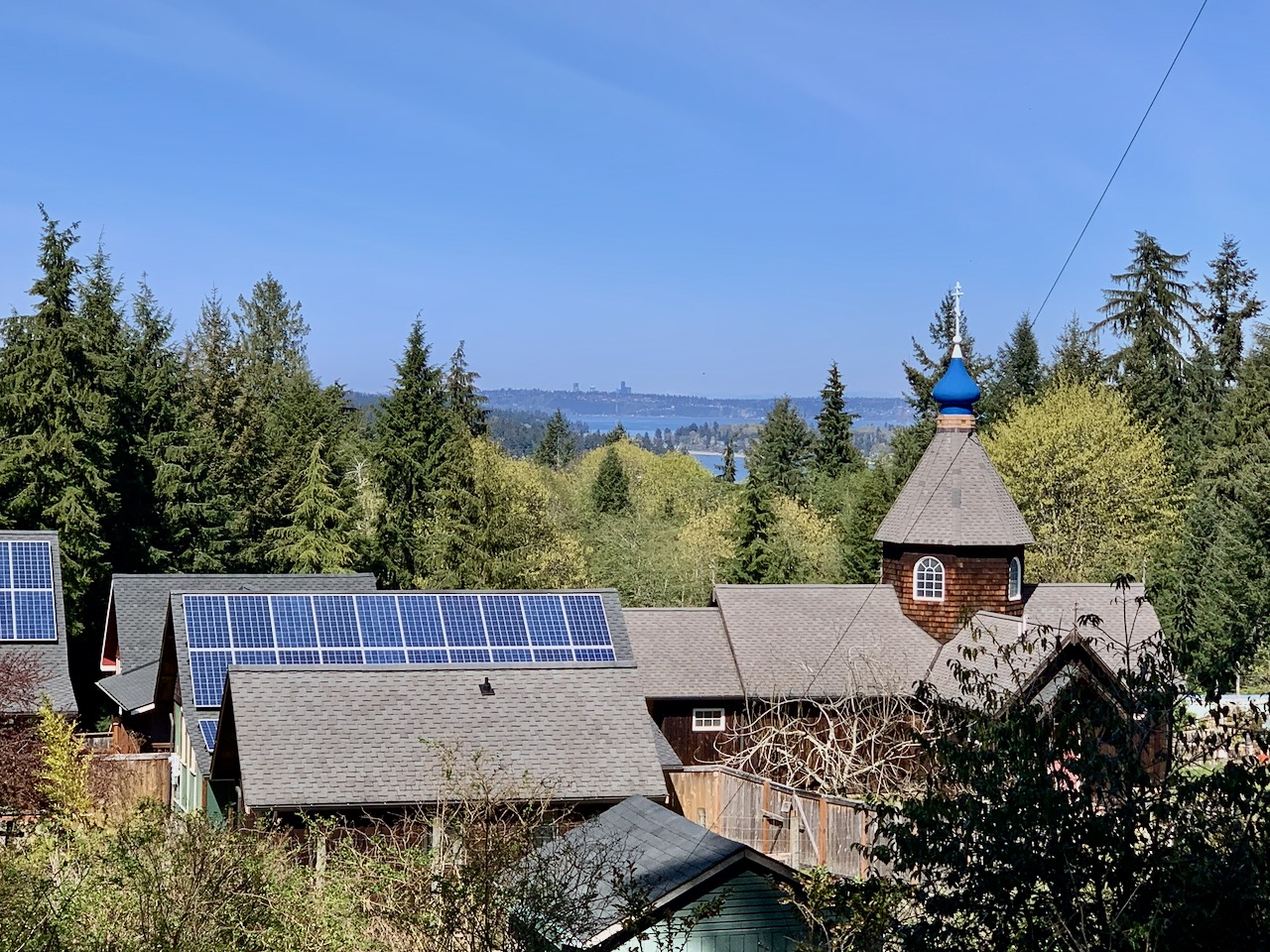 Tuesday April 14, 2020 / April 1, 2020
Passion Week: Great Tuesday.
Great Lent. By Monastic Charter: Strict Fast (Bread, Vegetables, Fruits)
Venerable Mary the Egyptian (522).
Venerable Euthymius, monk, of Suzdal (1404).
Venerable Barsanuphius of Optina (1913).
New Hieromartyr Sergius priest (1938).
New Hieromartyr Schema-bishop Macarius of St. Macarius the Roman Monastery near Lezna (1944) and Michael, fool-for-Christ (1931).
Martyr Abraham of Bulgaria (1229).
Venerable Gerontius, youth, canonarch of the Kiev Caves (14th c.).
Venerable Macarius, abbot of Pelecete (840).
Martyrs Geroncius and Basilides (3rd c.).
Righteous Achaz.
St. Meliton, bishop of Sardis (177).
St. Procopius, abbot of Sazava (1053).
Sts. John of Shavta and Vardzia (12-13th c.) and Eulogius the Prophet and Fool-for-Christ (Georgia).
Martyr-hermit Tewdric of Tintem.
The Scripture Readings
Matthew 22:15-23:39
The Pharisees: Is It Lawful to Pay Taxes to Caesar?
15 Then the Pharisees went and plotted how they might entangle Him in His talk. 16 And they sent to Him their disciples with the Herodians, saying, "Teacher, we know that You are true, and teach the way of God in truth; nor do You care about anyone, for You do not regard the person of men. 17 Tell us, therefore, what do You think? Is it lawful to pay taxes to Caesar, or not?"
18 But Jesus perceived their wickedness, and said, "Why do you test Me, you hypocrites? 19 Show Me the tax money."
So they brought Him a denarius.
20 And He said to them, "Whose image and inscription is this?"
21 They said to Him, "Caesar's."
And He said to them, "Render therefore to Caesar the things that are Caesar's, and to God the things that are God's." 22 When they had heard these words, they marveled, and left Him and went their way.
The Sadducees: What About the Resurrection?
23 The same day the Sadducees, who say there is no resurrection, came to Him and asked Him, 24 saying: "Teacher, Moses said that if a man dies, having no children, his brother shall marry his wife and raise up offspring for his brother. 25 Now there were with us seven brothers. The first died after he had married, and having no offspring, left his wife to his brother. 26 Likewise the second also, and the third, even to the seventh. 27 Last of all the woman died also. 28 Therefore, in the resurrection, whose wife of the seven will she be? For they all had her."
29 Jesus answered and said to them, "You are mistaken, not knowing the Scriptures nor the power of God. 30 For in the resurrection they neither marry nor are given in marriage, but are like angels of God in heaven. 31 But concerning the resurrection of the dead, have you not read what was spoken to you by God, saying, 32 'I am the God of Abraham, the God of Isaac, and the God of Jacob'? God is not the God of the dead, but of the living." 33 And when the multitudes heard this, they were astonished at His teaching.
The Scribes: Which Is the First Commandment of All?
34 But when the Pharisees heard that He had silenced the Sadducees, they gathered together. 35 Then one of them, a lawyer, asked Him a question, testing Him, and saying, 36 "Teacher, which is the great commandment in the law?"
37 Jesus said to him, "'You shall love the Lord your God with all your heart, with all your soul, and with all your mind.' 38 This is the first and great commandment. 39 And the second is like it: 'You shall love your neighbor as yourself.' 40 On these two commandments hang all the Law and the Prophets."
Jesus: How Can David Call His Descendant Lord?
41 While the Pharisees were gathered together, Jesus asked them, 42 saying, "What do you think about the Christ? Whose Son is He?"
They said to Him, "The Son of David."
43 He said to them, "How then does David in the Spirit call Him 'Lord,' saying:
44 'The Lord said to my Lord,
"Sit at My right hand,
Till I make Your enemies Your footstool" '?
45 If David then calls Him 'Lord,' how is He his Son?" 46 And no one was able to answer Him a word, nor from that day on did anyone dare question Him anymore.
Woe to the Scribes and Pharisees
23 Then Jesus spoke to the multitudes and to His disciples, 2 saying: "The scribes and the Pharisees sit in Moses' seat. 3 Therefore whatever they tell you to observe, that observe and do, but do not do according to their works; for they say, and do not do. 4 For they bind heavy burdens, hard to bear, and lay them on men's shoulders; but they themselves will not move them with one of their fingers. 5 But all their works they do to be seen by men. They make their phylacteries broad and enlarge the borders of their garments. 6 They love the best places at feasts, the best seats in the synagogues, 7 greetings in the marketplaces, and to be called by men, 'Rabbi, Rabbi.' 8 But you, do not be called 'Rabbi'; for One is your Teacher, the Christ, and you are all brethren. 9 Do not call anyone on earth your father; for One is your Father, He who is in heaven. 10 And do not be called teachers; for One is your Teacher, the Christ. 11 But he who is greatest among you shall be your servant. 12 And whoever exalts himself will be humbled, and he who humbles himself will be exalted.
13 "But woe to you, scribes and Pharisees, hypocrites! For you shut up the kingdom of heaven against men; for you neither go in yourselves, nor do you allow those who are entering to go in. 14 Woe to you, scribes and Pharisees, hypocrites! For you devour widows' houses, and for a pretense make long prayers. Therefore you will receive greater condemnation.
15 "Woe to you, scribes and Pharisees, hypocrites! For you travel land and sea to win one proselyte, and when he is won, you make him twice as much a son of hell as yourselves.
16 "Woe to you, blind guides, who say, 'Whoever swears by the temple, it is nothing; but whoever swears by the gold of the temple, he is obliged to perform it.' 17 Fools and blind! For which is greater, the gold or the temple that sanctifies the gold? 18 And, 'Whoever swears by the altar, it is nothing; but whoever swears by the gift that is on it, he is obliged to perform it.' 19 Fools and blind! For which is greater, the gift or the altar that sanctifies the gift? 20 Therefore he who swears by the altar, swears by it and by all things on it.21 He who swears by the temple, swears by it and by Him who dwells in it. 22 And he who swears by heaven, swears by the throne of God and by Him who sits on it.
23 "Woe to you, scribes and Pharisees, hypocrites! For you pay tithe of mint and anise and cummin, and have neglected the weightier matters of the law: justice and mercy and faith. These you ought to have done, without leaving the others undone. 24 Blind guides, who strain out a gnat and swallow a camel!
25 "Woe to you, scribes and Pharisees, hypocrites! For you cleanse the outside of the cup and dish, but inside they are full of extortion and self-indulgence. 26 Blind Pharisee, first cleanse the inside of the cup and dish, that the outside of them may be clean also.
27 "Woe to you, scribes and Pharisees, hypocrites! For you are like whitewashed tombs which indeed appear beautiful outwardly, but inside are full of dead men's bones and all uncleanness. 28 Even so you also outwardly appear righteous to men, but inside you are full of hypocrisy and lawlessness.
29 "Woe to you, scribes and Pharisees, hypocrites! Because you build the tombs of the prophets and adorn the monuments of the righteous, 30 and say, 'If we had lived in the days of our fathers, we would not have been partakers with them in the blood of the prophets.'
31 "Therefore you are witnesses against yourselves that you are sons of those who murdered the prophets. 32 Fill up, then, the measure of your fathers' guilt. 33 Serpents, brood of vipers! How can you escape the condemnation of hell? 34 Therefore, indeed, I send you prophets, wise men, and scribes: some of them you will kill and crucify, and some of them you will scourge in your synagogues and persecute from city to city, 35 that on you may come all the righteous blood shed on the earth, from the blood of righteous Abel to the blood of Zechariah, son of Berechiah, whom you murdered between the temple and the altar. 36 Assuredly, I say to you, all these things will come upon this generation.
Jesus Laments over Jerusalem
37 "O Jerusalem, Jerusalem, the one who kills the prophets and stones those who are sent to her! How often I wanted to gather your children together, as a hen gathers her chicks under her wings, but you were not willing! 38 See! Your house is left to you desolate; 39 for I say to you, you shall see Me no more till you say, 'Blessed is He who comes in the name of the Lord!' "
Matthew 24:36-26:2
No One Knows the Day or Hour
36 "But of that day and hour no one knows, not even the angels of heaven, but My Father only. 37 But as the days of Noah were, so also will the coming of the Son of Man be. 38 For as in the days before the flood, they were eating and drinking, marrying and giving in marriage, until the day that Noah entered the ark, 39 and did not know until the flood came and took them all away, so also will the coming of the Son of Man be. 40 Then two men will be in the field: one will be taken and the other left. 41 Two women will be grinding at the mill: one will be taken and the other left. 42 Watch therefore, for you do not know what hour your Lord is coming. 43 But know this, that if the master of the house had known what hour the thief would come, he would have watched and not allowed his house to be broken into. 44 Therefore you also be ready, for the Son of Man is coming at an hour you do not expect.
The Faithful Servant and the Evil Servant
45 "Who then is a faithful and wise servant, whom his master made ruler over his household, to give them food in due season? 46 Blessed is that servant whom his master, when he comes, will find so doing. 47 Assuredly, I say to you that he will make him ruler over all his goods. 48 But if that evil servant says in his heart, 'My master is delaying his coming,' 49 and begins to beat his fellow servants, and to eat and drink with the drunkards, 50 the master of that servant will come on a day when he is not looking for him and at an hour that he is not aware of, 51 and will cut him in two and appoint him his portion with the hypocrites. There shall be weeping and gnashing of teeth.
The Parable of the Wise and Foolish Virgins
25 "Then the kingdom of heaven shall be likened to ten virgins who took their lamps and went out to meet the bridegroom. 2 Now five of them were wise, and five were foolish. 3 Those who were foolish took their lamps and took no oil with them, 4 but the wise took oil in their vessels with their lamps. 5 But while the bridegroom was delayed, they all slumbered and slept.
6 "And at midnight a cry was heard: 'Behold, the bridegroom is coming; go out to meet him!' 7 Then all those virgins arose and trimmed their lamps. 8 And the foolish said to the wise, 'Give us some of your oil, for our lamps are going out.' 9 But the wise answered, saying, 'No, lest there should not be enough for us and you; but go rather to those who sell, and buy for yourselves.'10 And while they went to buy, the bridegroom came, and those who were ready went in with him to the wedding; and the door was shut.
11 "Afterward the other virgins came also, saying, 'Lord, Lord, open to us!' 12 But he answered and said, 'Assuredly, I say to you, I do not know you.'
13 "Watch therefore, for you know neither the day nor the hour [g]in which the Son of Man is coming.
The Parable of the Talents
14 "For the kingdom of heaven is like a man traveling to a far country, who called his own servants and delivered his goods to them.15 And to one he gave five talents, to another two, and to another one, to each according to his own ability; and immediately he went on a journey. 16 Then he who had received the five talents went and traded with them, and made another five talents. 17 And likewise he who had received two gained two more also. 18 But he who had received one went and dug in the ground, and hid his lord's money. 19 After a long time the lord of those servants came and settled accounts with them.
20 "So he who had received five talents came and brought five other talents, saying, 'Lord, you delivered to me five talents; look, I have gained five more talents besides them.' 21 His lord said to him, 'Well done, good and faithful servant; you were faithful over a few things, I will make you ruler over many things. Enter into the joy of your lord.' 22 He also who had received two talents came and said, 'Lord, you delivered to me two talents; look, I have gained two more talents besides them.' 23 His lord said to him, 'Well done, good and faithful servant; you have been faithful over a few things, I will make you ruler over many things. Enter into the joy of your lord.'
24 "Then he who had received the one talent came and said, 'Lord, I knew you to be a hard man, reaping where you have not sown, and gathering where you have not scattered seed. 25 And I was afraid, and went and hid your talent in the ground. Look, there you have what is yours.'
26 "But his lord answered and said to him, 'You wicked and lazy servant, you knew that I reap where I have not sown, and gather where I have not scattered seed. 27 So you ought to have deposited my money with the bankers, and at my coming I would have received back my own with interest. 28 So take the talent from him, and give it to him who has ten talents.
29 'For to everyone who has, more will be given, and he will have abundance; but from him who does not have, even what he has will be taken away. 30 And cast the unprofitable servant into the outer darkness. There will be weeping and gnashing of teeth.'
The Son of Man Will Judge the Nations
31 "When the Son of Man comes in His glory, and all the holy angels with Him, then He will sit on the throne of His glory. 32 All the nations will be gathered before Him, and He will separate them one from another, as a shepherd divides his sheep from the goats.33 And He will set the sheep on His right hand, but the goats on the left. 34 Then the King will say to those on His right hand, 'Come, you blessed of My Father, inherit the kingdom prepared for you from the foundation of the world: 35 for I was hungry and you gave Me food; I was thirsty and you gave Me drink; I was a stranger and you took Me in; 36 I was naked and you clothed Me; I was sick and you visited Me; I was in prison and you came to Me.'
37 "Then the righteous will answer Him, saying, 'Lord, when did we see You hungry and feed You, or thirsty and give You drink? 38 When did we see You a stranger and take You in, or naked and clothe You? 39 Or when did we see You sick, or in prison, and come to You?' 40 And the King will answer and say to them, 'Assuredly, I say to you, inasmuch as you did it to one of the least of these My brethren, you did it to Me.'
41 "Then He will also say to those on the left hand, 'Depart from Me, you cursed, into the everlasting fire prepared for the devil and his angels: 42 for I was hungry and you gave Me no food; I was thirsty and you gave Me no drink; 43 I was a stranger and you did not take Me in, naked and you did not clothe Me, sick and in prison and you did not visit Me.'
44 "Then they also will answer Him, saying, 'Lord, when did we see You hungry or thirsty or a stranger or naked or sick or in prison, and did not minister to You?' 45 Then He will answer them, saying, 'Assuredly, I say to you, inasmuch as you did not do it to one of the least of these, you did not do it to Me.' 46 And these will go away into everlasting punishment, but the righteous into eternal life."
The Plot to Kill Jesus
26 Now it came to pass, when Jesus had finished all these sayings, that He said to His disciples, 2 "You know that after two days is the Passover, and the Son of Man will be delivered up to be crucified."