The decline of Christianity in America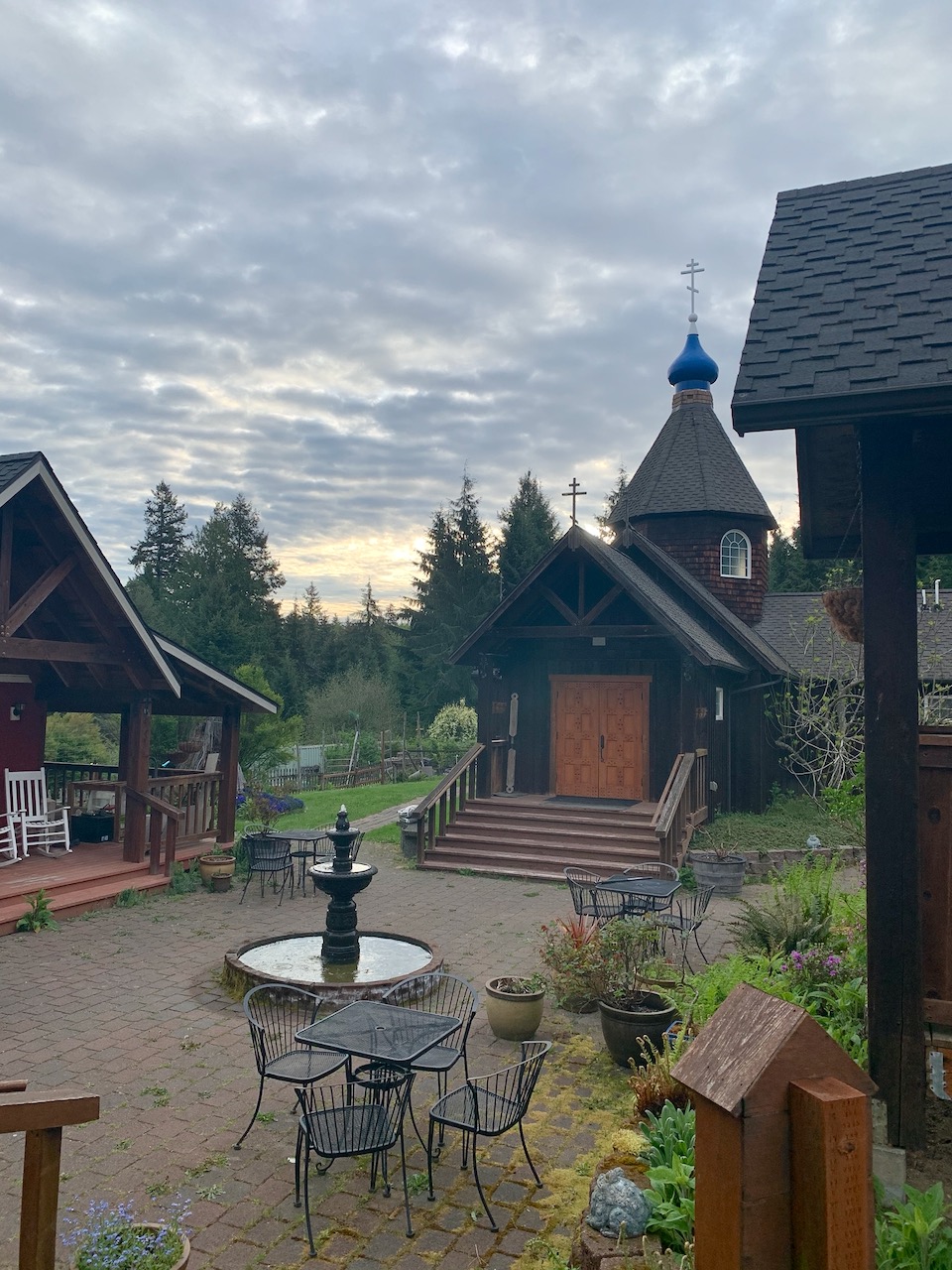 Some thirty-two years ago our monastic brotherhood arrived on Vashon Island, establishing ourselves in a rental house near the Village of Dockton. This little village had two churches, built by the original founders of the community. Dockton, in the 1880's, had the largest dry dock north of San Francisco, and was the site for the construction of tall ships. The ship builders were immigrant Croatians and Norwegians, working the docks, and raising their families in a village that could only be reached by boat.
The Norwegians built a Lutheran church, and the Croatians constructed a Catholic parish. The first location for our monastery was, in fact, an old farm house built at the turn of the century by a Norwegian ship builder. Nice place to live for a Scottish-Norwegian-American like myself! Little did we monks know at the time, but God had planned for our monastery to be permanently located on the hill overlooking the old farm house, Saint Patrick's Catholic church, and the old Lutheran church.
The Lutheran church was eventually to be converted into a house, and Saint Patrick's church was torn down, having been closed for about fifteen years. While driving by the pile of rubble, Frank, a Roman Catholic villager, came up to my car window and said, "You are all that's left, Father". Driving away I felt sad, for truly our monastery is now the only remaining religious institution on Maury Island (the smaller island connected to Vashon Island).
Where Have all the Churches Gone?
Driving around Seattle neighborhoods, one is struck by the number of former churches that are now used for purposes other than the worship of God. A few have become mental health clinics, or antique shops, while others are coffee houses, or private homes. Many have simply been torn down, replaced by apartment houses, or retail stores.
Zoning laws make it difficult to build new churches, and it is rare to find a church in a newly constructed suburban neighborhood. Mega-churches abound, drawing thousands of people from their neighborhoods, and into buildings that often look more like movie theaters, or entertainment centers. The impact this new trend has on neighborhoods is severe, for families are now forced to live in neighborhoods that are secular, devoid as they are of religious influence.
Mega-churches, because of the high costs required to maintain their "plants", teach a dumbed down form of Christianity, so the people, unchallenged by sermons on repentance and sin, keep coming back, filling the coffers, and paying the huge salaries of clergy who have sold out, and betrayed the Gospel of Christ.
America is in need of Orthodox Christianity more than ever, and we Orthodox Christians must find better ways to share our faith with fellow Americans. It is not enough to continue serving ethnic communities, without also reaching out with the Ancient Faith of our Fathers, and building a missionary zeal for America. The life of this country depends on it. Just as the Moscow Patriarchate has established missions to reconvert the Russian people back to Orthodoxy, so, too, must we American Orthodox reach out in missionary witness to our peoples.
The influence of Christianity is waning in this country. We are now living in a post-christian nation where Christian morality and virtue have given way to secularism and various forms of paganism. We Christians must see this pandemic as a catalyst for us to recommit our whole being, as never before, to Christ. We must give witness to the importance of living a life centered in the life of the Church. Our fellow citizens must see in us a people filled with hope and love. They must see in us a faith that transcends fear and despair, grounded, as Orthodox Christians, in a faith that has survived two thousand years of persecutions, wars, pandemics, and poverty, to always rise like a phoenix from whatever the world has seen to heap upon us.
With love in Christ,
Abbot Tryphon
Thursday April 30, 2020 / April 17, 2020
Second Week of Pascha. Tone one.
Hieromartyr Simeon, bishop in Persia, and those with him: Martyrs Abdechalas and Ananias presbyters, Usthazanes, Fusicus (Pusicius), Ascitrea, and Azat the Eunuch (341).
Venerable Acacius, bishop of Melitene (435).
Venerable Zosimas of Solovki (1478).
New Hieromartyr John priest (1918).
New Hieromartyr Michael confessor, priest (1935).
New Hieromartyr Theodore priest (1942).
Uncovering of the relics (1641) of Venerable Alexander of Svir (1533).
Martyr Adrian of Corinth (151).
St. Paisius, fool-for-Christ of Kiev (1893).
St. Agapitus, pope of Rome (536).
Venerable Macarius of Corinth (1805).
St. Ephraim the Great of Matskveri Monastery (9th c.) (Georgia).
Monk-martyr Donnan of Eigg and those with him (618) (Celtic & British).
The Scripture Readings
Acts 4:23-31
Prayer for Boldness
23 And being let go, they went to their own companions and reported all that the chief priests and elders had said to them. 24 So when they heard that, they raised their voice to God with one accord and said: "Lord, You are God, who made heaven and earth and the sea, and all that is in them, 25 who by the mouth of Your servant David have said:
'Why did the nations rage,
And the people plot vain things?
26 The kings of the earth took their stand,
And the rulers were gathered together
Against the Lord and against His Christ.'
27 "For truly against Your holy Servant Jesus, whom You anointed, both Herod and Pontius Pilate, with the Gentiles and the people of Israel, were gathered together 28 to do whatever Your hand and Your purpose determined before to be done. 29 Now, Lord, look on their threats, and grant to Your servants that with all boldness they may speak Your word, 30 by stretching out Your hand to heal, and that signs and wonders may be done through the name of Your holy Servant Jesus."
31 And when they had prayed, the place where they were assembled together was shaken; and they were all filled with the Holy Spirit, and they spoke the word of God with boldness.
John 5:24-30
Life and Judgment Are Through the Son
24 "Most assuredly, I say to you, he who hears My word and believes in Him who sent Me has everlasting life, and shall not come into judgment, but has passed from death into life. 25 Most assuredly, I say to you, the hour is coming, and now is, when the dead will hear the voice of the Son of God; and those who hear will live. 26 For as the Father has life in Himself, so He has granted the Son to have life in Himself, 27 and has given Him authority to execute judgment also, because He is the Son of Man. 28 Do not marvel at this; for the hour is coming in which all who are in the graves will hear His voice 29 and come forth—those who have done good, to the resurrection of life, and those who have done evil, to the resurrection of condemnation. 30 I can of Myself do nothing. As I hear, I judge; and My judgment is righteous, because I do not seek My own will but the will of the Father who sent Me.