With the death of Christ, we gained life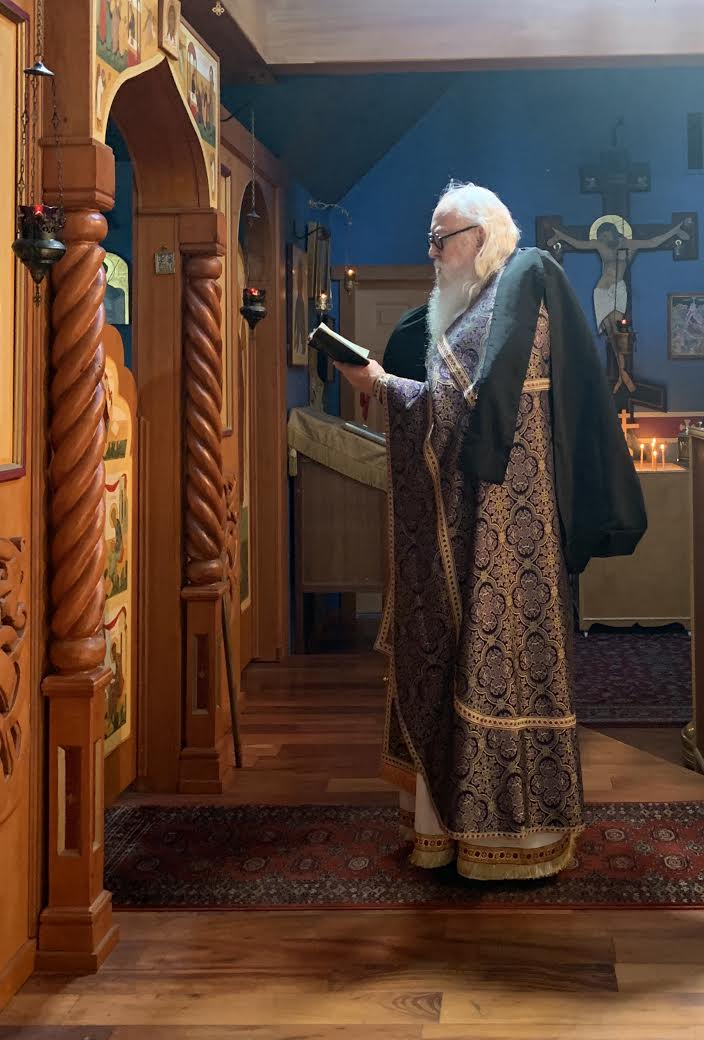 Ultimately, all is transitory and there is no real security in this life. This pandemic, together with the financial collapse of our economy is depriving countless American families of their homes and the future does not look bright.
Most of us do not even own our homes, since taxes and mortgages are like a form of rent and make us vulnerable to banks and the Dow Jones. Everything in this life can disappear in a moment of time. Even our own life can end abruptly and without warning. Yet as Christians we keep moving forward, embracing whatever God has placed before us. Worrying about the future keeps us from focusing on the horizon and trusting that God is there with us every step of the way.
This life has been given to us as a time of preparation for the eternal life that is our inheritance as God's children. The transitory nature of this world will end when God's kingdom is ushered in and we all stand before the Great Judgment Seat of God. Loss, pain and suffering in this world will have not been in vain if we embrace everything as an occasion for transformation of self. To stand in the presence of God for eternity requires that we be deified, and all of life's suffering is meant to help prepare us for an eternity of communion with the Holy Trinity.
Metropolitan Hilarion Alfeyev, Chairman of the Department of External Church Relations of the Moscow Patriarchate, said it well: "As we venerate the holy tomb of Christ with fear and trembling, let us praise the Lord Who became lonely that we might not be lonely; that He was abandoned that we might not be abandoned; that He went through insults and mockery, slander and humiliation, sufferings and death so that in each suffering of ours, we might feel that we are not alone but that the Savior Himself is with us 'unto the end of the ages'"
With love in Christ,
Abbot Tryphon
Photos: The Vesperal Liturgy served on Holy Thursday in the monastery's temple.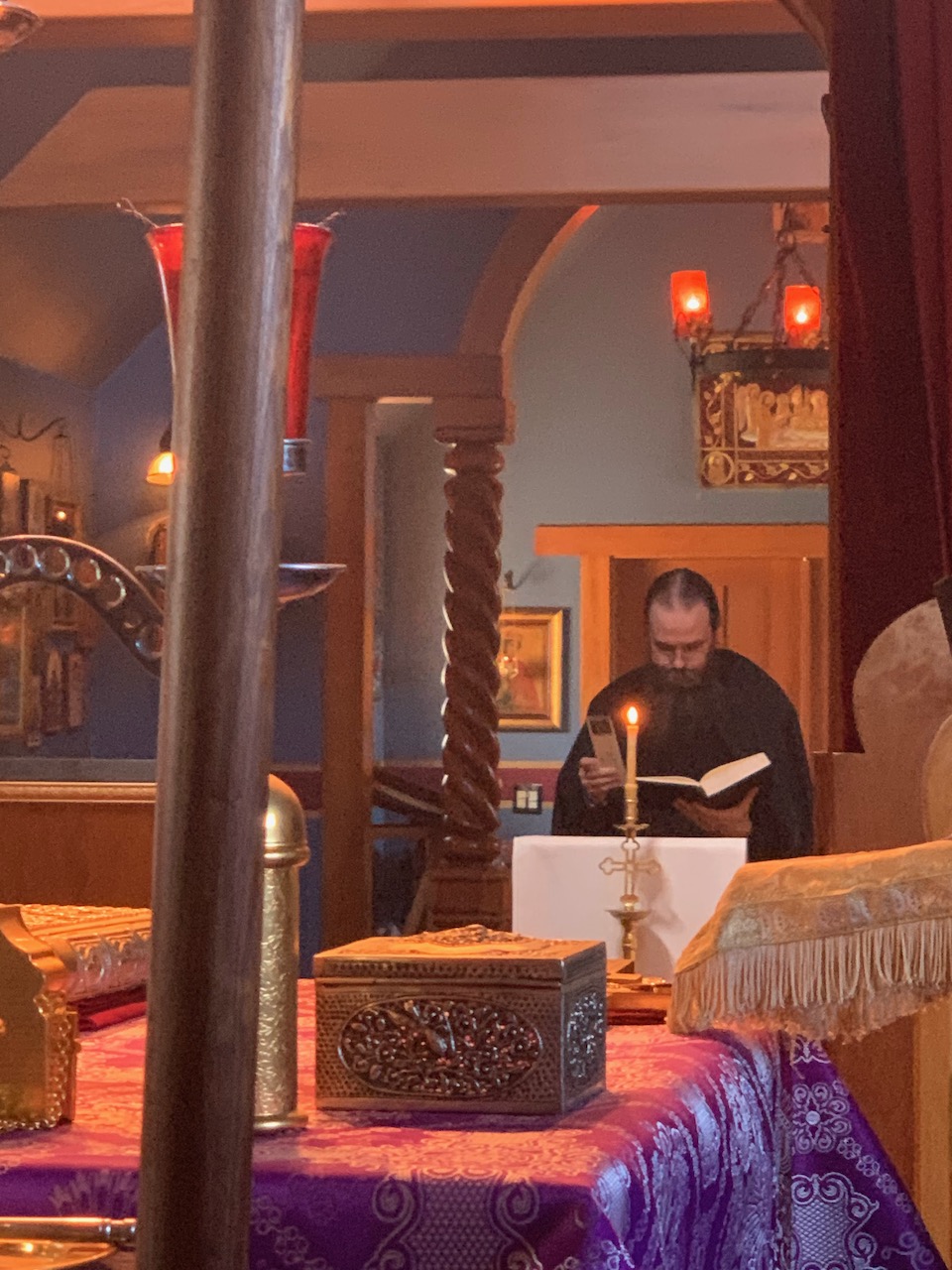 Photos: The Vesperal Liturgy served on Holy Thursday in the monastery's temple.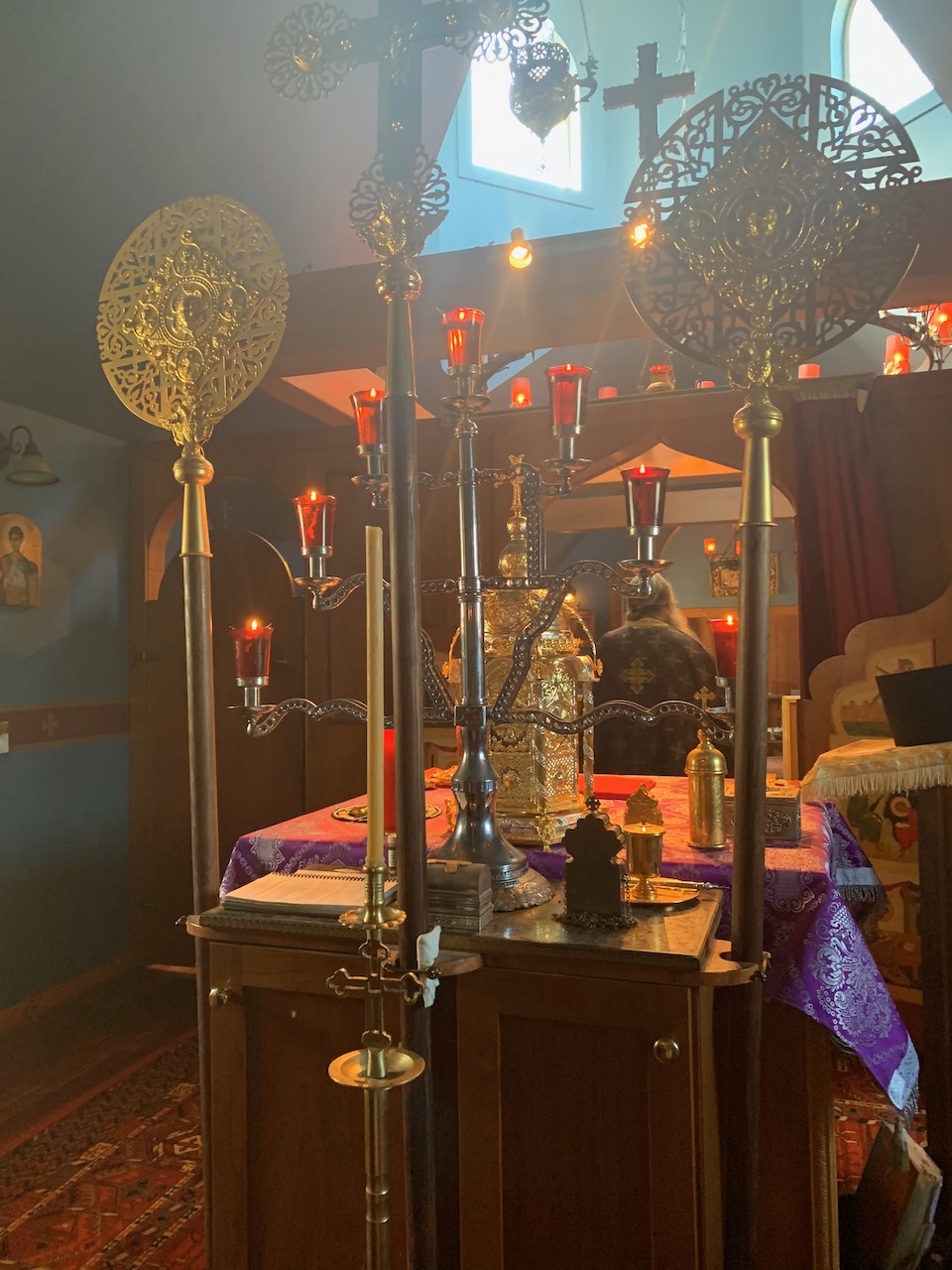 Friday April 17, 2020 / April 4, 2020
Passion Week: Great Friday, Passion of Jesus Christ.
Great Lent. By Monastic Charter – Full abstention from food
Venerable Joseph the Hymnographer of Sicily (883).
Venerable George, monk, of Mt. Maleon in the Peloponnesus (9th c.).
New Hieromartyrs Archimandrite Benjamin (Kononov) and Hieromonk Nicephorus (Kuchin) of Solovki (1928).
Virgin-martyr Mary (1932).
New Hieromartyr Nicholas bishop of Velsk (1933).
New Hieromartyr John priest (1933).
Martyr John (1943).
Venerable Joseph the Muchailing of the Kiev Caves (14th c.).
Venerable Zosimas, abbot of Vorbozomsk (1550).
Venerable Zosimas, monk, of Palestine (560).
Virgin-martyr Pherbutha of Persia, her sister and servants (343).
Icons of the Mother of God, named "Gerontissa" and "Deliveress".
New Hieromartyr Nicetas the Serb of Albania, Mt. Athos and Serres (1808).
Venerable Theonas, metropolitan of Thessalonica (1541).
St. Isidore, bishop of Seville (636).
Holy Martyr Kallinikos.
Venerable James of Old Torzhok in Galich, Kostroma (15th-16th c.).
Martyr Basil of Mangazea in Siberia (1602).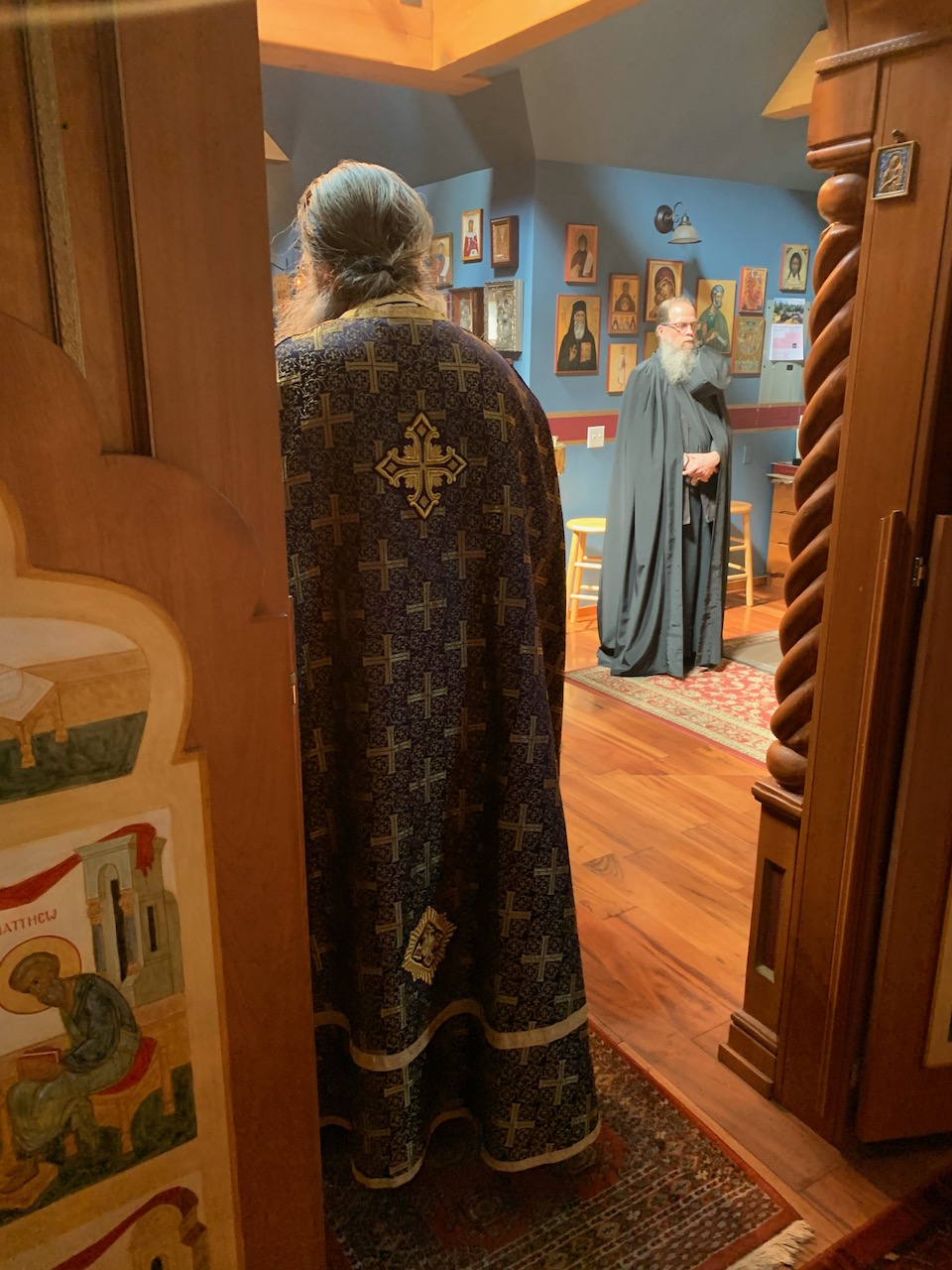 The Scripture Readings
John 13:31-18:1 (Matins, 1st Passion Gospel)
John 18:1-28 (Matins, 2nd Passion Gospel)
Matthew 26:57-75 (Matins, 3rd Passion Gospel)
John 18:28-19:16 (Matins, 4th Passion Gospel)
Matthew 27:3-32 (Matins, 5th Passion Gospel)
Mark 15:16-32 (Matins, 6th Passion Gospel)
Matthew 27:33-54 (Matins, 7th Passion Gospel)
Luke 23:32-49 (Matins, 8th Passion Gospel)
John 19:25-37 (Matins, 9th Passion Gospel)
Mark 15:43-47 (Matins, 10th Passion Gospel)
John 19:38-42 (Matins, 11th Passion Gospel)
Matthew 27:62-66 (Matins, 12th Passion Gospel)
Galatians 6:14-18 (Royal Hours – 1st Hour)
Matthew 27:1-56 (Royal Hours – 1st Hour)
Romans 5:6-11 (Royal Hours – 3rd Hour)
Mark 15:16-41 (Royal Hours – 3rd Hour)
Hebrews 2:11-18 (Royal Hours – 6th Hour)
Luke 23:32-49 (Royal Hours – 6th Hour)
Hebrews 10:19-31 (Royal Hours – 9th Hour)
John 18:28-19:37 (Royal Hours – 9th Hour)
1 Corinthians 1:18-2:2
Matthew 27:1-44
Luke 23:39-43
Matthew 27:45-54
John 19:31-37
Matthew 27:55-61