If you choose yourself you are choosing nothing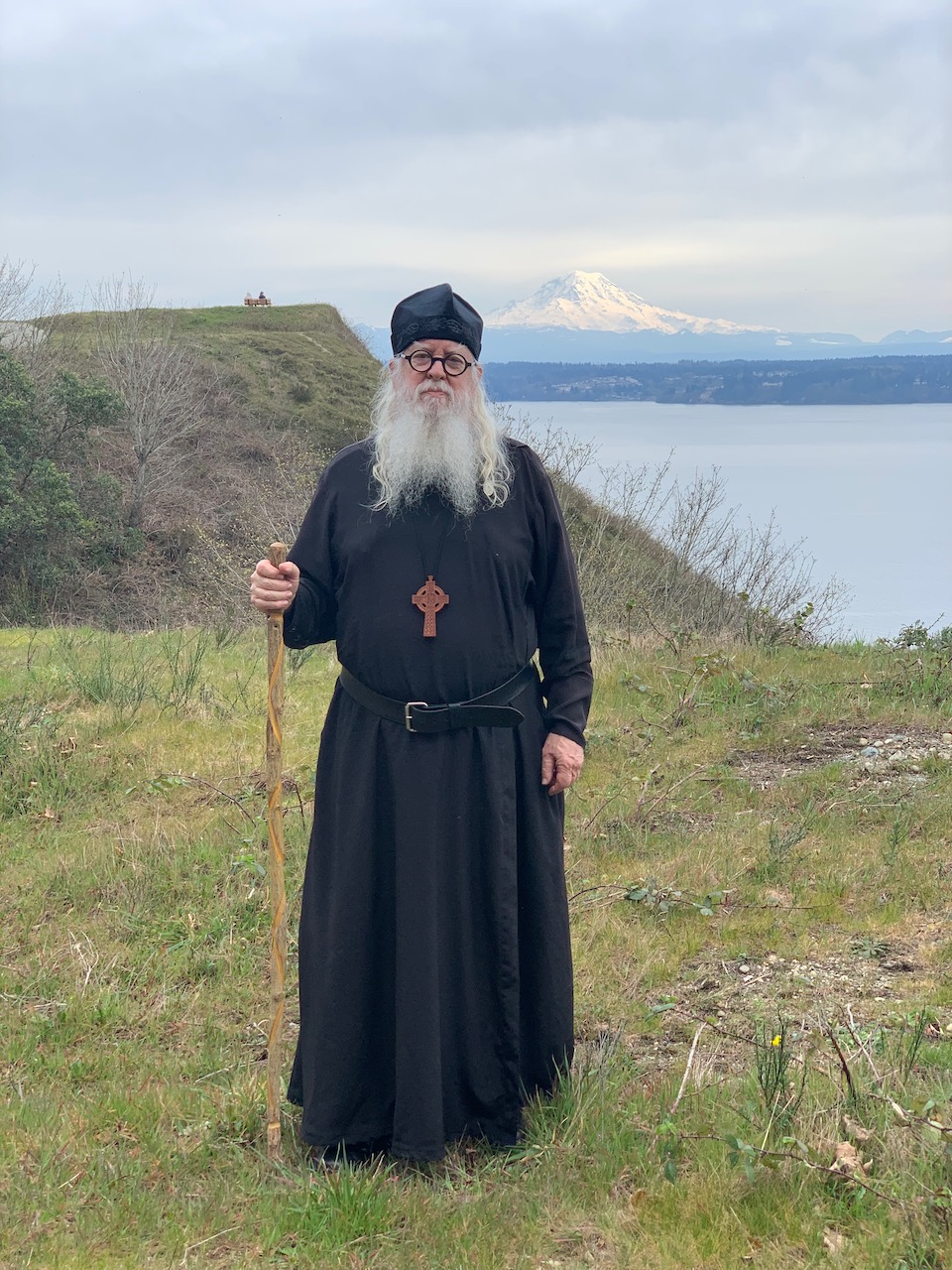 Our world has been turned upside down since this pandemic has hit. That our restaurants and bars are closed, businesses shut down, and even sporting events canceled, a society that has made these places the center of our social, and if I dare say, spiritual center, we are lost. What do we do when our focus has been on entertainment, laughing with friends over drinks, eating in fine restaurants, and rooting for our favorite football teams? Facing long evenings sequestered in our homes, with good friends unable to "party" with us, sequestered themselves, has led many to the point of despair.
As I was walking across the grounds of our monastery this morning, heading back to my kelli (monastic cell), I became aware that with most air flights canceled, people not heading off to work, and everyone staying in their homes, the silence in our part of the island made me feel as if our monastery was on Spruce Island, the location of the yearly Saint Herman of Alaska Pilgrimage. With all of the muffled sounds of civilization silenced completely, I found myself in a peaceful state like I haven't felt in years.
This silence reminded me of the days as a young man when I would run long distances on mountain trails, rarely running into anyone, and hearing nothing but the sounds of birds, and the rustle of the wind in the forest trees. Those were the times when I truly felt the presence of God, and was able, even if for a few hours, to forget the rush and noise of civilization.
Is it possible that this pandemic is being revealed to me as a blessing from God? Hiking on the trails of a nearby forest with Father Martin, yesterday afternoon, was made all the more incredible because of this silence. It was contributing to what has become what is perhaps the most blessed Lenten journey I have experienced in over forty years as a monk.
Will there be difficult days ahead? Yes, I'm sure there will be. As one who cares a great deal about our island community, and all the Orthodox pilgrims we have received on a daily basis, over these past thirty four years, having to keep our monastery's gate closed because of this pandemic, I have been allowed to put my emphasis on the things of God. How can I not see this as a blessing? How can I not see this as an occasion for me to truly repent of my sins, and ask God to heal my heart and soul, fallen as I am? How can I not see this as a time when I can pray all the more for the people who depend on our monastic prayers, even the community that comprises the whole world?
This pandemic has become a desert for the whole of our Orthodox community, for we are now joining Christ in the desert, basking in the silence where we can truly hear the voice of God speaking to the innermost recesses of our hearts. Truly, this is a most blessed time, if we would only allow yourselves to see with the eyes of our soul.
Saint Athanasios said, "if you choose yourself you are choosing nothing, because that is what you are without God".
With love in Christ,
Abbot Tryphon
Tuesday March 24, 2020 / March 11, 2020
Fourth Week of the Great Lent: Adoration of Cross. Tone seven.
Great Lent. By Monastic Charter: Food without Oil
St. Sophronius, patriarch of Jerusalem (638).
St. Euthymius, Bishop of Novgorod, wonderwoker (1458).
Venerable Alexis of Goloseyevsky Skete, Kiev Caves (1917).
Venerable Patrikius confessor (1933).
New Hieromartyr Basil, priest (1937).
Venerable Sophronius, recluse of the Kiev Caves (13th c.).
Hieromartyr Pionius of Smyrna and those with him: Asclepiades, Macedonia, Linus and Sabina (250).
Translation of the relics of Martyr Epimachus of Pelusium to Constantinople (250).
St. Sophronius of Vratsa (1815) (Bulgaria).
Venerable George, abbot of Sinai, brother of St. John Climacus (7th c.).
Venerable John Moskhos (622).
Venerable Oengus the Culdee, compiler of first Irish martyrology (824) (Celtic & British).
Venerable George the New, wonderworker of Constantinople (970) (Greek).
St. Theodora, queen of Arta, wife of Despot Michael II of Epirus (1275) (Greek).
Hieromartyr Eulogius, metropolitan of Cordova (859).
Martyrs Trophimus and Thalus of Laodicea (300) (Greek).
Hieromartyr Constantine, in Kintyre.
The Scripture Readings
Isaiah 25:1-9
Praise to God
25 O Lord, You are my God.
I will exalt You,
I will praise Your name,
For You have done wonderful things;
Your counsels of old are faithfulness and truth.
2 For You have made a city a ruin,
A fortified city a ruin,
A palace of foreigners to be a city no more;
It will never be rebuilt.
3 Therefore the strong people will glorify You;
The city of the terrible nations will fear You.
4 For You have been a strength to the poor,
A strength to the needy in his distress,
A refuge from the storm,
A shade from the heat;
For the blast of the terrible ones is as a storm against the wall.
5 You will reduce the noise of aliens,
As heat in a dry place;
As heat in the shadow of a cloud,
The song of the terrible ones will be diminished.
6 And in this mountain
The Lord of hosts will make for all people
A feast of choice pieces,
A feast of wines on the lees,
Of fat things full of marrow,
Of well-refined wines on the lees.
7 And He will destroy on this mountain
The surface of the covering cast over all people,
And the veil that is spread over all nations.
8 He will swallow up death forever,
And the Lord God will wipe away tears from all faces;
The rebuke of His people
He will take away from all the earth;
For the Lord has spoken.
9 And it will be said in that day:
"Behold, this is our God;
We have waited for Him, and He will save us.
This is the Lord;
We have waited for Him;
We will be glad and rejoice in His salvation."
Genesis 9:8-17
8 Then God spoke to Noah and to his sons with him, saying: 9 "And as for Me, behold, I establish My covenant with you and with your descendants after you, 10 and with every living creature that is with you: the birds, the cattle, and every beast of the earth with you, of all that go out of the ark, every beast of the earth. 11 Thus I establish My covenant with you: Never again shall all flesh be cut off by the waters of the flood; never again shall there be a flood to destroy the earth."
12 And God said: "This is the sign of the covenant which I make between Me and you, and every living creature that is with you, for perpetual generations: 13 I set My rainbow in the cloud, and it shall be for the sign of the covenant between Me and the earth. 14 It shall be, when I bring a cloud over the earth, that the rainbow shall be seen in the cloud; 15 and I will remember My covenant which is between Me and you and every living creature of all flesh; the waters shall never again become a flood to destroy all flesh. 16 The rainbow shall be in the cloud, and I will look on it to remember the everlasting covenant between God and every living creature of all flesh that is on the earth." 17 And God said to Noah, "This is the sign of the covenant which I have established between Me and all flesh that is on the earth."
Proverbs 12:8-22
8 A man will be commended according to his wisdom,
But he who is of a perverse heart will be despised.
9 Better is the one who is slighted but has a servant,
Than he who honors himself but lacks bread.
10 A righteous man regards the life of his animal,
But the tender mercies of the wicked are cruel.
11 He who tills his land will be satisfied with bread,
But he who follows frivolity is devoid of understanding.
12 The wicked covet the catch of evil men,
But the root of the righteous yields fruit.
13 The wicked is ensnared by the transgression of his lips,
But the righteous will come through trouble.
14 A man will be satisfied with good by the fruit of his mouth,
And the recompense of a man's hands will be rendered to him.
15 The way of a fool is right in his own eyes,
But he who heeds counsel is wise.
16 A fool's wrath is known at once,
But a prudent man covers shame.
17 He who speaks truth declares righteousness,
But a false witness, deceit.
18 There is one who speaks like the piercings of a sword,
But the tongue of the wise promotes health.
19 The truthful lip shall be established forever,
But a lying tongue is but for a moment.
20 Deceit is in the heart of those who devise evil,
But counselors of peace have joy.
21 No grave trouble will overtake the righteous,
But the wicked shall be filled with evil.
22 Lying lips are an abomination to the Lord,
But those who deal truthfully are His delight.